Despite the quarantine, CES 2021 has successfully demonstrated all the innovative successes of the industry leaders. Traditionally, Samsung's exposure has been the focus. The company did not disappoint experts, presenting at First Look the updated TVs of Lifestyle series, the new Micro LED TVs series and the flagship Neo QLED TVs with innovative Mini LED backlight.
Despite the lack of announcements, innovative Mini LED backlight in Samsung TVs was quite predictable, because it fully matches the logic of competition between OLED and LCD TVs. As known, LG is systematically developing the OLED direction, gradually reducing prices and eliminating the main problems of this technology. In turn, manufacturers of LCD TVs are quite successful in improving LED LCD technology, reducing the difference in image quality.
In the early years, their efforts were mainly focused on improving display technology. As a result, companies have developed and improved Quantum Dot technology.
Improving the backlight has become the second area of improving picture quality for LCD TVs. Over the past few years, Chinese giant TCL has dominated the development of this technology, annually introducing the next generation of Mini LED backlights. At the same time, Samsung, LG, Sony, etc did not demonstrate any activity in this direction. But CES 2021 unexpectedly showed huge progress of other leaders. Specifically, Samsung introduced the Neo QLED, and LG showed QNED TVs with very advanced Mini LED backlight.
Of course, Samsung Neo QLED TVs became one of the sensations of the show. The innovative Neo Mini LED backlight technology fits perfectly into the general trend this year.
As known, improving the image quality by increasing the number of local dimming zones in LCD models is one of the dominant trends in recent years. But until recently, companies weren't really into backlight, improving display technology.
A few years ago, the LG offered 55-in OLED models starting at $ 2,000 with only about 500 nits of brightness and blue degradation over time. But good image quality at the expense of the infinite contrast provided them a competitive advantage. Moreover, today, the South Korean giant has successfully solved these problems by significantly lowering prices, increasing the resource of blue pixels and the brightness of its models.
The manufacturers of LCD models have improved Quantum Dot technology. As a result, the market today offers TVs with this technology under various names, including Samsung QLED, Sony Triluminos, LG NanoCell, and Hisense ULED. As known, this technology uses an additional nanoparticle film between the screen and the backlight.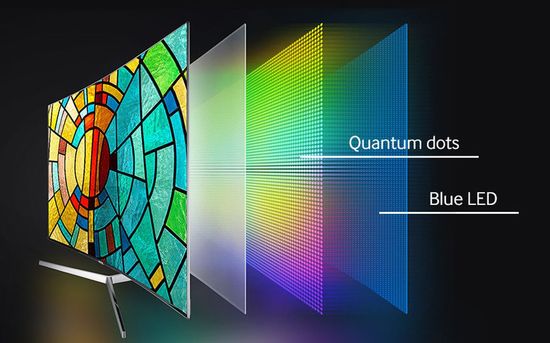 Nanoparticles absorb unwanted light wavelengths, flowing cleaner shades. In fact, Quantum Dot layer enhances the white from the backlight. As a result, this low-cost technology significantly expanded color gamut and viewing angles. Today LG and Samsung use Quantum Dot Enhancement Film (QDEF) from Nanosys.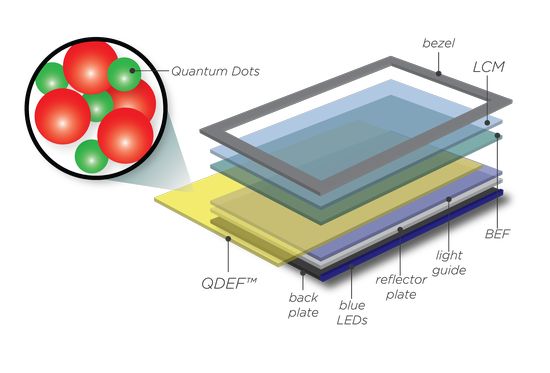 As a consequence, the specs of Quantum Dot panels have come a lot closer to OLED displays.
Mini LED backlight
Having exhausted the possibilities of developing this technology in LCD panels, companies actively began to improve the backlight. Chinese giant TCL can be considered a pioneer in this direction. For several years the company has presented several generations of Mini LED backlights, including Contrast Control Zones (Series 6), mini LED Quantum Contrast (Series 8), Vidrian "Glass on LED" (CES 2020) and finally OD-Zero Mini LED (CES 2021) technologies.
But this year, the prospects for its dominance have become less bright. Unexpectedly for many, Samsung and LG showcased great proprietary technologies with Mini LED backlight, including the Samsung's Neo QLED Mini LED and the LG's QNED Mini LED. In fact, the backlight with traditional LEDs in the TV with Quantum Dot technology is replaced by the backlight with tens of thousands of microscopic LEDs, which are grouped into several thousand Local Dimming zones.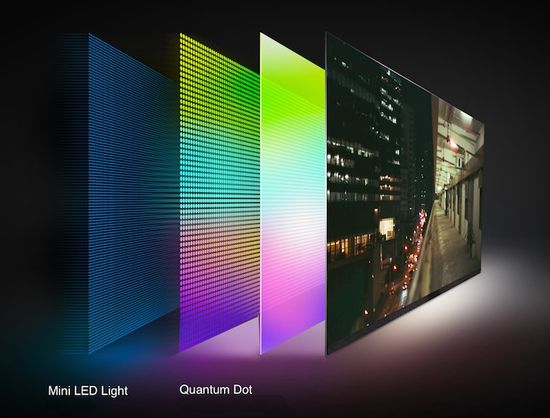 The reduction in size allowed the developers to dramatically increase their number, and, accordingly, the number of Local Dimming zones. For example, TCL's OD-Zero uses LEDs of only 151 microns.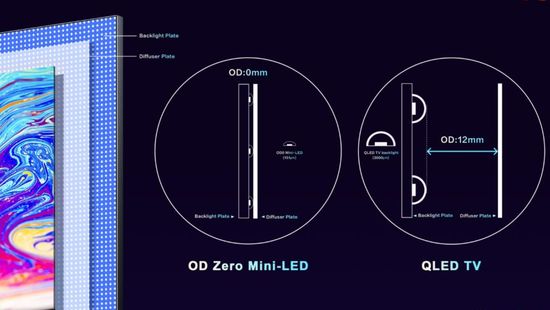 LG NanoCell QNED uses nearly 30,000 mini LEDs that are grouped into 2,500 Local Dimming zones. In comparison, the best TCL 8 Series 2020 uses around 1,000 zones.
Increasing the number of Local Dimming zones increases the contrast by controlling the brightness in each individual zone (min backlight – for dark areas of the frame and max – for bright ones). Of course, this should radically improve the playback quality of HDR content.
Samsung Neo QLED TVs
The new Samsung Quantum Mini LED backlight panel is 40 times thinner compared to conventional.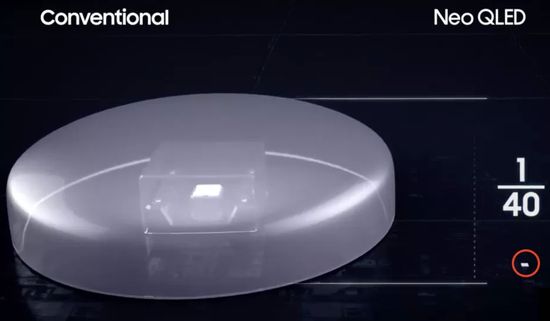 But its layer accommodates about 10 times more miniature LEDs, allowing the formation of about 5,000 zones.
Additionally, the TV adjusts the brightness depending on the ambient light using a sensor built into the frame.
In addition, Neo QLED TVs will support 12-bit luminance scales with 4096 gradations, reducing the contrast difference compared to OLED technology.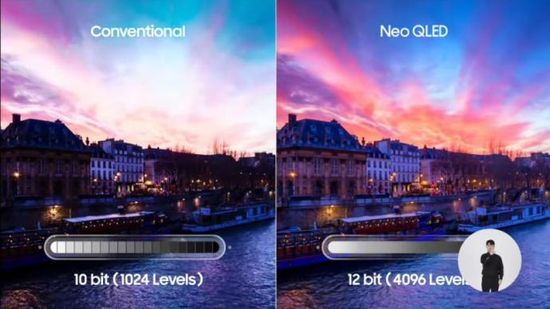 The new patented Neo Quantum processor uses multi-Intelligence Deep Learning technology and up to 16 neural network databases, increasing the upscaling quality to 8K.
Preliminary, the Samsung Neo QLED MiniLED lineup will include:
– 65, 75 and 85-in 8K QN800A and QN900A;
– 50, 55, 65, 75 and 85-in 4K QN85A, QN90A and QN95A TVs.
Premium QN90A and up use Samsung Ultra View Angle (two special layers focus the light evenly across the entire panel). QN85A and above are anti-reflective. The TV thick is only 15mm for 8K, and 25mm for 4K models.
Samsung continues to use OTS (Object-Tracking Sound) technology, offering four versions, from the minimum OTS Lite (two physical speakers at the bottom + two "virtual speakers") to the maximum OTS Pro. For OTS Pro, Samsung indicates up to 6.2.2 channels of audio, including two bass and two height channels.
SpaceFit Sound adjusts the audio field for the room.
For gaming, Samsung also offers high specs including input lag of just 5.8ms, 4K @ 120Hz, ALLM, VRR (G-Sync and FreeSync Premium Pro), HgiG and new Super Ultrawide GameView mode (switchable between 21: 9 and 32: 9 formats).
Samsung stubbornly refuses to back Dolby Vision HDR, offering only HDR10 / 10+, HLG and HDR 10+ Adaptive (for viewing in a bright lit room).
Smart functions
The new smart features are impressive too. This list includes the following modes.
1. Samsung Health app with Smart Trainer monitors and analyzes your posture in real time as a personal trainer.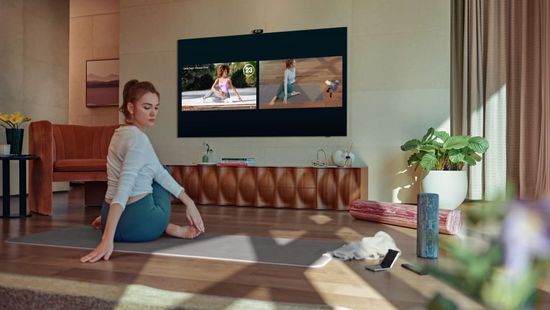 The Smart Trainer supports real-time feedback with interactive prompts and voice control, counting reps and calories burned.
2. Super Ultrawide GameView, Game Bar and FreeSync Premium Pro are for Game Mode. The new Super Ultrawide GameView mode switches between 21: 9 and 32: 9 aspect ratios, which is convenient for many games. Game Bar panel greatly simplifies game settings.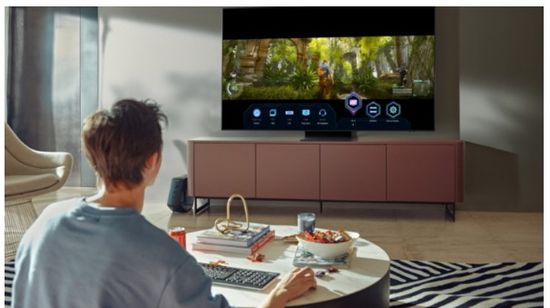 Finally, FreeSync Premium Pro technology minimizes image lag.
3. Google Duo service provides high quality images for group video calls from smartphones (up to 32 video conference participants). Moreover, the smart USB TV camera scans the movement of people in the frame, automatically scaling the image.
4. PC on TV function provides PC to TV connection. But creating and editing documents with MS Office 365 via TV web browser requires Easy Connection app.
Conclusion
In general, Samsung has traditionally confirmed its status as an innovative leader. Of course, TCL OD-Zero MiniLED TVs, Samsung Neo QLED TVs, and LG NanoCell QNED TVs significantly improve the picture quality in LCD TVs by dramatically increasing the number of Local Dimming zones due to the use of a huge number of miniature LEDs. Probably, the comparison Samsung's Neo QLED Mini-LED vs LG NanoCell QNED Mini-LED vs TCL OD-Zero Mini-LED is hardly correct before they go on sale, because the price will be one of the main evaluation criteria.
But in any case, the qualitative leap in Mini-LED backlight could significantly weaken the position of LG OLED TVs. Curiously, the South Korean giant's OLED models will compete with LG's own NanoCell QNED TVs.
Overall, the meager range of TCL TVs with Mini LED backlight turns into a full-fledged segment of premium LCD TVs with Quantum Dot Display and with Mini LED backlight this year. In theory, they will be able to bring the image quality very close to OLED technology.
Thus, the consumer will be able to expand their choice, which will now include cheaper LED LCDs, more expensive LCDs with Quantum Dot Display (QLED, Triluminos, NanoCell, ULED, etc), LCD Mini-LED TVs with Quantum Dot Display (Samsung Neo QLED, LG NanoCell QNED and TCL OD-Zero), premium LG OLED and Sony OLED, and gorgeous but fantastically expensive Samsung Micro LED TVs.
But all pros of these technologies are mainly manifested when playing HDR content. Therefore, a huge 75″ LCD Vizio V-Series Class (V755-G4) under $ 1,000 might be a more pragmatic choice for viewing conventional content.
This video showcases Samsung's new Neo QLED TV.