This Chinese giant does not require the introduction. Today TCL Corporation (Telephone Communication Limited) is a Chinese multinational electronics company headquartered in Huizhou, Guangdong Province. But it was originally founded as a state-owned enterprise. TCL designs develops, manufactures and sells TVs, phones, and other consumer electronics. On 7 February 2020, TCL Corporation changed its name to TCL Technology.
Already in 2010, the company entered the group of 25 largest manufacturers of consumer electronics in the world. Today products from this company are widely known all over the world. This list includes Alcatel, Thomson and BlackBerry smartphones, Roku TV models in USA, etc. But, of course, the company mainly sells under its own brand.
TCL competes successfully in many segments. For example, last year the company unveiled two revolutionary smartphone concepts including TCL tri-fold and rollable phones and the excellent TCL 10 series. Moreover, in Berlin at IFA 2020, the company announced TCL 10 TabMax and TabMid tablets with innovative proprietary NXTPAPER display technology.
Nevertheless, TVs are one of the priority areas of the company's development. Since 2015, TCL has been the third company in the world in terms of market share in the LCD TVs segment. In the rating of "Global LCD TV manufacturer" 2019, the company also entered the top three. Moreover, in 2016, TCL invested $ 7 billion in the construction of an 11G production line for LCD and OLED displays.
TCL TVs
In recent years, the company has consistently and very effectively developed the direction of improving the MiniLED backlight in LCD TVs. For several years, the company has already developed three generations, including:
– 2018 – TCL 6-Series Roku TV with Contrast Control Zones technology;
– 2019 – TCL 8-Series Roku TV with the more innovative mini-LED Quantum Contrast technology;
– 2020 – Vidrian "Glass on LED" MiniLED technology.
In addition, the company introduced the great 4K Quantum Dots C715/C815 Tvs, and also announced TCL V8 full scene AI, C8 Zhizhen QLED and P9 Hollywood Theater series.
This year was no exception, and the company presented C825 with superinnovation TCL OD-Zero (Optical Depth Zero) MiniLED technology at CES 2021.
Following Sony, TCL became the second Android TV OEM to announce about the transition to Google TV UI. As known, it debuted with the latest Google Chromecast. Google TV UI will be available in all of TCL TVs, including mini-LED, 8K and QLED models.
Moreover, 8K models with Dolby Vision HDR and HDMI 2.1 extend the legendary Roku 6-series.
In addition to the new 8K lineup, TCL also has promised to introduce a lineup of 85-inch TVs in the new XL Collection, including a budget 85" 4-Series LCD Roku TV, 85" 4K HDR TCL Roku TV (85R745) with QLED picture quality, and a premium 85" miniLED 8K TV with QLED wide color technology.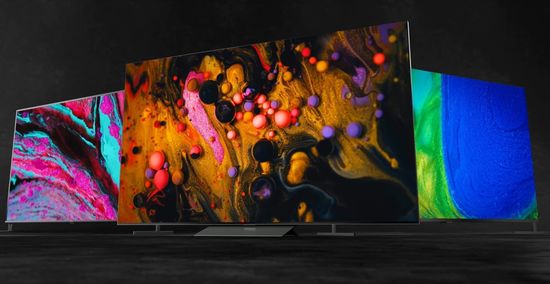 According to preliminary information, XL Collection will be available in USA by the end of 2021. But budgetr 4-Series TCL Roku TV 85" (85R435) will go on sale already at the end of Q1 for only $ 1,599.
At CES 2021, the company unveiled the MiniLED C825 QLED 4K, C725 QLED 4K, and P725 HDR 4K.
TCL MiniLED C825 4K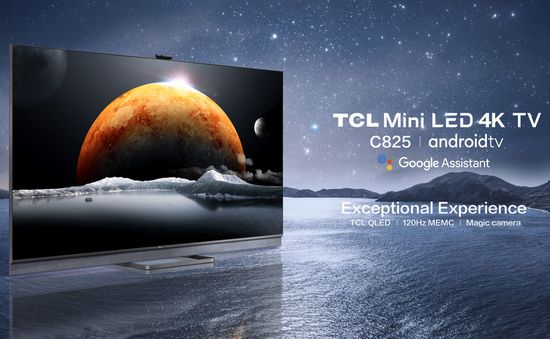 The C825 uses the Quantum Dot Display technology and latest generation of MiniLED backlighting called OD-Zero (Optical Depth Zero).
In fact, OD Zero has become the third-generation miniLED technology. According to the company, the technology has drastically reduced the OD (optical distance) between the backlight and diffuser plates to "zero millimeters". More precisely, the company indicates the thickness of new miniature LEDs of 151 microns.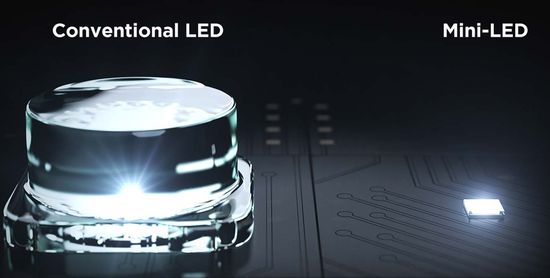 For comparison, the diameter of LEDs in modern QLED panels reaches 12mm.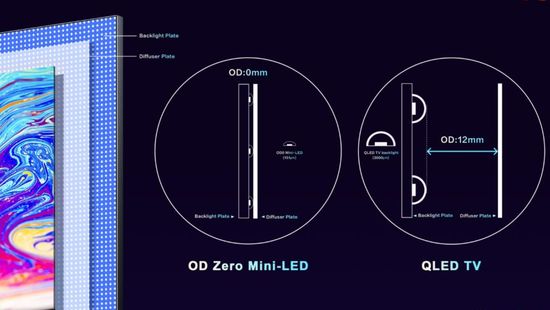 Therefore, the OD Zero name highlights the near absence of a gap between the backlight and LCD display layer in TVs.
According to the company, LED chip miniaturization doubles the number of Local Dimming Zones, increasing the precision contrast control, output and light uniformity of the backlight while increasing the contrast ratio and brightness.
In addition, the C825 supports Dolby Vision HDR, Dolby Vision IQ (dynamic adaptation to ambient lighting and content type), and IMAX Enhanced standard for high quality content. The model has a refresh rate of 120 Hz, built-in 4M Pixel webcam, MEMC interpolation function (Motion Estimation, Motion Compensation), uses Wi-Fi 6E (High-Efficiency Wireless, IEEE 802.11ax standard) and 4-channel HDMI 2.1 interfaces supporting VRR, ALLM and eARC technologies.
TCL C725 QLED 4K and TCL P725
TCL C725 with 4K QLED matrix provides ultra-wide color gamut (DCI-P3) with almost 100% coverage.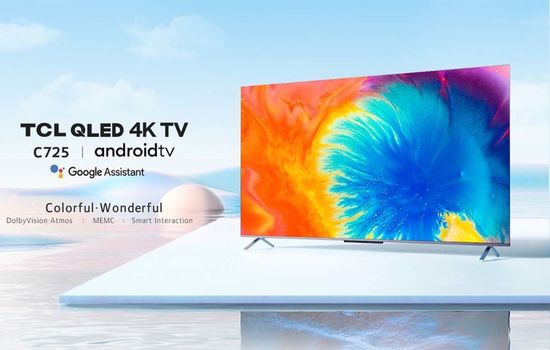 In addition, it has an Onkyo audio system with virtual Dolby Atmos surround sound and uses the AiPQ Engine Gen 2 processor for real-time image optimization. As known, the company first presented it at IFA 2020.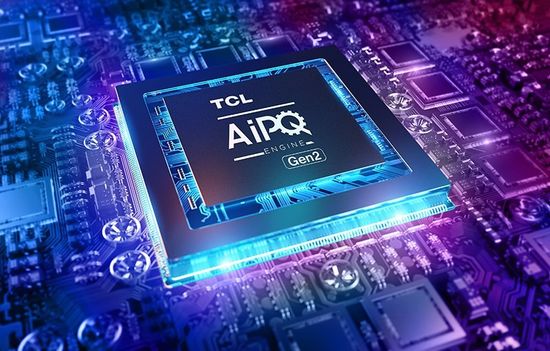 The new chip provides image optimization depending on the conten (movies, sports, etc), using Deep Learning technologies (machine learning algorithms) to analyze it. In addition, the AiPQ Engine Gen 2 chip provides AI Super Resolution upscaling to increase the input signal resolution up to 8K. Moreover, its audio engine supports sound optimization.
The TV also supports Hands-Free Voice Control 2.0, video calls via Google Duo, MEMC and HDMI 2.1 technologies, and access to content from Netflix, Amazon Prime Video, Google play & Movie, Disney+, etc.
P725 4K with HDR (High Dynamic Range), Dolby Vision, Dolby Atmos, Hands-Free Voice Control 2.0 and MEMC support belongs to the budget segment of new TCL TVs.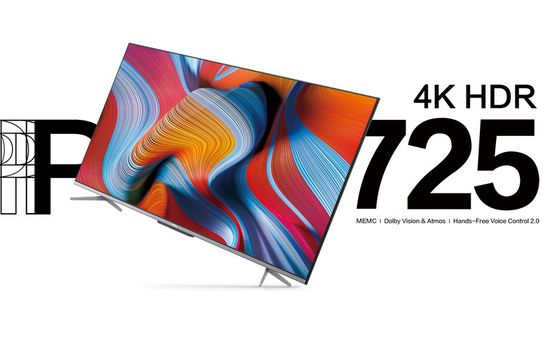 It's available in 43″, 50″, 55″, 65″ sizes.
Conclusion
Based on the results of CES 2021, TCL has successfully confirmed its status as one of the industry leaders. Probably many new TCL TVs with super innovative OD-Zero Mini-LED backlight will take their rightful place among the bestsellers.
Nevertheless, the company's management should have heard a wake-up call from major competitors. A year ago, the company confidently dominated the development of LCD TVs by enhancing picture quality with innovative miniLED backlight. The use of miniature LEDs allowed TCL to increase their number, thus increasing the number of local dimming zones. In turn, this factor allowed the company to improve the playback quality of HDR content, contrast, etc.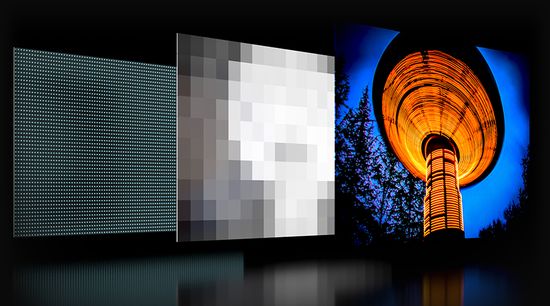 But unexpectedly for many, Samsung and LG introduced their own miniLED technologies, including Samsung's Neo QLED miniLED and LG's QNED miniLED. They also use the miniature LEDs. For example, innovative Samsung Quantum miniLED backlight panel is 40 times thinner than previous counterparts.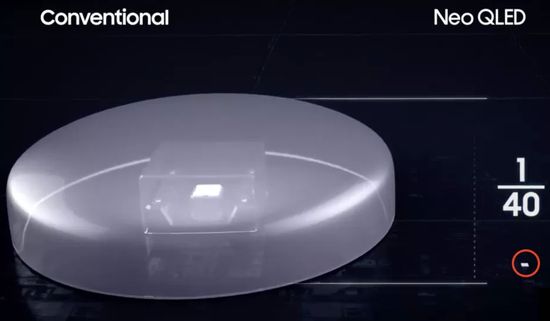 According to the company, the technology increases the number of local dimming zones by about 10 times. Considering the specs of previous models, Neo QLED TVs will have around 5,000 zones. LG indicates around 2,500 local dimming zones with 30,000 mini LEDs for its QNED models.
Of course, comparison of their image quality and price will be possible only after the appearance of real models on sale. Apparently, Samsung Neo QLED MiniLED TVs with support for 12-bit brightness (4096 gradations) and a wide range of new smart-functions will be more expensive. But the cost of LG QNED MiniLED TVs can be quite commensurate with TCL OD-Zero miniLED models. Either way, increased competition will benefit consumers.
This video demonstrates OD Zero Mini-LED technology.