Innovative Samsung Neo QLED TVs are already available. As known, LCD mini LED TVs became the main trend at CES 2021. In particular, Samsung, LG and TCL announced TVs with super-innovative mini LED backlight technology under the names Neo QLED, NanoCell QNED, and OD-Zero, respectively.
They use 1000 or more local dimming zones due to the use of a huge number of miniature LEDs, which are combined into arrays with separate control.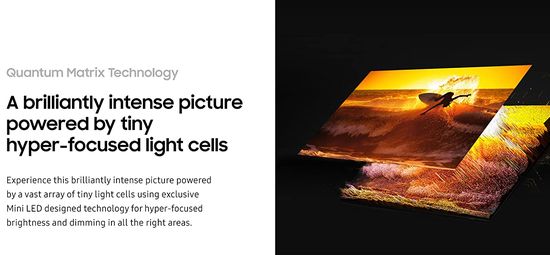 As a consequence, a radical increase in their number significantly increases the contrast due to more accurate brightness control in different areas of the frame. In fact, this technology dramatically improves black levels, enhancing the overall image contrast. Thus, the mini LED backlight reduces the difference in HDR content picture quality between expensive OLED TVs and much cheaper LED LCD models.
Neo QLED TVs price (with free Prime shipping):
Neo QLED 4K QN90A Series (QN55QN90AAFXZA, 2021 model)
– 55-inch – $ 1,800;
– 65-inch – $ 2,600;
– 75-inch – $ 3,500;
– 85-inch – $ 5,000.
QN85A Series (QN55QN85AAFXZA, 2021 model)
– 55-inch – $ 1,600;
– 65-inch – $ 2,200;
– 75-inch – $ 3,000;
– 85-inch – $ 4,500.
The QN90A and QN85A use different panels. QN90A has VA panel with very high contrast ratio to display deeper blacks, QN85A uses ADS panel with wider viewing angles. As known, ADS (Advanced Super Dimension Switch) panel is an improved version of the popular IPS matrix.
Samsung QN90A
The Samsung QN90A is the flagship 4K smart TV with innovative mini LED backlight in Samsung's 2021 lineup. In fact, this series replaces the Samsung Q90 / Q90T QLED. The QN90A has NeoSlim design with ultra-thin frame.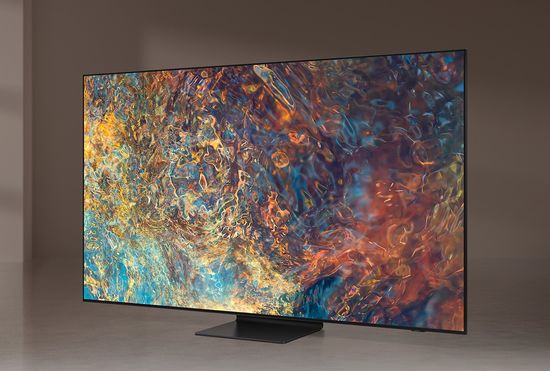 The use of miniature LEDs allowed the developers to reduce the thickness of the TV by 1 cm. Their height is about 40 times smaller than a conventional LED.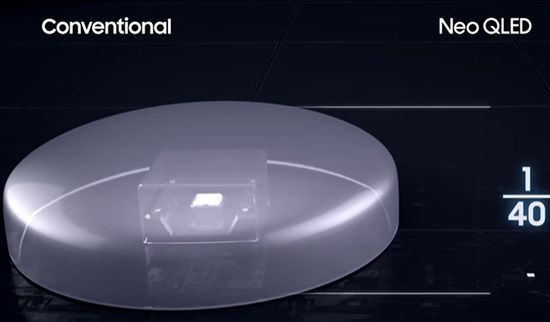 As a result, max TV thickness does not exceed 1.06″ (2.7 cm). The shape of the remote control has not changed, but it can now use a solar panel.
Of course, unlike self-emitting OLED or MicroLED technologies, mini LED backlight do not provide pixel-level control. But the QN90A already uses over 700 local dimming zones, delivering almost perfect black without distortion of dark gradations.
The new Neo Quantum 4K processor processes video using 16 different neural networks that enable intelligent upscaling based on deep learning.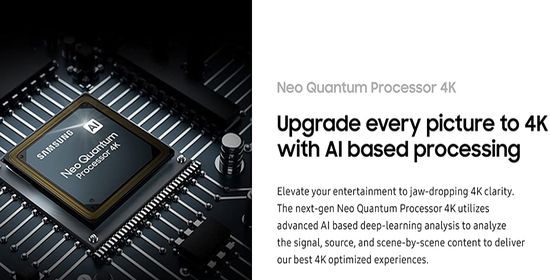 Really, TV easily upscales content with 480p (DVD), 720p (cable TV) and 1080p resolution up to native 4K with almost no upscaling noise added. But, it can't display an 8k signal.
Brightness, uniformity and viewing angle
The QN90A is much brighter vs Q90 / Q90T. For SDR, Dynamic Picture Mode with Standard Color Tone provides max brightest image (almost 1,790 cd / m² or nits in the 10% window). But, of course, these settings slightly reduce image accuracy.
The Mini LED full-array local dimming feature works great, delivering deep blacks even in the dark. But when viewing off-angle, the playback is accompanied by a little blooming around bright objects.
The maximum brightness for HDR content reaches 1,600 nits, and even up to 1,800 nits for small bright image peaks.
The anti-glare screen perfectly suppresses reflections. Its Total Reflections, Indirect Reflections, and Calculated Direct Reflections are only 1.7% (good value – 4.5%), 0.9% (good value -1.0%) and 0.8%, respectively.
Unfortunately, direct light sources can cause a dim effect in large areas of bright colors due to the aggressive Automatic Brightness Limiter (ABL).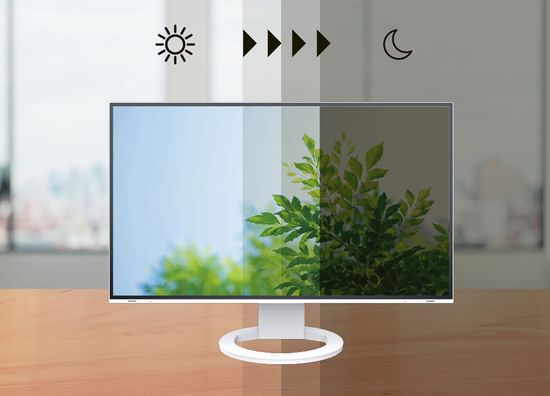 The QN90A provides good gray uniformity, and excellent black uniformity with local dimming enabled.
The gray uniformity measurement demonstrates:
– 0.68% for 5% Std. Dev. (average squared difference of pixels when displaying a mid 5% gray) – good value <1.15%;
– 0.102% for 5% DSE (Dirty Screen Effect in dark scenes) – good value <0.116%.
Black uniformity:
– 0.737% for Native Std. Dev. – good value <1%;
– 0.211% for Std. Dev. with local dimming – good value <1%.
Ultra Viewing Angle technology effectively expands the viewing angle:
– Brightness Loss – 44 °;
– Black Level Raise – 70 °;
– Gamma Shift – 23 °.
When viewing from the side, TV keeps the image accurate, but the screen looks a little darker.
Key features
Pre Calibration:
– White Balance dE (average inaccuracy of shades of gray) – 0.85 (good value <3);
– Color dE (average inaccuracy of colors) – 1.39 (good value <3);
– Color Temperature 6620K (6500K is ideal).
As known, color temperature is measured in degrees Kelvin. The range 2700-3200K is warm (looks redder), 3500-6000K – neutral (daylight), 6000-10000K – cold (looks bluer).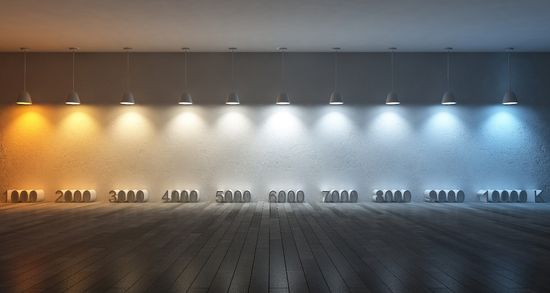 Additional calibration reduced the White Balance dE and Color dE to 0.24 and 1.07, and the Color Temperature of 6529K almost reached the ideal 6500K.
Overall, the combination of very high brightness, excellent black levels and Quantum Dot technology delivers very accurate color reproduction with rich colors in virtually all brightness ranges.
Natural and Standard presets provide high definition with no side effects. In addition, the TV offers a softer Movie mode.
The TV handles 4K @ 120Hz perfectly, delivering images with high definition and clarity. Its exceptional detail and sharpness are visually close to 8K consoles.
Input Lag is only 9.2ms, but increases to 14ms when the Game Motion Pro is turned on.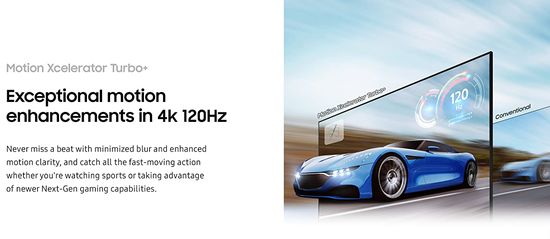 Scenes with a complex mix of light and dark content may appear slightly grayer. In addition, bright objects are sometimes displayed with a slight halo.
TV uses the Tizen OS with new options, including MultiView (up to 4 sources), USB camera, Smart Things, Samsung DeX and Game Bar. USB camera image support is very handy for tutorial videos.
The default settings provide clear and well-detailed sound without distortion, even in the high frequency range. The innovative OTS+ system and 4.2.2 configuration generates sound from the entire screen surface, synchronizing it with the source in the frame.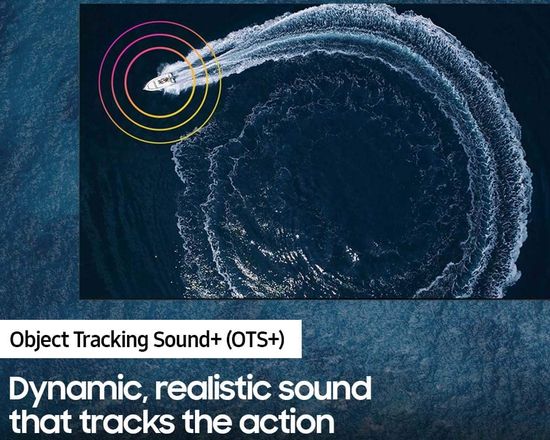 Additionally, the audio system can be connected to the Samsung Q-Symphony system via the ARC HDMI port.
Conclusion
PROS
– very high native contrast ratio;
– exellent Mini LED full-array local dimming feature;
– very good Pre Calibration out of the box;
– wide viewing angles with Ultra Viewing Angle layer;
– unprecedented HDR peak brightness.
CONS
– minor blooming around bright objects;
– no G-SYNC support.
The new generation of the LED LCD TVs with Quantum Dot technology and Mini LED backlight quite met the expectations of experts.
Announced at CES 2021, Neo QLED Mini LED QN90A is really very good TV with excellent picture quality. In fact, it replaces the Samsung Q90 / Q90T. The new QN90A delivers higher brightness and excellent contrast with Mini LED backlight.
But unlike the Q90 / Q90T, this TV does not support G-SYNC. Unfortunately, the price has also increased significantly. In comparison, the 65-inch QN90A costs $ 2,600 vs $ 1,800 for the 65-inch Q90T. However, the 55-inch model is only $ 200 more expensive ($ 1,800 vs. $ 1,600).
Compared to the QN85A, the QN90A uses VA panel, is brighter and has a slightly quicker response time. But it's more expensive by several hundred dollars. The QN85A uses ADS (Advanced Super Dimension Switch) panel with wider viewing angles.
Considering specs and price, LG QNED90, Sony X95J, and the Vizio P Series Quantum X 2020 claims to be the main competitors of this series.
P.S.
Also in China last month TCL unveiled its flagship X12 8K TV with OD-Zero mini LED backlight. This giant 85-inch smart TV is the thinnest ever. Its thickness is only 9.9 mm.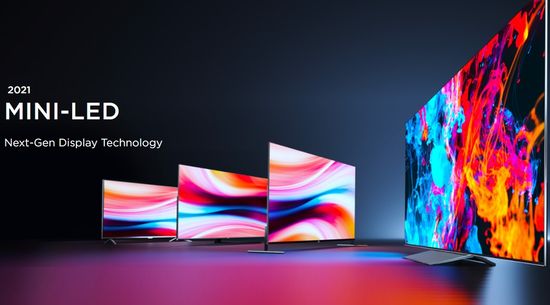 Other specs are fantastic as well. It provides an impressive luminosity of 2,000 nits with 96,000 LEDs, which are grouped into 1,920 local dimming zones. In addition, the model provides an unprecedented contrast ratio of 10,000,000: 1, high-precision image delivery, and 157% (bt.709) high color spectrum. What's more, TCL X12 has theater-level Onkyo 5.1.2 Hi-Fi, 8 channels, and 25 speakers, and subwoofer system with a cavity of 7 liters. Additionally, its 48-megapixel 3D ToF ToF camera effectively detects air gestures.
Initially, this flagship will only be available in China at a price of ¥ 99999 (CNY) or $ 15,336. It's, of course, three times more expensive than the 85-inch Neo QLED QN90A. But TCL is famous for its aggressive pricing, and cheaper versions of the X12 8K TVs could significantly change the market situation in America and Europe.
This video offers a spec review of the latest TCL X12 8K Mini LED Starlight smart TV.