The digital revolution at the end of the last century created excellent preconditions for the development of household robotics. As a result, the market was quickly filled with a wide range of smart household appliances. Of course, cleaning automation has traditionally been one of the most requested features among consumers. Quite predictably, the companies did not ignore the potential demand, and in 2002 the Swedish concern Electrolux presented the first Trilobite robot vacuum cleaner.
Despite its low suction power, high price, primitive navigation and low level of usability due to poor maneuverability and the frequent recharging, the consumer market has embraced this innovative device with enthusiasm. However, in the early years, they were largely positioned as an expensive fun toy for pets.
But in 20 years, the evolution of robot cleaners has come a long way. Modern premium models provide sufficiently high suction power to clean even medium-pile carpets, have auto charging, use highly efficient laser-based LIDAR (Light Detection and Ranging) navigation, support mopping mode, innovative 'Clean Base' with a self-emptying bin, etc. At the same time, their price has dropped significantly to about $ 500. As a result, robotic vacuums have long become a familiar attribute in many apartments.
Today the market offers an abundance of great models in all price segments. But, of course, any autumn review is meaningless without taking into account the sezonal discounts, and this year is no exception.
Certainly, Ecovacs Deebot Ozmo N7 Robot Vacuum for a record-low price of $ 300 (vs $ 500) is one of the most tempting offers this season.
Ecovacs Deebot N7
As known, Ecovacs is one of the world's leaders in robotic vacuums. This Chinese tech company was founded in 2013 and has grown steadily in popularity since then. In March this year, Ecovacs released a line of all-in-one vacuuming and mopping robots, including Deebot N7, N8 Pro, and the N8 Pro+.
In fact, Deebot N7 is a hybrid robot that supports vacuuming and mopping modes.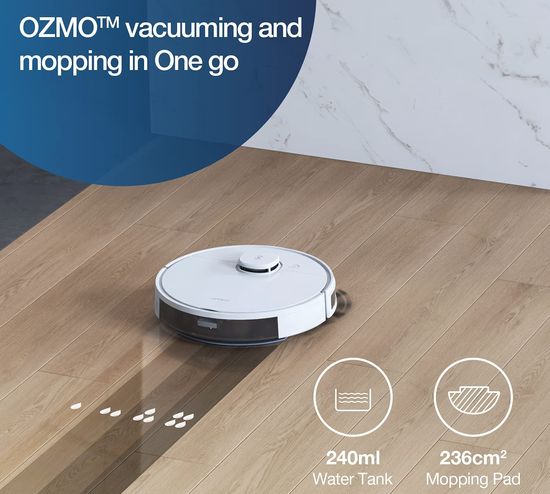 At the same time, while mopping the floors, it automatically avoids carpeted surfaces.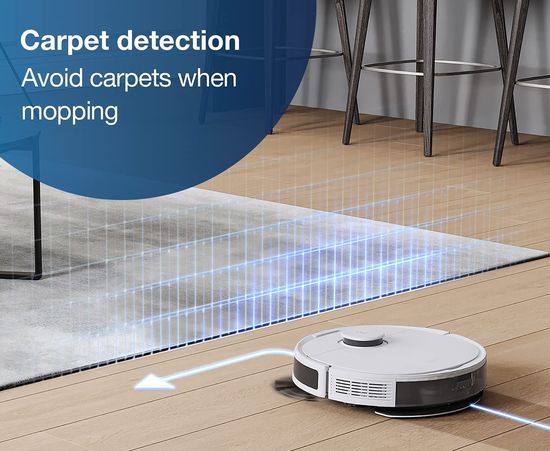 Ecovacs's OZMO technology ensures uniform wetting of surfaces with water using an innovative electronic water pump and water container.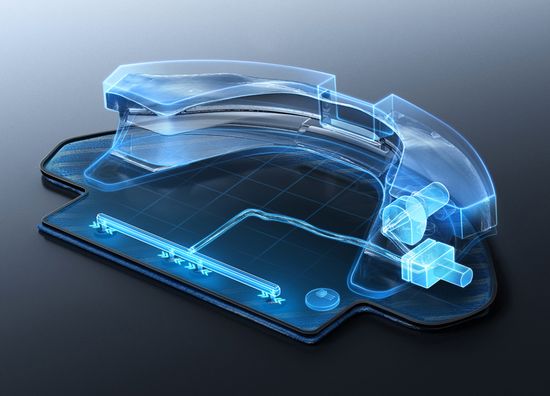 Its suction power in vacuuming mode reaches 2300 Pa, which is higher than the average value in this class. Of course, it's not enough for long pile carpets, but several passes provide a sufficiently high cleaning quality.
The model supports most of the premium features, including:
– Auto-Boost Suction – automatic increase in the suction power when cleaning the carpet;
– laser-based Smart Navi 3.0 LiDAR navigation – precise interactive mapping the different levels of your home.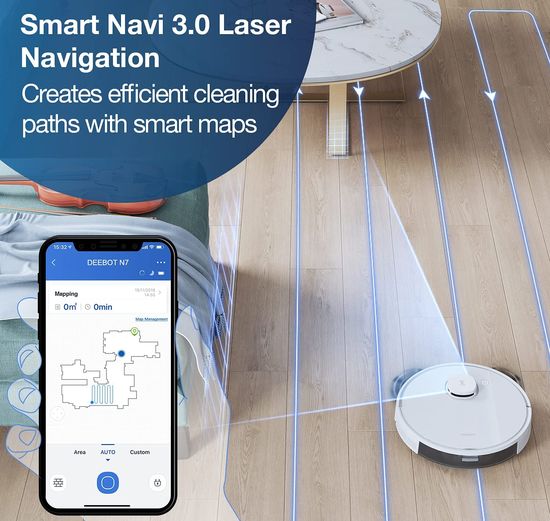 Additionally, Ecovacs app provides mapping the rooms and select specific rooms for cleaning.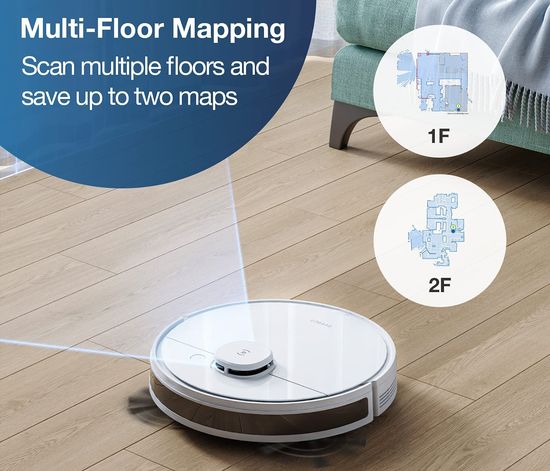 Additionally, the sensors measure the distance of surrounding obstacles through laser scanning, eliminating collisions with furniture;
– Smart Home Integration – Google Assistant or Alexa support;
– a triple-tier, high-efficiency filter captures up to 99% of dust.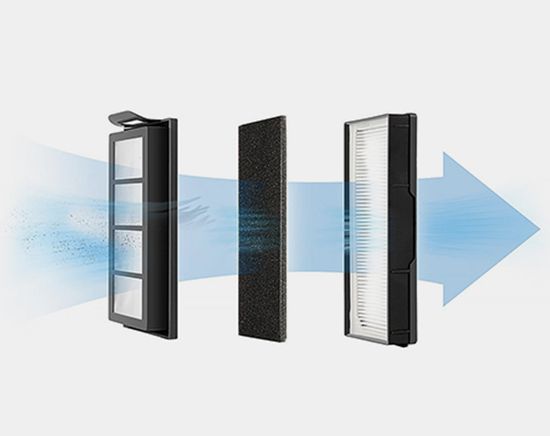 – automatic recharging and cleaning resumption.
This model with 3200-mAh battery can vacuum and mop up to 2,000 square feet (almost 190 square meters) per charge.
Ecovacs Deebot N8 Pro and N8 Pro+
Unlike the N8 Pro, the N8 Pro plus comes with a self-emptying dock.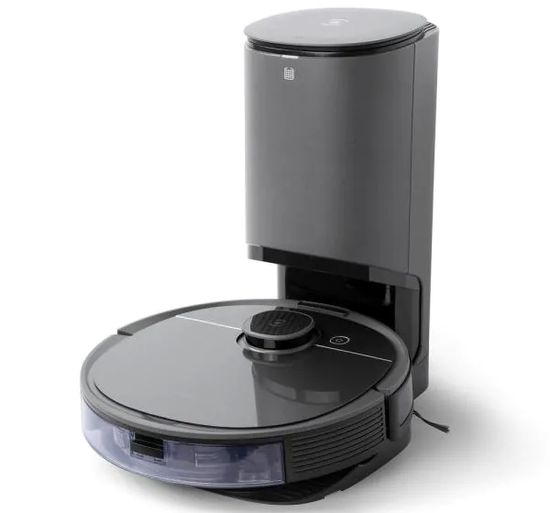 Of course, this innovative function radically raises the automation level of cleaning with modern robotic vacuum cleaners. In particular, the capacity of such dock allows the user to empty it approximately once a month. Taking into account auto charging, cleaning schedule and navigation, the N8 Pro+ can automatically clean an apartment for a month without additional control from the owner.
All other specs are absolutely identical.
The list of their differences from N7 includes:
– suction power – 2600 Pa vs 2300 Pa (~ 13%);
– TrueDetect Technology.
It detects the location of obstacles and creating an accurate visualization of their footprints.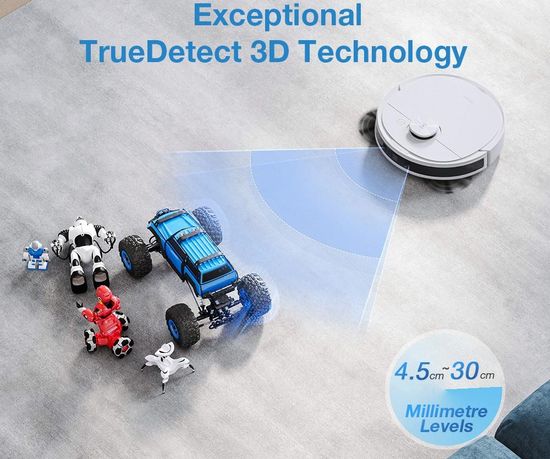 According to the company, TrueDetect is four times more accurate vs infrared sensors and provides twice the scanning range.
Conclusions
Pros
– unprecedentedly low price ($ 300 with a discount);
– a reliable brand;
– OZMO technology (vacuuming & mopping);
– Smart NAVI 3.0 navigation.
Cons
– power suction of 2300 Pa only;
– no self-emptying dock.
But for a price of $ 300, the average power suction and the absence of a self-emptying dock can be positioned as cons with a big stretch. On the other hand, OZMO technology and Smart NAVI 3.0 navigation provide an excellent value for money for this model. The fine discount is likely driven by the company's desire to promote the N8 Pro / N8 Pro+. But for consumers, this hardly matters. Today Ecovacs Deebot N7 is the best choice for the planned purchase of a robot vacuum cleaner.
This video demonstrates some of the Ecovacs Deebot N7 key features.