In fact, 2021 can be considered the birth year of a new premium segment of LCD TVs with Quantum dot (QD) technology and with Full-Array Local Dimming (FALD) that uses mini LEDs. As known, QD technology provides a wide color gamut and high color accuracy, and local dimming technology improves the overall contrast.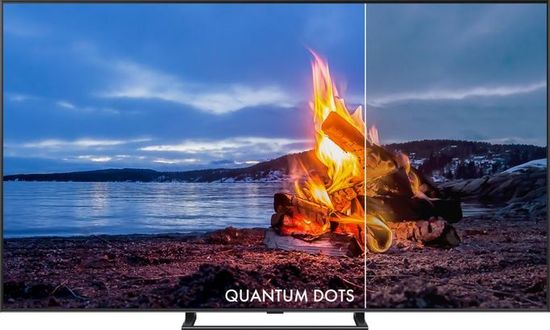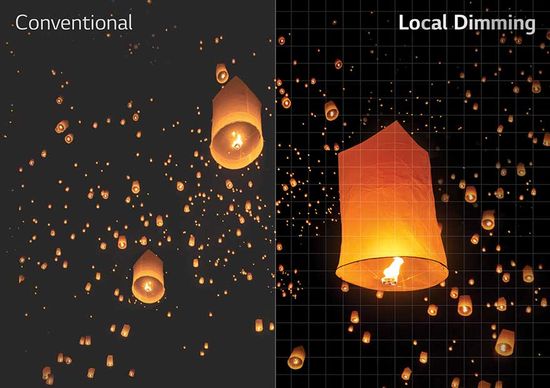 Of course, the industry leaders did not ignore the new trend, presenting at CES 2021 TCL OD-Zero backlit, Samsung Neo QLED TVs and LG QNED series. All of these models use miniLED backlit with miniature LEDs, grouped into a huge number of local dimming zones.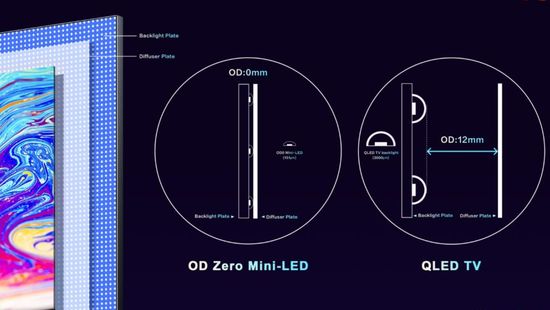 TCL miniLED TVs are not yet available, but competition between Samsung Neo QLED and LG QNED series is in full swing. Of course, many sites since spring offer Samsung Neo vs LG QNED comparison. But the instability of starting prices significantly limited its objectivity in terms of 'value for money'. Today they have stabilized by opening up this opportunity.
Even a cursory analysis reveals a very strange ratio in the 8K segment. For example, Samsung 4K HDR miniLED TVs predictably more expensive (Samsung QN90A vs LG QNED90):
– 65"- $ 2,200 vs $ 1,800;
– 75"- $ 2,800 vs $ 2,700;
– 85"- $ 4,000 vs $ 3,500.
But this difference is quite traditional for these perennial competitors, and ranges from 5% to 20%. In the 8K segment, the situation is different (Samsung 8K QN900A vs LG 8K QNED99):
– 65"- $ 3,500 vs $ 2,500;
– 75"- $ 5,000 vs $ 3,500;
– 85"- $ 7,500 vs $ 5,300.
Of course, such a significant difference is puzzling, and requires a closer analysis of the specs.
Panel and miniLED backlit
Samsung Neo traditionally uses a 10bit VA panel, while LG has opted for a 10bit IPS panel with wide viewing angles. As known, modern TVs use VA, IPS aтd ADS panels. In turn, the ADS panel is an improved version of the IPS matrix.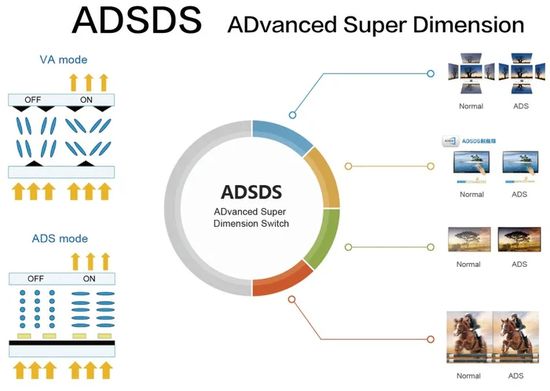 VA panels are more expensive, bright and contrasty, but have relatively narrow viewing angles. Cheaper IPS matrices provide wide viewing angles, but are inferior in brightness and contrast.
For wider viewing angles, Samsung has developed 'Ultra Viewing Angle' technology.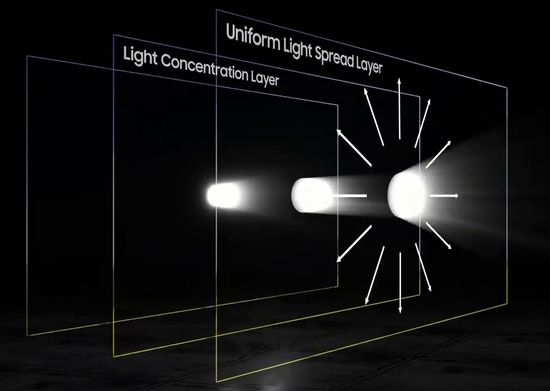 It effectively expands viewing angles, but, unfortunately, significantly reduces the panel's native contrast. However, the logic of the developers is quite reasonable. Using a VA panel with 'Ultra Viewing Angle' filters, they provide a significant increase in brightness at good viewing angles. At the same time, the deterioration of native contrast is compensated by an increase in dynamic contrast due to the innovative miniLED backlit with deep black gradations on the screen.
The new Samsung and LG TVs use approximately the same number of local dimming zones. In particular, the 65-inches QN900A has about 1,344 local dimming zones, and 75-inches TV – 1,920, which is almost three times more compared to similar 4K model.
According to the LG company, the QNED uses 1,200 (40 x 30) zones in 65-inches models, 1,920 (60 x 32) – in 75in TV, and 2,400 (60 x 40) – for 86″ screens.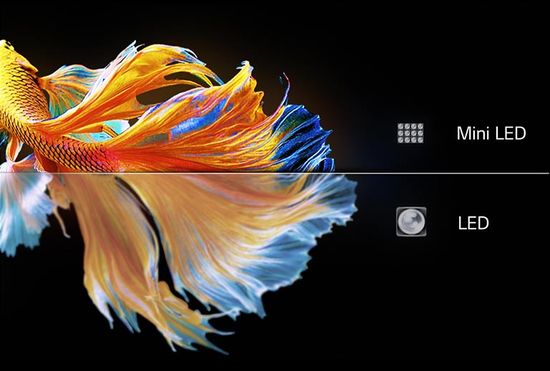 But the performance of this technology also significantly depends on the processor performance and efficiency of the video processing algorithm. In particular, the image with Local Dimming mode in some mid-budget FALD models is sometimes accompanied by artifacts or blurring due to insufficient processor performance.
LG QNED99 8K vs Samsung QN900A 8K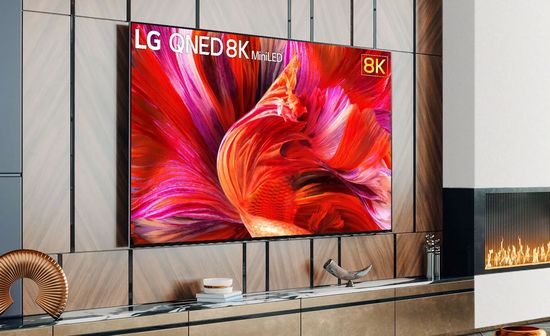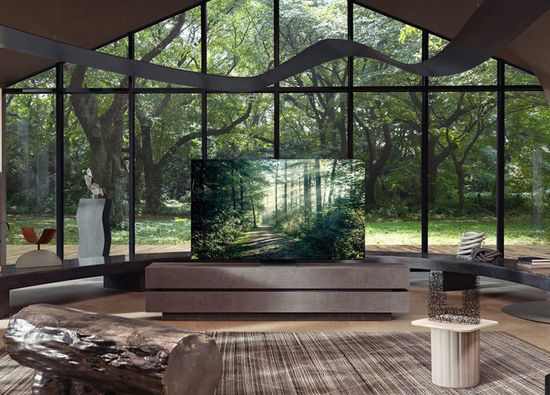 Contrast:
– native contrast – 638: 1 / 1.658: 1;
– contrast with local dimming – 6,534: 1 / 20,392: 1.
Of course, 638: 1 native contrast is very low even for IPS panel. But high efficiency local dimming increases it to premium level of 6,534: 1.
The QN900A native contrast matches the traditional VA panel contrast. But Local Dimming with miniLED boosts it to an unprecedented 20,392: 1 that is close to black levels in OLED TVs.
But in both series 'Local Dimming' mode reduces detail in bright areas and can cause blooming around large bright objects and subtitles.
SDR Brightness (LG / Samsung)
– Peak 10% Window – 802 / 1.408 nits or cd / m²;
– Peak 50% Window – 519 / 550;
– Peak 100% Window – 419 / 386.
LG demonstrates good brightness for the IPS panel, but it significantly depends on the scene.
Its max 1.108 nit in the 25% window is achieved through losing image accuracy in 'Vivid' Picture Mode and Auto Dynamic Contrast on 'High'. But the max SDR brightness in QN900A exceeds 1,700 nits in the 2% window in the 'Movie' Picture Mode with Brightness at max and 'High' Local Dimming.
HDR Brightness (LG / Samsung)
– Peak 10% Window – 1.006 / 1.592;
– Peak 50% Window – 773 / 618;
– Peak 100% Window – 522 / 409;
Both models provide excellent HDR brightness, but like SDR mode, Samsung is better for small bright highlights. At maximum settings ('High' Contrast Enhancer and max ST.2084), its brightness exceeds 3,000 nits in the 'Dynamic HDR' mode with 'High' Local Dimming.
Other specs
IPS panel in LG and VA panel with 'Ultra Viewing Angle' layer in Samsung provide roughly the same viewing angles. But reflection handling in Samsung is more effective. Its glossy screen finish provides 2.4% Total Reflections, 1.4% Indirect Reflections and 0.9% Calculated Direct Reflections vs 4.2% / 1.0% / 3.2% in LG with semi-gloss screen finish.
Calibration
LG QNED99 (Pre / Post calibration) vs Samsung QN900A (Pre / Post calibration):
– White Balance dE 4.24 / 0.33 vs 4.80 / 0.34 (good value <3);
– Color dE 2.54 / 1.30 vs 2.81 / 1.08 (good value <3);
– Gamma 2.12 / 2.19 vs 1.96 / 2.20 (good value 2.1- 2.3);
– Color Temperature 6,693 K / 6,585 K vs 6,315 K / 6,465 K (6,500 K).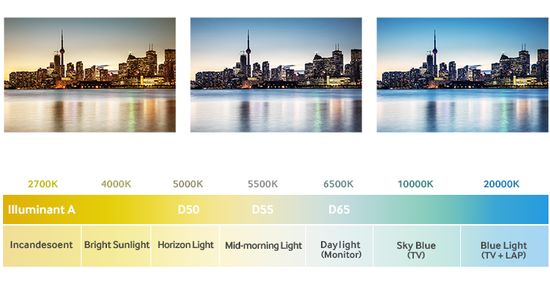 Both models have acceptable but imperfect color accuracy 'out-of-the-box'. But calibration in both series is very efficient and provide almost perfect settings.
Both models provide a great color gamut for HDR content with nearly full coverage of the DCI P3 color space (approximately 95%) and wide enough coverage of the Rec. 2020 (about 70%).
The LG QNED99 & Samsung QN900A have excellent response time, reproducing the motion with virtually no bluring. It does not exceed 3.2 ms (80%) / 11.5 ms (100%) for LG, and 4.6 ms / 10.2 ms for Samsung QN900A.
Some key features
The LG QNED99 does not use Pulse Width Modulation (PWM) and is flicker-free in all modes. A brightness slight dip with the 120Hz refresh rate can only be detected with instruments. The Samsung QN900A controls backlit brightness with PWM and flickers at 960Hz with static images.
In theory, this can be uncomfortable for some people who are sensitive to this effect. The discussion of ophthalmologists about the effect of flickering on eye and brain fatigue has been going on for several years to no avail. But from a precautionary point of view, flicker-free LG is preferable.
The LG QNED99 comes with the newest webOS 6.1 version (enhanced LG ThinQ AI, Next Pick and Magic Link functions, new Game Optimizer on-screen display, etc).
Samsung uses OS Tizen 2021 with new 'Super Ultrawide GameView' mode (switchable between 21: 9 and 32: 9 formats), Health app with Smart Trainer (real-time feedback with interactive prompts and voice control), Game Bar (quick settings in games), FreeSync Premium Pro (minimizes image lag), etc.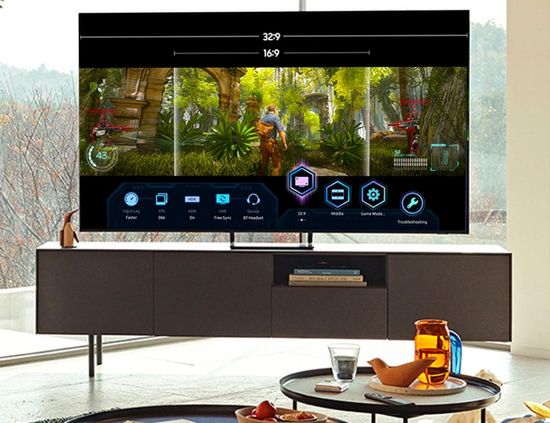 Both OS are great.
Conclusion
This year's list of main innovations includes OLED Evo panel in LG G1, Cognitive Processor XR in Sony BRAVIA XR lineup, Hisense's Dual Cell technology, and Google TV platform.
But mini LED backlit stands out from the general list. At CES 2021, virtually all segment leaders presented their versions of this technology, including LG QNED series, Samsung Neo series, and TCL OD Zero backlit. In the spring it was shown in flagship TCL X12 8K miniLED, which unfortunately not yet available.
Today the prices of Samsung Neo QLED and LG QNED have already stabilized, opening up the possibility for a correct comparison of their 'value for money'.
The main specs of the Samsung flagship clearly exceed the capabilities of the LG QNED99. Indeed, it's brighter (1,408 vs 802 nits SDR Brightness, and 1,592 vs 1,006 nits HDR Brightness for 10% Window) and has a greater contrast (1,658: 1 vs 638: 1 native contrast, and 20,392: 1 vs 6,534: 1 contrast with local dimming).
Of course, high brightness and contrast will increase HDR performance, especially in bright ambient light. But this increase is unlikely to make up for the huge price difference, which ranges from $ 1,000 for the 65-inch model to $ 2,200 for the 85-inch TV. What's more, OS, smart features, calibration, color gamut, viewing angles, response time, etc are nearly identical and are premium.
Perhaps this factor will not stop fans of the Samsung brand, but it can become a serious argument in favor of LG for other consumers.
This video offers side-by-side comparison Samsung QN900A vs LG QNED99 miniLED TVs.