Despite the quarantine, the virtual CES 2022 successfully demonstrated the achievements of companies in the high-tech segment. Traditionally, TVs have been in the spotlight.
The innovative miniLED backlit was a major trend at CES 2021. A year ago, Samsung, LG and TCL presented their versions of this technology, including Samsung Neo QLED, LG QNED and TCL OD-Zero series. Today Samsung Neo QNТ90A and LG QNED90 are among the best LCD TVs with quantum dot technology (Samsung-QLED, LG-NanoCell) and miniLED backlit. TCL also announced this spring a gorgeous 85-inch TCL X12 8K Mini LED Starlight Smart Screen with this technology for $ 15,000, but unfortunately it did not appear on the market. However, the company more than compensated for this misunderstanding by presenting a excellent TCL 6 Series R646 (2021) with 240 local dimming zones priced at $ 1,300 for the 65-inch model. Today, it's rightfully ranked on the bestseller list, becoming one of the best mid-budget TVs.
QD-OLED technology
CES 2022 kicked off an equally epochal innovation with Sony Master Series A95K 4K TV, which is the first to use hybrid QD-OLED technology.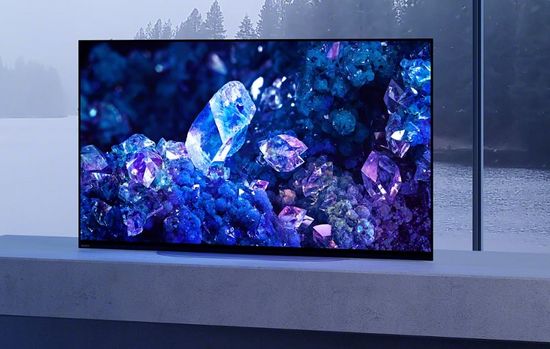 Curiously, despite market expectations, Samsung's version of the model with a QD-OLED display was not presented. The company may have postponed this event until the summer. Moreover, for marketing or other reasons, Samsung prefers to use the 'blue self-luminescence layer' and 'QD Display TV' terms instead of 'OLED' or 'QD-OLED'. As a result, Sony took the palm of the trailblazer.
Briefly, a hybrid QD-OLED display uses a stack of blue OLED material to illuminate quantum dots that generate red and green. In fact, the developers are replacing the complex and expensive miniLED backlit with a backlit with an additional blue OLED stack. In theory, this technology combines excellent contrast, wide viewing angles and the instant response time of an OLED display (blue OLED stack) with a wide color gamut and high brightness through quantum dot technology in LCD TVs (QD layer).
But of course, the first QD-OLED TV that can be considered the fruit of a joint effort between Samsung and Sony does not exhaust CES 2022. Other industry leaders have presented equally impressive successes.
LG OLED lineup (2022)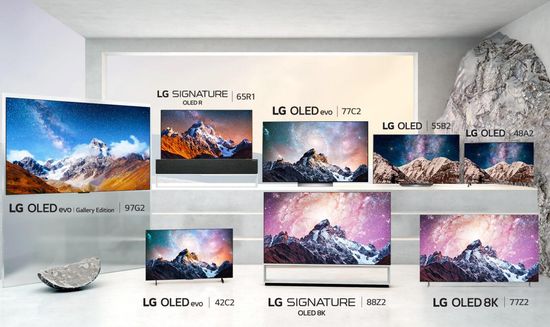 Compared to last year, series with index '2' replace '1' (C2 / C1, G2 / G1, etc), the company returns 8K Z series (Z2), and R series (rollable) – no data.
– C2 / G2 – Evo panel;
– Z2 / G2 / C2 – Alpha 9 Gen 5; B2 / A2 – Alpha 7 Gen 5;
– Z2 / G2 / C2 / B2 – 120Hz refresh rate, HDMI 2.1; A2 – 60Hz HDMI 2.0;
– G2 / C2 / B2 / A2 – 4K; Z2 – 8K.
LG QNED NanoCell 8K and 4K TVs (55″ to 86″);
– 86-inch QNED99 8K – 2,400 local dimming zones with Precision Dimming Pro+, Alpha 9 Gen 5;
– QNED90 – Precision Dimming Pro miniLED backlight technology, Alpha 7 Gen 5;
– QNED85 Precision Dimming, Alpha 7 Gen 5;
– QNED80 – edge-lit QD NanoCell, Alpha 7 Gen 5.
UHD 4K TVs:
– Alpha 5 Gen 5 processor;
– webOS 22;
– Dynamic Tone Mapping, AI Brightness, AI sound, Game Dashboard Optimiser, Ambient Mode and multiple profiles.
Judging by the presented TVs, the company is focusing on building on its last year's successes. Phenomenal marketing success LG OLED G1 and LG OLED C1 series was a good incentive for the company. LG unveiled the OLED G2 / C2 this year with a brighter new OLED Evo panel. What's more, the company has expanded their OLED lineup with the 97-inch and 83-inch G2, and the 42-inch version of the C2.
Except A2, all models have HDMI 2.1 with bitrates up to 48Gbps. Additionally, LG has upgraded the Alpha processor to Alpha 9 Gen 5 (new picture / sound technologies) and updated webOS with new options.
OLED.EX screen
LG OLED Evo range expands with C2. But unlike the flagship G2, this series will not use heat dissipation with an additional aluminum sheet, which indirectly indicates a lower brightness of the C2 panel.
As known, LG Display supplies panels for LG, Sony, Panasonic and others OLED TVs manufacturers. This year, the company announced its intention to implement some of the OLED Evo innovations into new 'OLED.EX' screens. This title is an acronym of 'Evolution' and 'eXperience'. OLED.EX display uses deuterium technology and proprietary algorithm-based 'EX Technology'.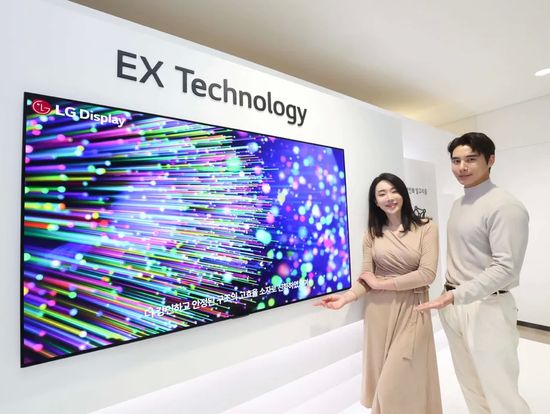 As known, deuterium has a longer lifespan, is more efficient vs hydrogen-based compounds, and heats up less, reducing cooling requirements. These factors allowed the developer to increase the screen brightness by about 30%, at the same time reducing its thickness from 6 mm to 4 mm for 65-inch OLED displays.
The company says that EX.Technology allows 'more accurately express the details and colors of the video content being played' depending on the viewer habits. Perhaps the algorithms remember the previous settings and adjust the current settings based on them.
According to the company, OLED.EX technology will be used in all OLED displays at LG's plants in Paju, South Korea, and in Guangzhou, China from the second quarter of 2022.
LG continues to expand its range of screen sizes. It now ranges from the gamer-friendly 42-inch C2 OLED TV to the gigantic 97-inch panel.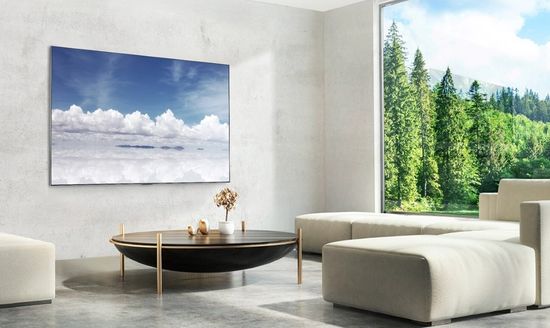 Its size is quite competitive compared to living room projectors, including, for example, the gorgeous Hisense L9G UST 'Laser TV' with TriChroma Laser technology, priced at $ 4,500.
The use of a new composite fiber material (PET) in body has significantly reduced the TVs weight (20% for G2 vs G1 and 47% for C2 vs C1).
Alpha 9 Gen 5 processor
All new LG OLEDs use the 5gen of its Alpha 9 processor with iterative picture / sound processing. As known, today it's the most effective organization of data processing, in which the processing is carried out in parallel with the continuous analysis of the results obtained and the adjustment of subsequent stages. Of course, last year's Clearer Text, Auto Genre Selection, Genre Optimization and upgrades, including Object Enhancement, Scene Detection and Auto Volume Leveling are also available.
The developers have also improved the AI upscaling. For enhanced detail and general color fidelity, a new Dynamic Tone-mapping Pro Algorithm divides the screen into more discrete areas.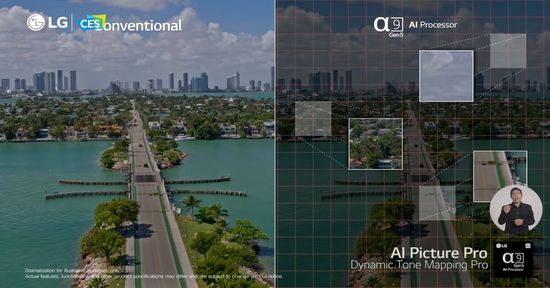 Dynamic Vivid Mode for Object Background Enhancement will more efficiently separate foreground and background using separate analysis. According to the developers, this will increase the depth of field.
Virtual upmixing with AI Sound Pro increases the number of virtual channels from 5.1.2 to 7.1.2.
Gaming
– HDMI 2.1 – 48Gbps;
– 4K@120Hz, ALLM (Auto Low Latency Mode), VRR (Variable Refresh Rate), HGiG, G-Sync and Free Sync Premium support;
– new LG Game Optimiser – updated Game Optimiser menu and a new preset for sports games;
– new Dark Room mode – reduces eye fatigue (lowering brightness without worsening contrast).
LG webOS 22
Probably, the name of the new OS versions will correspond to the year. New options, improved personalization and recommendations are the main differences between webOS 22 and previous webOS 6.0.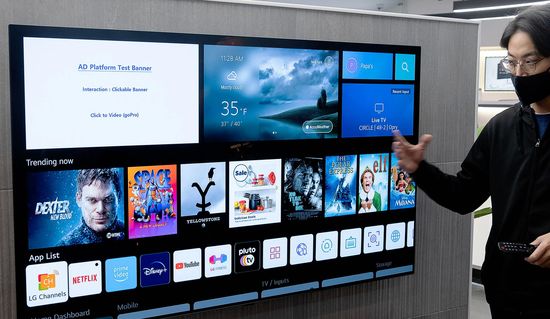 This version supports six user profiles, which are available from the TV browser, or from a smartphone with NFC Magic Tap. They include personalized viewing recommendations, sport alerts, etc.
NFC Magic Tap supports mirroring a mobile device to an screen. 'Room To Room Share' provides mirror content from one TV to another.
'Always Ready' allows the user to set on the screen the off TV weather, a clock, art, personnel photos, animation or music with light animation.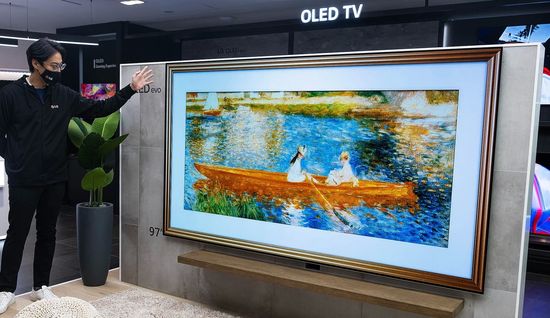 In fact, it turns your TV into a multimedia display. Always Ready is activated with the remote and is configurable from the TV menu.
'LIVENow' offers access to online concerts, shows, sporting events, etc. In fact, this option is a portal for the TV to the external virtual world.
1M HomeDance app is designed for dance lovers. Created in collaboration with '1MILLION Dance Studio', the app provides a wide variety of dance choices. What's more, users can even dance alongside '1MILLION Dance Studio' professional choreographers in Camera Mode.
LG Fitness is LG's first 'health platform', delivering fitness in front of TV.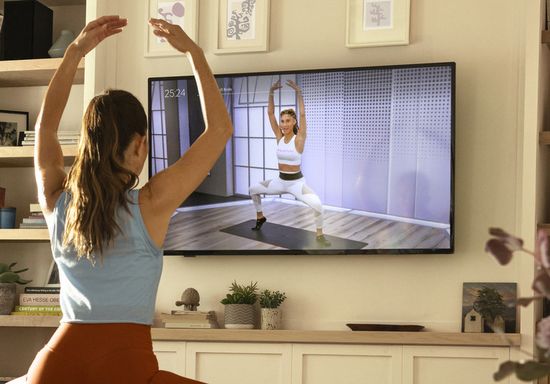 Independa is the first telemedicine service supported on LG TVs.
Conclusion
Traditionally, LG has demonstrated its leadership ambitions by unveiling a wide range of new models and innovations at CES 2022.
The LG C2 OLED and LG G2 OLED with OLED Evo panel have excellent marketing prospects. The 97-inch LG G2 OLED is the largest TV today. Its screen size has reached the projection size of very popular living room projectors, including, for example, the gorgeous Hisense L9G UST 'Laser TV' with TriChroma technology, priced at $ 4,500 with 100-inch ALR UST screen. As an alternative, laser UST projectors are increasingly pushing TVs out of living rooms. Of course, the picture quality of a TV is much better than a projector of the same class. But it's even scary to imagine how much LG will ask for its 97-inch miracle.
The progress pace of the company is also impressive. At CES 2021, it unveiled the Alpha 9 Gen 4 processor in the C1, G1 and other series. Less than a year later, the company is already using an improved Gen5 version with more efficient video / audio processing algorithms.
The smart platform is showing similar progress. Compared to last year's webOS 6.0, the new webOS 22 has expanded its functionality with 'Room To Room Share', 'Always Ready', 'LIVENow', 1M HomeDance app, LG Fitness and Independa.
Of course, this year's OLED TVs will face tough competition, including:
– Sony Master Series A95K 4K TV, which is the first to use hybrid QD-OLED technology;
– Hisense 75U9DG with Dual Cell technology;
– new Samsung Neo QLED 2022;
– announced TCL OD-Zero models.
But judging by CES, LG has something to show for its most formidable competitors.
The video introduces the LG 97″ OLED TV.