In 2021, the innovative miniLED backlit has proven its efficiency and competitiveness. Together with Quantum Dot (QD) technology, it raised the picture quality of LCD TVs to the level of OLED panels.
Introduction
As known, QD technology expanded the color gamut and color accuracy through the use of an additional matrix with microparticles, the size of which corresponds to the red and green wavelengths. They partially absorb the luminous flux from the blue LEDs, re-emitting red and green. After the matrix, these colors are mixed with partially passed blue, forming an almost perfect white, which is used as a backlit for the RGB layer. A significant increase in the quality of the backlight provided a dramatic improvement in the quality image.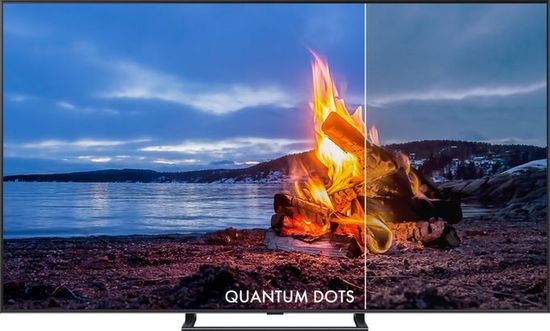 Local Dimming has become the second improvement direction for LCD TVs. This technology controls the backlit intensity in different frame areas depending on the content. As a result, the reduction of the light flux in the dark areas significantly increased the overall image contrast.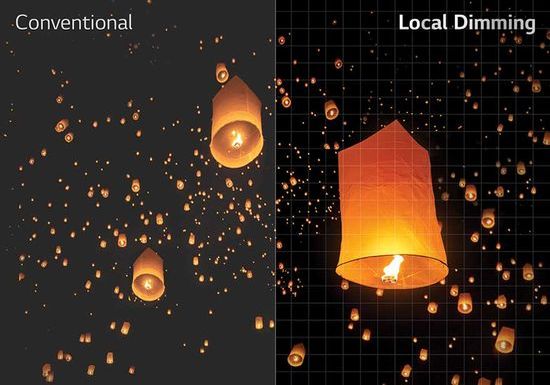 FALD (Full Array Local Dimming) was the first step its improving. It used up to a hundred traditional LEDs, which were evenly distributed over the entire surface of backlit unit. The use of miniature LEDs was the next step in its improvement. MiniLED backlit uses tens of thousands of miniature LEDs combined into hundreds and even thousands of individually controlled local dimming zones. Of course, this dramatically increased the accuracy of control and, as a result, the overall contrast.
At CES 2021, Samsung, LG and TCL announced their versions of this technology. With the exception of TCL OD-Zero, Samsung Neo and LG QNED series have successfully expanded the market, forming a segment of premium LCD TVs with quantum dot technology and FALD based on miniLED backlight. But, of course, other market participants are also using these innovations. For example, in 2021 Chinese companies introduced the great TCL 6 Series (R646) and Hisense U8G with similar technologies.
Samsung Neo QLED 2022
The LG QNED series has taken its rightful place among the TVs of 2021, but its success is clearly inferior to the gorgeous LG's OLED C1 and G1 models. Therefore, the concentration of the company's efforts on their improvement seems quite logical. As a result, the LG OLED C2 and G2 presented at CES 2022 aroused the most interest from experts.
The success of the Samsung Neo QLED series, including the Neo QN900A 8K and Neo QN90A 4K, has been more impressive, providing them with a place in many top-lists. Therefore, the concentration of developers' efforts in this direction was quite predictable and the company did not deceive expectations.
Of course, many expected the super innovative hybrid with a QD-OLED panel from the South Korean giant. But the management decided to skip Sony ahead, which presented at CES 2022 Sony Master Series A95K with QD-OLED panel by Samsung Display. According to rumors, Samsung has postponed the announcement of its own hybrid to this summer. However, the impressive expansion of the Neo QLED series quite compensates for this delay.
Neo QLED 2022:
– 4K – QN95B, QN90B, QN85B;
– 8K – QN900B, QN800B, QN700B.
Launch prices:
– 85-inch QN90B – $ 5,000;
– 75-inch QN90B – $ 3,500;
– 65-inch QN90B – $ 2,500;
– 55-inch QN90B – $ 1,800;
– 50-inch QN90B – $ 1,600;
– 85-inch QN85B – $ 4,000;
– 75-inch QN85B – $ 2,800;
– 65-inch QN85B – $ 2,000;
– 55-inch QN85B – $ 1,500.
All models use bright contrast 10-bit VA panel, miniLED backlit and anti-glare/matte display with Ultra Viewing Angle.
The built-in NFT platform is very convenient for searching, buying and selling digital works of art, including photos, drawings, etc.
HDR
Quantum Matrix with miniLED delivers superb picture quality with ultra-fine light control.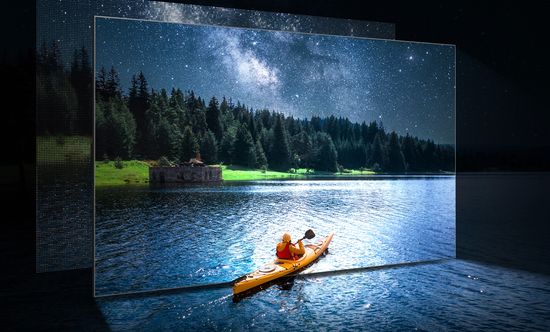 Despite the shortage of HDR content, the popularity of this mode continues to grow. Of course, companies pay a lot of attention to its support, and the Samsung Neo QLED TVs 2022 are no exception. They support:
– HDR – basic High Dynamic Range imaging;
– HDR10+ – meta data with encoding information for each scene;
– HDR10+ Adaptive – auto adaptation of settings depending on ambient light, which is measured using the built-in sensor;
– HDR10+ Gaming – optimization for games, including VRR (variable refresh rate), ALLM (auto low latency mode) and refresh rate over 120Hz;
– HLG (Hybrid Log Gamma) – a format for playing HDR content on an SDR (standard dynamic range) screen by cropping too bright values;
– Quantum HDR 24X – very precise adjustment of local dimming and brightness for each object in the frame.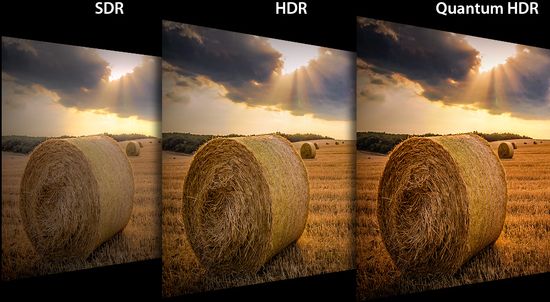 New technologies and options
Neo QLED 2022 uses an improved Neo Quantum processor.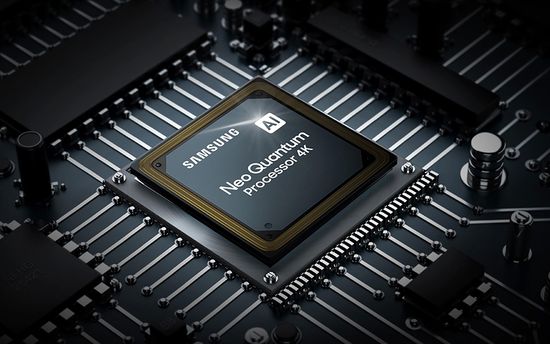 Together with the BLU (Backlit Unit), it increases the number of adjustable brightness levels from 12 to 14 bits, providing 16,384 vs previous 4,096.
Of course, developers are making full use of the capabilities of the new processor in miniLED backlit. In particular, the new Shape Adaptive Light technology recognizes lines, shapes and surfaces, adjusting the brightness with about ten thousand mini-LEDs in real time. Based on AI image analysis, this technology adjusts the backlight beam width, using a wider beam for bright objects or a narrower beam for dark objects. Accordingly, finer control reduces bloom around small and bright objects. The clear image of the starry sky perfectly demonstrates its efficiency.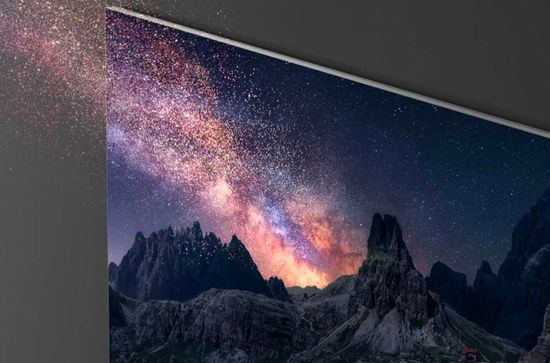 To enhance the immersive effect through image depth, Samsung has added a Real Depth Enhancer feature. This algorithm mimics how the human eye works. In fact, it distinguishes the foreground from the background and increases the image depth by increasing the foreground contrast.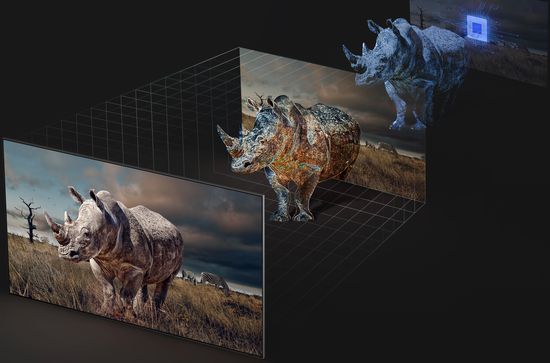 A similar algorithm is implemented in Sony Bravia XR A90J OLED with Cognitive Processor.
EyeComfort mode based preset sunrise and sunset times automatically reduces blue light in the evening before bedtime.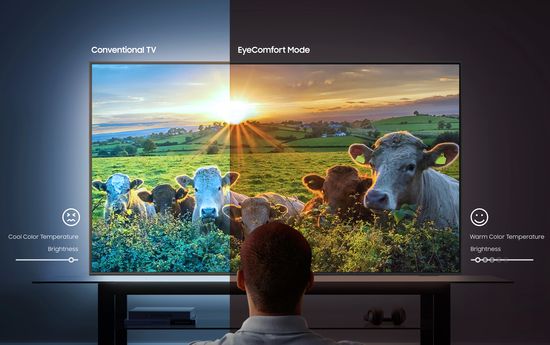 The Human Tracking Sound extension in OTS (Object Tracking Sound) more accurately synchronizes the voice with the image due to the face recognition algorithm.
Models use the new full-screen Smart Hub interface.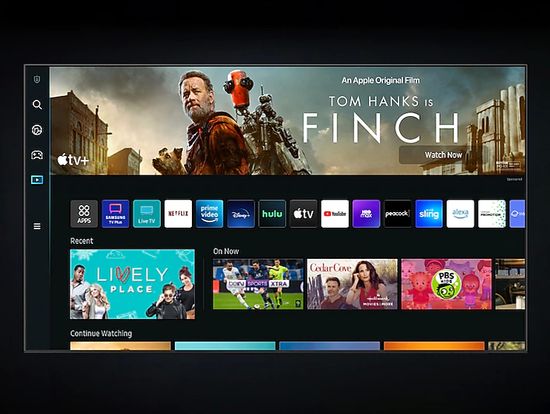 Smart options:
– saving the broadcast in a smaller window during channel switching with the ability to quickly return to the original channel;
– new Watch Together option for video calling while watching;
– multi-view mode.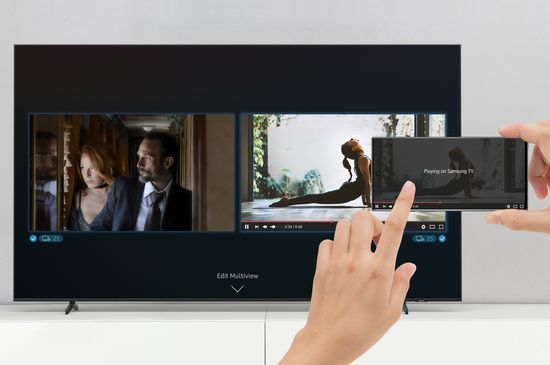 Audio, Gaming & Smart Calibration
The new Samsung NEO QLED are the first models to fully support Dolby Atmos. They receive streaming signals in this format and process them with a decoder.
The models also support 3D Dolby Atmos wireless transmission to the soundbar using improved Q-Symphony. It eliminates the need for HDMI (eARC) cable connection.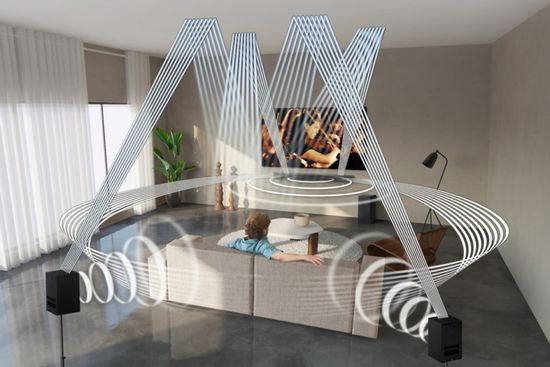 Q-Symphony technology was first introduced at CES 2020 in the flagship QLED 8K series.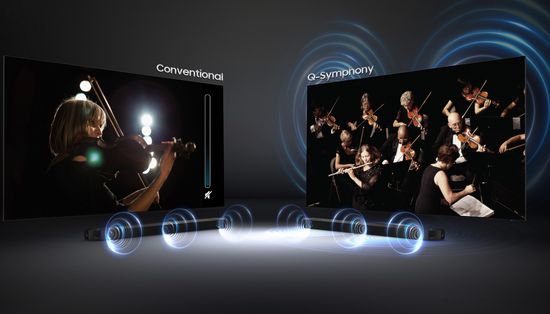 In fact, it synchronizes the volume and phase of the TV speakers with the soundbar, eliminating interference when they work together. Prior to this, TV automatically turned off the built-in speakers when connecting a soundbar.
The audio system of the flagship QN900B series uses 6.2.4 configuration with an unparalleled total output of 90W.
Unlike even the 8K 2021 models, the new 4K Neo QLED TVs support 4K@144Hz. Today, this frequency is only supported by gaming monitors with HDMI 2.1 port in a video card.
Samsung's partnerships with gaming leaders including NVIDIA GeForce Now, Stadia and Utomik provide gamers with access to a vast library of games. In fact, the new Samsung TVs can be positioned as gaming.
Samsung's Smart Calibration was another innovation this year. This option works in conjunction with iPhone and Samsung Galaxy smartphones. Using the calibration app, the smartphone's camera records test images from the TV screen, which are compared with patterns. Then, the function adjusts the grayscale and color settings. The quick calibration mode lasts about 30 seconds, the duration of the 'professional' calibration varies from 7 to 12 minutes. Today, the price of calibrating a TV ranges between $ 250 and $ 400. If the quality of the new feature is high, Samsung's TVs get an impressive competitive bonus against other brands.
Conclusion
Pros
– Quantum HDR 24X;
– Shape Adaptive Light technology;
– Real Depth Enhancer;
– EyeComfort mode;
– Dolby Atmos, including wireless connection;
– improved Q-Symphony;
– Human Tracking Sound in OTS (Object Tracking Sound);
– Watch Together mode;
– Smart Calibration;
– 4K@144Hz;
– anti-glare/matte display with Ultra Viewing Angle;
– Infinity design with 16.7mm thickness and 23% reduced volume of One Connect Box.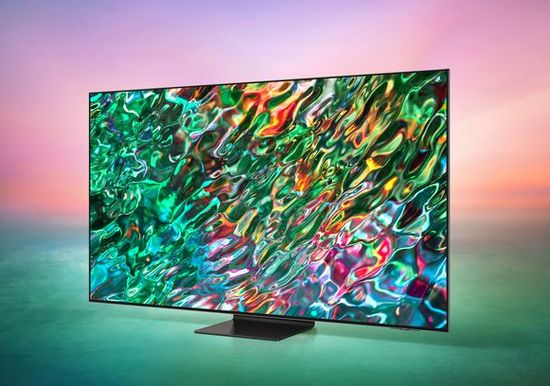 Today, miniLED backlit is used only in premium TVs, which is due to objective reasons. Indeed, managing a huge number of local dimming zones in real time requires very high processor performance and efficient algorithms. Therefore, attempts by some companies to use it in budget models with an insufficiently powerful processor weren't very successful due to the frequent image 'freezing'.
Curiously, one of the main competitors for Samsung Neo QLED (2022) can be the Neo QLED series (2021). For example, great 65 inch Samsung Neo QLED QN900A 8K costs only $ 2,700 or $ 3,000 on the company's website. Also, the brightest and most contrast Samsung Neo QN90A with an excellent color gamut (90% DCI-P3 and 70% Rec 2020 color coverage) is available today from $ 2,000 to $ 1,800 for the 65″ model. In fact , the QN900A 8K is only $ 200 more expensive vs new QN90B 4K ($ 2,700 vs $ 2,500), and the 65-inch QN90A is priced the same as the 55-inch QN90B. The launch prices will probably drop by autumn, but today the Samsung QN900A 8K and QN90A 4K clearly win in terms of price and quality.
This video contains information about the launch prices of Samsung QN90B & QN85B Neo QLED TVs 2022.
P.S.
Unexpectedly and without announce, the company introduced Samsung QS95B with innovative QD-OLED panel. Of course, it's unlikely to compete with the more modest Neo QLED series, but it will increase the intrigue. The QS95B will have to compete with Sony A95K with a similar QD-OLED panel.