In 2001, the Swedish AB Electrolux announced the first Trilobite robot vacuum cleaner, which ushered in the era of these devices.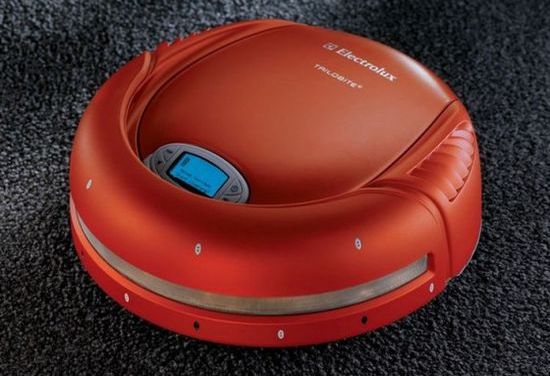 The marketing success of the novelty became a good incentive for other companies, and in 2004 the American iRobot introduced its version of the room cleaning robot called Roomba. In the same year, a new promising market segment was replenished with LG (Roboking), Samsung (VC-RP30W), Siemens (Sensor Cruiser) and Karcher (RoboCleaner RC 3000).
Korean iClebo and American Neato Robotics joined the list in 2005. In 2006 Ecovacs Group introduced the first mopping model. In 2007, the list was replenished with Chinese companies. Today iLife, Xiaomi, and other Chinese manufacturers compete very successfully in this segment.
Moreover, Xiaomi Mi Robot Vacuum Cleaner (2016) can be positioned as the end of the first stage in the evolution of these devices. The first models were expensive, low-power (ultra-compact sizes drastically limit the size and power of the engine), climbed obstacles on the floor very poorly, had too low battery life, etc. In fact, such a vacuum cleaner was an expensive fun toy for pets, who enjoy riding them around the apartment.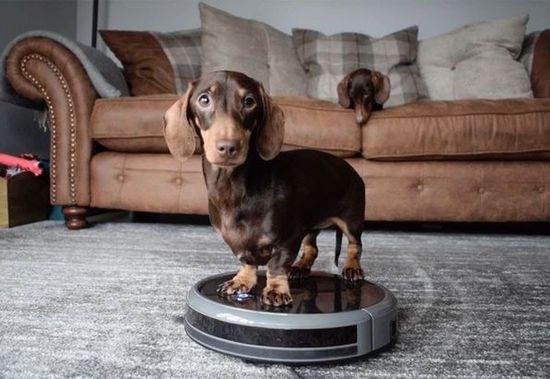 They provided an extremely low level of cleaning automation, requiring frequent intervention. Recharging, emptying the bin container and much more was done manually.
Legendary Xiaomi Mi (SKV4022GL) already uses a navigation system with lidar, supports settings and control through the app with a smartphone, its suction power enough to clean even medium-pile carpets, and the price is only $ 300. Today, this company successfully competes even with iRobot, which has dominated since 2010.
Self-emptying dock
With the exception of mopping mode, which requires filling the water tank manually, the models could already provide almost complete automation of dry cleaning mode. The need for periodic emptying the bin container remained the last annoying obstacle to full automation.
iRobot management was the first to capture the potential demand of the consumer market and successfully confirmed its status of innovative leader. The company has developed and introduced the first models with the optional self-emptying dock, including Roomba i7+ (September 2018) and Roomba s9+ (May 2019).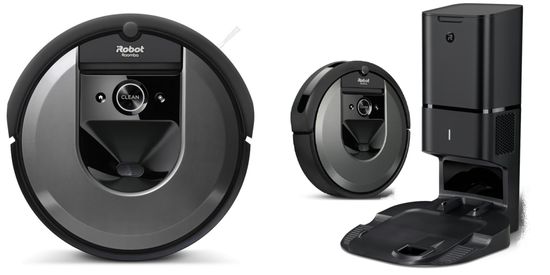 The self-emptying dock was priced at $ 300 when purchased separately or $ 200 when purchased as a kit. As a result, the last barrier to full automation has been removed. The self-emptying dock, together with the cleaning schedule and modern navigation, provide a fully automated dry cleaning of the premises within 1-2 months, depending on the dustbin capacity at the charging station.
Of course, the new feature was enthusiastically received by the consumer market. Adequately responding to demand, companies quickly filled the market with similar models. Today, their cost varies from $ 500 to $ 1,000. A partial list of popular robot vacuum cleaners with self-emptying dock includes:
– iRobot Roomba s9+ (s955020) – $ 1,000;
– Xiaomi Roborock S7+ – $ 950;
– iRobot Roomba j7+ – $ 800;
– Ecovacs Deebot N8 Pro+ – $ 700;
– iRobot Roomba i3+ (3550) – $ 500;
– Airrobo T10+ – $ 500;
– Rozi R7 – $ 500;
– Shark RV1001AE IQ – $ 480.
TCL Sweeva robot vacuums
Last year, the Chinese giant TCL also decided to enter this segment by introducing the Sweeva series. Of course, most are familiar with TCL TVs. Using an aggressive pricing strategy, the company quickly broke into the list of leaders in sales of LCD TVs in a few years. What's more, the company has shown tremendous innovation potential by being the first to introduce mini LED backliting in its TVs. Over the years, the company has developed several generations, presenting its latest OD-Zero version. Today, TCL miniLED TVs successfully compete with Samsung Neo QLED and LG QNED series using similar technologies. In particular, TCL 6 series (R646) rightfully positioned as one of the best mid-budget LCD TVs of 2021. Therefore, interest in any new products from TCL is quite justified.
Today the company's website offers four models of Sweeva series robot vacuum cleaners:
– TCL Sweeva 1000 robot (RV1014B model) – $ 200;
– Sweeva 2000 robot vacuum (RV2014B model) – $ 230;
– TCL Sweeva 6000 robot vacuum (RV6014B model) – $ 400;
– TCL Sweeva 6500 robot vacuum (RV6514B model) – $ 500.
Key features
All models support Self-Recharge, Schedule Cleaning, have Roller Brush and Washable HEPA filter, use obstacle and anti-drop sensors (anti-drop, anti-collision and wall protection sensors), and them Climbing Threshold reaches 0.79″ (2 cm).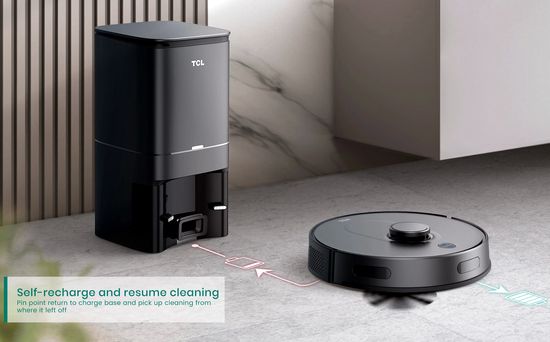 With the exception of Sweeva 1000, all robot vacuums:
– support app control with TCL Home App and voice control with Alexa and Google Assistant-enabled devices.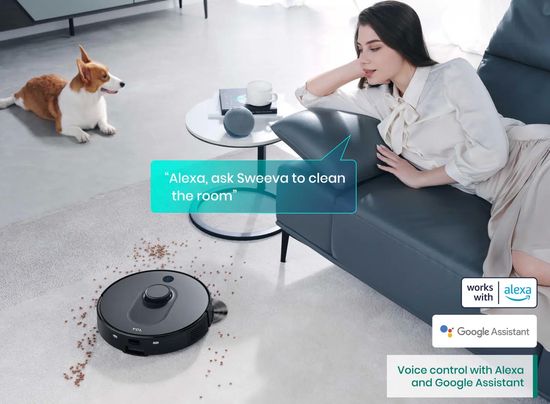 – automatically increase suction on carpets.
Sweeva 2000 provides 'virtual wall' with magnetic strips. Sweeva 6000 and 6500 have laser-guided navigation system and provide UVC (ultraviolet-C) sterilization to eliminate bacteria and viruses.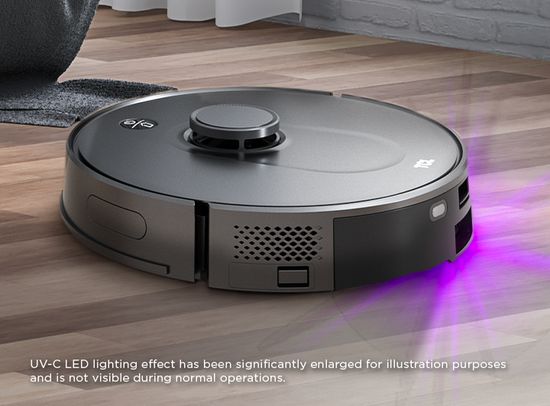 Finally, the Sweeva 6500 has 4L hands-free auto emptying dustbin, which lasts about 30 days.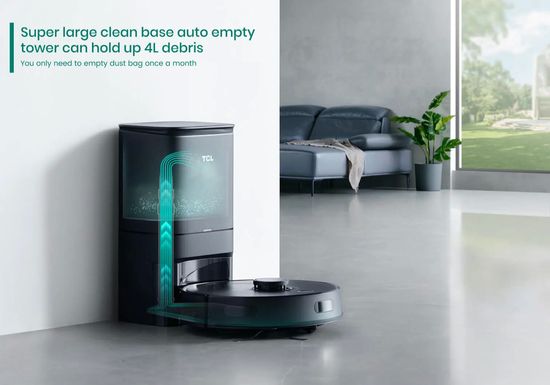 Other main specs (Sweeva 1000 / 2000 / 6000 / 6500):
– suction power – 1500Pa (3 power levels) / 2000Pa (3) / 2700Pa (4 power levels) / 2700Pa (4);
– runtime – up to 120 / 150 / 180 / 180 minute (3 hours with 5000mAh battery provides cleaning up to 1600 sqft or 150 m²);
– capacity of leak-proof dustbin – 600 / 600 / 500 / 500 ml;
– height – 2.76 in (7 cm) ultra-slim profile / 2.76 in (7 cm) ultra-slim profile / 3.7 in (9.4 cm) / 3.7 in (9.4 cm).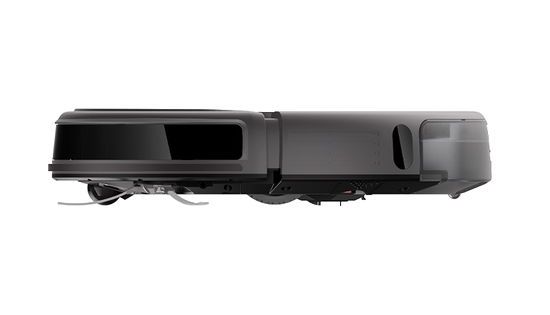 Sweeva 6500 uses 4 modes, including Quiet (lower to 65dB) / Standard / Turbo / Max.
The laser navigation scans the room at a speed of 6 shots per second, calculates the distance between the objects, and creates a cleaning path.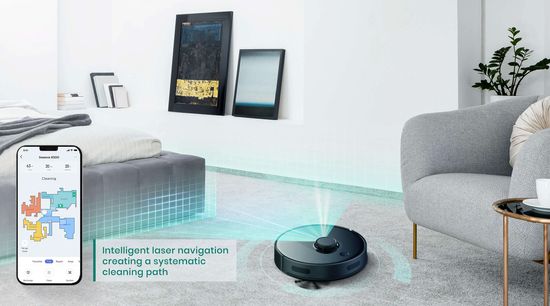 Then the robot cleans row-by-row.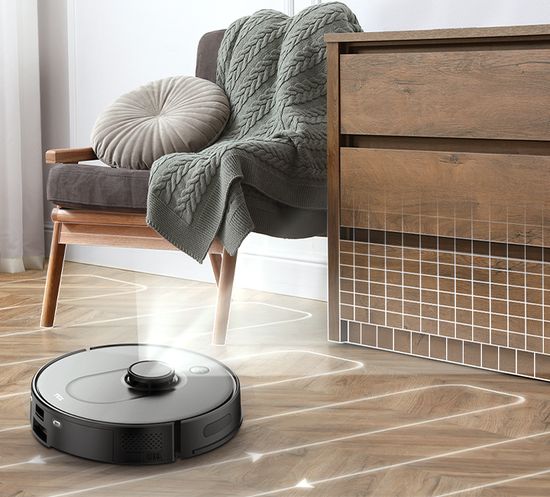 TCL Home APP provides cleaning schedule, pin-and-go customized area cleaning, set no-go zone, etc.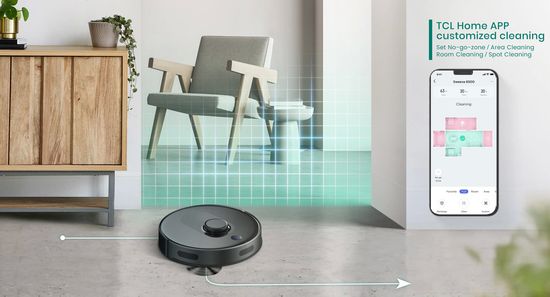 Conclusions
Of course, the competition in this segment is quite tough. But TCL's reliable and excellent TVs have made the Chinese giant an excellent reputation in the consumer electronics segment. In combination with an effective aggressive pricing strategy, this factor can ensure the marketing success of the new series.
The ultra-budget $ 200 Sweeva 1000 could be the perfect choice for cleaning a student dorm room, for example. The functionality and specs of the TCL Sweeva 6500 are quite in line with the premium level, for which $ 500 is a great price.
Maybe today this brand is not the most popular in this segment, but TCL's excellent reputation easily eliminates this problem.
This video demonstrates the TCL Sweea 6500 vacuum robot.