Robotic vacuum cleaners have long ceased to be an expensive toy for pets who love to ride around the apartment on it.
Only 10 years ago, most models basically cleaned hard floors of debris and dust. At the same time, low suction power limited the cleaning of even low-pile carpets. In addition, robots often became entangled in wires on the floor and could hardly overcome even low obstacles. Usually, battery life provided cleaning the medium-sized room. The lack of automatic following to the base for recharging and starting from the breakpoint required its manual carrying. The lack of effective sensors and navigation required the use of virtual walls or magnetic boundary tapes. Of course, all these restrictions significantly reduced the level of cleaning automation.
In recent years, developers have successfully solved most of these problems, turning the robot vacuum cleaner into an effective automatic cleaning device. Of course, depending on the price, their functionality varies in a very wide range. But even budget modern models, as a rule, support automatic charging, several modes, provide cleaning the several rooms for one charge, and may not very carefully clean a carpet with a low pile at a suction power of about 20-25 AW.
Introduction
Of course, the functionality and capabilities of premium models are radically different. A few years ago, the American Neato Robotics introduced the Neato Botvac Connected with increased power. The company did not indicate the exact suction power, but some experts indicate in their reviews up to 120 AW. But this value seems too optimistic. Test results showed around 60 AW that much more believable. However, this power has already ensured a sufficiently high cleaning quality even for medium-pile carpets. But already at CES 2018, LG introduced the flagship LG CordZero R9 Master with real suction power up to 120 AW in turbo mode. This model already cleans carpets even with long pile.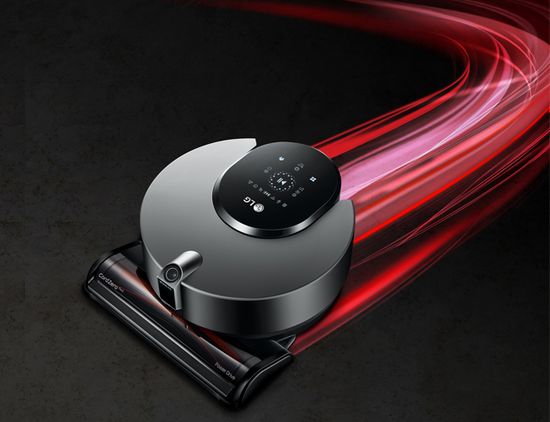 Of course, other specs have also radically improved. The list of improvements included a significant increase in runtime, 3D navigation, scheduled cleaning, control via a smartphone, mapping, mopping on some models, etс.
Like any segment of consumer electronics, the market for modern robot vacuums has several distinct leaders. As a rule, their innovative models most fully demonstrate trends. As known, the American iRobot introduced in 2002 the first Roomba robot. Since then, the company has confidently dominated the premium segment, periodically introducing innovative models.
In September 2018, iRobot introduced a new premium Roomba i7/i7+ with updated brush extractors and imprint navigation with iRobot Home app. But, of course, the self-emptying Clean Base with Automatic Dirt Disposal function became its main sensation. However, the company did not stop there, and in may 2019, introduced a much more powerful D-shaped Roomba s9/s9+ with automatic dirt disposal, and with innovative Imprint Link technology for synchronization with the Braava Jet M6 mop.
Innovations
In fact, the i7 and s9 are positioned as the new generation of Roomba vacuums with a revolutionary extension of automation level. The list of main innovation includes self-emptying Clean Base, Imprint Smart Mapping and Imprint Link technologies, and significantly improved Smart-functions, including Keep Out Zones.
As known, a plus in the model name indicates the presence of Clean Base in the package. Traditionally, the compact design of any robot vacuum significantly limits developers when choosing bin. Usually, it holds about 400 ml. As a result, the user is forced to manually empty it after every few cleaning cycles. Of course, this aspect significantly reduces, for example, the pros of scheduled cleaning, and the overall level of automation.
Auto-emptying docking station uses a much more capacious bin. Its capacity is approximately 30 times greater than the bin capacity in the robot. After cleaning, Clean Base automatically sucks the debris and dust from Roomba.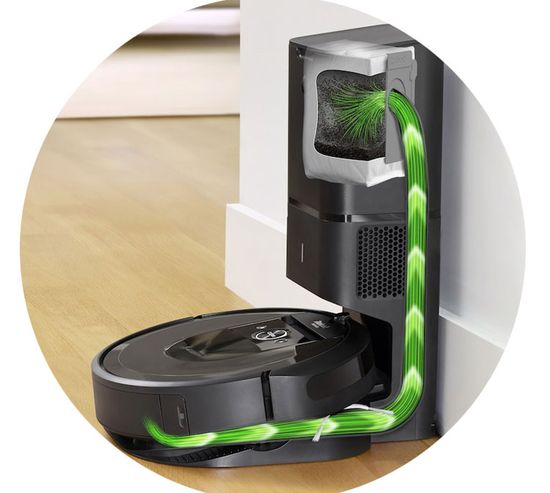 The replacement frequency of a significantly more capacious AllergenLock Dirt Disposal Bag usually does not exceed once a month.
Unfortunately, i7+ Clean Base is not suitable for s9+.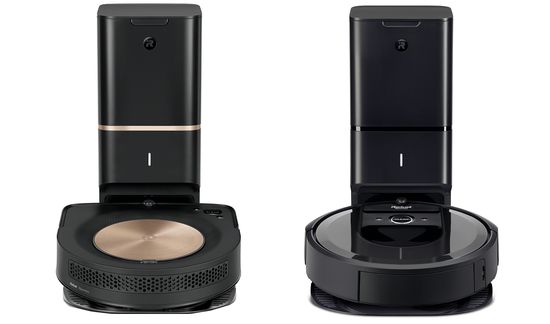 Moreover, the s9 Clean Base has a more high-efficiency hypoallergenic filtration system.
Of course, Braava is primarily intended for mopping the hard floors, including parquet, tile, linoleum, etc. Nevertheless, the robot has a panel for dry cleaning, for example, a low-pile carpet. Its surface is different from the wet wipe panel, which is shown on the right in the photo.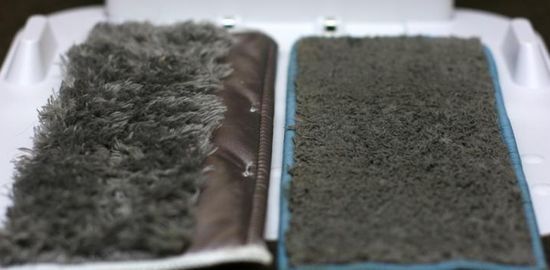 Unfortunately, the use of Braava reduces the overall automation level due to the need to manually pour water and install the appropriate panel or wipes.
Similarities
– auto charging;
– control options with voice commands and the iRobot Home app;
– camera-based navigation (vSLAM).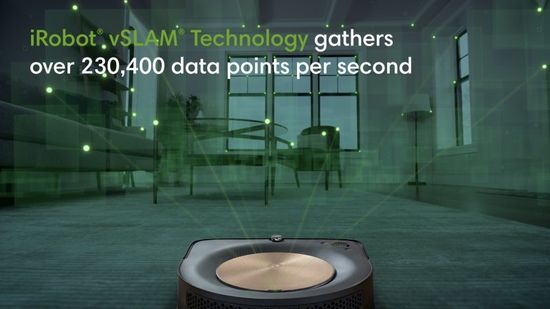 – Clean Base charging station;
– Imprint Link for synchronization with Braava mopping robots;
– both models can use local controls, including Clean, Home and Spot clean buttons on the faceplate, voice or mobile app;
– Carpet Boost (Power Boost) function;
– navigation and mapping use iAdapt 3.0 and innovative Imprint Smart Mapping.
But iAdapt algorithms of s9 are more efficient in terms of choosing the cleaning passes.
Imprint Smart Mapping makes a complete map and assigns a name to each room using the mobile app. In the future, the user can give direct commands, for example, "Alexa, have Roomba clean the bedroom."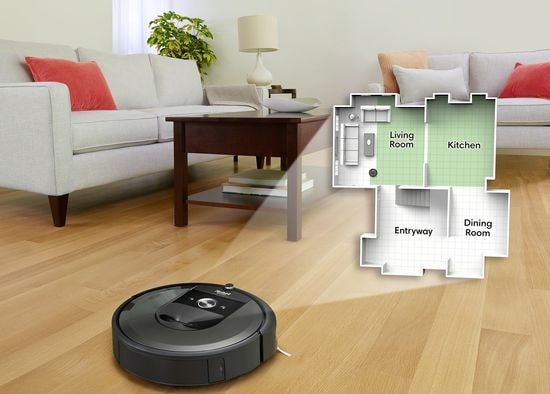 – after update on the iRobot Home app in the summer 2019, both models support Keep Out Zones. This option radically simplifies the problem of blocking cleaning zones. Now, a rectangle drawn in the app, replaces Virtual Walls or magnetic tape.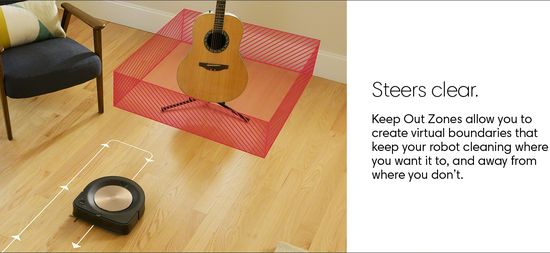 Differences
1.D-shaped design
The company developed a design for s9 in the style of Neato models. As known, D-shaped robots more efficiently clean corners and along baseboards. In addition, s9 uses a new five-beam side brush with shorter brushes (Perfect Edge technology), and 30% longer central brushless rollers for increased performance.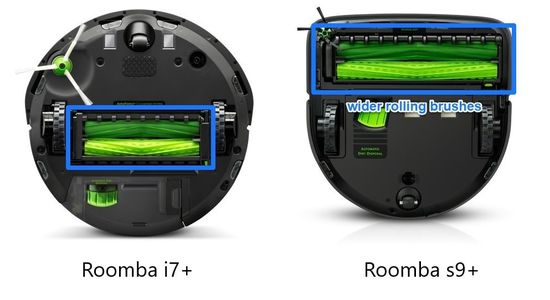 In addition, a slower spinning side brush of s9 provides more thorough cleaning.
Suction power is the main difference between the models. The company does not indicate their suction power, but according to its data, s9 is about 4 times more powerful than i7 (10x suction vs 40x suction compared to Roomba 600 series.) But numerous tests have demonstrated s7 suction power of 30 AW or higher. Accordingly, s9 should provide approximately 120 AW. Thus, it catches up with the previous champion LG CordZero R9 Master with suction power up to 120 AW in turbo mode.
3. Runtime
The company indicates 120 minutes of runtime for both models. Unfortunately, testing only showed about 80 to 90 minutes for i7+ when cleaning parquet/carpet. In contrast, S9+ confirmed claimed 120 minutes.
This increase is due to the expansion of settings. In particular, the S9+ supports three engine speed modes, including low / high / auto.
In the latter mode, the robot selects the optimal mode depending on the Dirt Detect data and floor type. As a result, an increase in runtime extends the cleaning area (about 400 to 500 square foot.)
Moreover, smart charging reduces its duration, providing a charge level only until the cleaning end, instead of 100%.
Testing and price
Testing showed the following results:
– s9 overcomes obstacles perfectly, easily riding up even on the carpet with pile height is almost 1.2 in;
– the quality of its cleaning claims did not cause. The robot easily picked up even small grains of rice on the carpet;
– the D-shape allowed the robot to clean the surface almost close to the furniture;
– the noise level during cleaning did not exceed 50 dB, which is an excellent result. It increased to 60 dB only on the charging station when emptying bin, but the duration of this process did not exceed several seconds. Moreover, the settings in the app offer a choice of reduced power with minimal noise for night work;
– after the end of dry cleaning, the robot returns to the base and activates Braava.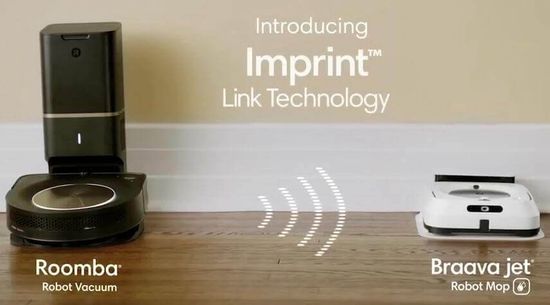 – Braava runtime significantly depends on the selected settings;
– Braava jet m6 sprays water from the nozzle on the front panel, then passes through a wetted area of the surface, wiping it with a panel.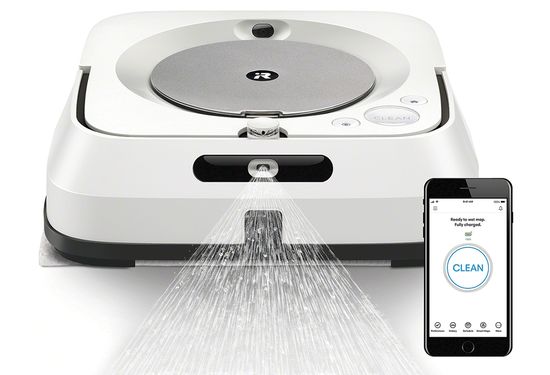 In addition, the package contains a small bottle of detergent;
– Braava noise level is much less compared to Roomba;
– Braava settings contain normal / turbo / reduced power modes and the amount of sprayed liquid.
Today the company's website contains the following offers:
– s9+ & Braava jet m6 (6110) – $ 1,260;
– s9 & Braava jet m6 Robot Mop Bundle – $ 1,080;
– s9+ (9550) – $ 1,000;
– i7+ & Braava jet m6 – $ 990;
– s9 – $ 900;
– i7 & Braava jet m6 – $ 810;
– i7+ – $ 700;
– i7 – $ 500.
Conclusions
The pros of the new generation over previous models include innovative self-emptying Clean Base (auto-emptying docking station), Imprint Smart Mapping and Imprint Link technologies.
S9 is superior to i7 in terms of suction power and runtime, supports Keep Out Zones (smart-analog of Virtual Walls), uses AllergenLock Dirt Disposal Bag and more efficient brushless rollers.
Among the cons, most often experts indicate a high price. But today the topicality of this reproach is doubtful. It's unlikely that $ 500 can be considered too high a price for a premium robot vacuum. A set of three devices, including Roomba, Clean Base, and Braava, costing $ 1,260, also does not seem too expensive. In fact, it provides an almost fully automated comprehensive cleaning of a large house.
In addition, the lack of mopping function is also often indicated among the cons. Indeed, many modern models support this mode. But this rebuke is also controversial. As a rule, any combi model wins in terms of size and price, but loses in performance, functionality and quality of integrated devices. But storing Braava jet m6 is unlikely to be a problem. At the same time, it works much more efficiently in comparison with the mopping modes in other models. Moreover, being a separate device, Braava can perfectly work separately from Roomba, for example, in another apartment.
In general, many experts rightly call i7+ and s9+ one of the best on the market. Probably, the possibilities of s9 + will be redundant for a small apartment. In this case, i7+ is more appropriate. Given the power and runtime, s9+ is well suited for large enough houses, including even with long-pile carpets.
This video shows Keep Out Zones for Roomba i7, S9 and Braava M6.