Of course, LG does not require the introduction. Today, models under this brand successfully compete in almost all segments of consumer electronics. Moreover, the company confidently dominates the OLED TVs segment and successfully develops NanoCell technology (an analogue of QLED). Additionally, LG produces some of the best ultra-short throw projectors, providing 100-150-inch projection at a distance of up to 15 cm, microwave ovens, dishwashers, washing machines, refrigerators, smartphones, etc.
A simplified analysis of the company's assortment demonstrates its dominance in the upper segment of mid-budget models. With the exception of OLED TVs, LG models of this price range most often become the most popular.
In addition, the company also annually presents flagships in almost the entire spectrum, confirming its status as one of the leaders in consumer electronics. High innovative level, good quality, reasonable prices and excellent service provide them with excellent competitiveness. Of course, Samsung or Sony are sometimes ahead of LG in innovation, but almost always inferior in price; Huawei or Xiaomi usually win in price, but hopelessly lose in terms of service, etc. As a result, the company has been feeling confident in almost all segments for several decades.
Of course, modern high-tech vacuum cleaners are no exception. Today the company offers a huge range of almost any vacuums. The format of this article does not pretend to be their full review, offering only a few of the most popular series.
LG CordZero A9 (powerful cordless handstick vacuums)
This series includes the A9 Master, A9 Petnbed, and A9 Ultimate models.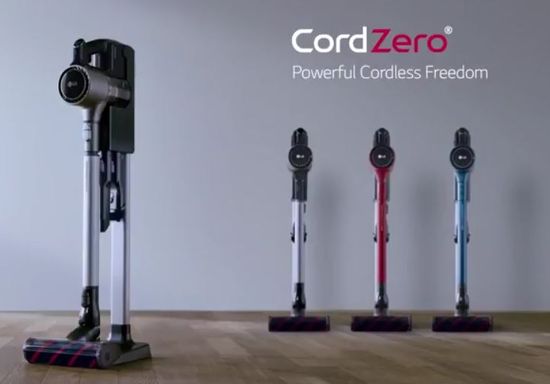 As known, Dyson, Snark, Kirby, Bissell, and several other well-known companies traditionally occupy very strong positions in the segment of powerful cordless handstick vacuums. However, the long list of reputable competitors did not bother LG managers. CordZero A9 series adequately replenished a wide range of excellent vacuums in this segment.
Key Features
All models use LG's innovative Aeroscience technology. The technology uses centrifugal force, which pushes dust particles from the air vortex to the walls of the cyclone chamber, purifying the air.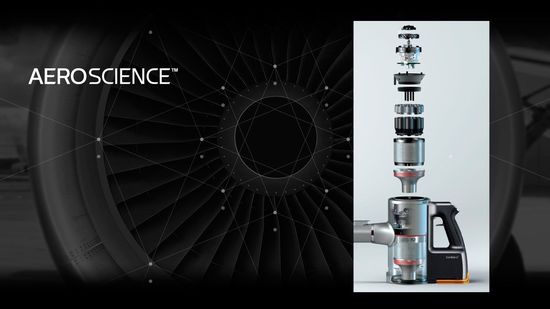 All models use the powerful Smart Inverter Motor P9 and the advanced Axial Turbo Cyclone technology. In particular, two cleaning stages increase the power airflow.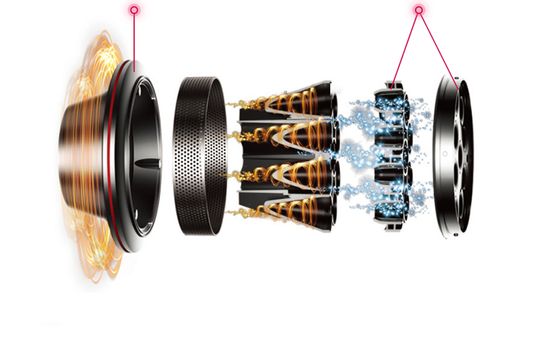 This solution provides an additional adjustment of the air flow using sixty ultra-thin spiral blades. As a result, the A9 Master delivers maximum suction power up to 140W in turbo mode, demonstrating excellent cleaning performance.
Vacuum cleaners also have a 5 Step Filtration System, which cleans the air from larger particles in steps 1-3, and from finer dust in steps 4-5.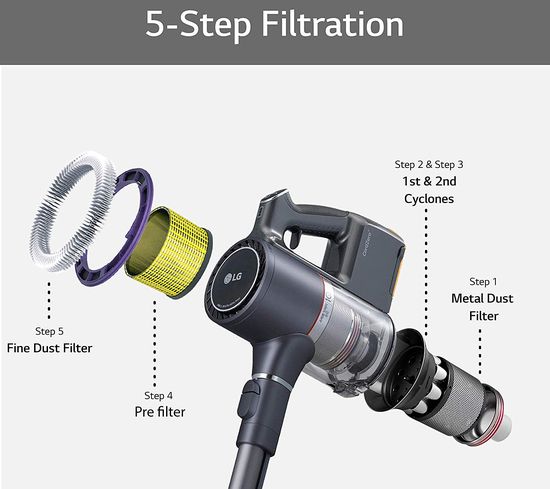 All vacuums use washable filters, which greatly simplifies maintenance.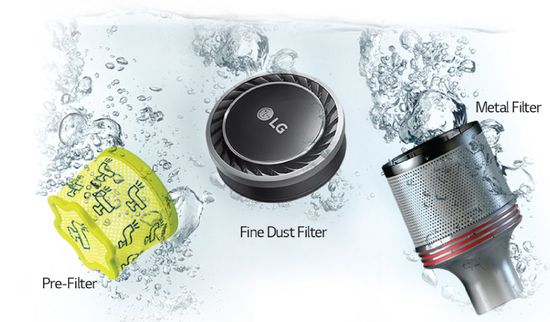 According to the company, the vacuum cleans the air from particles to 2.5 microns in size.
In addition, vacuum cleaners use a Power Drive Nozzle with a rotating roller inside the nozzle.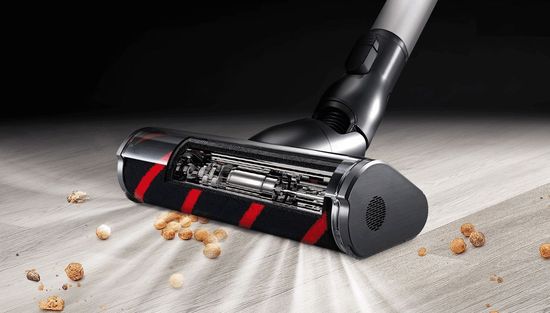 It raises debris and dust from the surface for better suction.
Dual PowerPack is another plus of these vacuums. In fact, the company offers an extra battery to increase Run Time.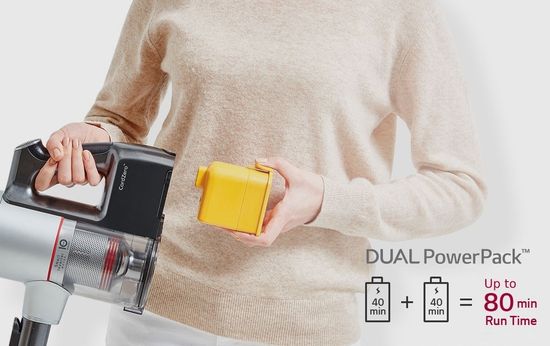 Two batteries provide up to 12 minutes in Turbo mode, up to 80 minutes in Normal mode without Power Drive Nozzle, and up to 60 minutes with Power Drive Nozzle. Basically, turbo mode is designed to clean carpets, along walls, and heavy dirt.
Moreover, A9 Ultimate uses Power Drive Mop technology with automatic water supply and 3-step water control.
LG robotic vacuums
The growing popularity of robotic vacuums provoked the activity of almost all the leaders in this segment. Of course, they have to compete with iRobot, Anker Innovations, Neato Robotics, Ecovacs Robotics, iLife, etc, which purposefully specialize in the design and manufacture of robotic vacuums. But LG adequately withstands fierce competition by offering competitive models.
At CES 2018, LG introduced the flagship CordZero R9 robot vacuum with suction power up to 120W in turbo mode.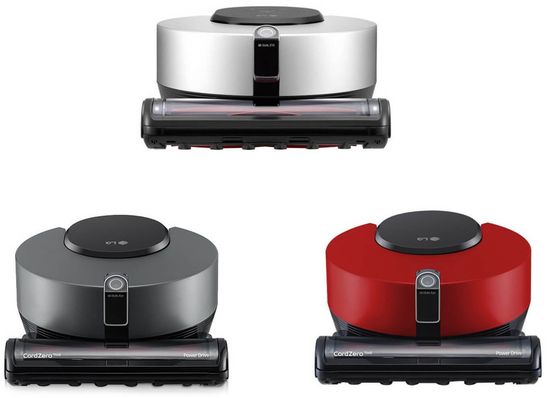 Manufacturers of robotic vacuum cleaners must choose the optimal balance between their power, functionality and size. On the one hand, the low profile provides the possibility of cleaning under low-profile furniture, which, of course, is very user friendly. For example, the height of the thinnest DEEBOT SLIM does not exceed 2.2″ (5.7 cm). But usually, the height of robotic vacuums varies in the range of 3.5-4 inches (10 cm). Unfortunately, this factor significantly limits engineers in using sufficiently powerful motors.
As a result, the suction power of most models does not exceed 2.0 kPa, or approximately a few tens of watts. In principle, it provides relatively high-quality cleaning of a smooth surface, but it is unlikely to be able to clean the carpet well, especially with a high pile. The small dust bin capacity is another problem of most modern models. Today, only iRobot Roomba i7+ with Clean Base (price about $ 1,000) provides unique Automatic Dirt Disposal option. In addition, the company sells Clean Base separately for $ 300 and it's compatible with previous iRobot Roomba models. In fact, this feature extends the level of cleaning automation by eliminating the need to manually empty dustbin.
CordZero R9
LG engineers decided to break the tradition by creating a powerful model to the detriment of its size. According to the results of 2019, CordZero R9 confidently ahead of all in terms of power suction. For comparison, iRobot Roomba i7+ and Xiaomi Roborock S6 provide only 33W, new Neato Botvac Connected – up to 60W, Samsung VR20H9050UW – 30W. Moreover, it has dust bin capacity of 600 ml. But the height and weight of the R9 reach 5.63 inches (14.3 cm) and 8.2 lbs (4.1 kg). In fact, the CordZero R9 is today the best carpet robotic vacuum.
The high-speed Smart Inverter Motor creates powerful airflow in the cyclone chambers, purifying the air of dust due to centrifugal force.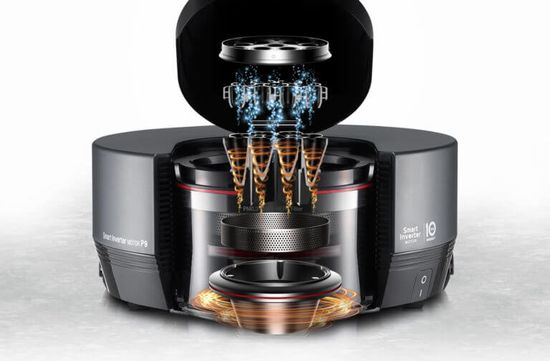 Like the CordZero A9, the R9 uses a 5 Step Filtration System and an integrated Power Drive Nozzle. In addition, the robot uses 3D DUAL Eye technology with a 3D camera and a laser sensor for navigation.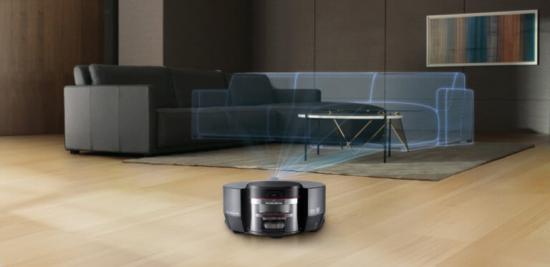 Of course, R9 uses all the traditional modes, including zigzag, spot (spiral), and cell-by-cell. In addition, the model has a timer and sound notification, supports control from a smartphone through the LG SmartThinQ app, cleaning schedule, room zoning, self-diagnosis, "Turbo" and "Smart Turbo" modes.
The model easily overcomes obstacles up to 2.0 cm.
Pros
– innovative technologies, including Smart Inverter Motor, Axial Turbo Cyclone, 5 Step Filtration System, 3D Dual Eye, Power Drive Nozzle, DeepThinQ;
– very high power;
– noise level up to 53 dB;
– dust bin capacity 0.6 liters;
– 5200 mAh battery provides 60-90 minutes Run time;
– good overcoming obstacles;
– additional functions, including overview, security, etc.
Cons
– the price exceeds $ 1,000;
– large dimensions and weight.
HOM-BOT Wi-Fi Enabled Turbo+ (CR5765GD)
The company also expanded the popular HOM-BOT SQUARE series with the introduction of Wi-Fi Enabled CR5765GD.
Traditionally, companies have manufactured robotic vacuums of round shape. LG engineers have broken this tradition by creating the SQUARE series. An almost rectangular shape provides the most effective cleaning in the corners.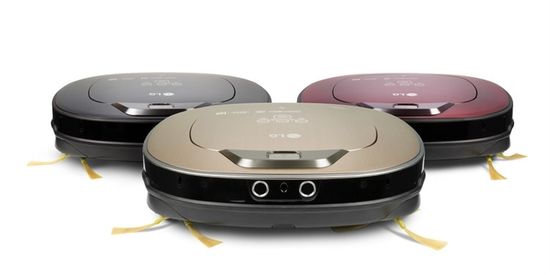 The model costs about $ 1,000, but its smart functionality is fully consistent with this level. Their list includes:
– SmartThinQ technology;
– Cleaning Diary;
– HomeGuard;
– HomeView;
– SmartDiagnosis;
– Magnetic Wall;
– 7 Smart Cleaning Modes (Zigzag, Cell-by-Cell, Spot (Spiral), My Space, Turbo, Smart Turbo, Repeat.)
Of course, SmartThinQ technology supports control via the app on the smartphone, or using voice commands with the Google Assistant or Amazon Alexa. In addition, the HomeView option can send videos from Hom-Bot Turbo+ to a smartphone, which is often very convenient.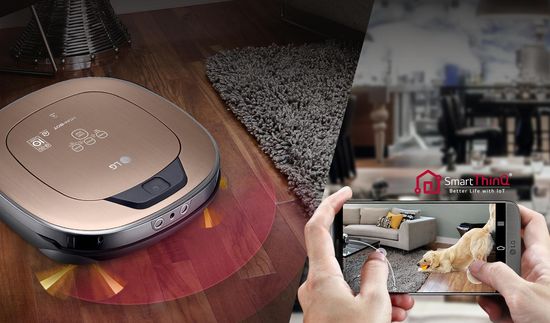 The HomeGuard function automatically detects movement using a motion sensor, captures images and sends it to a smartphone. Thus, the robot simultaneously performs the functions of a housekeeper and guard dog. Of course, some are ironic about the reliability of such protection, because the image will mainly contain the shoes of the attacker. But in the future, it may well qualify for the status of a new concept robotic-guard.
Like most modern LG vacuums, the HOM-BOT uses the innovative brushless Smart Inverter Motor based on magnetic power with an unprecedented 10-year warranty.
Other specs include:
– dust bin capacity – 0.6 liters;
– noise level – 60/68 dB (normal / turbo);
– height and weight – 3.5 "and 6.6 lbs.
Run time of 2330mAh battery reaches approximately 100 min, which provides cleaning of about 150 square meters.
CordZero A9+ Power Drive Mop and LG CordZero ThinQ M9 Robotic Mop
At CES 2020, the company introduced the CordZero A9+ with advanced proprietary Power Drive Mop technology. Advanced automatic water supply system delivers the optimum amount of water to two rapidly rotating mop pads.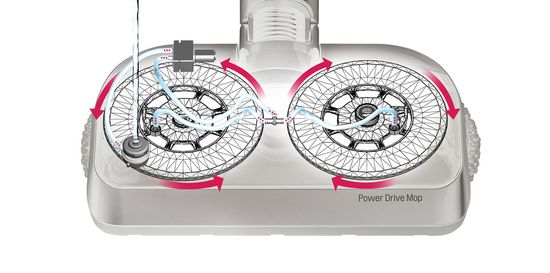 The switch allows the user to adjust the water flow for different types of flooring.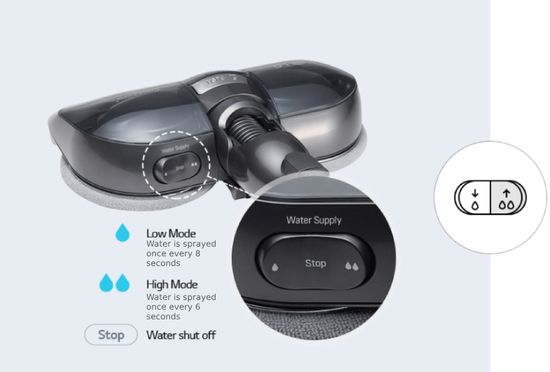 M9 Robotic Mop became the first LG robotic vacuum with this feature.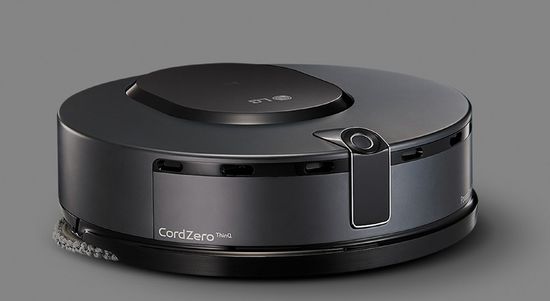 Using Wi-Fi, the owner of R9 and M9 can combine them into a single apartment cleaning system. In this case, after the end of its own cleaning cycle, R9 notifies M9 of areas requiring a mop. Of course, many will be skeptical about using two expensive robotic vacuums for such full cleaning. But this idea may be acceptable for a large apartment, office or for an unlimited budget.
Conclusions
Thus, today the range of the most popular new LG vacuums includes the powerful cordless handstick vacuums CordZero A9 series, the most powerful CordZero R9 robotic vacuum for carpets, Hom-Bot Turbo with an exellent set of smart functions, A9+ with improved Power Drive Mop technology and M9 Robotic Mop.
Of course, LG robotic vacuums cost around $ 1,000, but the innovative brushless Smart Inverter Motor with an unprecedented 10-year warranty, the high power suction of the R9, and exellent smart functionality of Hom-Bot Turbo+ meet this price. Of course, Chinese competitors win in price, but hopelessly lose LG in terms of service. Of course, this aspect is especially important for expensive, technically sophisticated devices.
This video demonstrates the LG CordZero A9 Ultimate vacuum with Power Drive Mop.