Of course, this south korean giant does not require the introduction. Today, models under this brand successfully compete in almost all segments of consumer electronics, including robotic vacuums, microwave ovens, smartphones, dishwashers, etc. In addition, LG holds an undisputed leadership in the OLED TVs segment.
In general, a high innovative level and a systematic approach most fully characterize the company's strategy.
Introduction
High-tech projectors are no exception. Given the prospects, LG initially positioned its projectors as a competitor to TVs. As known, modern projectors already win in terms of diagonal size, but significantly lose in usability.
Installation of a traditional projector requires placement in the center of the room or on the ceiling, and, accordingly, cabling. UST (ultra short throw) models are installed almost close to the screen, radically simplifying this problem. For example, the LG PF 1000 U provides projection from 60 to 150 inches at a distance of 4 to 15 inches. To date, the company has developed a series of popular UST projectors, starting with LG PF 1000.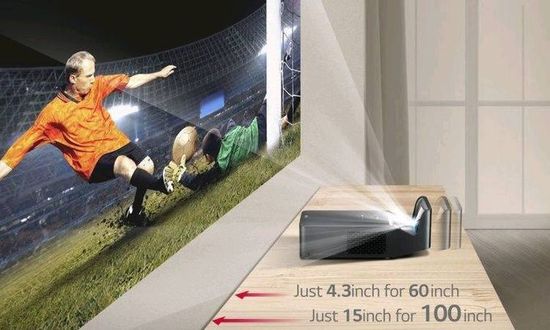 In addition, wireless connectivity eliminates the problem of laying cable for signal.
The large dimensions, requirements for a darkened room and high noise are also traditional cons of projectors. As known, the image quality, including its contrast, directly depends on the ambient light. For example, low-power LED pico projectors with brightness up to 100 Lm usually provide acceptable contrast on the screen up to 50-60 inches only in a carefully darkened room. Of course, this significantly reduces its usability. Powerful models provide brightness from 2000 lm and higher, eliminating this problem. But they usually use high-power lamps as a light source. Unfortunately, these lamps require intensive cooling due to high temperature. Usually, companies cool them with the help of powerful fan. But heat removal requires a sufficiently large internal volume. Therefore, powerful lamp projectors are large in size and weight. In addition, the fan noise can reach 50 dB, reducing the perception when viewing. Moreover, the service life of such lamps rarely exceeds 5000-6000 hours.
LG projectors
LG models use LEDs or lasers as a light source. Unfortunately, lasers are relatively expensive, but they provide higher image quality and have many other pros.
Of course, the company develops models of almost all types, including the portable PH30N, LED projectors with huge longevity up to 30,000 hours, etc. Many of them get very high marks. For example, many experts called the portable 4K UHD HU80KA CineBeam projector the best Home Theater Projectors of 2018.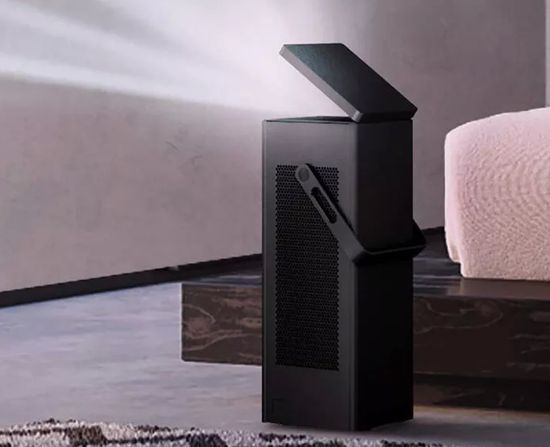 Moreover, it remains one of the most popular in its class. But the powerful UST (ultra short throw) 4K UHD laser projectors are of particular interest. These models are today the closest competitors for traditional TVs. High image quality, simple and convenient installation near the screen, a huge projection size, make many consumers seriously think when choosing between a TV and a projector. Perhaps today only the price helps TVs to maintain their position. Of course, LG did not stand aside from this process by offering the exellent HU85LA projector in 2019.
LG HU85LA UST 4K UHD laser projector
Company introduced the HU85LA UST 4K UHD laser smart Home Theater Cinebeam projector at CES 2019, where it was an Innovation Award winner. Its strict minimalistic design is in perfect harmony with almost any interior.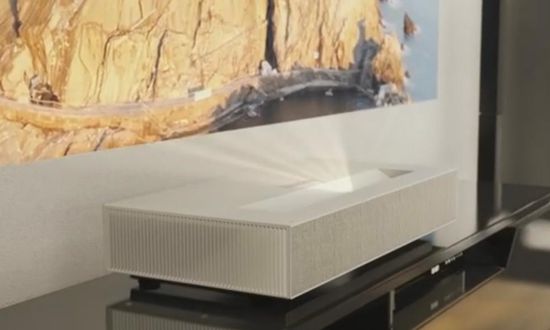 Of course, model has an integral streaming platform, a built-in sound system, Alexa built-in, Thinq AI, and the Google Assistant.
Initially, its price reached $ 6,000, but today it has dropped to $ 5,500. In comparison, Sony offers models of this class for about $ 10,000 (VPLVW695ES) and even $ 25,000 (VPLVW885ES). Hisense also offers the 100L10E for about $ 10,000. In fairness, today the market also offers cheaper models in this segment, including Optoma P1 (about $ 3,500), VAVA VA-LT002 (about $ 2,500), LED ViewSonic X1000-4K (about $ 1,500), etc.
The brightness of the HU85LA reaches 2,700 ANSI Lm, providing high contrast for a 120-inch diagonal image size even with high ambient light. A UST fixed lens with a projection ratio of 0.19 produces a 120-inch projection at a distance of 7.2 inches from the screen, a 100-inch – from a distance of 3.9 inches, or a 90-inch image – from 2.2 inches. 12-point keystone / warp adjustment effectively solves the problem of image setting.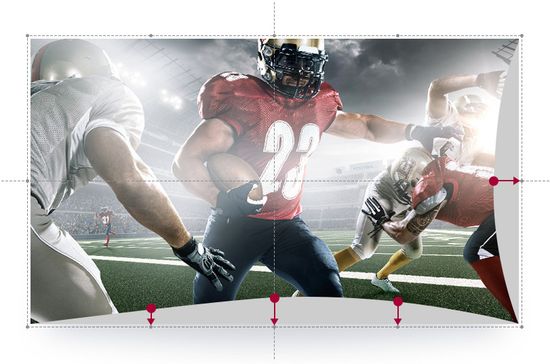 As known, it's especially difficult for UST models due to the extreme angle at which light leaves the lens.
Main technologies
The HU85LA uses DLP XPR chip of unspecified size, providing 4K UHD (3840 x 2160 or 8.3 million pixels) resolution with the pixel-shifting technology.

In addition, the Dynamic Contrast Ratio of the projector reaches 2,000,000: 1.
The light engine uses a 3-channel laser design without color wheel. According to the company, its service life reaches 20,000 hours.
Three channel laser technology with the addition of a red laser light source to a typical blue laser, supports wider color coverage up to 12-bit.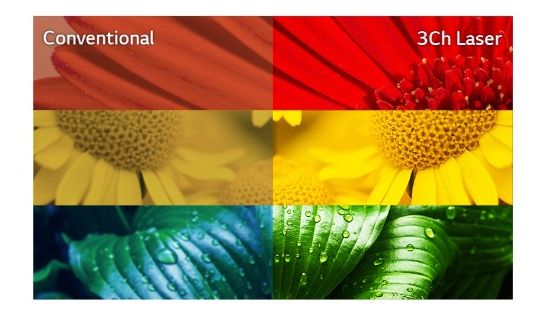 Moreover, the addition of a red laser allowed developers to implement the innovative Wheel-Less technology. In fact, it eliminates color loss compared to conventional technologies that use a color-wheel to reflect colors from one color light.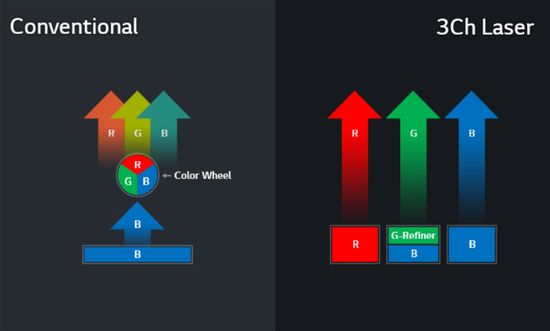 Frame interpolation with LG's TruMotion technology effectively ensures smooth playback in highly dynamic scenes.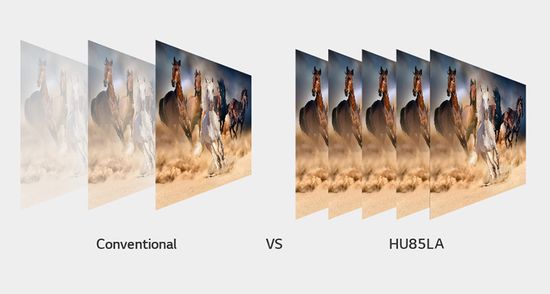 LG's Dynamic Tone Mapping feature analyzes the content on a frame-by-frame basis, providing the optimal HDR on any given scene. In fact, it automatically adjusts HDR settings for different programs with different levels of brightness.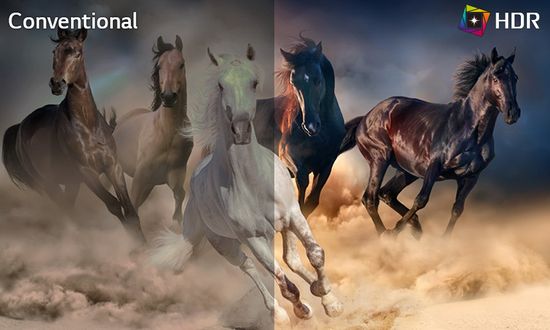 When recognizing an HDR10 signal, the HU85LA automatically uses specially-tuned picture presets. Unfortunately, the model does not support the 3D playback and HLG standard, whose popularity is growing recently.
For SDR (standard dynamic range) HD content, the projector offers eight modes, including Vivid, Standard, Cinema, Sports, Game, Expert (Bright Room), Expert (Dark Room), and HDR Effect. Usually, modern models offer one or two HDR color modes. But the HU85LA uses Vivid, Standard, Game, Cinema and Cinema Home.
Other
Smart TV features are also top notch. The projector supports Netflix, Amazon Prime, Google Play Movies, Fandango, YouTube, and Spotify for music. In addition to the Google Assistant, the model uses LG's ThinQ technology. The projector also has a built-in digital TV tuner for direct connection of an antenna and supports screen sharing with Miracast, or from iOS or Android devices via LG's TV Plus app.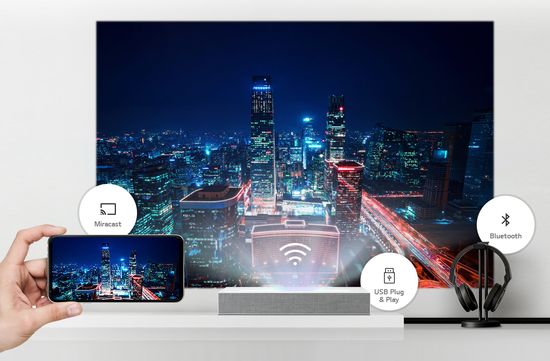 HU85LA uses a pair of on-board 5-watt stereo speakers. Unfortunately, they cannot provide much bass depth. Of course, the model has а Bluetooth input/output and optical audio output for outboard audio. In addition, one of the two HDMI ports is ARC-enabled. Network connection uses WiFi module or a wired RJ45 connection.
Pros
– very short 0.19 throw ratio provides a 90-inch image size from a distance of only 2.2 inches;
– high brightness does not require a darkened room;
– five HDR color modes;
– high color accurate out-of-box;
– extensive picture adjustments;
– effective dynamic HDR10 tone-mapping.
Cons
– no HLG HDR compatibility;
– SDR Expert, HDR Cinema and Cinema Home modes require additional calibration;
– traditionally for UST projectors, rather complicated settings;
– only the average level of the built-in audio system;
– no 3D;
– relatively high price.
Conclusions
Of course, the LG HU85LA is not the cheapest model among the powerful 4K UHD UST laser projectors as a replacement for traditional TV. On the other hand, it's hard to even imagine the cost of a traditional 120-inch TV.
Today, only Samsung offers MicroLED TVs with huge screens. For example, Samsung MicroLED The Wall series includes models with screen of 75, 88, 93, 110, 146, 150, 219 and 292 inches. But, of course, this direction is still only a prospect because of the huge price.
Therefore, UST laser projectors today have no alternative as a solution to increase screen size with a reasonable budget. LG HU85LA is located approximately in the middle of the price range, between Optoma, VAVA, ViewSonic (up to $ 3,500), and Sony or Hisense (from $ 10,000 and above). But LG also traditionally provides great service for all of its consumer electronics. Of course, this factor is important for any expensive device.
This video demonstrates the some capabilities of the LG 4K UHD Cinebeam HU85LA Projector.