For many decades, Delonghi is one of the most popular brands in the consumer electronics segment. Of course, Delonghi coffee machines are no exception. The company regularly offers new lines of excellent automatic models. In addition, Delonghi produces capsular Delonghi Nespresso, drip and horn-type coffee makers. Therefore, fans of this brand can easily choose the optimal model of any type in all price segments.
Like other leaders, the company actively uses its own innovative developments. For example, all automatic models use their own highly efficient coffee grinder and a special coffee brewing algorithm. As a result, many coffee lovers can even distinguish it to taste. For example, Delonghi coffee machines usually brewed more hot and bitter coffee. In addition, almost all modern Delonghi models regulate the foam amount. Moreover, Dinamica ECAM35020B and 35025SB are the first and only fully automatic models with iced coffee feature.
The company produces most of the automatic models with a built-in coffee grinder in its own factory in Italy. In addition, Delonghi orders some models in China.
Of course, a huge assortment is very convenient for consumers, but sometimes this factor complicates the choice. But even a simplified classification will simplify this task.
Structurally, all automatic Delonghi coffee machines use an ESAM, ECAM or ETAM platform, which differ in the type of heater and cappuccinatore, and in the placement of controls.
The ESAM line includes large models with increased reliability and longevity. The ETAM series contains compact modules with relatively small tanks for water and coffee grains. ECAM is a intermediate universal type.
DeLonghi PrimaDonna
PrimaDonna includes flagship models with maximum features. Usually, their price reaches $ 2,000 or more with a 5-year warranty.
The PrimaDonna ECAM 550.55SB and 550.75MS replaced the Eletta 44.664B and 45.764W.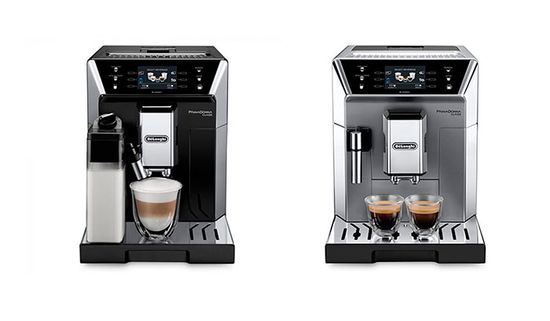 Models use large color screens, two thermoblocks, provide for setting the amount of milk foam, control from a smartphone, and automatically prepare cappuccino, adding whipped milk to espresso. They may well be classified as budget flagships.
The 55 model has a fully plastic case, a regular jug and 3 user profiles for saving drink settings. Case of the 75 model has metal inserts, a thermal jug, a manual cappuccinatore and supports six profiles.
Exclusive ESAM 6904M has a metal casing with noise reduction technology and supports 6 profiles.
Additionally, the model prepares Americano, Long black and a hot chocolate from a special mixture or from cocoa.
The width of the ultra-compact XS ETAM 36.364.M premium with a steel casing does not exceed 8 inches (20 cm).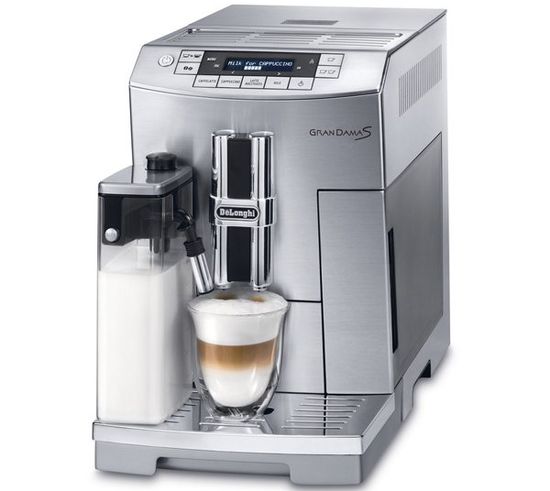 The model has a cappuccinatore and a thermal jug, makes excellent black coffee and whips milk foam perfectly. Two thermoblocks provide simultaneous brewing of two portions. Unfortunately, water tanks and grains have a very small volume.
The highly reliable Avant ESAM 6704 in a steel case is huge in size.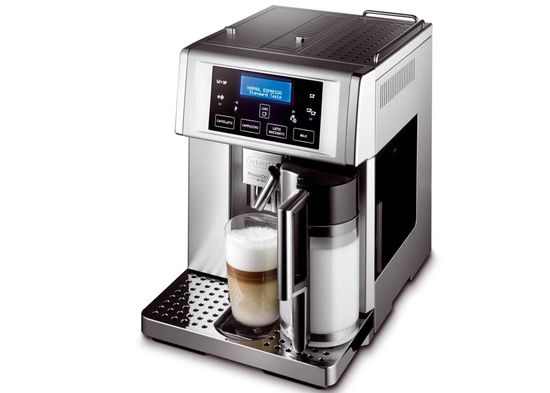 A 1.7-liter capacious tank provides the preparation of classic Americano using the long brew time technology.
Almost identical Elite 65075MS и 65055MS support smartphone control via the app, have many settings and 6 personal profiles.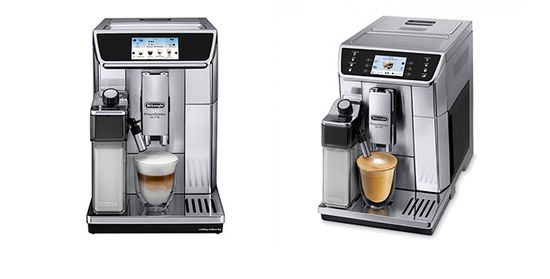 Elite Experience ECAM 65085MS is an improved version of the Elite 65075MS.
This series uses an ECAM platform.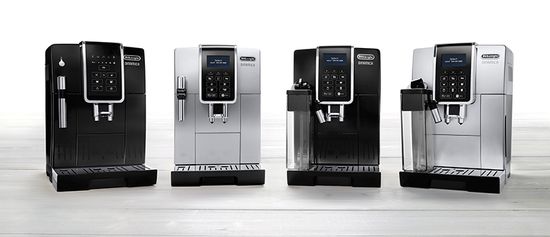 This series uses an ECAM platform. It replaced the previous series with the codes 23.xxx and 25.xxx. For several years, Dinamica has been successfully competing in the mid-budget automatic coffee machine segment for up to $ 1,000.
Today, the series includes ECAM 35015B, 35020B 35025SB, 35035W, 35055B, 35075S and Dinamica Plus ECAM 37095T.
The company first introduced this series in 2016. Dinamica Plus ECAM 370.95T appeared in early 2019 and supports control via smartphone.
The flagship 35075S has an autocappuccinatore, thermojug, and supports 12 automatic programs.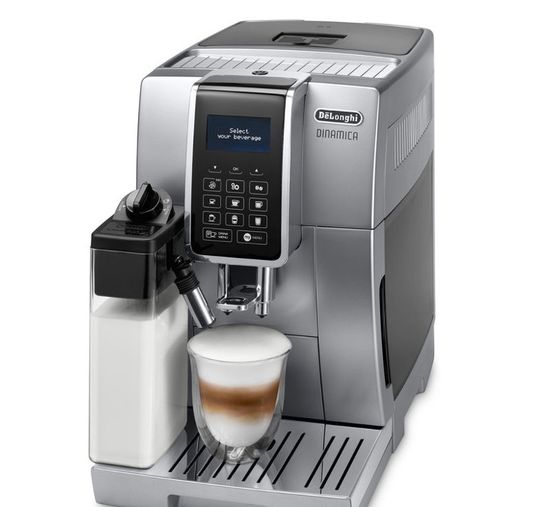 The cheaper 35055B has a similar cappuccino system, but only supports 10 auto programs. In addition, the model uses fewer buttons for quick making coffee.
35035W uses a manual panarello cappuccinatore, and provides milk heating without whipping foam.
All models provide 15 bar pressure, self-cleaning, adjusting the strength and volume of the drink, use an adjustable grinder, a water filter and touch buttons, prepare espresso, espresso lungo, double espresso and americano. In addition, 55 and 75 models prepare Americano cappuccino, latte and latte macchiato. Unfortunately, 15, 20 and 35 models do not support auto cappuccino mode.
Today, the ECAM35020B, costing up to $ 900, is one of the most popular models in the series. Unlike other models, it has Over Ice Coffe mode for preparing iced-coffee. In addition, its average heat-up time does not exceed 40 sec.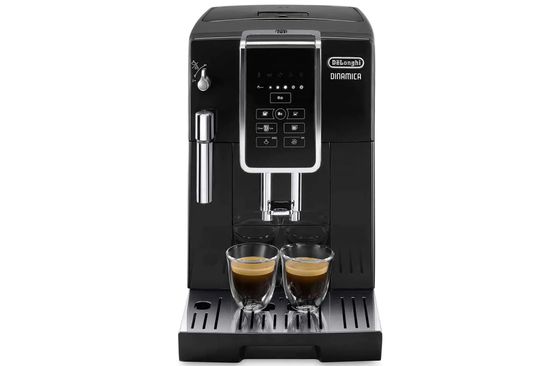 DeLonghi Magnifica
This very popular series competes with the Philips Saeco in the budget segment.
Magnifica S ECAM is medium in size, has reliable, convenient mechanical dials and many settings. The 22.360B/S models lead this line and differ only in color.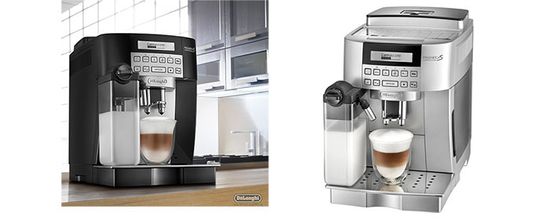 The 22.110B/SB and 21.117SB differ only in the color of the panels and the material of the panarello cappuccinatore (metal / plastic).
Magnifica ESAM coffee machines are large. Specs of all models in this series are almost identical. Their main differences include the color and type of cappuccinatore.
The 3000B, 3200S and 3300S differ only in color. Great price compensates for slightly increased noise and not very fast making coffee. For example, ESAM3300 is on the bestseller list.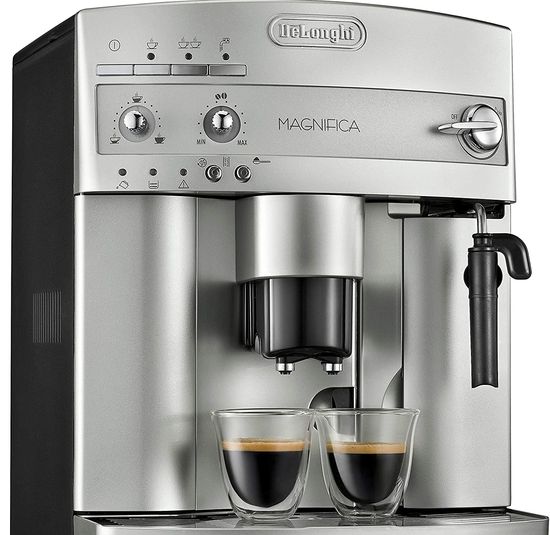 Today, the price of this beautiful coffee machine does not exceed $ 500.
The 4000 and 4200 S with manual cappuccinators are slightly different in design.
The more expensive 3500S and 4500 use a thermo jug, dual fuser and push-button controls. In addition, the 4500 has a foam amount regulator.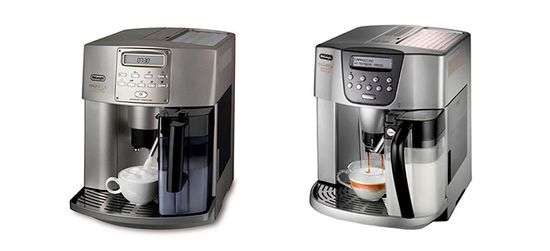 DeLonghi Autentica, Caffe Corso and Caffe Venezia
The Autentica ETAM series includes very compact models with a width of up to 7 inches (20 cm). But their depth reaches 19 inches (almost 50 cm). But of course, width is more important when placing in the kitchen. Models prepare traditional Americano and milk drinks.
The 29.510B/SB differ only in color, practically do not have a screen and use the simplest manual cappuccinator without foam adjustment.
ETAM29.660.SB has a screen, a timer and a jug, providing a one-touch cappuccino.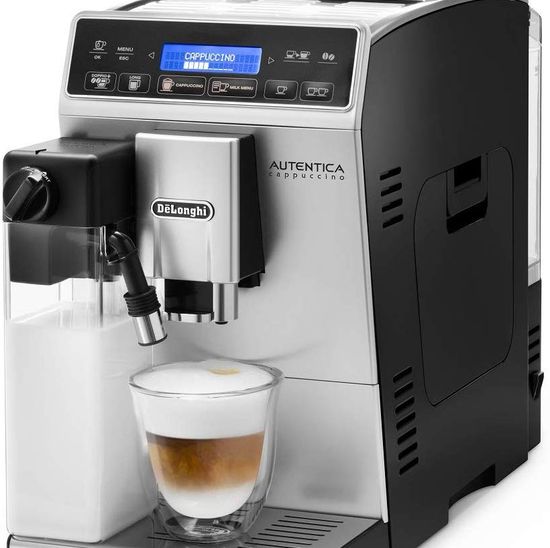 DeLonghi Caffe Corso and Caffe Venezia series include budget automatic coffee machines with a manual cappuccinator. The basic Corso 2600 and 2800SB with a mechanical cappuccinator differ only in color. Venezia 2200 practically does not differ from 2800, but has the function of energy saving.
Conclusions
Excellent build quality, a high innovative level, excellent service and quite competitive prices are traditional pros of the Delonghi brand.
The functionality of the top-end PrimaDonna line corresponds to the highest level. The assortment and quality of their drinks satisfy the most sophisticated tastes. Furthermore, DeLonghi Maestosa EPAM 960.75GLM is rightfully considered one of the most advanced, but, unfortunately, the most expensive modern coffee machines. Today, its price almost reaches $ 3,000.
The prices of the more affordable Dinamica, Magnifica, and Autentica range from $ 500 – 1,000. As a result, the Dinamica series has been one of the most popular for several years. Caffe Corso and Caffe Venezia let you enjoy your favorite drink even on a tight budget.
This video demonstrates the capabilities of the DeLonghi Dinamica Automatic Espresso Machine ECAM35020B with iced coffee feature.
P.S.
The company expanded the PrimaDonna series with the PrimaDonna Soul, which uses innovative Bean Adapt technology.
The coffee machine price depends on the model. For example, Delonghi PrimaDonna Soul ECAM 612.55.SB costs € 1,300 or $ 1,470.
In fact, Bean Adapt will optimizes the grinding, dose and temperature depending on the coffee variety. Bean Adapt control is done using the display, but creating and editing the grain profiles requires Delonghi Coffee Link app. Their max number reaches 6. Creating a new bean profile requires information about the coffee beans type (pure arabica or a mixture with robusta) and their roasting degree (visually by color or based on the information on the package). Based on this data, Bean Adapt sets the optimum grind and temperature settings.
Finer customization with Espresso Soul is based on cooking a few portions to refine the beans profile settings. For convenience, each profile can have a name or photo.
Perhaps this algorithm may seem complicated, but for connoisseurs of coffee taste, this function can be useful.