Bissell Inc has the longest history among the companies in this segment. Melville Bissell developed and patented a first carpet cleaner in 1876. It was called Bissell Carpet Sweeper. In 1883, the inventor built the first factory for the production of vacuums. In 1890, Bissell vacuums already sold in many countries outside of USA, and the production volume reached 1,000 devices per day. Today this company ranks first in terms of sales that is 20% of the US market.
In the future, the company expanded its range and began to produce various cleaning products for carpets. In particular, Bissell Inc acquired a license for the popular Woolite trademark.
Bissell vacuums have a good reputation among consumers due to the traditionally high quality of assembly and use of the latest innovative technologies in their models. Today, they successfully compete with other popular brands.
For example, the Bissell 9595A CleanView Bagless Vacuum with OnePass is one of the most popular models in its segment.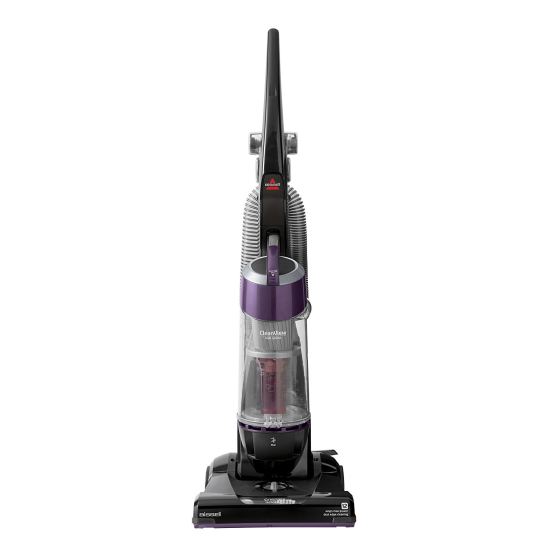 Many experts call this model one of the best among upright vacuums that is equipped with almost all modern technologies.
OnePass Technology
This technology uses very powerful suction and an innovative brush with new design.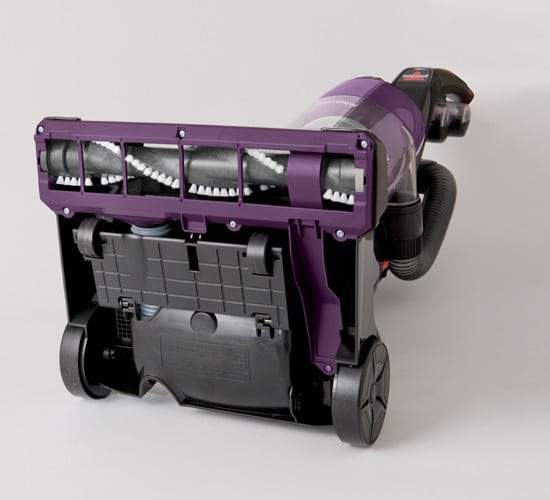 The high efficiency of this system ensures high-quality cleaning in one pass, reducing cleaning time to a minimum.
Multi-Cyclonic Filtration System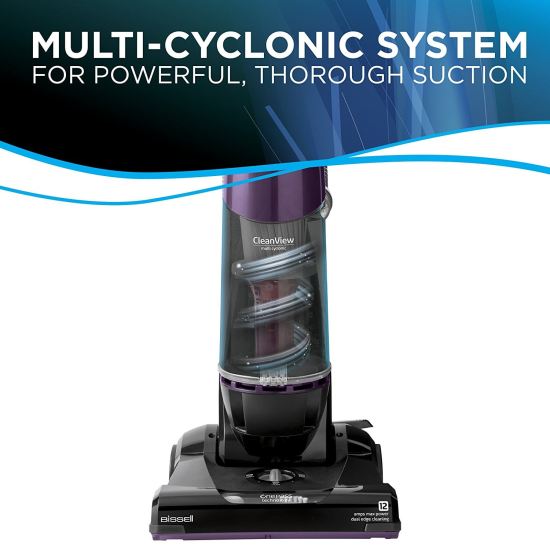 Today, cyclone air filtration is the most effective technology for its purification. This system generates small air vortices that suck in the debris particles and twist them along a spiral trajectory. Centrifugal force directs debris to the walls of the Dirt Bin. The air without large debris is sent to the HERA filter for further cleaning from fine dust. The constant suction power is one of the main advantages of this technology.
Multi-Cyclonic System from Bissell is an improved version of this technology. It provides high suction power regardless of filling degree of Dirt Bin.
TurboBrush Tool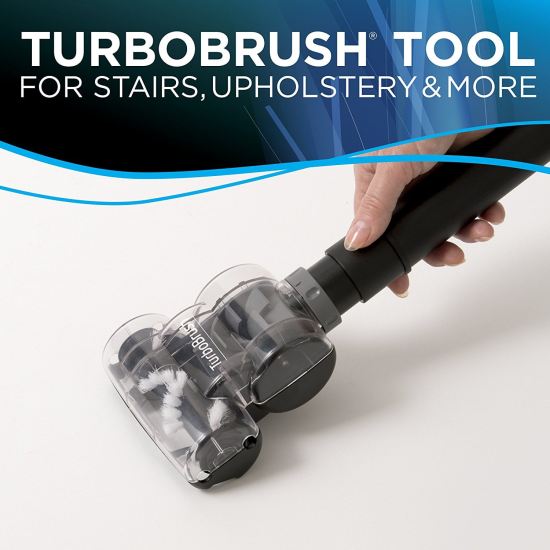 This device is designed for manual or delicate cleaning. For example, it's ideal for cleaning stairs or furniture upholstery.
Easy Empty Dirt Bin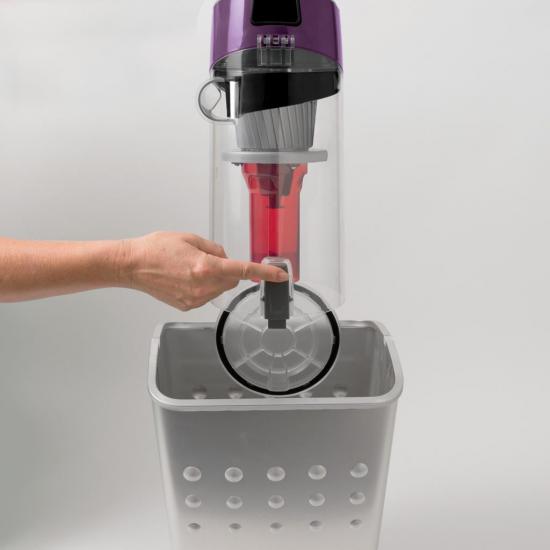 Of course, transparent Dirt Bin is very convenient for visual control of its filling level. Mechanism of bottom opening greatly simplifies its cleaning.
Model weighs only 15 pounds.
According to the experts and users, this model has the following advantages and disadvantages.
Pros:
– excellent value for money;
– OnePass Technology;
– Multi-Cyclonic Filtration System;
– very effective cleaning from pet hair;
– lightweight and maneuverable;
– high suction power;
– large Capacity Dirt Bin;
– cable length reaches 25ft;
– relatively low noise level for a powerful model;
– very simple and convenient cleaning the Dirt Bin;
– high efficiency of carpet cleaning;
– innovative washable filter;
– TurboBrush Tool is very convenient and useful.
Cons:
– risk of tipping;
– Brush Roll does not turn off;
– too short hose;
– no Cable Rewind;
– decrease in efficiency on hard floors.
BISSELL Multi Cordless Hand Vacuums are also very popular. Their usability and functionality are perfectly demonstrated on the video.