Of course, Hoover brand no need for introduction. This American company develops and manufactures vacuums of almost all types over a hundred years. Moreover, in the first half of the 20th century, the complete dominance of it subsidiary in England turned the Hoover brand in synonym of vacuum cleaner in this region. The models of this brand did not have serious competition on the territory of Ireland and England until 50s of the last century. The European division separated from the American company in 1993 and was bought by the Italian Candy Company. Today, this brand is used for various types of household appliances, including washing machines, dryers, etc.
In America, Hoover was part of Whirlpool Corporation until 2006, and then was bought by Techtronic Industries.
The history of this brand begins with the first decade of the last century. In 1908, the American inventor Spangler developed a device for sweeping and suction of debris. It became a prototype of modern upright vacuum. This device included an electrical engine, containers for soap and dust and handle from broom.
Contours of modern models differ little from the prototype.
Herbert William Hoover saw wonderful marketing opportunities of the new device, bought this patent and founded Electric Suction Sweeper. Spangler has become the head of the production department of this company. He constantly improved his model until 1915. Then the company changed its name to Hoover Suction Sweeper.
Today, Hoover vacuums successfully compete with other popular brands.
Technological development of the Hoover vacuum
Cleaning in the first models was based only on suction of debris. The addition of the rotating brushes instantly increased the cleaning efficiency, creating a significant competitive advantage.
This device included a small metal shaft with small rods, a pump and a dust bag.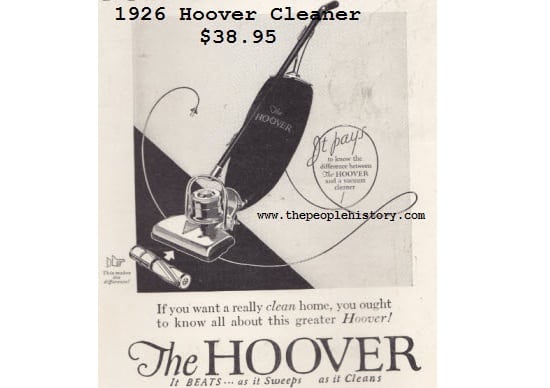 Such brush provides vibration of the carpet pile, improving the absorption of dust and debris from its surface.
In the future, the company also actively used innovation. The first portable Hoover vacuum appeared in 1930. Interestingly, some of these models still work.
An optional headlight for lighting the surface to be cleaned was offered in the 750 and 900 models in 1932. Today, almost all modern models have this option.
In 1936, flagman Hoover 150 already had indicator of filling the dust collector, automatic height adjustment, very convenient replacement of nozzles and a two-speed engine.
Hoover Veriflex model 1950 used a more efficient rubberized hose that is much stronger and more convenient compared to braided hoses.
A new Dial-A-Matic system appeared in 1963. In the previous models, flow of dirty air was directed into the filter. A new cleaning technology used filtration before fan, pre-cleaning the air. More modern models use this sequencing.
The self-propelled PowerDrive system has become the next significant innovation.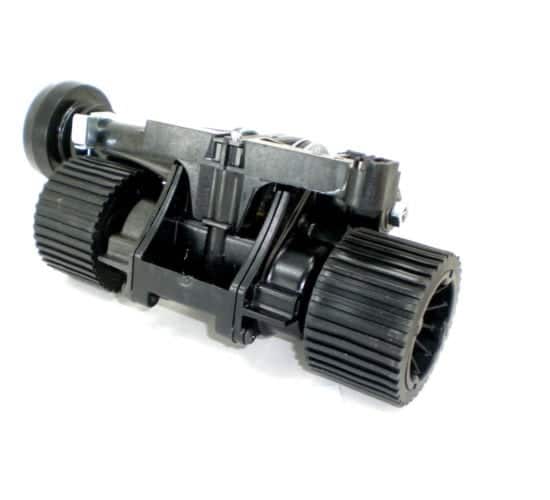 It was used in the Hoover 1170 in 1969. This system ensures the movement of the vacuum forward and backward with the help of belts, wheels and gears. Triple-Action Handle provides control of speed and direction during cleaning. The automated movement of a heavy device proved to be very effective. This feature has instantly become very popular. Today, almost all modern models use PowerDrive system sometimes called Self Propelled.
Hoover T-Series WindTunnel Upright Vacuum UH70210
Modern Hoover models combine traditional high quality assembly with innovative technologies.
For example, Hoover T-Series WindTunnel Upright Vacuum UH70210 is noted by experts in many top-lists of the best models of 2017.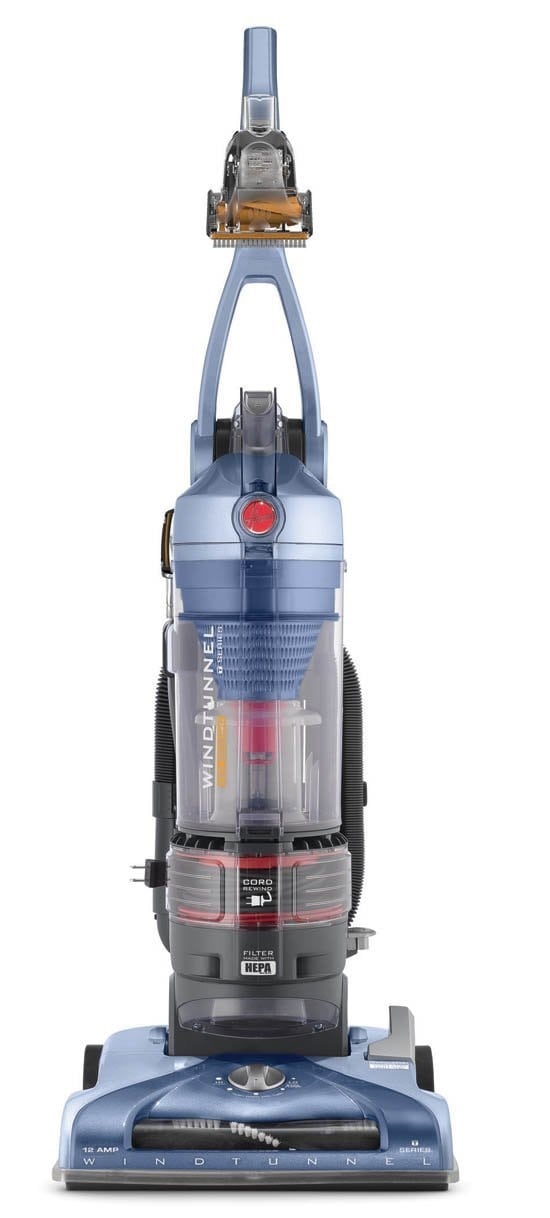 In particular, this series uses Dual Path WindTunnel Technology that provides pre-lifting of dust and debris from the surface for increasing the efficiency of its suction. Moreover, WindTunnel perfectly complements the traditional Cyclonic technology, increasing its efficiency.
This vacuum has 12 amp engine that provides high suction power.
Filtration system uses high-quality HEPA filter. System Check Indicator indicates the need for its cleaning.
Cord length reaches 25 ft. Pedal adjusts its length. The hose length reaches 8 ft. Thus, Cleaning Reach reaches 33 ft, significantly exceeding this value of most competitors.
The vacuum cleaner weighs only 17 pounds that is convenient for cleaning on the stairs. 5-step height adjustment ensures effective cleaning for hard coatings and carpets with different pile lengths.
Air-Powered Turbo Tool very effectively cleans strong pollution.
Dusting Brush and Crevice Tool also expand the capabilities of the model, providing the most effective cleaning method.
Brush roll Access and Easy Belt Change System provide high degree of usability during cleaning.
The length of the Extension Wand is 12 inches.
Experts most often note the following advantages and disadvantages of this model.
PROS & CONS
PROS:
– usability;
– high-quality cleaning due to good suction;
– light weight;
– easy to empty;
– HEPA filtration.
CONS:
– noise level reaches 88 dB;
– the lack of a swiveling head significantly limits maneuverability.
The new React series also corresponds to a very high technological level. For example, it supports Hoover's new FloorSense Technology that controls floor type with the help of micro-sensors and automatically adjusts brush roll speed. Additionally, these models support control via smartphone or tablet. The video demonstrates all the features of this series.