Craftsman brand exists for almost 100 years. Sears Company bought it for only $500 from the Marion-Craftsman Tool Company in 1927. Instruments under this brand were mainly intended for farmers. The rapid development of the automobile segment prompted the company to use the technology of chrome plating that significantly improved their design and quality.
Tool range in this period included Craftsman Professional, Craftsman Industrial, Craftsman and Sears Best series. Craftsman Professional and Craftsman Industrial were positioned as models of the upper price segment. These tools competed with such brands as Snap on SK, Matco, Mac or Proto. Craftsman series was a standard line and was in the middle price segment, where it competed with Gray, Westward, UltraPro (NAPA), Kobalt and Husky. Budget models were produced in the Sears Best series or under the Dunlap brand until the end of the 50s.
In March 2017, Sears Holdings sold the Craftsman brand to Stanley Black & Decker, Inc. But it has the right to manufacture and sell products under this brand for 15 years.
Today, vacuums occupy a significant part in the range of products that are sold under the Craftsman brand.
Vacuums under this brand are deservedly popular due to the high quality of assembly and relatively low price.
Craftsman 12004
Craftsman 12004 is a new model of 2017.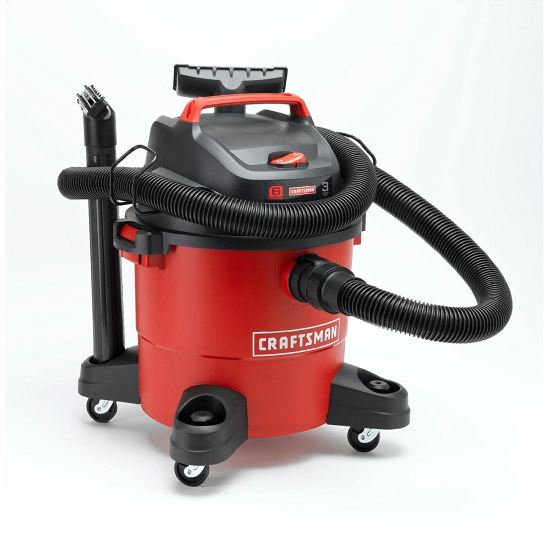 This vacuum has already won high popularity because of a good combination of performance, usability and versatility.
Its Suction Speed reaches 2.81 that is a great result for the model costing about $50. Vacuum has only 3 Peak HP Motor that, of course, is a relatively small value. However, today many experts consider that this parameter is unimportant, since it characterizes the engine power only at the moment of switching on. Of course, its power is reduced significantly during operation. Data on actual power under load can be obtained only during testing. Therefore, performance is a more objective parameter.
The model has the following key features:
– built-in compartment for storing accessories;
– improved mobility (rollers provide a full turning on the spot);
– fast and easy conversion to a blower;
– large sealed on / off switch.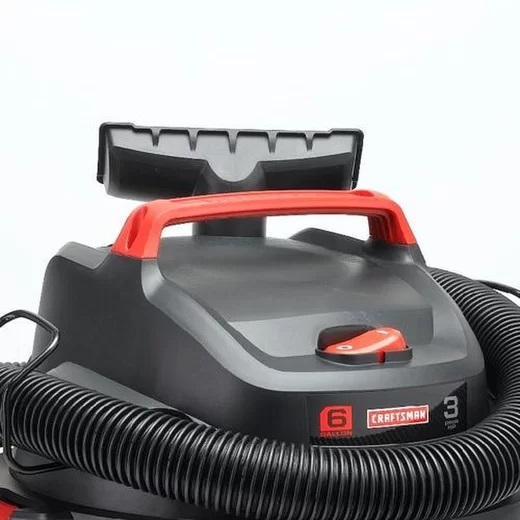 The model weighs only 12.8 pounds and is ideal for cleaning near the house, in the garage, etc. The length of the cord and hose is 10 and 7 feet, respectively. Thus, Cleaning Reach is 17 feet. Two extension wands increase this distance additionally. This aspect is one of the significant advantages of the model.
Attachment kit
Additionally, this model has a gorgeous attachment kit that contains Extension Wand, Crevice Tool, Storage Rack and Floor Nozzle. Unfortunately, Blower Nozzle, Car Nozzle and Concentrator Nozzle are missing.
The high noise level due to the absence of Noise Diffuser is the main drawback of this model. This parameter reaches 96 dB that, of course, very much.
Unfortunately, the tank does not have a drainage port for fast and convenient water discharge.
Model uses cartridge filter for dry cleaning and Foam Sleeve Filter for wet cleaning. Filter replacement is very simple and convenient.
In general, many experts call the Craftsman 12004 one of the best in this segment despite high noise level and lack of a special drainage port for fast draining.
Generally, today Craftsman vacuum cleaners successfully compete with other popular brands.
This video demonstrates the capabilities of a powerful 2-in-1 blower/vacuum with a 6.5 HP engine and a capacity of 16 gallons.