Ridgid brand belongs to the American Ridgid Tool Company that produces and sells various hand tools since 1923. Ridgid tools are mainly intended for mounting the plumbing and piping, construction and HVAC (heating, ventilation, and air conditioning). Many saw the spectacular pipe spanners of bright red color that are produced under this brand. More than 300 different titles of tools make up an impressive range of the company. In 1966, it`s joined Emerson Electric Corporation that produces including Wet/Dry Vacuums. Today Ridgid vacuums successfully compete with other popular brands.
Innovative technologies
Of course, company actively uses innovative developments in its products. Ridgid vacuums use the following popular technologies.
Qwik Lock Filter System
It's based on the innovative Qwik-Lok socket with popular 3/4″ and 1-1/8″ sizes.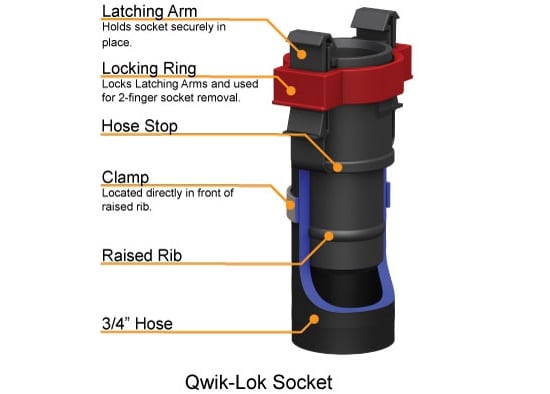 This socket is designed for quick connection to the water line. A simple and reliable connection method improves the usability of these vacuums, simplifying the filter replacement.
Dual-Flex Locking Hose
Dual-Flex technology reduces crimping degree and provides 180 ° flexibility at hose ends.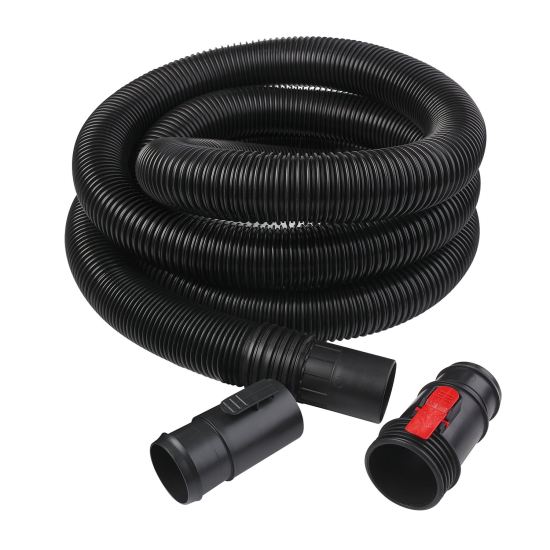 SNR (Scroll Noise Reduction) technology
This technology is based on the control of airflow through a vacuum and is designed to reduce the noise level during operation.
Stor-N-Go
The unique Stor-N-Go system is designed to mounting vacuum on the wall.
Smart Pulse self-cleaning technology
This technology provides a constant suction power during cleaning.
Self-cleaning is carried out with the help of pulsation of concentrated airflow through the filter surface.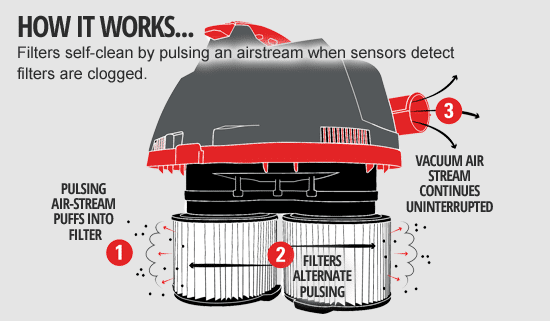 This process continues until the required filtering level is restored. This function is performed during operation, providing constant high effective.
Ridgid RV3410 Smart Pulse Wet / Dry Vacuum
Today, Ridgid vacuums are available in a very wide range. Some models are especially popular due to the well balanced characteristics, design and functionality. Ridgid RV3410 Smart Pulse Wet / Dry Vacuum is one of these models. Low noise level due to SNR (Scroll Noise Reduction) technology and constant suction power due to Smart Pulse self-cleaning technology are the main competitive advantages of this model.
This 14-gallon model is a 2-stage powerful wet/dry vacuum that is ideal for quick cleaning of a large area.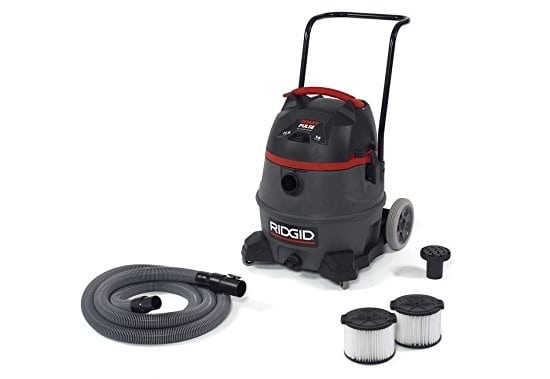 Double PTFE filters are self-cleaning using Smart Pulse technology, providing high efficiency of cleaning fine dust and powders.
Powerful 2-Stage 11.5 Amp motor provides high-lift suction with minimal noise. It has longer life time that reaches over 700 hours.
Model uses the Scroll Noise Reduction technology.
Vacuum weighs 32 pound that is quite acceptable for a powerful model with a large capacity.
Large diameter of rear wheels, cart type design and large handle provide convenient and safe movement on the stairs and on the street.
Built-in drain with large diameter at the bottom of drum provides very fast draining the dirty water.
Model uses with the 7/8″ x 15″ Premium Locking Pro Hose that is 4 times more durable compared to standard hose. Its smooth interior surface significantly reduces the risk of clogging with garbage of large size.
Ridgid RV3410 also has Qwik Lock Filter Fastening System.
8ft of hose and 25ft of power cord provide Cleaning Reach of 33ft.
This video clearly demonstrates the usability and functionality of Ridgid vacuums.