This review is updated regularly with new models
Last updated: September 27, 2019
Traditionally the consumer electronics segment is characterized by fierce competition. As a consequence, high competitiveness is a necessary requirement for any modern device. Usually, it mostly depends on price, quality and functionality.
This review does not analyze the modern pricing policy of companies.
The quality situation has some nuances. Today it can be argued that this criterion for devices from well-known companies has reached its maximum. They mainly use components that are produced in large quantities by several giant companies. For example, micromotors, CPUs, and the matrices for TVs illustrate this trend well. In addition, growers are increasingly using leased production facilities to assemble their products. Accordingly, this aspect also eliminates the differences between companies.
As a result, even budget models under famous brands have high build quality and components in recent years. Already today, its further increase often significantly increases the model cost, reducing its competitiveness. In fact, the expansion of functionality with the innovative technologies has become the main tool for solving this problem.
Of course, the high-tech segment of robot vacuums is fully consistent with these trends. Therefore, almost all of its leaders annually offer models with innovative solutions and even new technologies.
As a result, the market offers a huge number of different models. Of course, this abundance pleases consumers, but often complicates the choice of the optimal model. Various TOP lists partially simplify this task.
TOPs
Of course, the selection criteria for consumer are always individual. Some people attach great importance to new products, preferring the latest models. Other buyers are guided by the opinion of experts, who usually focus on the objective specs. In addition, many buyers prefer to form their opinions on the basis of consumer reviews, which mainly depend on the price / quality ratio. As a result, the content of these TOPs is usually different. This review offers different TOPs for modern robot vacuums.
The list of Best Sellers contains:
– Eufy Robovac 11S;
– EcoVacs Deebot N79S;
– iRobot Roomba 690 Wi-Fi Connectivity;
The list of the most promising and innovative models of 2019 includes:
– Xiaomi Roborock S6;
– iRobot Roomba i7+ (7550);
– iLife A9 and iLife A9s;
– iClebo Omega O5 (YCR-M07-20W).
According to experts, the list of the best modern robot vacuums includes:
– iRobot Roomba i7+;
– Eufy Robovac 11S;
– iLife A4s;
This review offers one model from each list.
Eufy Robovac 11S
As known, Eufy is a brand under Anker Innovations Ltd. Many people know Anker for its products in charging technology, including wireless charging, car charging, etc. But company also successfully produces Eufy robot vacuums, smart projectors under Nebula brand, including very popular Nebula Capsule series, etc.
For example, Robovac 11S (Slim) became the "Best Robot Vacuum of 2018" by Digital Trends. It's an improved version of the popular Robovac 11 with quiet operation and increased suction power of 1300Pa. "S" means that it's thinner (height 2.85 vs 3.1 inches) and, accordingly, lighter (5.73 vs 6.66 pounds).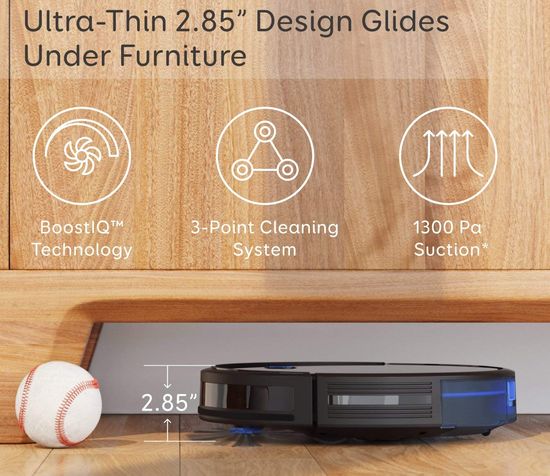 Respectively, robot easily cleans even under low furniture due to the low profile.
This very quiet model (only 55 dB ) picked up 11.6 grams of dirt per run (for comparison, iRobot i7 – 10 grams only). Of course, 11 grams hardly takes your fancy. But programmed for daily automatic cleaning, 11S will be able to collect 80 grams of dirt and pet hair in a week. For comparison, manual cleaning with a full-sized vacuum provides a similar performance.
One battery charge provides runtime of 100 minutes in standard suction mode (for hardwood floors), 60 minutes in BoostIQ mode (carpeting), and 50 minutes in max suction mode on medium-pile carpets.
Unfortunately, Eufy uses outdated "bounce" navigation technology instead of more effective digital mapping. As a result, it moves randomly, which significantly increases the cleaning time.
Today it costs about $ 240. But this year, the company already offers the 11S Max version for about $ 270 with max suction power of 2 kPa. In comparison, a typical handheld vacuum provides only 1.7 kPa.
Xiaomi Roborock S6
Of course, the Chinese giant Xiaomi Corporation does not require the introduction. Today, this company ranks sixth in the world in terms of smartphone production. But besides smartphones, the company develops and manufactures wonderful robot vacuums. In 2019, the company introduced the new Xiaomi Roborock S6 model.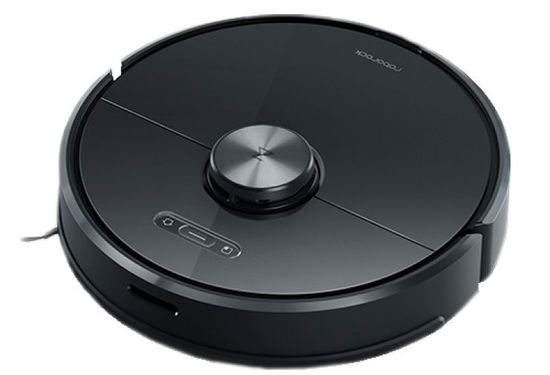 Today, this novelty can reasonably claim the status of one of the most innovative robots. Considering the relatively low price for this class at $ 650 and its excellent features, it may well be on the bestseller list.
Innovations:
– Upgraded Rock Navigation Path Planning uses the principle of long edge priority and proximity, reducing cleaning time by 20% due to route optimization;
– Selective Room Cleaning provides selection and scheduled cleans for single and multiple rooms, or for entire home;
– Advanced Noise Reduction reduces noise by 50% vs Roborock S5 and does not exceed 40 dB.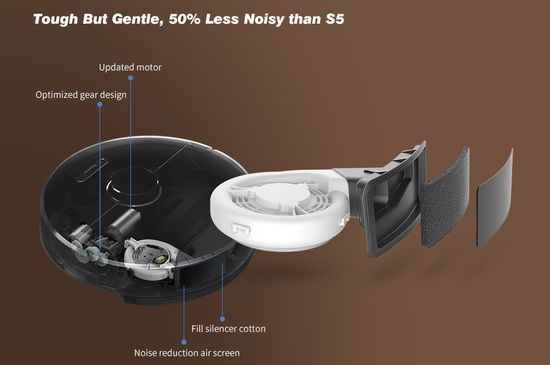 In addition, the robot creates virtual no-go zone and barriers with the help of advanced Map Management 3.0.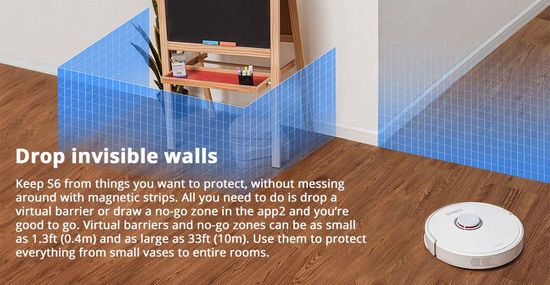 The company significantly improved the lidar for expansion of smart options. New model uses three CPU, including Texas Instruments, MCU, and STMicroelectronics, and data from 14 sensors.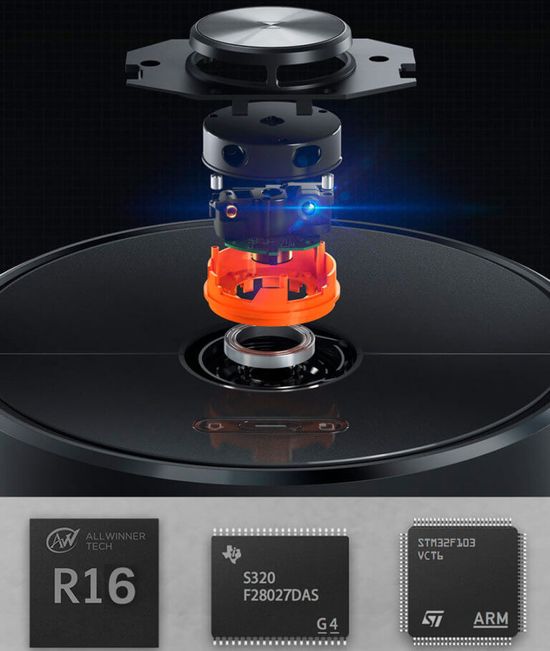 In addition, the S6 automatically adjusts the intensity of the water supply from the nozzle-tank, optimizing the Mopping mode.
Besides, the robot uses a new advanced turbo brush.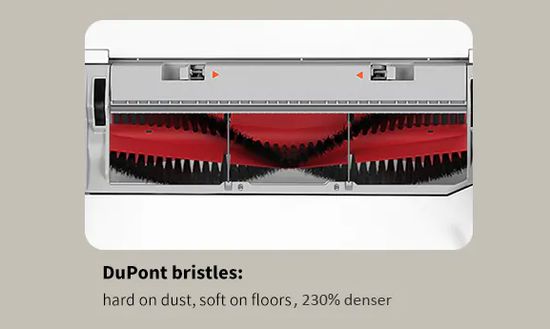 Moreover, the model supports APP & Alexa Voice Control, provides good cross (0.8in climbing), 2000Pa of suction power, which is enough to clean even deep inside carpet fibres, and runtime up to 3 hours in Quiet mode.
iRobot Roomba i7+ (7550)
The segment leader also did not stand aside in 2019, introducing the new Roomba i7+ model. The company focused on a radical expansion of functionality by developing Clean Base with the innovative Automatic Dirt Disposal option. Otherwise, the new product does not differ from the iRobot 980, including an almost identical design.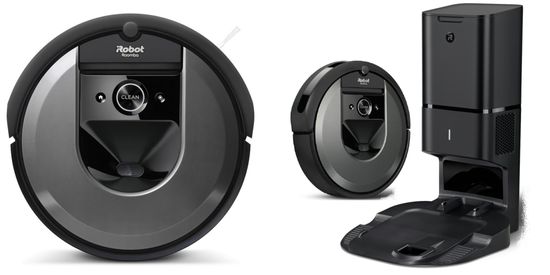 Besides, a list of their differences includes several aspects. Firstly, the i7+ is lighter than the previous model (7.4 vs 8.7 pounds) and smaller in diameter (13.3 x 13.3 x 3.6 inches vs 13.9 x 13.9 x 3.6 inches). Secondly, now its dustbin is washable.
But the height of new Clean Base reaches 19 inches. Moreover, it additionally requires 5 inches of free space to open the top lid, limiting its placement, for example, under a shelf. New Clean Base uses its own vacuum, which suctions out debris from dustbin into a sealable bag with a capacity of about 30-bins worth of dirt.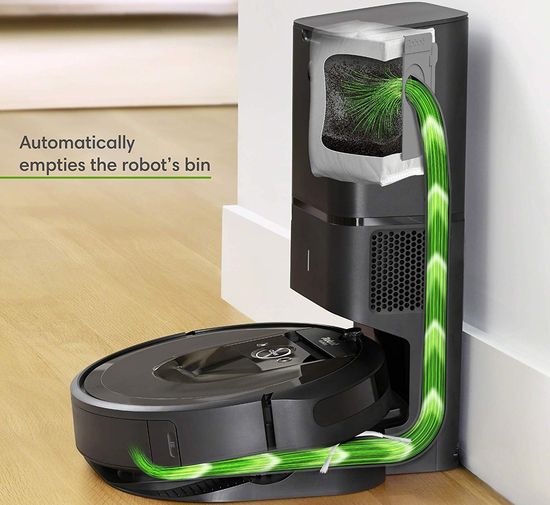 Today, the company sells Clean Base separately for $ 300, enabling iRobot 980 owners to expand its functionality to i7+.
During testing, the i7+ picked up 10 grams of dirt per run and cleaned a surface of about 5000 sq ft without collisions.
Model uses a simple app to start, stop and cleaning schedules. Moreover, innovative Smart Maps provides mapping the area for defining cleaning zones. Finally, connecting to Alexa or Google Home provides voice control. Of course, the Automatic Dirt Disposal option radically extends the level of cleaning automation by eliminating the unpleasant function of regular dustbin emptying manually.
Today its price does not exceed $ 1,000, which is acceptable for an innovative model from a recognized brand.
Conclusions
In general, today anyone can easily choose the optimal model depending on their individual preferences and budget.
Eufy Robovac 11S is a great budget solution. At a price of less than $ 250, the robot delivers great cleaning quality due to the high suction power. But its intellectual capabilities correspond only to the modern budget level.
For the price up to $ 650, Xiaomi Roborock S6 offers a huge amount of innovation and great smart options.
iRobot Roomba i7+ is a new, higher level of cleaning automation. This robot with the innovative Clean Base costs less than $ 1,000 , providing Automatic Dirt Disposal. For this purpose, the dock uses its own vacuum, which suctions out debris from dustbin into a sealable bag with a capacity of about 30-bins worth of dirt. In principle, the price of an iRobot Roomba i7 without Clean Base is only $ 700. Moreover, the company provides the opportunity for iRobot 980 owners to significantly expand its functionality by separately purchasing Clean Base for $ 300.
We sincerely wish you the Right Solution!
This video demonstrates the operation of the new iRobot Roomba i7+.