In 2011, Steven Yang created Anker Innovations, which designs, manufactures and sells power banks, charging cables, and USB charging hubs. For several years the company has achieved success and began to develop other directions. Today it has subsidiaries in the USA, China, Japan, Germany, and the United Kingdom. They design and manufacture Nebula Mars and Nebula Capsule projectors, Soundcore bluetooth earphones and speakers, ROAV car accessories, Eufy security gadgets and smart home appliances.
In recent years, the Eufy brand has become widely known for its robot vacuum cleaners. They became popular after the phenomenal success of ultra-slim RoboVac 11S. This bot became the thinnest model on market with a height of only 2.85 inches.
The super-slim body has significantly expanded the cleaning area by allowing the robot to move under low-profile furniture. Indeed, the ability to automatically clean under armchairs, coffee tables, etc is one of the main factors in favor of robotic vacuums for many consumers. Considering the price of $ 220, suction power of 1300 Pa (2000 Pa for 11S Max costing $ 250), a noise level of only 55 dB, BoostIQ technology, etc, this series still claims to dominate the budget and mid-budget segments.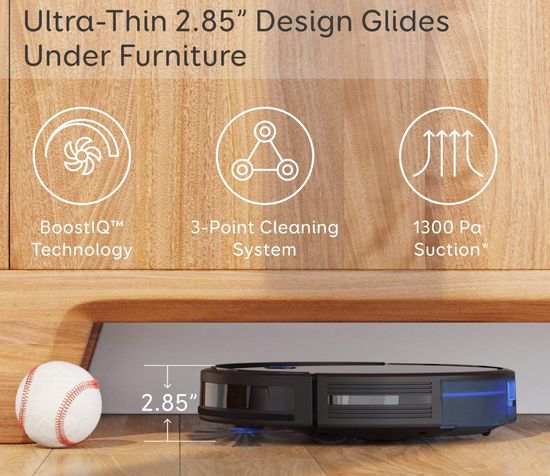 Eufy RoboVac range
Inspired by the success, the company began to vigorously expand the model range, presenting more than a dozen modifications to the market in a few years. Today the company classifies them by navigation type. The most numerous RoboVac with Bounce Navigation series includes over a dozen models based on 11S. The mid-range RoboVac with gyro Smart Dynamic Navigation 2.0 series contains three models including RoboVac G10 Hybrid with mopping mode. Finally, Eufy RoboVac l70 Hybrid with laser navigation (Laser iPath technology) and mopping mode became the flagship of the company.
Of course, each model has pros & cons, allowing the consumer to choose the optimal model. To simplify this task, the company uses simple and convenient labeling. In particular, Max in their name means increased suction power (2000 Pa vs 1500 Pa). Models with Wi-Fi connectivity models contain the "C" letter in the name. They work with Amazon Alexa and Google Assistant. The name of L70 and G10 (2-in-1 Vacuum & Mop) contains the word Hybrid.
The latter model is of particular interest as a mid-budget RoboVac with Smart Dynamic Navigation 2.0 and mopping mode.
Eufy RoboVac G10 Hybrid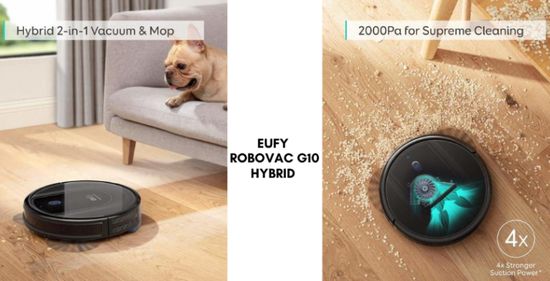 Its 2000 Pa suction power, super-slim 2.85" body and noise level up to 56 dB exceed the similar specs of many competitors even in the premium segment.
Features
– Smart Dynamic Navigation 2.0.
Smart Dynamic Navigation 2.0 is an gyro-navigation technology that provides zigzag cleaning;
– multiple cleaning modes;
– auto-clean scheduling;
– Wi-Fi and voice control.
EufyHome app, Amazon Alexa or the Google Assistant provide voice control.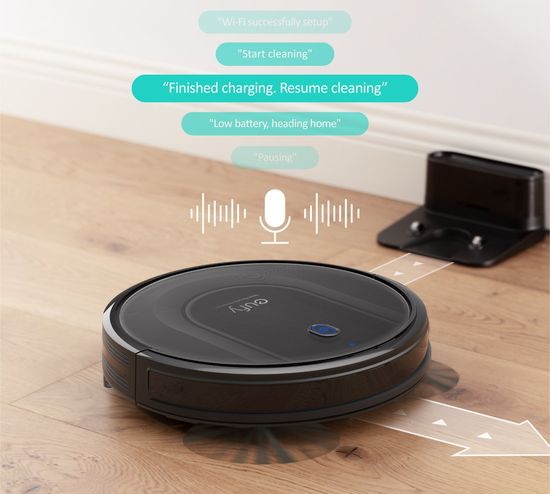 – 2-in-1 mopping and sweeping.
Standard suction mode (hardwood floors) – up to 80 minutes of cleaning, max suction mode (medium-pile carpets) – up to 40 minutes.
– anti-scratch tempered glass cover.
– unibody filter.
Smart Dynamic Navigation 2.0 works great in a relatively empty room with right angles and no vertical drops. Auto-dock mode is also perfect. Unfortunately, obstacles significantly interfere with its operation. In this case, the G 10 randomly changes its zigzag path and sometimes skips uncleared areas. Moreover, sometimes the program freezes when the side of the bumper touches an obstacle.
Cleaning the carpet is also sometimes a problem. Despite the Climbing Threshold of 0.63 in, the robot's side brushes sometimes cling to the carpet edge.
Manual control with the Eufy Home app required a short training to adapt to the system sensitivity when control direction and speed. But this mode perfectly solves the problem of cleaning a small room with a lot of furniture.
The vacuuming quality is very high. The robot perfectly cleaned a 3-room apartment in 45 minutes without recharging. Unfortunately, without BoostIQ, the model effectively cleans only short-pile carpets.
Conclusions
Pros
– cleaning under low-profile furniture due to the super-slim 2.85" body;
– high quality vacuuming due to 2000 Pa of suction power.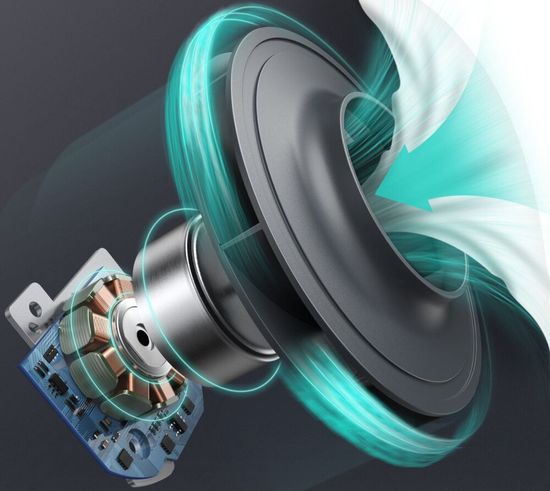 – very low noise level up to 56 dB;
– mopping;
– hands-free with voice control;
– convenient control with the Eufy Home app;
– auto-dock and PinPoint Return option.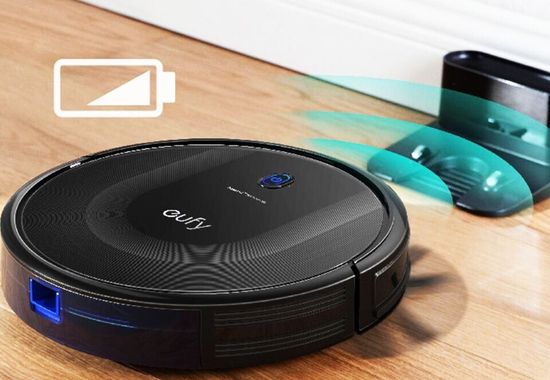 – firmware update via EufyHome app;
Cons
– no BoostIQ for carpets;
– charging takes 5 – 6 hours;
– no lidar and no room-mapping;
– no setting the sensitivity in manual mode via app.
Super-slim body design, high suction power and very low noise level distinguish the RoboVac G10 Hybrid from many competitors in this price segment. It is perfect for regular cleaning of a small apartment without long pile carpets. Unfortunately, navigation does not provide flawless maneuvering between table and chair legs. But the manual control mode via the Eufy Home app effectively solves this problem.
In general, the company has created a successful model, which today competes confidently in the market.
This video demonstrates the Eufy RoboVac G10 Hybrid in action.