Anker Innovations was created by Steven Yang in 2011 to design and manufacture power banks, charging cables, and USB charging hubs. Its products quickly gained popularity in the market. Today Anker has subsidiaries in the United States, China, Japan, Germany, and the United Kingdom. They manufacture security gadgets and smart home appliances, including the super popular RoboVac vacuums under the name Eufy, portable Nebula Mars and Nebula Capsule projectors, Soundcore bluetooth earphones and speakers, and ROAV car accessories.
Anker Eufy RoboVac
Eufy RoboVac bots have become one of the most successful destinations. The start of their popularity was due to the phenomenal success of RoboVac 11S (Slim), which became the "Best Robot Vacuum of 2018" by the authoritative Digital Trends. This model replaced the popular RoboVac 11. But the new robot was significantly cheaper, worked much quieter (55 dB), and provided up to 1300 Pa of maximum suction power. The letter "S" is short for Slim. Indeed, it's almost 10% thinner (2.85 vs 3.1 inches) and almost 20% lighter (5.73 vs 6.66 lbs).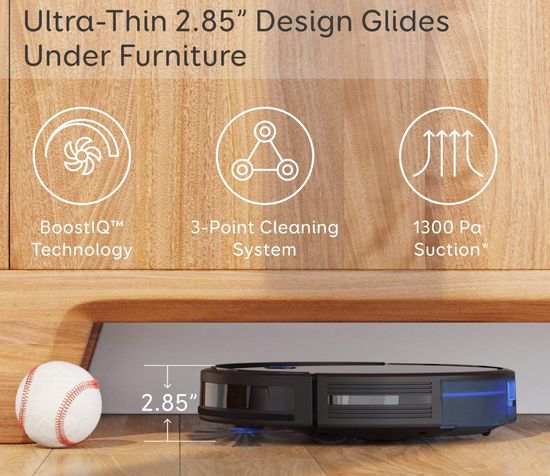 The very low profile has significantly expanded its capabilities for cleaning under furniture, which is fundamentally important for robotic vacuum.
A very good price-performance ratio ensured the model leadership in the budget segment. Priced at just over $ 200, the RoboVac 11S uses innovative BoostIQ technology and has excellent specs including 55dB noise level, 0.6L dustbox capacity, 100min maximum running time, etc. Therefore, many experts regularly include this model in top lists.
Of course the 11S isn't the only decent model in the RoboVac range. Today, the company offers nearly 20 robotic vacuums with prices ranging from $ 200 to $ 500. But the choice with such an abundance requires at least a simplified classification.
All Eufy RoboVac models support auto-dock and recharge feature, use triple-layer filter and patented BoostIQ technology, which automatically increases the suction power for more efficient carpet cleaning.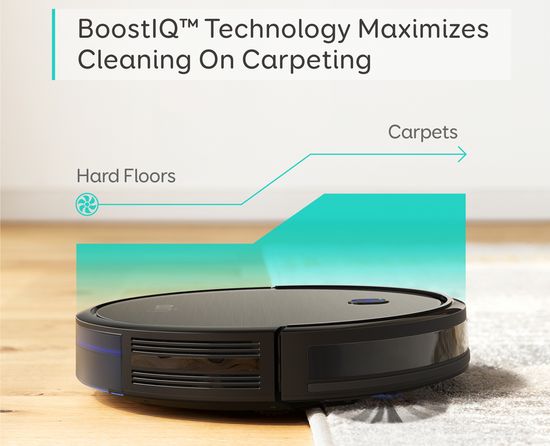 Max in their name means increased suction power. The "C" letter in the name stands for Wi-Fi support. They work with Amazon Alexa and Google Assistant.
In addition, the company offers two hybrid 2-in-1 Vacuum & Mop models (Eufy RoboVac G10 and Ultimat Clean L70), which combine sweeping and mopping.
Navigation
The list of sensors in modern models includes cliff sensors, bump sensors, wall sensors and optical encoders. Cliff sensors usually use infra-red light to monitor the distance between the device base and the floor surface.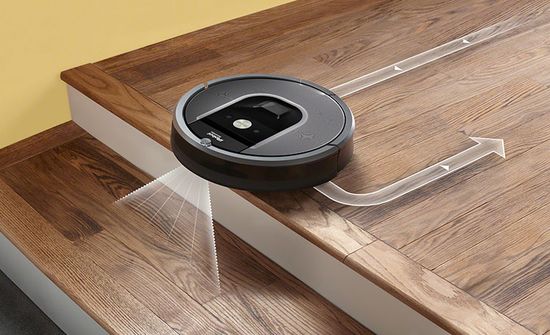 The bump sensors are triggered when it hits an obstacle, generating a signal to change direction. Wall sensors control the distance between the device and the wall. A light sensor in optical encoders counts the number of wheel revolutions to control the distance covered. In addition, many modern models use a dust scanner to select the optimal cleaning mode.
Initially, the cleaning algorithms were based on programmed simple reactions in various situations, which robotics often call "behavior" (Bounce Navigation). For example, the robot moves straight ahead until hitting an obstacle. After turning from the wall, robot further move in a straight line. The "spiral" behavior activates an outward spiral motion. The "wall-following" behavior provides movement at a preset distance from the wall.
Today Bounce Navigation technology is most common in budget models. Instead of mapping software, it only supports movement along a random trajectory that changes with each collision with an obstacle. Of course, low efficiency increases cleaning time, significantly increasing the requirements for battery capacity.
More modern Smart Dynamic Navigation is significantly more efficient. For example, it provides a zigzag movement, significantly reducing cleaning time.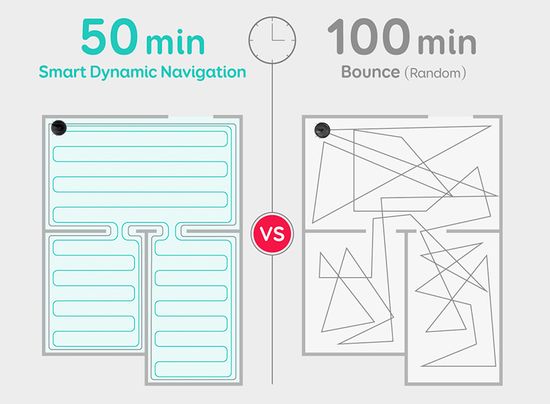 But laser navigation is the most effective today. It provides room map creation, selection of cleaning areas, etc. In particular, the new RoboVac L70 uses the innovative iPath Laser Navigation to create a map and AI Map to clean in real time. During operation, its lidar accurately fixes any obstacle, preventing collisions. This system significantly reduces cleaning time by increasing its efficiency.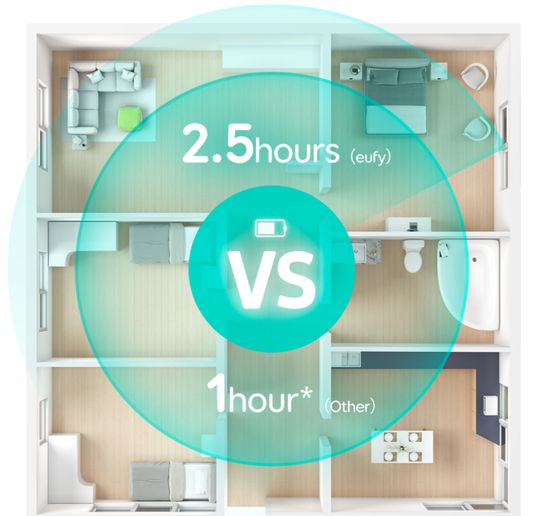 Anker Eufy RoboVac series
By the navigation, the company divides them into Easy Clean (Bounce Navigation), Smarter Clean (refined Gyro-navigation Smart Dynamic Navigation 2.0) and Laser Navigation (Laser iPath) Series. This is probably logical, because improving navigation is one of the main directions of their modernization.
The budget Easy Clean series contains 12 models, including 11S, 11S Plus, 11S Max, 12, 15C, 15T, 15C Max, 25C, 30, 30C, 30C Max, and 35C. It uses the RoboVac 11S as its base model. All models with number 30 come with a 13.2 ft boundary strips. But 35C has only 6ft boundary strip.
All models use two side brushes, support scheduled daily cleaning, a pre-set vacuuming time and multiple cleaning modes, including Auto, Spot, Edge, and Single Room.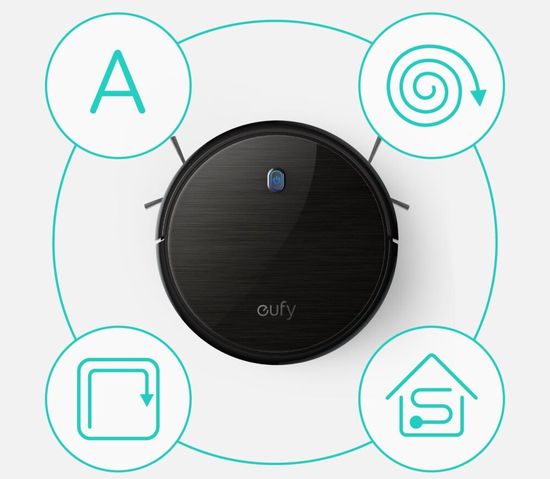 The height of all models is only 2.85 in, the noise does not exceed 55 dB, the dustbox capacity reaches 0.6L (20.5 oz), and the operating time is 100 minutes. The models differ in suction power, support for the boundary detection with boundary strip and WiFi. Low price, BoostIQ, small height, quietness and capacious dust collector are their main pros. Not very efficient Bounce Navigation is the only negative.
The Smarter Clean series includes the RoboVac G30, G30 Edge (Verge – Edge US-Version), and 2-in-1 Vacuum & Mop G10 Hybrid. These models use refined Smart Dynamic Navigation 2.0 gyro-navigation.
Their max suction power reaches 2000 Pa, dustbox capacity reaches 0.6L (G10 – 0.5L), and the height and noise do not exceed 2.85 inches and 55 dB, respectively. All models support WiFi connectivity and work with Amazon Alexa and Google Assistant. G30 Edge comes with 13. 2 ft boundary strip.
The Laser Navigation series only includes the new $ 500 hybrid 2-in-1 Vacuum & Mop RoboVac L70.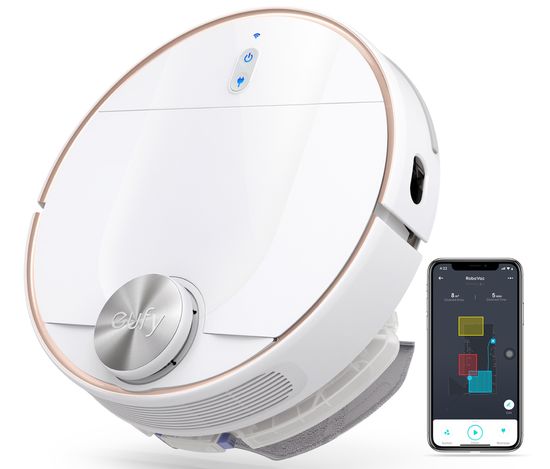 Conclusions
The latest 2019 RoboVac L70 Hybrid with Laser Navigation became the logical conclusion of the Anker Eufy robot vacuum range. This model with a maximum suction power of 2200 Pa, with Auto, Spot and Zone cleaning modes supports sheduled cleaning weekly by app, No-Go zone option and mopping, and works up to 150 minutes. Unfortunately, the increase in height to 4 inches due to lidar reduced its ability to clean under furniture. But in general, the model is fully consistent with the modern top level. Most likely, the company will continue to develop this series through new models with laser navigation.
Thus, today the company offers almost 20 models of different types in all price segments. Any fan of this brand can easily choose the optimal model for a price from $ 200 to $ 500, including a bot with mopping.
This video presents RoboVac L70 Hybrid with Laser Navigation and Mapping.