In 2011 Steven Yang created Anker Innovations to design, manufacture and sell of power banks, charging cables, and USB charging hubs. The huge success of this area has become an excellent incentive for the further development of the company. Within a few years, the company had subsidiaries in the USA, China, Japan, Germany, and the United Kingdom. Today they produce the popular Nebula Mars and Nebula Capsule projectors, Soundcore bluetooth earphones and speakers, ROAV car accessories, security gadgets and smart home appliances, including Eufy RoboVac robot vacuums.
Of course, Eufy RoboVac's success was largely due to the phenomenal popularity of RoboVac 11S which became bestseller of 2018. Today this model already has about 26,000 positive reviews and the number continues to grow.
This model was the replacement for the RoboVac 11. Its success was due to several factors. First, the company was able to reduce its height from 3.1 inches to an unprecedented 2.85 inches, significantly expanding its cleaning capabilities under low-profile furniture.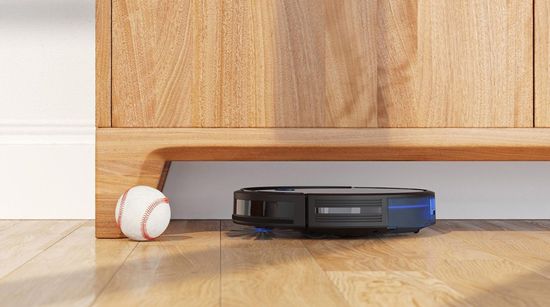 Strictly speaking, this factor was initially one of the main arguments in favor of robots. Even today RoboVac 11S is the thinnest model.
Secondly, at a price of just over $ 200, this model provides max suction power of 1300 Pa, only 55 dB noise level, has 0.6L dustbox capacity, 100 min runtime, etc. Of course, these are excellent specs for the budget segment. What's more, BoostIQ technology provides effective carpet cleaning.
Inspired by the well-deserved success, over the next few years, Eufy expanded the RoboVac range to nearly two dozen models with prices ranging from $ 200 to $ 500.
On its website, the company classifies models by navigation type. In particular, it divides them into Easy Clean series with Bounce Navigation, Smarter Clean series with gyro Smart Dynamic Navigation 2.0, and Laser Navigation series with Laser iPath technology.
Probably, this is very logical, because navigation significantly affects the cleaning automation level, which is the main advantage of robots. Of course, expanding functionality with, for example, mopping mode or auto-emptying docking station in iRobot Roomba also increases the automation level.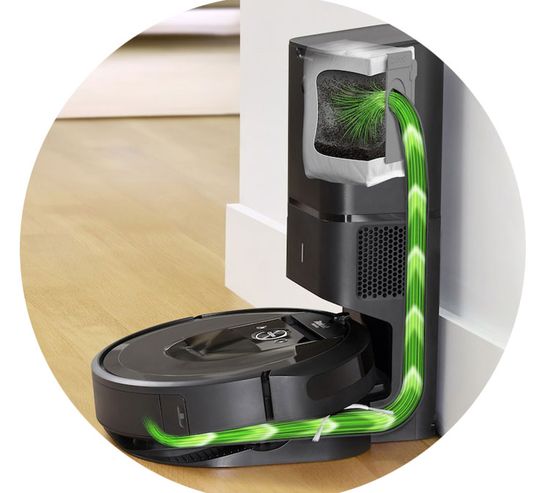 But navigation efficiency reduces battery capacity requirements due to shorter cleaning times.
RoboVac with Bounce Navigation based on RoboVac 11S are the most numerous and contains 12 models. The mid-range Smarter Clean includes the RoboVac G30, G30 Edge (Verge – Edge US-Version), and 2-in-1 G10 Hybrid with sweeping and mopping. Top-end series contains only the $ 500 RoboVac L70 Hybrid.
Bounce Navigation technology is most common in budget models. Unfortunately, it only supports movement along a random trajectory that changes with each collision with an obstacle. More modern Smart Dynamic Navigation provides a zigzag movement. Of course, laser navigation is the most effective. It significantly reduces cleaning time and increases the automation level.
All Easy Clean RoboVac models support auto-dock and recharge feature, use triple-layer filter and patented BoostIQ technology. Max in their name means increased suction power. Models with Wi-Fi contain the "C" letter in the name. They work with Amazon Alexa and Google Assistant.
The height of all models is only 2.85 in, the noise does not exceed 55 dB, the dustbox capacity reaches 0.6L (20.5 oz), and the operating time is 100 minutes. In addition, they use BoostIQ to clean carpets, support multiple cleaning modes, auto-dock and recharge feature and daily scheduled cleaning.
Eufy RoboVac Easy Clean series
Entry-level
Suction power is the main difference between the RoboVac 11S ($ 220), 11S Plus ($ 230) and 11S Max ($ 250). It is 1300 Pa, 1500 Pa and 2000 Pa, respectively. In addition, the 11S Max has a glossy anti-scratch tempered glass-top cover, unibody filter design, and the ten advanced IR-sensors of drop-sensing tech.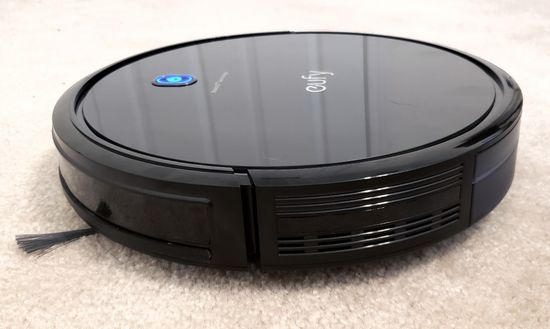 The Eufy RoboVac 12 ($ 240) also has a glossy anti-scratch tempered glass top. But unlike the S11 Max, its suction power reaches only 1500 Pa. In fact, the RoboVac 12 is analogous to the S11 Plus with glossy glass top.
Wi-Fi connected
The Eufy RoboVac 15C ($ 250) and 15C Max ($ 260) support Wi-Fi connectivity for control via EufyHome app, setting cleaning schedules, voice-control using an Amazon Alexa or Google Assistant devices, etc. They provide suction power of 1300 Pa and 2000 Pa, respectively.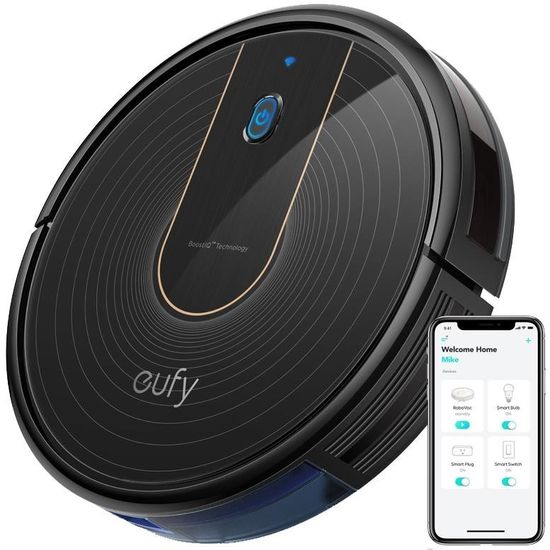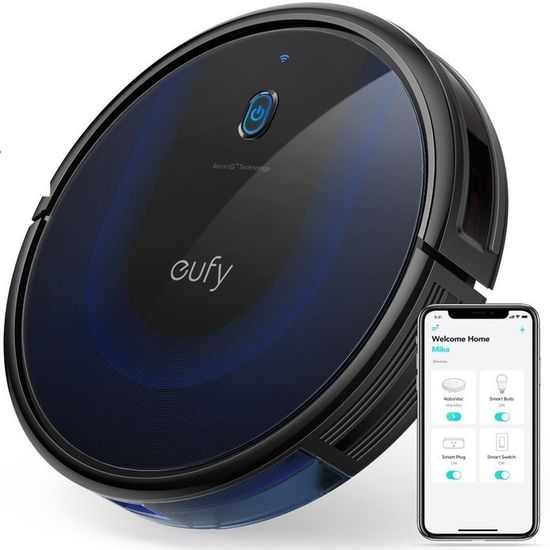 Boundary Detection
Eufy RoboVac 30 ($ 240), 30C ($ 280) and 30C Max ($ 300) support Boundary Detection using dual-Hall magnetic sensors and reusable boundary tape. As the name suggests, they differ in suction power (1500 Pa vs 1500 Pa vs 2000 Pa), Wi-Fi connectivity (except RoboVac 30) and design (30C Max has glass-top cover, unibody filter and advanced IR-sensors). All models come with Boundary Strips (13.2 ft / 4 m).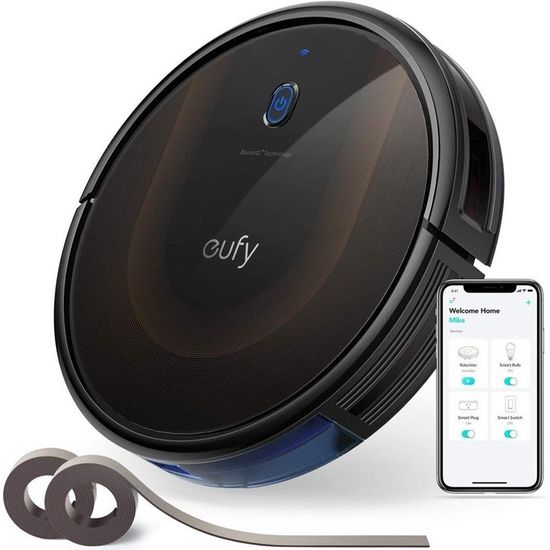 Mid-range model
In terms of functionality, the Eufy RoboVac 35C can be positioned as a mid-range bot.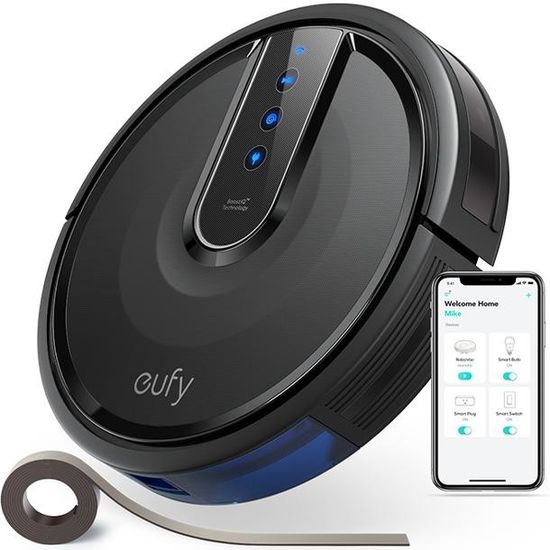 At $ 275, it supports Wi-Fi connectivity, works with Amazon Alexa or Google Assistant devices, and can use reusable boundary tape. But unlike 15C / 30C, 35C only comes with 6.6ft (2m) boundary strip. In addition, the model does not have a Max version and provides only 1500 Pa suction power.
Conclusions
Low price, ultra-slim profile for cleaning under furniture, very low noise level up to 55 dB, 0.6L dustbox capacity, 100 min runtime, good suction power and wide functionality including BoostIQ technology, auto-dock and recharge feature, daily scheduled cleaning, etc are the essential pros of these models. The not very efficient Bounce Navigation, the lack of app control and room-mapping are their cons. But the Boundary Detection option, Wi-Fi connectivity and support of Amazon Alexa or Google Assistant devices partially compensate for them in most models.
Probably, today they are one of the most successful compromises between price and performance in the segment of mid-budget robotic vacuum cleaners.
This video demonstrates the Eufy RoboVac 35C.