This review is updated regularly with new models
Last updated: September 22, 2019
Introduction
The robot vacuums segment has been successfully developing for two decades. Of course, the first models were expensive and provided only partial automation, requiring control and human intervention due to poor overcoming the obstacles, short runtime, fast dustbin filling, etc. Therefore, initially many people perceived robotic vacuums as a fun toy for children and pets.
But fierce competition contributed to the improvement of devices and a significant reduction in prices. These factors have radically changed the situation. Today this device costs several hundred dollars and really provides a high level of automation with sufficiently high-quality cleaning. Modern market offers a huge number of robot vacuums, the price and functionality of which varies in a very wide range.
Of course, this factor pleases consumers, but sometimes it complicates the choice of the optimal model. Various TOP-lists greatly simplifies this task. This review offers Best Sellers 2019, which includes:
– Eufy Robovac 11S;
– EcoVacs Deebot N79S;
– iRobot Roomba 690 Wi-Fi Connectivity;
– iLife A4s;
– Shark ION R85.
Eufy Robovac 11S
As known, Eufy is a brand under Anker Innovations Ltd. Many people know Anker for its products in charging technology, including wireless charging, car charging, etc. But company also successfully produces Eufy robot vacuums, smart projectors under Nebula brand, including very popular Nebula Capsule series, etc.
For example, Robovac 11S (Slim) became the "Best Robot Vacuum of 2018" by Digital Trends. It's an improved version of the popular Robovac 11 with quiet operation and increased suction power of 1300Pa. "S" means that it's thinner (height 2.85 vs 3.1 inches) and, accordingly, lighter (5.73 vs 6.66 pounds).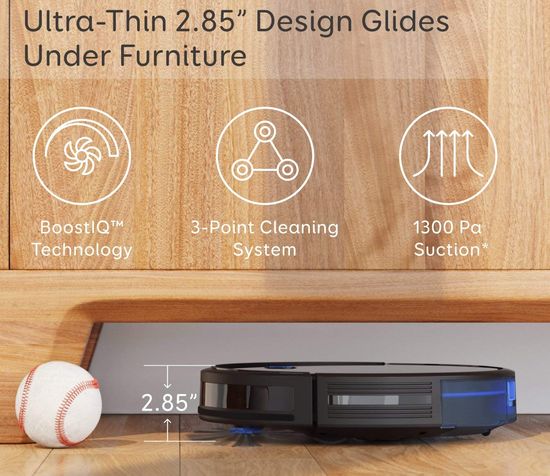 Respectively, robot easily cleans even under low furniture due to the low profile.
This very quiet model (only 55 dB ) picked up 11.6 grams of dirt per run (for comparison, iRobot i7 – 10 grams only). Of course, 11 grams hardly takes your fancy. But programmed for daily automatic cleaning, 11S will be able to collect 80 grams of dirt and pet hair in a week. For comparison, manual cleaning with a full-sized vacuum provides a similar performance.
One battery charge provides runtime of 100 minutes in standard suction mode (for hardwood floors), 60 minutes in BoostIQ mode (carpeting), and 50 minutes in max suction mode on medium-pile carpets.
Unfortunately, Eufy uses outdated "bounce" navigation technology and moves randomly during cleaning. But today, already many models use modern mapping software, which creates a digital floor plan of your home for creating the movement trajectorie and the cleaning area.
Today it costs about $ 240. But this year, the company offers the 11S Max version for about $ 270. According to Eufy, its maximum suction power reaches 2 kPa. In comparison, a typical handheld vacuum cleaner provides only 1.7 kPa.
EcoVacs Deebot N79S Robot Vacuum
EcoVacs company has been developing innovative technologies for creating Robot Vacuum for more than twenty years.
In 2019, the company introduced the new Deebot N79S for dry cleaning.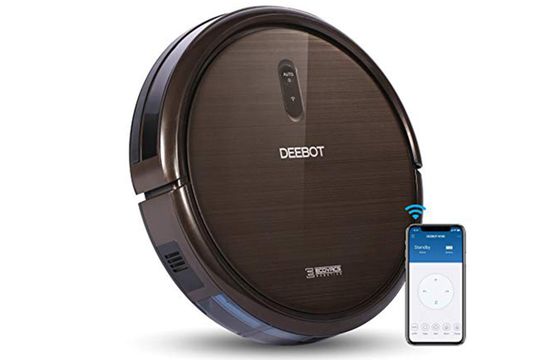 Unfortunately, it does not support the mopping mode, which is superbly implemented in the EcoVacs Deebot Ozmo 930 using the innovative OZMO Mopping Technology.
The 3-stage cleaning system uses a V-shaped turbo brush and two side brushes.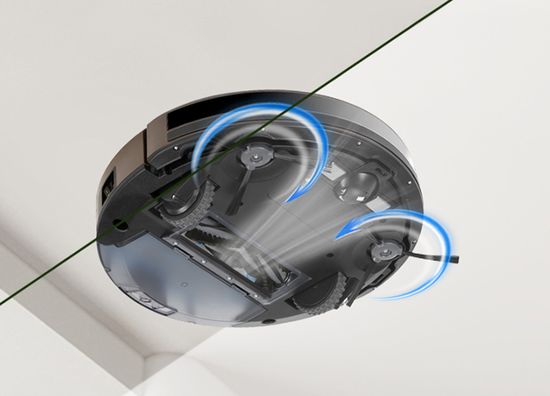 N79S supports modes for cleaning the entire floor (automatic mode), small area (spot mode) or the edge of your floor (edge mode).
At a price of only $ 200, the robot provides runtime of 110 minutes, Auto Charging, and 500 kPa suction power, which doubles in Max Mode. N79S perfectly cleans any hard floors and successfully copes with low pile carpets.
In addition, it supports EcoVacs Smart App (direct control, scheduling, status updates, cleaning modes, accessories status, etc), and Alexa and Google Assistant compatibility.
Unfortunately, the model does not support the innovative Smart Navi 3.0 (laser), but uses the simplified Smart Motion, providing only random navigation. As a result, the robot selects a random trajectory of motion, cleaning the surface several times.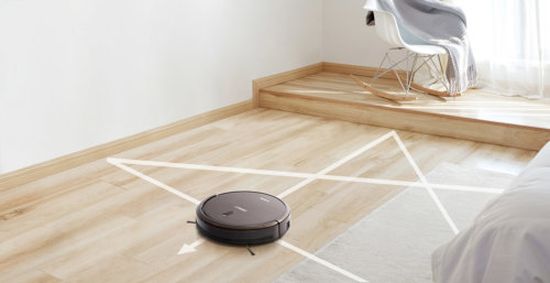 As a consequence, the cleaning lasts long enough.
PROS
– very low price;
– runtime of 110 minutes;
– Max Mode doubles suction power;
– dust bag capacity of 520 ml;
– HEPA filter;
– remote control;
– EcoVacs Smart App;
– Alexa and Google Assistant compatibility.
CONS
– no virtual barriers, or Virtual Walls, or bounding magnetic tape;
– no mopping mode;
– noise level reaches 67 dB.
iRobot Roomba 690 Wi-Fi Connectivity
Of course, iRobot Roomba robot vacuums from recognized segment leader does not require the introduction. As known, this company developed the first robot in America in 2002.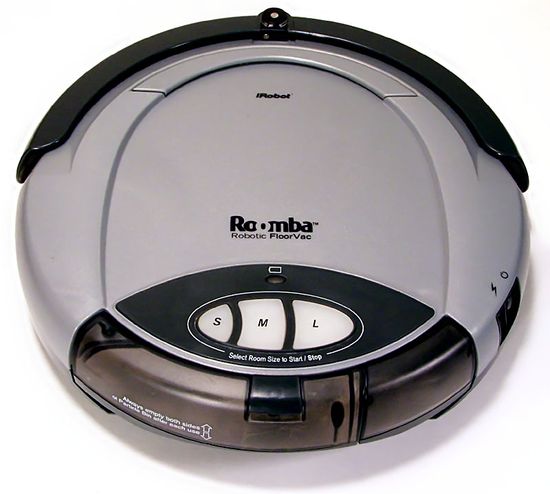 Since then, it has released a wide range of models, many of which are Best Sellers.
The iRobot Roomba 690 was first introduced in 2017 and immediately became popular. The robot comes in a perfect package, including a Dual Mode Virtual Wall Barrier, a care brush, and a replacement filter.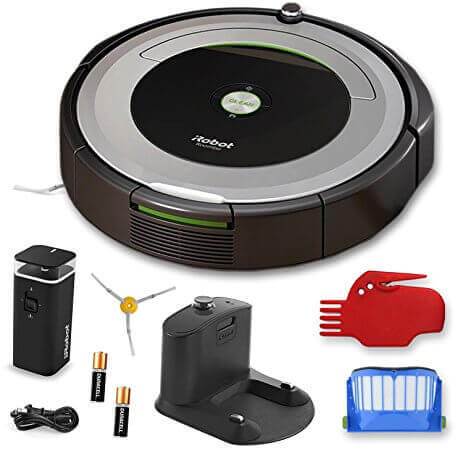 It uses almost all modern innovative technologies, including the efficient 3-stage cleaning system, Dual Multi Surface Brushes, auto-adjust Cleaning Head for efficient carpet cleaning, Smart navigation, Dirt Detect Technology, etc.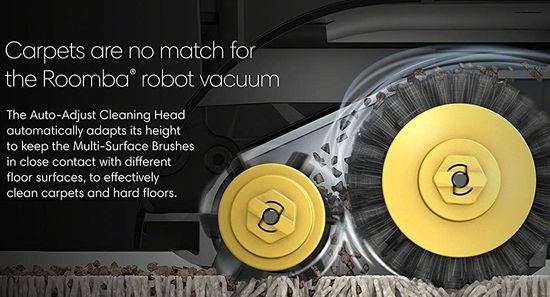 In addition, the model supports an excellent set of Smart options, including control via the iRobot Home App, Wi-Fi Connectivity, and compatible with Amazon Alexa and the Google Assistant.
Roomba 690 supports automatic cleaning of the entire room or a thorough spot cleaning of the specified area. Accordingly, the robot uses a spiral trajectory (point mode), cleaning along walls, or rendom movement in different directions.
For navigation, the robot uses height difference sensors on the bottom, and an IR sensor in the bumper that detects the location of the dock and Virtual Wall. In addition, the model uses a special technology against tangling in wires.
Relatively high noise, lack of dust container full indicator and remote control are its small flaws. But today it only costs $ 330. Of course, this is a very low price for iRobot Roomba. Quite naturally, it provides huge popularity of Roomba 690 among consumers.
This popular model is usually sale for around $ 200 and has a huge amount of rave reviews from users.
The low-profile iLife A4s has a height of only 3 inches and easily cleans the surface under low furniture.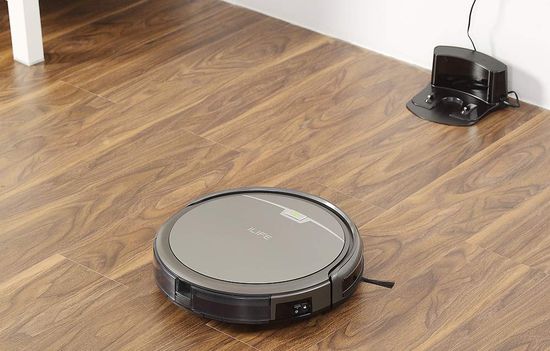 In addition, the model uses an efficient the Gen 3 CyclonePower cleaning system with an innovated tangle-free roller brush and two side brushes.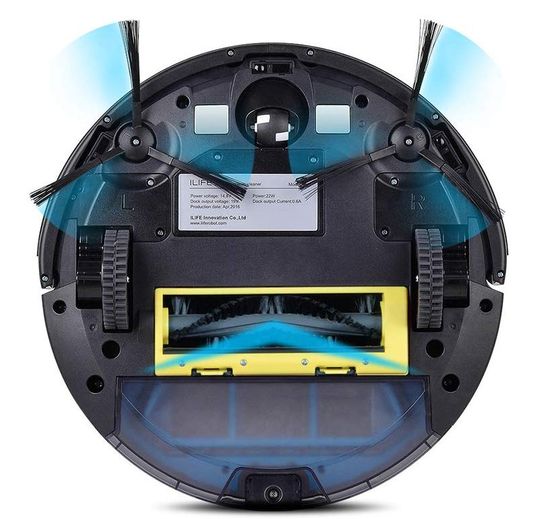 Its suction power reaches 1000 Pa, which is very good for a budget model.
Additionally, the robot supports Auto Dock and Rechardes, uses the highly efficient HEPA-style filter, Battery-saving mode with runtime up to 140 minutes, and supports the schedule option.
During testing, the robot picked up 12.9 grams of dirt per run, which lasted about two hours.
Modes:
– automatic – cleaning the all available surface;
– cleaning in the corners – movement and cleaning along the walls around the perimeter and in the corners;
– spot cleaning in a spiral with a radius of up to 1 meter;
– turbo mode – increase in suction power up to max for carpet cleaning;
– mini-room mode – for small rooms.
Unfortunately, this model has no barriers to limit the cleaning area, not very good at overcoming obstacles, and has a relatively high noise. But the low price compensates for these small flaws.
In general, the model perfectly cope with the dry cleaning of hardwood floors for its price. Of course, many people prefer wet cleaning. In this case, the company offers the iLife W400 Floor Washing Scrubbing Robot with dual 0.9L water tank at a price up to $ 300.
Shark ION Robot Vacuum R85
Of course, SharkNinja company is better known as the leader in the affordable bagless upright vacuums segment. But Shark robot vacuums also compete successfully in the market. As known, today Shark sells the R72, R75, R85 and S87 (850 WV series). As known, each company uses its own model numbering system. In particular, for Shark robot vacuums:
– RV850 – the model with no trailing letters is sold on Amazon;
– RV850C – this model is sold in stores, for example, at Canadian Tire;
– RV850WV and RV850BRN – these two are sold exclusively by Shark themselves, from their website.
In fact, the S87 is a 2-in-1 device. Using a charging dock, it transforms in a cordless handheld vacuum.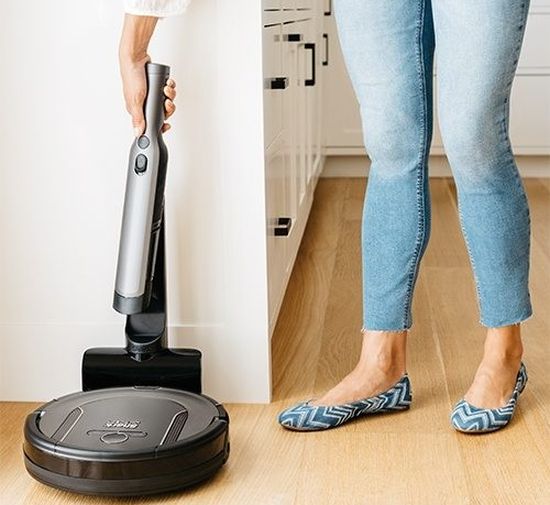 All models operate by the smartphone app, support Alexa and Google Assistant, and come with passive magnetic strips to limit the cleaning area.
Of course, the latest Shark R85 has the best specs. In particular, its dustbin capacity reaches 21 oz vs 14 oz in R72 / R75, max suction power of 1400 Pa vs 1000 Pa, and it uses Smart Sensor Navigation 2.0 instead of Smart Sensor Navigation.
Unfortunately, the battery provides runtime for less than 1 hour and uses only BotBoundary to limit the cleaning area.
Today, the Shark R85 model costs up to $ 200. Its cleaning system uses a spinning, self-cleaning brushroll, and dual spinning side brushes. Together with high suction power, it provides high quality cleaning. In addition, robot great cleans the pet's hair. Additionally, robot has low noise, voice control with Alexa or Google Assistant, control by smartphone, and large dustbin. As a result, the model has naturally enjoyed high popularity among consumers for two years.
Conclusions
1. This review covers only the Best Sellers, a list of which mainly depends on price, consumer reviews and the advertising persuasiveness. But it does not contain some of the latest innovative models of 2019 and the best robotic vacuums from the expert's TOP-lists because of their rather high price.
2. Today, most consumers prefer inexpensive models costing about $ 200, which provide a fairly high cleaning quality and some Smart-options. Usually, these models have some cons, including the absence of digital mapping and mopping mode, and poor overcoming obstacles. Often they do not provide restriction of the cleaning area, and has a short operating time or high noise level. Of course, these factors significantly limit the level of comfort and cleaning automation. Probably, this criterion has not yet become dominant for most buyers and they choose the semi-automated cleaning under their personal control at a reasonable price.
3. Eufy Robovac 11S leads in the number of enthusiastic reviews from consumers, which, of course, is excellent evidence in its favor.
EcoVacs Deebot N79S has excellent specs and high marks from experts, many of whom consider it to be the best budget model.
iRobot Roomba 690 Wi-Fi Connectivity for $ 330 – just a very good deal.
iLife A4s offer high suction power of 1000 Pa, and, accordingly, high quality cleaning for only $ 200.
Shark ION R85 will be interesting to owners of Shark bagless upright vacuums, who are familiar with excellent quality of Shark models.
But, of course, the choice of the optimal robot vacuum depends on personal preferences and budget.
We sincerely wish you the Right Solution!
This video offers testing Eufy Robovac 11S vs EcoVacs Deebot N79S, etc.