The development of OLED technology in 2013 actually divided the development of TVs into two main directions. Samsung has focused on further improving LED LCD technology, while LG preferred the new technology. Today, their subsidiaries LG Display and Samsung Display Co., Ltd dominate the segment.
Probably, many are familiar with the pros & cons of each technology. In short:
– LCD is brighter, more reliable and cheaper;
– OLED provides perfect contrast because self-emitting diodes do not require a backlit. As known, in LCD TVs, the light flux from the backlit partially passes through the RGB layer, limiting the black depth and, as a result, the overall contrast.
Unfortunately, the relatively short lifespan of blue organic diodes (15,000 hours) limits the brightness of OLED panels.
Of course, companies solve these problems.
Evolution
– OLED Evo panel in LG OLED G1 (2021) – the use of more efficient deuterium blue emitters instead of hydrogen allowed the developers to increase the current strength and, as a result, the panel brightness by about 20% without lifespan reduction;
– quantum dot technology (Samsung QLED, Sony Triluminos, LG NanoCell and Hisense ULED series) – expanding color gamut and increasing color accuracy by improving the backlit quality.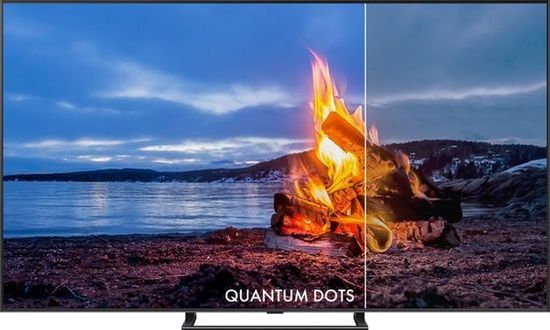 This technology uses an additional matrix with microparticles, the size of which corresponds to the wavelength of green and red. The matrix is 'highlighted' in blue light. Microparticles absorb blue, re-emitting red and green. Behind the matrix, they are mixed with partially passed blue, generating high quality white for the RGB layer;
– local dimming technology (increased contrast due to deeper blacks) – partial backlight off in dark areas of the frame.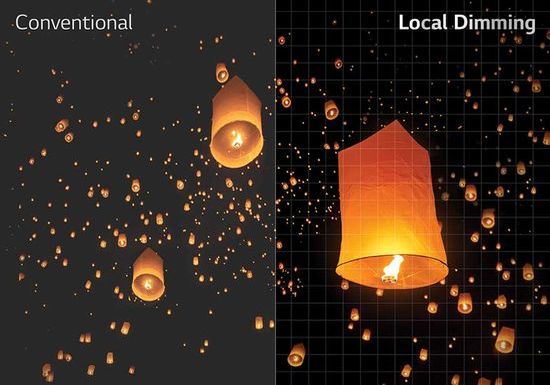 TVs with this technology use FALD (full-array local dimming) based on traditional LEDs, the number of which varies up to 100;
– FALD with miniLED backlit – uses tens of thousands of miniature LEDs combined into hundreds and even thousands of local dimming zones with separate control, which significantly increased the control accuracy. At CES 2021 Samsung, TCL and LG introduced Samsung Neo QLED, OD-Zero and LG QNED TVs with this technology. Today Samsung Neo QLED QN900A 8K and QN90A 4K (2021) are considered some of the best latest LCD TVs. Moreover, at CES 2022, the company has already unveiled their 2022 version, including QN95B/90B/85B 4K and QN900B/800B/700B 8K;
– Hisense Dual Cell technology in Hisense 75U9DG (2021) – a very promising alternative idea with the use of an additional monochromatic matrix, the pixels of which regulate the backlit of RGB layer.
QD-OLED technology
Of course, the idea of developing a hybrid technology that can combine all the pros of OLED and LCD technologies was obvious. As befits an innovation leader, Samsung has taken the lead. Its hybrid QD-OLED technology uses additional blue OLED layer as light source for quantum dots layer, which generates red and green to reproduce the entire color spectrum. Using only the blue organic LEDs as a light source reduces the number of layers and costs involved. Moreover, the absence of color filters preserves the excellent contrast of OLED. The diagrams demonstrate the design differences between LCD, WOLED (OLED with extra white pixel) and QD-OLED technologies.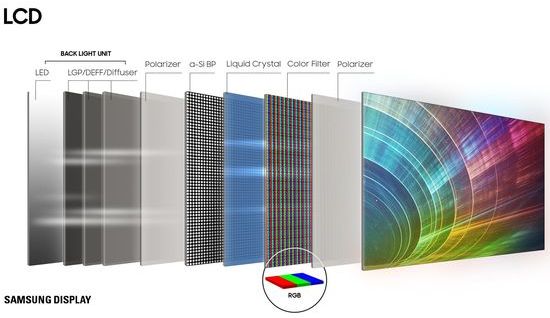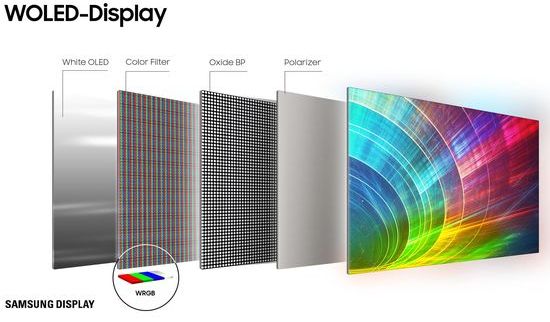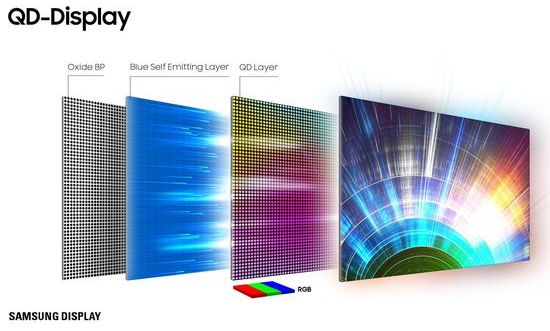 At CES 2020 many experts expected announcement of new technology. Unfortunately, Samsung showed QD-OLED prototypes only to a narrow circle of interested parties behind closed doors of Encore hotel. According to ETNews, the company introduced two 65-inch prototypes with a resolution of 4K and 8K.
At CES 2022, the situation repeated itself. The company's management decided to cede the palm to Sony, which introduced Sony A95K 4K TV with QD-OLED panel from Samsung Display. According to rumors, the company planned to announce its own model for the summer. Unexpectedly, reputable FlatpanelsHD and Value Electronics have provided information about the new Samsung QS95B with QD-OLED panel. But, of course, information about prices and full specs is not yet available.
Preliminary specs
Samsung QS95B 4K will be available in 55″, 65″ sizes.
Model name:
– QN55QS95B / QN65QS95B (USA);
– QE55QS95B / QE65QS95B (UK);
– GQ55QS95B / GQ65QS95B (Germany).
Features:
– QD-OLED 4K panel with 144 Hz;
– Neo Quantum Processor 4K;
– HFR (High Frame Rate) – 4K@144, HDR10;
– One Connect Box (external block with all connectors).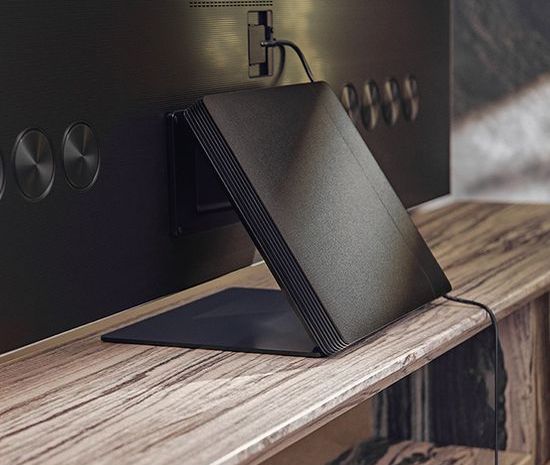 – Object Tracking Sound Pro (sound moves across the screen along with the source);
– Game Bar (game menu + aspect ratio settings).
– VRR / FreeSync / G-Sync / ALLM / HGiG support;
– wireless Dolby Atmos;
– Infinity One Design.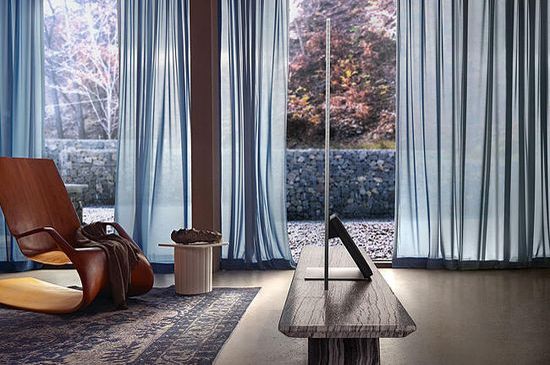 – ATSC 3.0 (USA) or DVB-T2/S2/C (Europe);
– WiFi + Bluetooth + 4x HDMI 2.1 (including eARC) + 3x USB ports;
– VESA compatible;
– HDMI-CEC or Anynet+ (multiple device control);
– Filmmaker Mode;
– Dolby Audio – Dolby Atmos / Dolby Digital AC-3 / Dolby Digital Plus E-AC-3 / Dolby AC-4 / Dolby TrueHD;
– DTS Audio – DTS:X / DTS Digital Surround / DTS-HD / DTS-HD Master Audio;
– HDR formats – HDR10 / HDR10+ / HDR10+ Adaptive / HLG / Dolby Vision / Advanced HDR.
HDR10+ Adaptive is an intelligent analysis and settings optimization depending on on viewing conditions based sensors.
Advanced HDR (Technicolor) combines HDR and SDR content in one stream;
– Video formats – MPEG4/2 / HEVC / VP9 (VP9-2) / AV1 / VVC decoding;
– OS Tizen 7.0 / Chromecast / AirPlay 2 / HomeKit;
– Voice assistants – Bixby / G-Assistant / Alexa;
– Amazon Prime Video / Apple TV app / Disney+ / HBO Max / Hulu / Netflix / YouTube.
QD-OLED panel: monitor vs TV
In addition to 55- and 65-inch 4K QD-OLED panels for Sony A95K and Samsung QS95B TVs, Samsung Display plans to ship 34-inch panels for Alienware and Samsung monitors in 2022. But their many specs are different. Perhaps this variability will allow the company to adjust some aspects depending on demand.
34″ monitor vs 65″ TV:
– resolution QHD+ (3,440 x 1,440) / 4K (3,480 x 2,160);
– pixel structure RGB (blue OLED + red/green QDCC);
– color gamut (Rec.2020) 80.7% / 90.3%;
– color volume (Rec.2020) 74.8% / 86.1%;
– peak brightness (3%) 1,000 nits / 1,500 nits;
– 10% 450 nits / 1,000 nits;
– 100% (full-screen) 200 nits;
– black depth <0.0005 nits;
– color depth 10-bit;
– max refresh rate 175Hz / 144Hz;
– response time (GtG) 0.1ms;
– viewing angle (color shift at 60°) 0.005 / 0.006;
– viewing angle (luminance drop at 60°) 81.7% / 80.9%.
QD-OLED is cadmium-free. Unlike the OLED panel, the quantum dot layer or QDCC (quantum dot color converter) is inkjet-printed. A single color filter prevents 'excitation' of quantum dots by extraneous light, providing deep black and, respectively, high contrast.
According to the company, the burn-in risk in QD-OLED is lower compared to WOLED due to the difference in pixel saturation (more than 5%). In addition, Samsung uses 'Real time Image Sticking Correction' (ISC). Finally, the increase in energy efficiency due to the lack of color filters should also reduce the risk of burn-in. In any case, the Dell Alienware QD-OLED monitor will have a three-year warranty, including pixel burn-in.
Image quality
According to Samsung Display, new QD-OLED panel can provide up to 1500 nits peak brightness and up to 90,3% Rec.2020 color coverage. But 34-inch panels for monitors can only provide 80.7% Rec.2020 coverage. In comparison, WOLED panels from LG Display only covers about 70% of Rec.2020.
During the demo, Samsung Display demonstrated peak brightness measurement (white). It exceeded 1,000 nits on a 10% window, comparable to 700-1,000 nits for LG WOLED. But Samsung Display promises up to 1,500 nits on a 3% window. Peak panel brightness for monitors will reach 1,000 nits at 3% window and 450 nits for 10% window. The brightness of all panels in fullscreen mode will be 200 and 250 nits.
The black depth of the new panel is also commensurate with the LG WOLED panel.
The first 10-bit QD-OLED panels provide a maximum 144Hz refresh rate for TVs, and 175Hz – for monitors. But according to the developer, its increase will not be a problem in the future.
In terms of optics, the QD-OLED panels can be positioned as lambertian emitters with perfectly uniform light distribution in all directions. Accordingly, its viewing angles will be no worse than LG WOLED, which is known to be great. Moreover, the new panel is practically glare-free even without anti-reflective coatings.
These photos from one of the presentations show some settings in side-by-side mode (QD-OLED (top) vs LG G1 WOLED (left) vs miniLED IPS LCD with 1,000 local dimming zones (right)).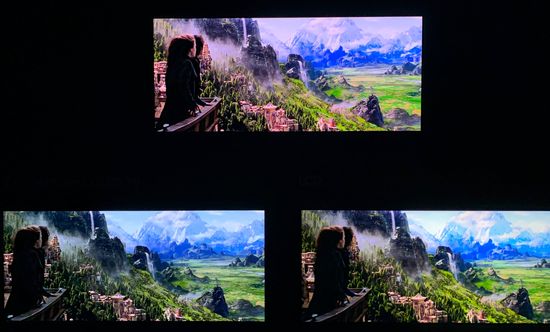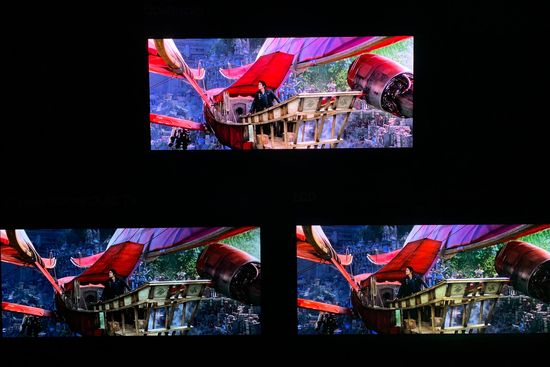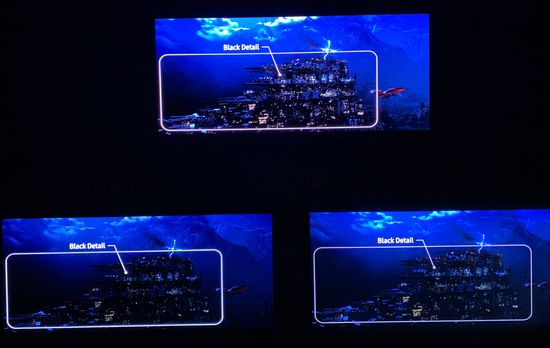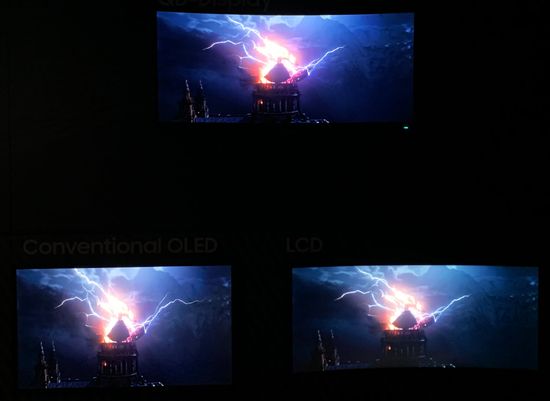 QD-OLED looks preferable, but WOLED's unknown settings leave room for doubt.
Conclusion
Of course, today it's too early to draw conclusions about the prospects of a new hybrid technology. Given the specs and demo, the new TVs will have higher brightness, wider color gamut, great contrast, refresh rates, response times and viewing angles. But, as usual, their competitiveness will depend on the price.
In addition, competition in this segment has several nuances.
Firstly, the increase in image quality due to contrast, brightness and color gamut is primarily manifested when viewing HDR content. But it's still only available through UHD Blu-ray or in streaming 4K from Disney Plus or Netflix. Much more common cable and satellite TV offers only SDR, which is perfectly reproduced by modern models.
Secondly, these TVs will compete with a huge number of excellent TVs.
Curiously, the list of most popular TVs (2022) includes two Samsung Neo QLED series:
– Samsung Neo QLED QN900A 8K, which dropped to $ 2,700 ($ 3,000 on the company's website) for the 65-inch model;
– the brightest and most contrast Samsung Neo QN90A 4K, valued from $ 2,000 to $ 1,800 (65″).
In addition, in 2022 Samsung continued to build on their success by introducing QN95/90/85B 4K and QN900/800/700B 8K series. Wherein, the launch price of the 65-inch QN90B is only $ 2,500.
Besides competition within the company, the new TV will have a fight with great LG OLED G2.
Of course, Sony A95K with a similar QD-OLED panel is a very tough contender.
Third, LG promises the next-generation OLED.EX display based deuterium and personalized algorithm-based 'EX Technology'.
This video offers an image quality comparison of QD-OLED vs WOLED vs LCD QLED miniLED TVs.