Despite the restrictions due to quarantine, the virtual CES 2022 was successfully held.
Last year's CES 2021 introduced many new technological solutions in the high-tech TVs segment, but miniLED LED backlit can be positioned as main innovation in LCD TVs. Indeed, the dramatic increase in the number of local dimming zones due to the use of a huge number of miniature LEDs has significantly increased the efficiency of FALD (full-array local dimming). As a consequence, the increased precision of brightness control in different frame areas has dramatically increased the overall contrast of LCD TVs. For example, Local Dimming in Samsung Neo QN90A with this technology, boosts its dynamic contrast to an unprecedented 26,534: 1.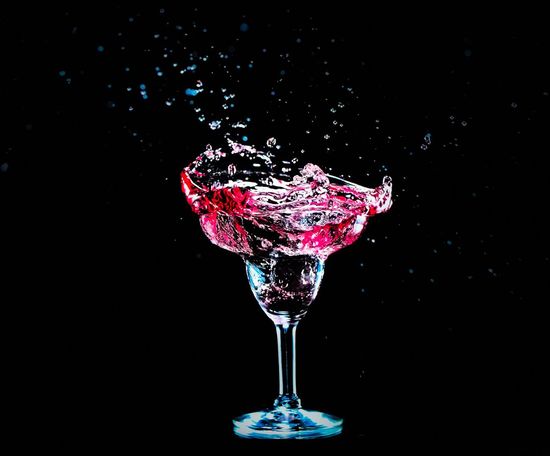 Last year, the market was expanded with great mid-budget miniLED TCL 6 Series (R646) and Hisense U8G, LG QNED series, etc. This year, the Sony Master Series A95K with its innovative QD-OLED technology opened CES 2022.
The innovation boom is accompanied by a large number of new names, acronyms and abbreviations. In this case, the name of the hybrid QD-OLED technology, which has been developed by Samsung for several years, means a combination of Quantum Dot (QD) and OLED technologies.
As known, QD displays and OLED panels represent two main directions of TVs development. QD technology has been successfully used for several years in LCD TVs that compete with OLED models. Of course, each of them has pros and cons. Therefore, the idea of creating a hybrid with the combination of their advantages has long been of interest to companies.
QD-OLED
As known, OLED technology uses organic carbon-based film. The electric current causes the diodes to glow on its surface. In fact, every single pixel in an OLED screen is part of the image and does not require backlighting. In the absence of a control signal, it's turned off and provides ideal contrast due to absolute black without affecting neighboring pixels.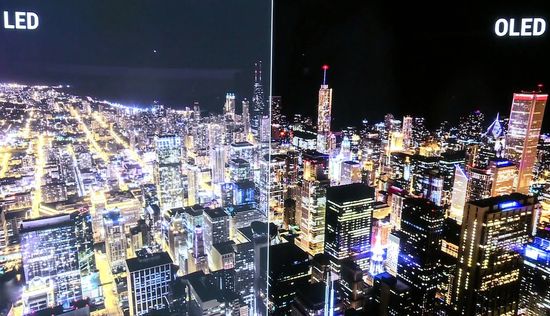 In addition, the absence of an LCD matrix reduces panel thickness and eliminates scattering deterioration in viewing angles.
But the tiny size of OLED pixels limits their brightness. To increase it, LG Display adds a white subpixel to the matrix (RGBW panel).
Unfortunately, the extra pixel reduces the number of color pixels, reducing the resolution, and distorts the color of adjacent pixels, reducing color accuracy. In addition, increasing the brightness decreases the lifespan of organic material.
QLED technology uses LED backlit (blue LEDs) and a layer of quantum dots (nanoparticles) on the film, the size of which corresponds to the wavelength of green and red. Nanoparticles on the QD film absorb blue and re-emit green and red depending on their size. But blue also partially passes through the film.
High brightness, wide color gamut and high color accuracy are its main pros. But this technology requires constant backlit. As a result, a light leaking partially through the RGB-filter and creates the gradations of gray on the screen, reducing the overall image contrast.
QD-OLED hybrid technology uses a stack of blue OLED material for backlight of red and green quantum dots.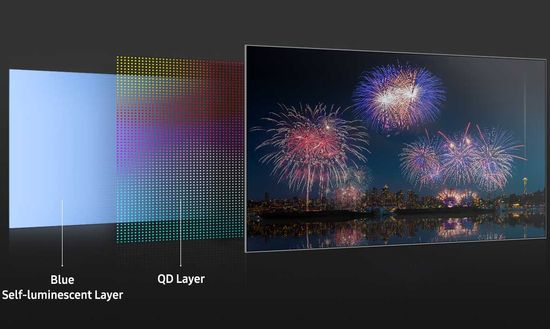 As a result, the pixel of this matrix contains the blue subpixel of the original blue OLED material, and green and red subpixels, which are generated using a 'quantum dot' filter.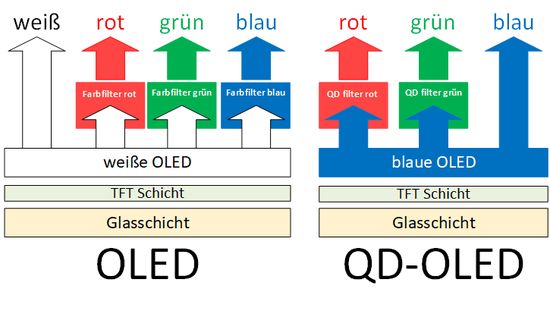 Some aspects
Of course, like any complex technology, QD-OLED has problems. For example, a blue OLED light source remains a major problem. Blue OLEDs are less efficient and less durable. Increasing the number of blue OLED layers can solve this problem by reducing the load on each substrate. But this solution can create the color uniformity problem that is typical of RGB OLED technology.
'False' blue light can also be a problem. In theory, red and green 'quantum dots' should completely absorb blue OLED light, converting it to green and red. But the light absorption efficiency of materials for 'quantum dots' depends on the spectrum. In particular, it's minimal in the vicinity of the blue wavelength. Accordingly, some of the blue may pass through the QD layer, reducing color accuracy.
Sony Master Series A95K QD-OLED
The Sony A95K uses 55- and 65-inch 4K QD-OLED (quantum dot organic light emitting diode) panels from Samsung Display.
Key features
– intelligent processing with Cognitive Processor XR.
What's more, the company has enhanced the XR processor by adding 'Depth Control' features for 3D images, and 'Flexible Color Contrast Control', which increases the colors vibrancy using algorithms;
– QD-OLED panel + XR Triluminos Max (improved colors);
– XR OLED Contrast Pro – immersive depth increase;
– Google TV with Google Assistant;
– BRAVIA CORE app;
– Dolby Vision, IMAX Enhanced, and Netflix Adaptive Calibrated Mode support;
– BRAVIA XR or 'Perfect for PS5' program for the PlayStation 5 (input lag up to 8.5ms) with Auto HDR Tone Mapping and Auto Genre Picture Mode. But ALLM (Auto Low Latency Mode) and VRR (Variable Refresh Rate) are also available 'out of the box'.
– 4K@120, VRR, ALLM, HDMI 2.1 for games;
– Acoustic Surface Audio+ (immersive audio with dual actuators) and Dolby Atmos.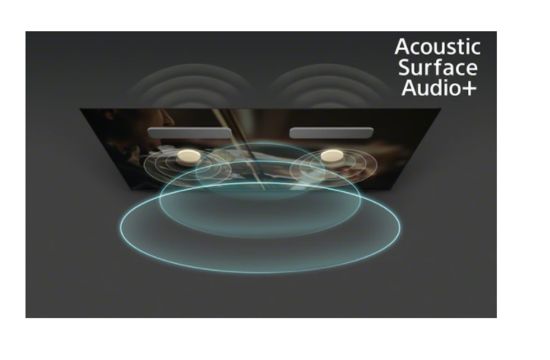 Actuators to transmit vibration to the screen transform its entire surface in generator of acoustic waves, providing surround sound in the room;
– XR OLED Motion technology (blur-free for fast-moving objects);
– XR 4K Upscaling;
– Dual Style stand;
– BRAVIA CAM (video chat, gesture control and Ambient Optimization Pro to auto adjust picture / sound by locating spectators in a room).
This small camera attaches with magnets to the top edge;
– new compact backlit remote with finder function.
The new remote is significantly smaller than the previous model. 'Finder' feature generates an audio signal on command, like 'hey Google, find my remote';
– heat diffusion sheet for a more even heat distribution.
Others SONY TVs 2022
The company also offers 42-inch and 48-inch A90K with conventional OLED display. Their functionality is almost identical to the A95K. Sony markets these models as gaming (4K@120, VRR and ALLM) and even developed an optional raised stand for them for easy placement on a desk.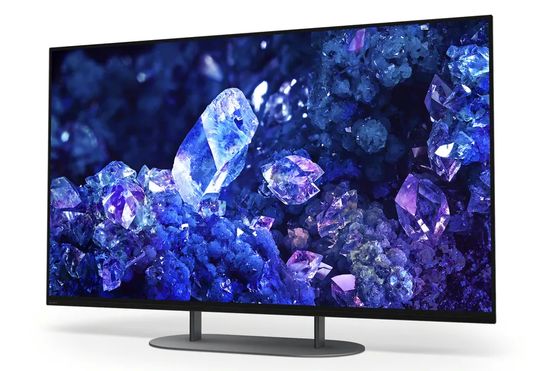 Last year's very popular A80J OLED series is being replaced by the A80K OLED series. But it supports the XR OLED Contrast Pro feature and uses an improved XR processor, which should boost contrast and improve colors. In addition, this series has an improved sound system with an additional actuator.
Of course, the company hasn't forgotten LCD TVs. The flagship Master Z9K 8K with miniLED backlit replaces last year's Z9J. This series includes 75″ and 85″ TVs. Local Dimming based on the innovative miniLED backlit should significantly increase their contrast.
As known, Samsung, LG and TCL last year presented the Neo QLED, QNED and OD-Zero series with their own versions of this technology. This year Sony has joined this list. According to Sony, their version will be more efficient due to the XR Backlight Master Drive technology, providing reproduction of bright objects without blooming effect.
Most likely, the Z9K will use the XR Cognitive Processor and support advanced gaming features. But it's unlikely to be able to use Acoustic Surface Audio, because the screen vibration is probably incompatible with the miniLED backlit. But it has a fairly powerful 85W sound system, including two subwoofers, two midrange drivers, and four tweeters.
In addition to the flagship, this year's LCD 4K lineup contains the X95K with miniLED backlit and Backlight Master Drive technology, and several standard LCD models, including the mid-range X90K instead of the X90J (2021), X85K and X80K.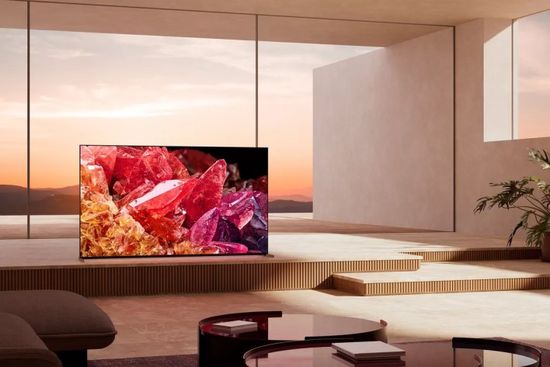 Conclusion
Of course, an adequate analysis of the new QD-OLED TVs is impossible without price, specs and testing. But some conclusions are already possible.
The TV segment is expanding with the highly promising hybrid QD-OLED technology, which combines the excellent contrast and viewing angles of OLED panels with the high brightness and wide color gamut of quantum dot displays.
Curiously, but the palm went to Sony. As known, the South Korean giant has been actively working in this direction for several years and even invested more than $ 11 billion in factories for the production of QD-OLED panels. There were rumors that Samsung Electronics would be announcing its 4K TV with this technology at CES 2022, but they didn't come true. Perhaps Samsung QD-OLED will appear this summer. In fairness, the Japanese company is using a QD-OLED display from Samsung Display.
Generally, QD-OLED technology is a tremendous advance of developers, opening up great prospects for enhancing picture quality without increasing the price. Perhaps a couple of QD-OLED vs QD-miniLED TVs will be added to the list of technological competitors this year. In this case, the blue OLED backlit will compete with the blue miniLED backlit.
In addition to Sony and Samsung, TCL has also confirmed plans to present its version of this technology called H-QLED, which will use inkjet-printed OLED display.
But traditional competitors, including the great LG C2 and G2 OLED TVs are also unlikely to give way.
This video offers Sony Master Series A95K QD-OLED 4K TV with Google TV.