The local dimming with FALD (Full Array Local Dimming) based on miniLED backlit was a major innovation at CES 2021. As known, it uses a huge number of miniature LEDs, combined into hundreds or even thousands of local dimming zones with separate backlight brightness control. Such a significant increase in the number of zones significantly increases the control accuracy in certain frame areas. Of course, decreasing brightness in dark areas increases black depth and overall contrast.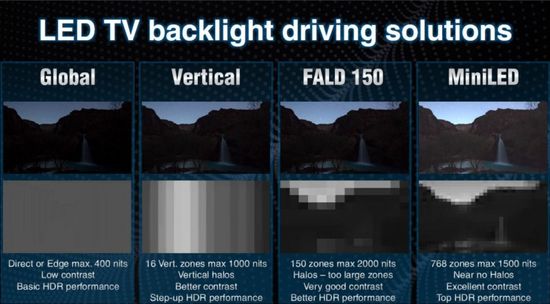 Until 2021, the Chinese TCL dominated this direction, having presented several generations over several years, including:
– 2018 – TCL 6-Series Roku TV – Contrast Control Zones technology;
– 2019 – TCL 8-Series Roku TV – miniLED Quantum Contrast technology (over 1,000 Local Dimming zones);
– 2020 – Vidrian mini LED technology.
– 2021 – OD-Zero (Optical Depth Zero) miniLED technology.
The Chinese giant even unveiled TCL X12 8K Mini LED Starlight Smart Screen with this technology at the Spring News Online Conference. This $ 15,000 85-inch Chinese wonder uses an unprecedented 96,000 LED chips grouped into 1920 local dimming zones. Unfortunately, it's still unavailable.
Moreover, last year the company announced its intentions to launch a production line for inkjet-printed OLED displays in 2023 for TCL QD-OLED TVs, which may will be called H-QLED.
But at CES 2021, TCL's monopoly was broken by the South Korean giants, that introduced their own versions of the miniLED backlit in the LG QNED and Samsung Neo QLED series. Indeed, the new technology has been shown to be highly effective, dramatically increasing the overall image contrast.
Unfortunately, everything costs money. Today, the prices of premium miniLED LCD TVs with quantum dot technology has practically reached the price of OLED models.
MiniLED backlit
Prices and miniLED performance (for 65-inch models):
– TCL 6 Series R646 (2021) – 240 local dimming zones (VA panel) – $ 1,300:
8,542: 1 – native contrast, 19,300: 1 – with local dimming;
– LG QNED90 (2021) – about 1,000 local dimming zone (ADS panel) – $ 1,600:
1,127: 1 – native contrast, 6,018: 1- with local dimming;
– Samsung QN85A – 576 local dimming zones (ADS panel) – $ 1,800:
1,373: 1 – native contrast, 1,956: 1 – with local dimming;
– Samsung QN90A – 792 local dimming zones (VA panel) – $ 2,000:
3,510: 1 – native contrast, 26,534: 1 – with local dimming.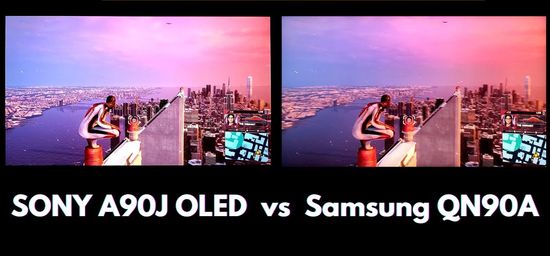 For comparison, the price of the most popular 65-inch OLED TVs of 2021 (less bright, but with 'infinite' contrast):
– LG OLED C1 – $ 1,900, Best Seller;
– Sony A80J OLED with XR Cognitive Processor – $ 2,200.
Of course, miniLED backlit can be used in mid-budget LCD TVs. But this experiment was not very successful. Typically, the processor performance of the mid-budget models is at the average level. But Local Dimming requires instant real-time processing of video content with brightness control for each local dimming zone. As a result, when using this mode, insufficient processor performance causes image 'freezing' and other crashes.
Samsung QD Display
The idea of combining excellent contrast, wide viewing angles and instant display response times of OLED technology with a wide color gamut and high brightness of LCD panels belongs to Samsung. As known, it has been actively developing QD-OLED panel technology for several years. What's more, Samsung invested over $ 11 billion in factories a few years ago.
Of course, the OLED layers and quantum dots must be perfectly in sync with the millions of subpixels on a 4K or even 8K screen. SEMES Co Ltd, a Samsung subsidiary, is rumored to be able to manufacture such equipment.
Many expected Samsung's QD-OLED 4K announcement at CES 2022, but they didn't materialize. Perhaps Samsung models with this technology will appear summer. But the Sony Master Series A95K already uses QD-OLED panel from Samsung Display.
According to Samsung, its QD-OLED 4K panel will have about 8.3 million (3840 x 2160) light sources with separate control and will be able to provide a contrast ratio of 1,000,000: 1 with with very high HDR performence.
In addition, the company promises a color volume above 80%, about 0.0005 nits for blacks, peak white up to 1,000 nits and blue light reduction by about 50% due to the use of blue OLED material with a wavelength from 455nm.
For marketing or other reasons, Samsung avoids the terms OLED or QD-OLED, preferring to use the 'blue self-luminescence layer' and 'QD Display TV'.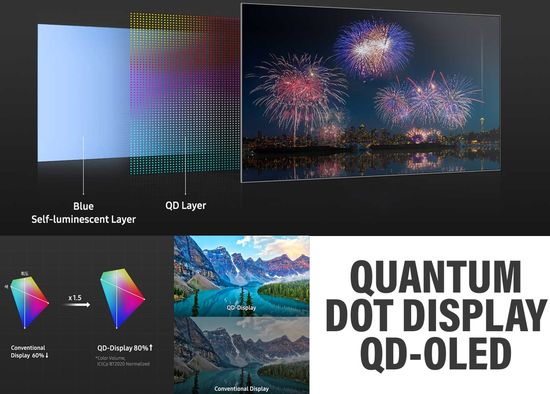 The company plans to use an improved analog of the true RGB panel without color filters. In the past, the company tried to use organic RGB LEDs as subpixels, but this experiment ended in failure due to the too high manufacturing cost. As known, LG's WOLED technology uses white organic LEDs and color filters.
QD-OLED vs QD-miniLED
Unveiled at CES 2022 Sony Master Series A95K with hybrid QD-OLED 4K display can be positioned as a new generation of TVs.
Without going into the technical details, a stack of blue organic diodes in the new QD-OLED technology acts as an array of conventional blue LEDs in a mini-LED backlit, generating green and red in the quantum dot layer.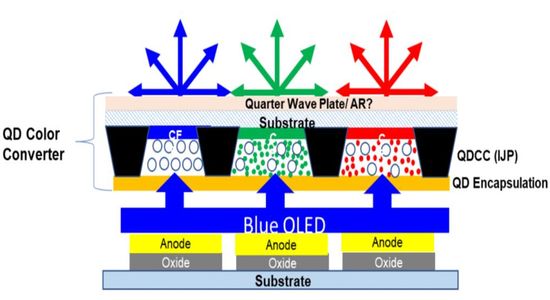 At the same time, each organic diode has a separate control and acts as a local dimming zone, providing backlit control at the pixel level.
According to the developers, this technology:
– simplifies design (no backlight panel and red / green OLED layers);
– enhances contrast due to the lack of LED backlit.
However, this statement may be controversial. 'False' blue can be a problem for this technology. In theory, red and green 'quantum dots' should completely absorb blue from the blue OLED substrate, converting it to their respective primary colors. But the efficiency of light absorption by 'quantum dots' depends on the material used and the absorbed light spectrum. In particular, it's minimal near the blue range. Accordingly, blue can partially pass through the QD filter, reducing color accuracy;
– increases brightness.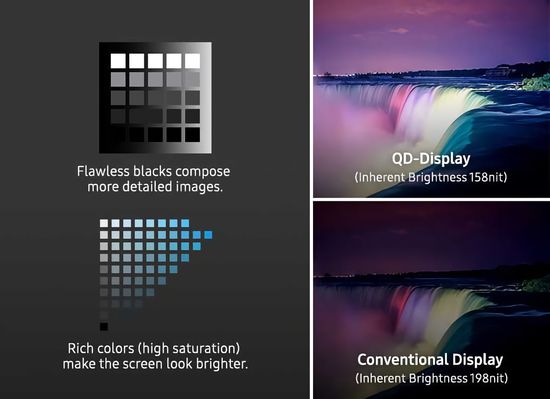 Today blue OLED remains a problem. Samsung tried to launch OLED RGB TVs several years ago, but failed to solve the blue emitter problem. As known, blue OLEDs are less efficient and short-lived. Their peak brightness decreases quickly enough. But increasing the number of blue OLED substrates, for example, to three, may partly solve this problem by reducing the load on each blue OLED substrate. On the other hand, this solution can create a blue uniformity problem that is typical of RGB OLED technology.
This flagship uses 55- and 65-inch QD-OLED (quantum dot organic light emitting diode) 4K panels.
Improved Cognitive Processor XR got 'Depth Control' features (3D image), and 'Flexible Color Contrast Control' (colors improving algorithms).
Main technologies:
– XR Triluminos Max (improved colors);
– XR OLED Contrast Pro – immersive depth;
– Google TV + Google Assistant;
– Bravia Core app;
– Dolby Vision, IMAX Enhanced, and Netflix Adaptive Calibrated Mode;
– 'Perfect for PS5' program (input lag up to 8.5ms) – Auto HDR Tone Mapping and Auto Genre Picture Mode;
– ALLM (Auto Low Latency Mode) & VRR (Variable Refresh Rate) 'out of the box', 4K@120 & HDMI 2.1 (gaming);
– XR OLED Motion technology – blur-free image for fast-moving objects;
– XR 4K Upscaling;
– BraviaCam (video chat + gesture control + Ambient Optimization Pro for auto adjustment of picture / sound based on viewers' location) – it attaches with magnets to the top edge.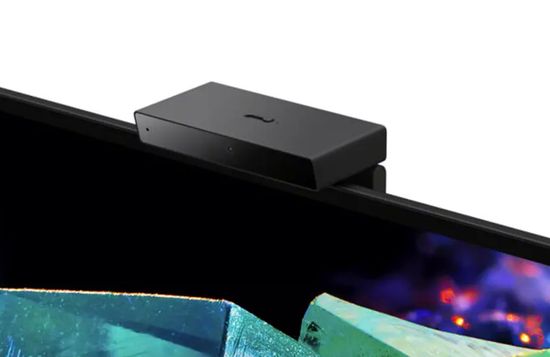 – new compact remote with finder function generates an audible signal upon voice command;
– immersive Acoustic Surface Audio+ & Dolby Atmos -actuators transmit vibration to the screen and transforms its entire surface in acoustic waves generator.
Conclusion
Of course, an adequate analysis of the new technology will be possible only after testing QD-OLED models. But its excellent prospects are already evident today. Combining the excellent contrast and wide viewing angles of OLED panels with the high brightness and wide color gamut of QD displays promises to dramatically improve picture quality. What's more, eliminating backlit simplifies design and manufacturing costs.
Of course, using an additional blue OLED stack and generating of green and red colors with a QD layer can create additional challenges.
In particular, manufacturers still have not solved the problem of the relatively low lifespan of blue OLED emitters, whose peak brightness decreases over time. The use of additional blue OLED-stacks may well solve this problem, but when solving the problem of color uniformity.
Similar to the backlit in LCD TVs, blue leakage through the QD layer can become a more serious problem, reducing color accuracy. But given huge investment in this technology, it's unlikely to be insurmountable.
Probably, by the end of this year, the first results of the QD-OLED vs QD-miniLED duel will be known.
This video showcases the first curved QD-OLED gaming monitor AW3423DW from American Alienware.
PS
In addition, TCL may add intrigue to this confrontation between Sony and Samsung. This Chinese giant has also confirmed its intention to present its H-QLED version of this technology with inkjet-printed OLED display.
What's more, Hisense's innovative successes can also play a role in competitive battles. In particular, Hisense 75U9DG with Dual Cell technology has excellent marketing prospects. As known, it uses an additional monochromatic layer that acts as a pixel-level backlit. The U9DG uses a 1080p monochromatic matrix, which is equivalent to 2,000,000 primitive local dimming zones. The promised increase of its resolution to 4K increases the number of zones to 8 million!
Finally, Hisense L9G UST 'Laser TV' with TriChroma technology and other living room projectors are an increasingly attractive alternative to traditional TVs.
But traditional competitors, including the great LG C2 and G2 OLED TVs are unlikely to give way.