The triumphant rise in popularity of ultra short throw (UST) projectors remains one of the major trends in this segment. Indeed, close-to-screen installation without floor wires or complex ceiling mounts, high image quality through improved SSL (solid-state light engines), streaming support and price reduction make them an increasingly attractive alternative to traditional TVs.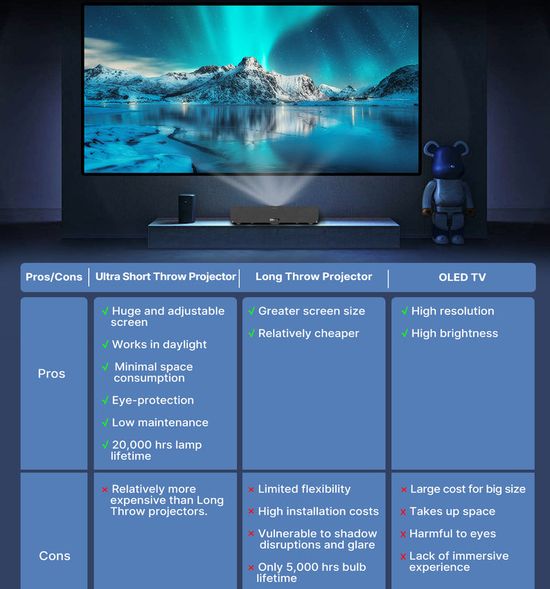 Of course, companies' management adequately responds to market conditions. As a result, the UST segment is rapidly expanding with new models and this year is no exception. An incomplete list of new models includes:
-Epson EpiqVision Ultra UST 4K LS800;
-LG CineBeam HU915QE and HU715Q;
-Hisense PX1 and PX1 Pro;
-NexiGo PJ90 Aurora;
-Optoma CinemaX D2/D2 plus;
-ViewSonic X2 LED UST.
But despite fierce competition, the list continues to expand. In September it replenished with a new Formovie Theater UST projector. As known, Formovie is a joint venture between Xiaomi and Appotronics. Chinese giant Xiaomi needs no introduction. Appotronics makes the ALPD laser engines used for projectors, including Barco commercial movie theater models. Today the popularity of Formovie projectors is lower compared to Epson, Sony, Optoma, BenQ, Hisense, Samsung, LG and some other brands. But, the pocket Formovie P1 and compact Formovie Dice cost $ 320 / $ 400 and are successful in the market.
Formovie Theater 4K UST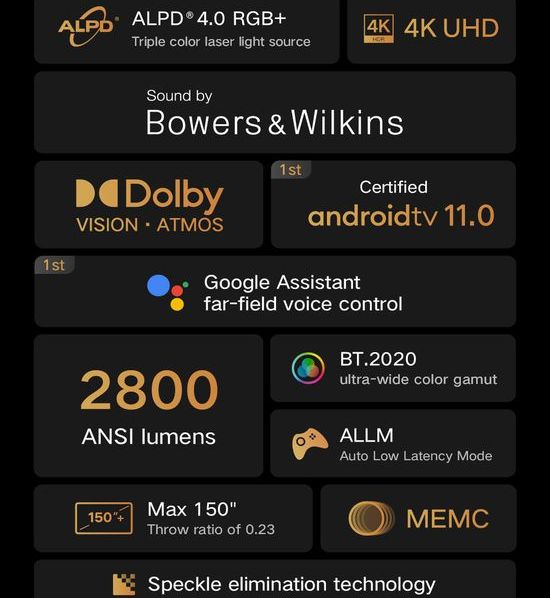 In fact, it's an improved USA version of the Fengmi T1. As known, Formovie uses Fengmi name for sales in China. The list of major improvements includes AndroidTV OS instead of the proprietary FengOS, and a new color management system (CMS). Model has triple laser ALPD (Advanced Laser Phosphor Display) 4.0 RGB+ light source, which combines RGB lasers and phosphors, and is 30% more powerful than ALPD 3.0. It uses industrial-grade, long-lasting laser diodes. But most importantly, this technology drastically reduces the picture spekle, which is one of the main problems of the single-laser light engine.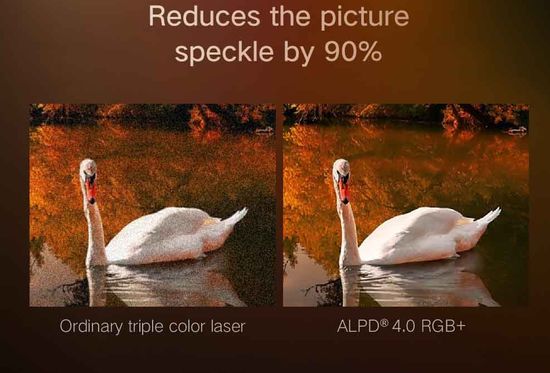 Projector provides a brightness of 2,800 ANSI Lm and an unprecedented 107% coverage of the Rec.2020 color gamut.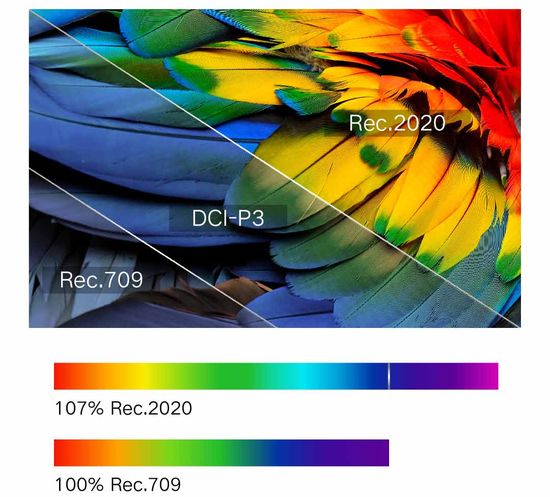 Furthermore, Formovie Theater is one of the few projectors with Dolby Vision / Dolby Atmos support and Android TV 11 OS with over 5000 downloadable streaming apps.
It has a built-in 30W speakers with Bowers & Wilkins calibration and 3x HDMI 2.1 inputs (one with eARC). From a 1.4- 2.5 ft (40-70 cm) distance, it delivers 80-150″ image with 0.23:1 throw ratio (100″ projection@9″ distance).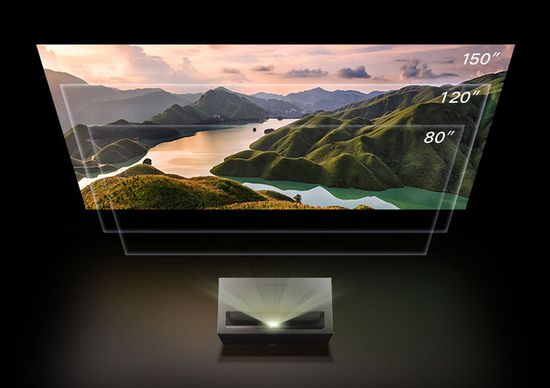 Moreover, the model received 1st place at the 2022 Laser TV Showdown hosted by the very reputable Projector Central and ProjectorScreens.com in the industry. Six reputable experts compared the AWOL Vision LTV-3500, Formovie Theater, Hisense PX1-PRO, LG HU915QB, Samsung LSP9T, VAVA Chroma with triple-laser light engine and six models with single-laser light engine. A detailed comparison resultsis available at https://www.projectorcentral.com/ProjectorCentral-2022-UST-Laser-TV-Showdown-Result.htm.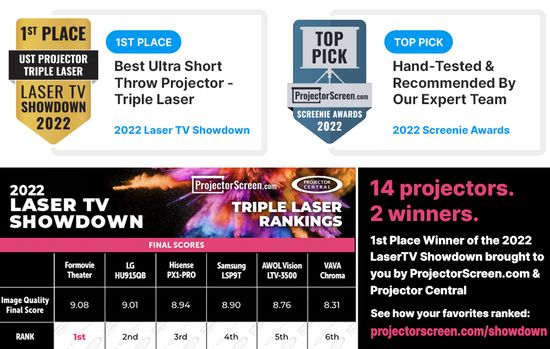 Of course, such an assessment exhaustively characterizes the new projector, radically reducing the traditional skepticism towards obscure brands.
Key Features
Projector uses the TI (Texas Instruments) DLP 4K UHD DMD .47″ chip with native 1,920 x 1,080 resolution and 4K XPR eShift technology. In fact, it divides 8.3 million pixels of 4K images into 4 parts, and sequentially displays them using only 2 million micromirrors of 1,080p chipset. In this case, each image is shifted by half a pixel diagonally relative to the previous one.
The lens is tilted 4 times per cycle (4-phase shift) by electromagnets of the XPR module. As a result, the relatively inexpensive 1,080p chipset plays 4K content. To be fair, the projector only displays 2 million pixels at any given time. But due to the high frequency, our brain perceives 4 images as one.
The previous .66″ (2,716 x 1,528) chip only uses 2-phase shift.
Model offers User, Standard, Vivid, Sport and Game modes with brightness of ~ 2,660 Lumens (center peak), and less bright Movie and Child with brightness of ~ 2,180 and ~ 2,380 Lumens, respectively.
The contrast slightly depends on the lasers brightness. It's 3,300:1 for bright modes, and 2,720:1/ 3,000:1 for Movie and Child. Unfortunately, it only reaches 2,320:1 for Dolby Vision.
Formovie Theater uses Motion Interpolation or MEMC (Motion Estimation/Motion Compensation) adjustment for motion handling.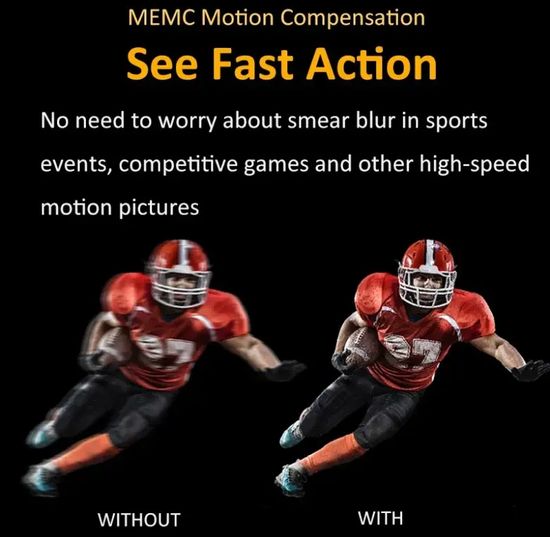 It adjusts the smoothness during image movement with OFF, LOW, MEDIUM and HIGH settings. Projector provides interpolation ranging from 24 to 60 fps. The system operates without ghosting or trails behind objects in motion, with minimal blurring of the object.
The default MEDIUM setting is sometimes accompanied by a slight SOE (Soap Opera Effect) which reduces the 'cinematic perception'. But it's very individual. However, the LOW setting eliminates jitter without visible SOE.
Other
Of course, Bowers & Wilkins stereo sound system is one of the model's bonuses.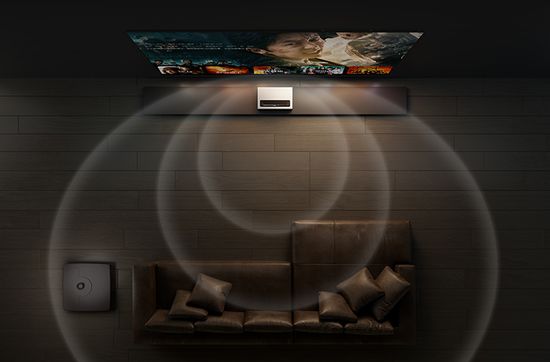 It has two forward firing 70mm glass-fibre LF/MF drivers and two 20mm titanium tweeters. To ensure good dispersion, they are all housed in separate rigid ABS+GF enclosures located on the outer edges of the front panel.
The bass/mid drivers support Bowers & Wilkins Flowport technology. The proprietary, high transparency speaker mesh protects tweeters.
System uses a high-quality, 2 x 15W, TI amplifier, Dolby MS12 decoder and specially tuned discrete sound modes.
As a result, the projector sound is far superior to the audio quality of many more expensive models.
The high-resolution audio provides crisp dialogue, uncoloured mid-range and good bass range. It may be inferior to expensive sound systems, but for most people an external soundbar will be redundant.
Unfortunately, the Netflix app isn't supported by Formovie's Android TV implementation. However, $ 30-50 4K streaming stick solves the problem. But every other streaming app, including Disney+, Prime Video, YouTube, etc works great. By comparison, the Optoma CinemaX D2 UST only offers smart TV features through an external dongle for $ 200.
Chromecast built-in provides streaming from phone / tablet / PC.
The remote has dedicated buttons for YouTube and Google Assistant, which is activated with 'Hey, Google' (projector's far-field microphone).
Pros & Cons
Pros
– superb value for money;
– great brightness and contrast;
– very simple and efficient calibration, including white balance, grayscale and a Color Management System (CMS);
– 8-point keystone correction;
– Dolby Vision support (dynamic metadata for HDR content);
– AndroidTV 11;
– ALPD (Advanced Laser Phosphor Display) 4.0 RGB+ light source (107% coverage of the Rec.2020 color gamut);
– built-in Bowers & Wilkins-tuned 30W speakers.
Cons
– max image quality requires the projector to warm up until the lens reaches operating temperature;
– slightly noisy fan;
– no Netflix app;
– 41.9 ms input lag for 4K@60Hz games is only for casual games;
– color gamut rendition is more accurate with 'On' in Color Space Setting vs 'Auto'.
Conclusion
Incomplete list of great new UST projectors for 2022 includes:
–Epson EpiqVision Ultra UST 4K LS800 – $ 3,500 (4,000 ANSI lm);
– LG CineBeam HU915QE – $ 6,000 (ALPD 4.0; 3,700 ANSI lm);
– LG HU715Q 4K UST – $ 3,000 (ALPD 3.0; 2,500 ANSI lm);
– Hisense PX1 Pro – $ 3,000 (ALPD 4.0; 2,200 ANSI lumens);
– Hisense PX1 – $ 2,300 (ALPD 3.0; 2,000 ANSI lm).
– announced NexiGo PJ90 Aurora – $ 2,600 (ALPD 3.0; 2,200 ANSI lm);
–ViewSonic X2 1080p LED UST projector – $ 1,100.
But despite the impressive competitors, Formovie Theater looks very confident in this list. Really, UST-design, 4K resolution, ALPD 4.0 RGB+ light source (107% coverage of the Rec.2020 color gamut), Dolby Vision / Dolby Atmos support, built-in speakers with Bowers & Wilkins calibration, and Android TV 11.0 OS provide superb value for money.
In fact, the model is very close to the hugely popular Hisense PX1 Pro, which also uses a three-laser light engine and costs $ 3,000. The LG CineBeam HU915QE and Samsung LSP9T are twice the price, the color gamut coverage of other projectors is significantly narrower due to the use of a single-laser light engine.
Given the great rating of picture quality and SDR/HDR performance from reputable experts, the new projector has excellent marketing prospects.
This video shows the new Formovie Theater 4K UST laser TV.