The growing popularity of projectors remains one of the trends in the multimedia electronics segment. At the same time, the range of ultra short throw (UST) models is expanding most intensively.
UST projectors
Already in the first half of the year, the market was replenished with several new UST models, including:
– PX1-PRO 4K UST('RGB Laser' light source, TriCroma technology) and L5G ('Laser Phosphor' light source);
– JMGO U2 4K UST ('RGB Laser');
– Viewsonic X2000-4K UST ('Laser Phosphor');
– LG CineBeam HU715Q 4K UST ('Laser Phosphor').
However, their dominance is due to objective factors. As known, using a complex optical scheme with an aspherical lens, UST models project an image of 100 inches or more from just a few inches away.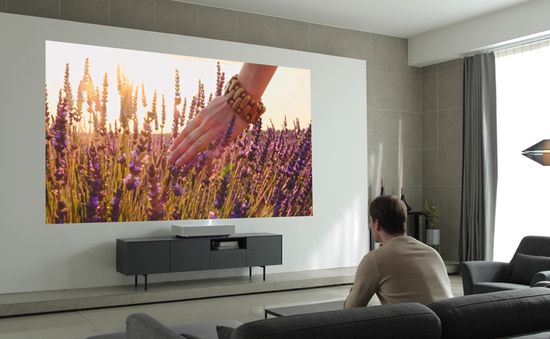 Accordingly, they are installed almost close to the screen on the wall. This eliminates the traditional problem of mid-focus models that require ceiling mount or floor wiring in the living room. As a result, UST models are ideal as an alternative to a TV. Moreover, some sellers call them 'living room projectors'.
At CES 2022, LG introduced the HU715Q UST and mid-focus HU710P. Many have decided that these models have exhausted the list of new products for 2022 from the South Korean giant. But at the end of spring, the company has formally announced the HU915QE UST projector (HU915QB for the US). Moreover, this spring or early summer, LG promises another three-laser model on the same platform. Of course, this announcement did not go unnoticed. Considering the specs and the price, the HU915Q can be positioned as a premium version of the HU715Q (2022) or an improved version of the flagship HU85LA (2019).
All models use 'Laser Phosphor' light source. But HU715Q uses one laser, HU85LA and announced HU915Q have 3 lasers. But this aspect has some nuances. As in any innovation, new terms and concepts are not always used correctly, which, however, is easily eliminated.
'Laser Phosphor' vs 'RGB Laser' light source
Strictly speaking, 'Laser Phosphor' models are hybrid. They use one, two and even three lasers plus a phosphor. In this case, the laser beam is simultaneously used to generate one of the primary image colors, and to create other colors using the phosphor.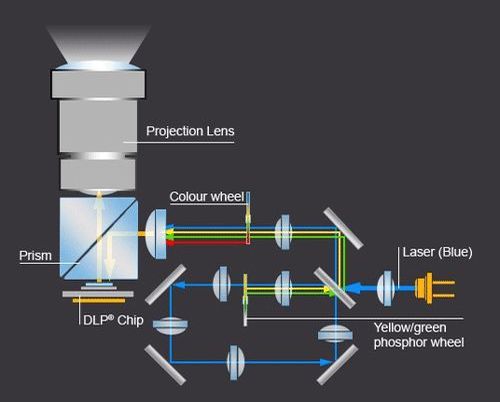 Initially, the development of this technology was driven by the desire of companies to reduce the number of expensive laser diodes.
For example, new ViewSonic X2000B-4K uses a blue laser diode for creating the blue, and to illuminate a yellow phosphor wheel. Further, using a prism or color wheel, yellow is split into green and red, which are sent to the image chipset. The HU715Q uses similar algorithm.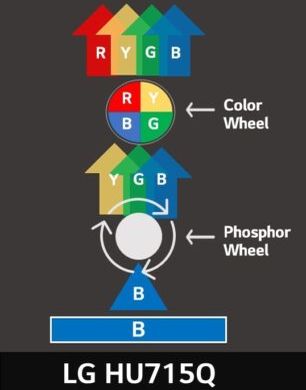 LG HU85LA and HU915Q have a three-laser light engine. It uses a red laser for the red primary and a blue laser for the blue primary. The other blue laser excites the static phosphor for the green primary.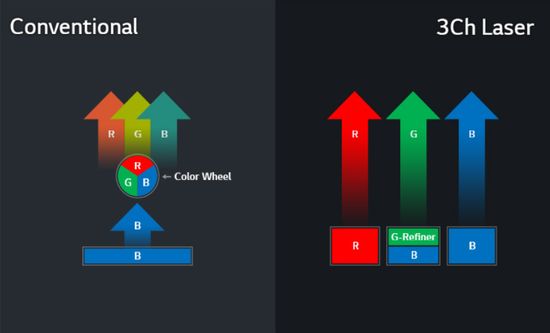 It works without a color wheel, eliminating brightness loss and rainbow artifacts. This type is called 'Laser Phosphor'.
The 'RGB Laser' light engine sends laser beams directly to the image chipset without a phosphor wheel.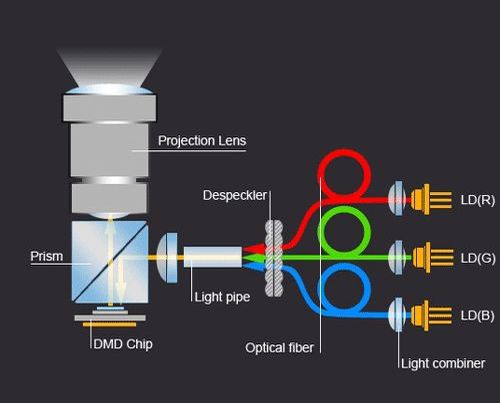 In principle, this design has been used in expensive professional installation projectors for a long time. But in home models, it was implemented only last year. This light source greatly expands the color gamut. In particular, Hisense L9G and PX1-PRO Laser TVs cover 107% of BT. 2020 color space, and JMGO U2, according to the developer, provides up to 114% coverage of this standard.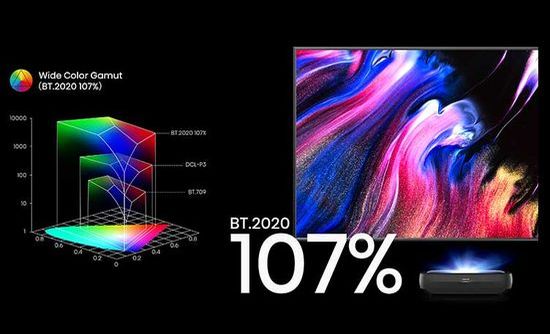 In addition, it also increases the brightness.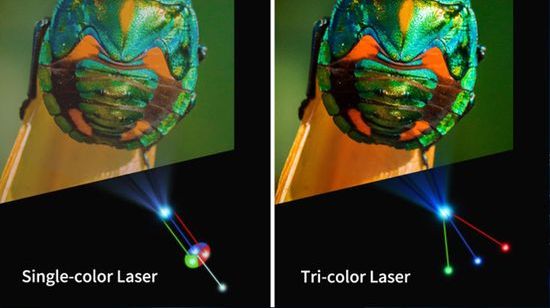 3ch vs single-design 'Laser Phosphor'
In turn, 'Laser Phosphor' light engines are subdivided into models with three lasers and with a single blue-laser. Typically, additional lasers expand the color gamut at higher light output and provide more vivid colors. In particular, increasing the brightness significantly narrows the color gamut of single-laser models. But testing of 3ch 'Laser Phosphor' model showed 94% DCI-P3 at a max bright of 3,700 lumens and up to 100% DCI-P3 when brightness is reduced to to 3,000 lumens. Sony's flagship VPL-GTZ380 with a similar light engine (red + two blue lasers, one of those works with a phosphor wheel) also covers 100% DCI-P3 at a maximum brightness of 10,000 lumens. In comparison, the color gamut of single laser projectors typically do not exceed 80% DCI-P3 even with reduced brightness.
Today 3ch laser technology supports wider color coverage up to 12-bit.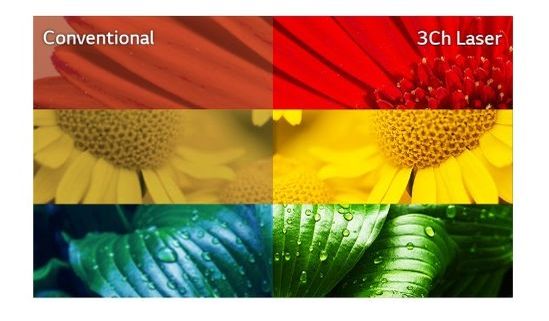 Also, 3ch design works with almost no laser speckle. As known, the speckle pattern is caused by the quasi-random scattering of coherent laser beam from a projection screen surface roughness, the size of which is commensurate with the optical wavelength.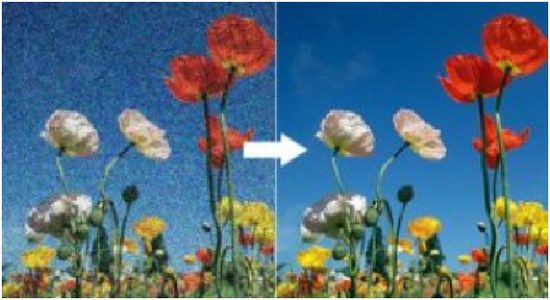 Main specs
HU915QE vs HU85LA vs HU715QW
– Price – $ 6,000 vs $ 5,000 vs $ 3,000;
– Brightness (ANSI Lm) – 3,700 vs 2,700 vs 2,500;
– Resolution – 4K (3,840 x 2,160);
– Dynamic contrast ratio – 2,000,000:1;
– Throw Ratio – 0.19:1 vs 0.19:1 vs 0.22:1;
– Image Size – 90″-120″ vs 90″-120″ vs 80″-120″;
– Digital Keystone – Horizontal & Vertical;
– Light engine (Laser Phosphor) – 3ch laser vs 3ch laser vs single blue-laser;
– Internal Speakers – 20W x 2 vs 5W x 2 vs 20W x 2.
With a claimed 3,700 ANSI lumens, the HU915QE is the brightest UST projector on the market. 2,000,000:1 dynamic contrast is also in line with the flagship premium level. Of course, the model supports all major image processing features, including:
– HDR dynamic tone mapping;
– LG's Adaptive Contrast (a combination of laser modulation and pixel-level processing to achieve deeper blacks and brighter highlights depending on the scene content);
– Brightness Optimizer II (Auto Brightness, IRIS Mode, Adaptive Contrast).
This option first appeared in the 715Q. It uses an ambient light sensor to automatically adjust the brightness depending on the room lighting. Like the 715Q, the 915QE offers a fixed Iris Mode setting to brighten or darken the overall image in manual mode.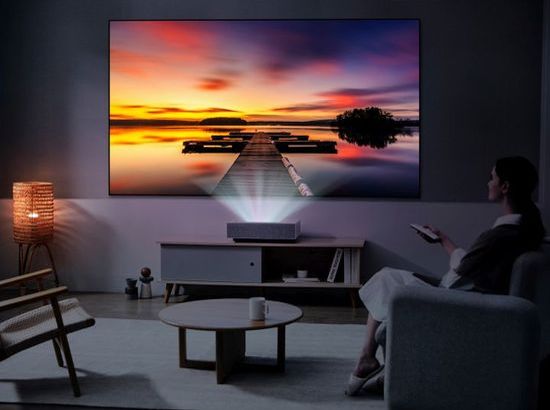 All models are 4K-compatible but use XPR DLP chipsets with different resolutions. This aspect can also affect the image quality.
TI DLP 4K UHD chipsets
As known, the XPR (Xpanded Pixel Resolution) technology is based on horizontal-vertical shift of displayed pixels and increases their number by 2 or 4 times with two- or four-phase pixel shifting.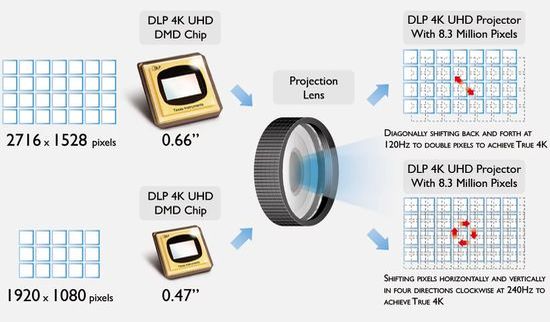 At four-phase pixel shift, the 1080p chipset gets 4K content, splits it into four parts of 2 million pixels each, and plays 4 separate frames, transmitting the entire 4K volume with the help of only 2 million micromirrors. Thus, at any moment in time, the image contains only 2 million pixels. They are shifted on the screen using a lens whose tilt is controlled by 4 electromagnets. But our vision and brain do not perceive the micro-delay between their switching, creating the illusion of a holistic image.
The .66″ (2.716 x 1.528) chipset with two-phase pixel shift works similarly, but only displays two images per cycle.
In fact, DLP 4K XPR chipsets have allowed companies to develop relatively inexpensive 4K DLP projectors. But honestly, native 4K clarity is better vs pixel shift.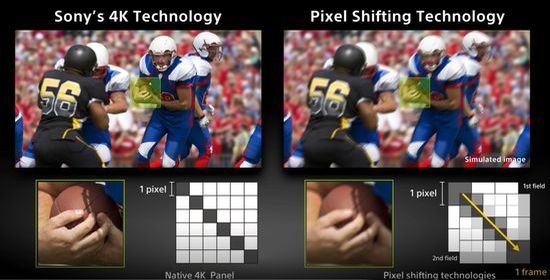 List of modern TI DLP XPR 4K chipsets:
– compact .47″ DLP470TP – native (1,920 x 1,080) resolution, four-phase pixel shift, brightness up to 1,500 lm, 5.4 µm micromirror pitch;
– HU715Q – .47″ DLP470TE – native (1,920 x 1,080), four-phase pixel shift, over 1,500 lm, 5.4 µm;
– HU85LA / 915QE – .66″ DLP660TE – native (2,716 x 1,528), two-phase pixel shift, over 5,000 lm, 5.4 µm;
– latest .65″ DLP650TE – native (1,920 x 1,080), four-phase pixel shift, 7.6 µm.
Theoretically, increasing the micromirror pitch from 5.4 µm to 7.6 µm in the DLP650TE should significantly reduce digital noise and thus improve image quality. Today it's already use in gaming BenQ X3000i 4K LED projector.
Key Features
Like the HU85LA, the HU915QE has a lens with a 0.19:1 throw ratio, which is the shortest among the modern 'living room' projectors today. It provides a 90-inch 16:9 image from just 2.2 inches away. A 100-inch screen size requires 3.9 inches, and a max 120-inch image is projected from a distance of 7.2 inches.
Like the 715Q, the announced projector with a built-in 2.2-channel 40-watt audio system supports the addition of up to two compatible LG Bluetooth speakers to create surround sound.
LG's webOS streaming platform has apps for Netflix, Amazon Prime, Disney+, Apple TV, YouTube, etc. The smart-functionality includes the wireless streaming with Screen Mirroring and Apple AirPlay2. Alexa and LG's ThinQ technology support voice commands.
Input connections:
– 1x HDMI 2.1 (24 Gbps bandwidth);
– 2x HDMI 2.0 (eARC support for lossless pass-through of Dolby Digital and Dolby Atmos).
Like other 4K DLP pixel shift projectors, HU915QE don't support 4K@120 games at low input lag. But it has ALLM (Auto Low Latency Mode) and HGIG compatible (HDR Gaming Interest Group).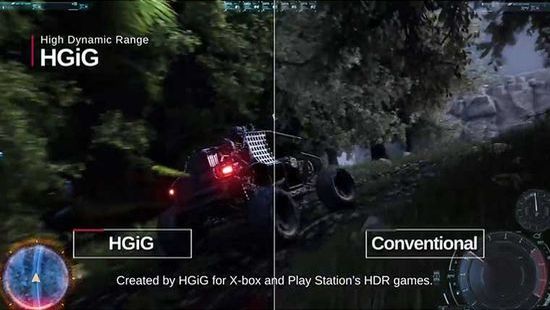 Unfortunately 1080p 3D is not supported.
Conclusion
In fact, the HU915QE replaces the flagship HU85LA. Its announced launch price is $ 1,000 higher ($ 6,000 vs $ 5,000). But it's significantly brighter (3,700 ANSI Lm vs 2,700 ANSI Lm), has more powerful internal speakers, and supports Brightness Optimizer II (Auto Brightness, IRIS Mode and Adaptive Contrast). In principle, these bonuses are quite adequate for the difference in price.
Comparison with the HU715QW is more problematic because these models actually belong to different classes. The HU715QW is half the price ($ 3,000 vs $ 6,000) but is significantly less bright (2,500 ANSI Lm vs 3,700 ANSI Lm) and uses a light engine with a single blue-laser. As a result, its color gamut reaches only 86% vs 94% DCI-P3 of HU915QE with 3ch laser light engine.
In addition, HU915QE uses .66″ DLP660TE chipset with native (2,716 x 1,528) resolution and two-phase pixel shift, while HU715QW has .47″ DLP470TE with native (1,920 x 1,080) resolution and four-phase pixel shift. They both display 8,000,000 pixels, but the efficiency of XPR technology is still lower vs true resolution, which affects the image clarity. Therefore, the choice between these models depends on the budget.
Probably HU915QE will have to compete with Hisense PX1-PRO 4K UST with 'RGB Laser' light engine (TriCroma technology). Of course, the HU915QE is significantly brighter (3,700 ANSI Lm vs 2,200 ANSI Lm), but the Hisense only costs $ 3,300 and its color gamut reaches 107% BT.2020.
JMGO U2 4K UST and Viewsonic X2000-4K UST cost around $ 3,000, but they compete with the LG HU715Q 4K UST in performance.
This video shows the new LG CineBeam HU915QE UST 4K projector.