As known, Taiwan's BenQ Corporation is one of the leaders in the DLP projector segment. This year the company introduced several new models, including the BenQ X3000i and BenQ LK936ST. In fact, the BenQ X3000i is an improved version of last year's BenQ X1300i, which has become one of the best gaming projectors on the market.
Pros
– great price for 4K model;
– innovative 4K-capable DLP650TE chipset (four-phase pixel shifting and micromirror pitch of 7.6 µm);
– innovative 4LED light source with 8-12% increased brightness and auto-calibration;
– 3,000 ANSI lumens brightness;
– GameMaestro technology;
– BenQ 'CinematicColor';
– Bongiovi DPS technology;
– one of the smallest input lag in the industry;
– high 3D performance;
– 100% DCI-P3;
– QS01 module witjh Android TV.
Cons
– HDR light output reduction for wide gamut setting;
– black level is not ideal;
– rainbow effect may appear in some scenes;
– no HDMI 2.1 and 4K@120;
– built-in speakers only 10W.
BenQ X3000i vs BenQ X1300i
Except for the price and resolution, the specs of the models are almost identical:
– $ 2,000 vs $ 1,300;
– 3,000 ANSI Lm brightness;
– 4LED light source;
– resolution – 4K UHD (3,840 x 2,160) vs Full HD (1,920 x 1,080) or 1080p;
– Dynamic Contrast 500,000:1;
– Color Wheel – 8 segment (RGBWRGBW) vs 6 segments;
– Color Processing 10-bit;
– Input Lag 4K@60 – 16ms; 1080p@120 – 8ms; 1080p@240 – 4ms;
– 3D Modes – Full HD 3D;
– Included Lens – 1.3x manual zoom , manual focus vs 1.2x manual zoom , manual focus;
– Throw Distance / Image Size / Throw Ratio – (1.0 m – 8.0 m) / (77 cm – 762 cm) / (1.15:1 – 1.50:1) vs (1.30:1 – 1.56:1) – 100″ @ 9.4ft (100″ @ 2.87m);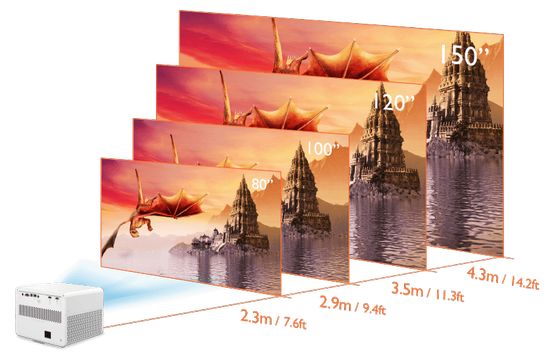 – Digital Keystone – Horizontal & Vertical (±30°);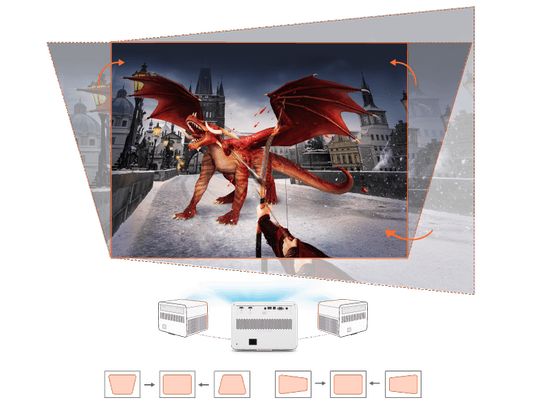 – Audible Noise – 32 dB;
– Internal Speakers – 5.0 Watts × 2;
– 100%DCI-P3 vs 98% Rec.709.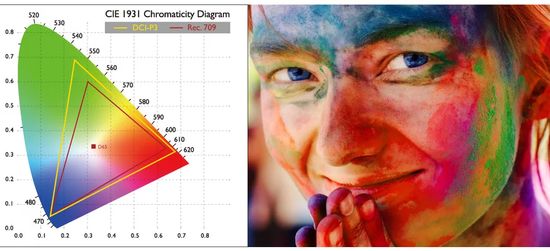 As known, the color wheel in DLP at any time passes only one color, filtering out the other two.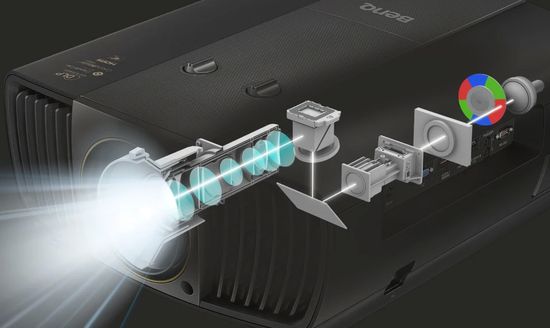 Of course, this is accompanied by a loss of color brightness. The new models use 4LED light source (RGBB), including 3LED and an additional blue LED, which boosts overall brightness. In these models ceramic phosphor converts the blue from the additional LED to green because the eye responds maximally to an increase its brightness.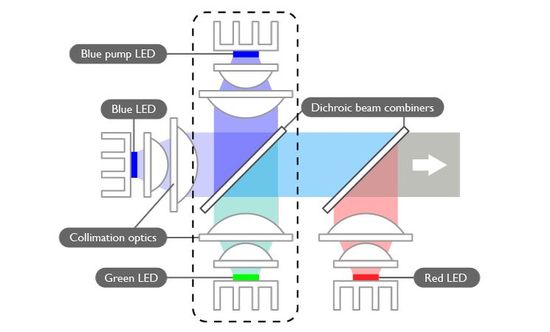 According to the company, the additional blue 'pumping' LED increases the output of green light by 40%, increasing overall brightness by 8-12% compared to a 3LED light engine.
Additionally, an auto-calibration adjusts colors depending on the LEDs deterioration (usually, red deterioration faster).
Key Features
Color accuracy depends on the color wheel quality. BenQ's 'CinematicColor' uses precise nanometer-level references for its color-wheel angles and coating.
Adding a blue LED to a new light engine increases color brightness, but over time can cause a balance shift towards greenish-blue tint. To eliminate this risk, the company uses an auto color-calibration system that provides color temperature accurate. In fact, embedded color sensors detect the status of LEDs and calibrate their intensity for accurate WRGBYCM even after long-term use.
The projector has three HDMI 2.0b ports, one of which is designed for BenQ QS01 module supporting Android 10.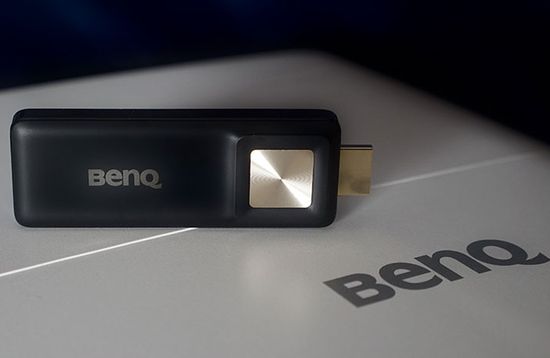 The company positions the X3000i as 'console gaming projector' with unprecedented low Input Lag and GameMaestro technology.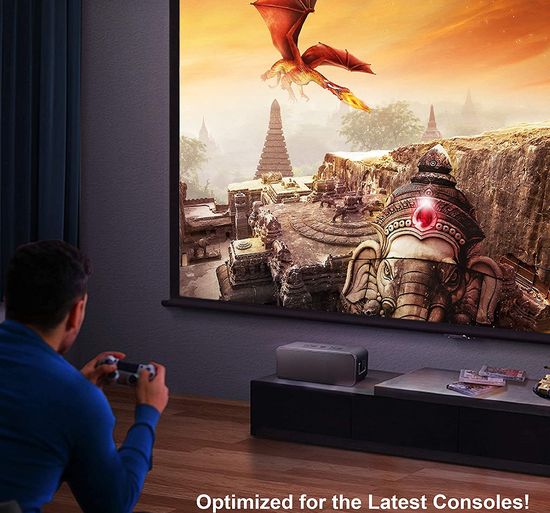 Latency ranges from 4.16ms for 1080p@240Hz to 16.4ms for 4K@60Hz, which is one of the best in the industry.
But, of course, input lag is different from response time. In fact, Input lag characterizes only the duration of signal processing and it's always less than response time, which includes the work of all components. For reference, turning off all advanced image processing options (keystoning, aspect ratio manipulations and overscanning) provides the fastest speed.
The GameMaestro offers a three submodes with different color and grayscale presets. This list includes FPS, RPG and SPG. Modes are switched with button on the control.
According to BenQ:
– FPS (First-person shooter) – 'Marks Nearby Threats'. It enhances detail;
– RPG (Role-Playing Game) – 'Full Cinematic Immersion'. It has very accurate color and more balanced audio profile provides cinematic color (it's identical to the Cinema preset) and film-like sound (it boosts the bass);
– SPG (sport) – 'For Real-Time Thrills'. It provides more vibrant greens and puts the focus on dialogue, which is important, for example, for sports announcers.
DLP650TE chipset
Of course, the latest 4K-capable DLP650TE chipset is one of its major improvements. As known, Texas Instruments developed the Digital Micromirror Device (DMD) in 1987. But the first chipset was only released in 2000. It used millions of tiny aluminum mirrors, which could turn at a small angle. A 2D array of 1-bit CMOS memory cells is located under the mirrors. Cell voltage change controls their deflection angles. Each micro mirror toggles between 'On' / 'Off' states, the duration of which determines the grayscale level.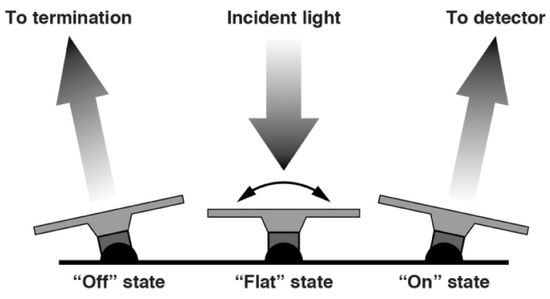 Then the lens directs the light onto the screen, creating the color of the image's sub-pixel.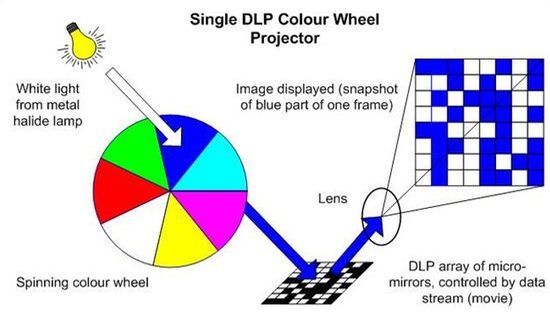 Accordingly, the DMD resolution depends on the number of mirrors. In turn, the micromirror pitch directly affects its light output. In particular, a 'large' pixel provides more light, reducing noise level. As a result, optimal specs require a compromise between the number of micromirrors (resolution), their size (light output), and the chipset physical size.
New chipset:
– reduced size from .66″ to .65″.
Size reduction from simplifies the chipset geometry. As known, the native resolution of .66″ DMD is (2,716 × 1,528). The results of simple calculations clearly do not correspond to the generally accepted gradations for resolution;
– increased multiplier from 2 to 4 (upscaling from Full HD to almost 4K);
– increased micromirror pitch from 5.4 μm to 7.6 μm due to the reducing their number from (2,716 × 1,528) to (1,920 × 1,080). A calculation shows a potential 98% increase in mirror area, which promises a significant increase in brightness while reducing noise.
So 4K upscaling whit using the 'four-flash' in frame and almost 100% increase in mirror area hold great promises for the new .65-inch DMDs.
Pixel shifting
As known, JVC introduced this technology in 2013, increasing the image resolution of their (1,920 x 1,080) D-ILA chips. The idea is simple, but captivates with its elegance. Like the frame interpolation technology in TVs, the projector actually creates a duplicate image with a vertically and horizontal shift of half a pixel. As a result, our eye sees more pixels and perceives the image more clearly.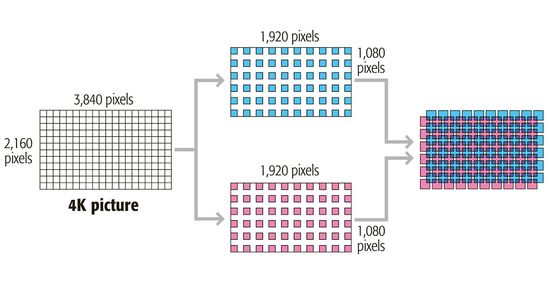 Of course, other industry leaders were not left out, and Epson soon developed its own pixel shift version on (1,920 x 1,080) 3LCD chips.
Then Texas Instruments introduced an .66″ chip (physical mirror matrix of (2,716 x 1,528), whose two-phase pixel shifting increased the number of pixels to 8.3 million, which corresponds to UHD resolution. The .47″ DLP 4K UHD chip in 2017 became the next generation. At a resolution of (1,920 x 1,080), it uses four-phase pixel shifting, producing 8.3 million pixels. Finally, last year TI introduced the latest 4K DLP650TE chipset, which combines four-phase pixel shifting and increasing the micromirror pitch from 5.4 µm to 7.6 µm.
In fact, DMD is a digitally controlled spatial light modulator (SLM) with micro-electromechanical system (MEMS). DLP650TE 4K UHD (DMD) chipset includes:
– DLP650TE DMD;
– DLPC7540 display controller;
– DLPA100 power management;
– motor driver IC.
Specs:
– .65-inch diagonal micromirror array;
– 4K UHD (3,840 × 2,160) display resolution;
– 7.6-µm micromirror pitch;
– ±12° micromirror tilt relative to flat surface;
– high speed serial interface (HSSI);
– 4K UHD@60 Hz and Full HD@240 Hz support.
XPR technology
The discussion about pros & cons 'true' 4K vs pixel shift 4K started almost immediately after the advent of pixel shift projectors. Probably, the arguments of each side are quite convincing. Of course, its ads contains a marketing component, and perhaps 'physical' pixels provide a higher quality than 'virtual'. But in the end, the consumer has received a real boost in image quality from higher resolution at a relatively affordable price for 4K projectors. However, understanding its operation principle will allow the reader to form their own opinion about its 'honesty'.
The XPR module includes the optical and the electromechanical part. The specially processed glass of optical unit divides the light beam along the horizontal and vertical axes. The electromechanical part is placed in front of the lens.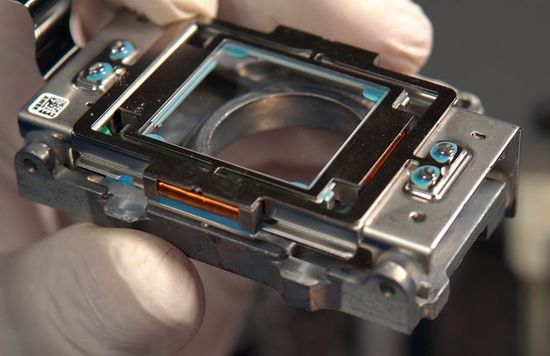 It moves a lens in the vertical and in the horizontal axis with the help of four electromagnets. In fact, the XPR module increases the operating frequency of DMD chipset with (1,920 × 1,080) resolution, increasing the number of pixels displayed per second from 2M to 8M. Turning the lens 4 times per second, it provides an offset of additional pixels on the screen.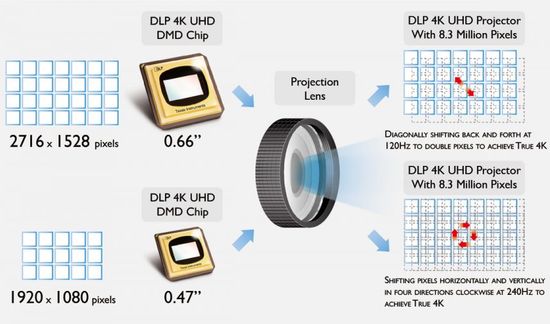 As a result, each pixel transfers 240 frames per second instead of 60Hz. Simply put, the technology takes 4K content, splits it into four parts of 2 million pixels each, and plays 4 separate frames 240 times per second, transmitting the entire 4K volume with only 2 million pixels. Strictly speaking, at any moment the image contains only 2 million pixels (1080p resolution), but our vision and brain do not perceive the micro delay between switching electromagnets. Unfortunately, the light of additional frames reduce the black depth and, consequently, projector native contrast.
Conclusion
This year has already seen an impressive expansion of the projector range. This list includes:
– Epson Home Cinema LS12000 and LS11000 – $ 5,000 / $ 4,000;
– excellent portable Samsung The Freestyle LED projector – $ 900;
UST ('living room' projectors):
– Hisense PX1-Pro and L5G Laser TVs – up to $ 4,000;
– LG HU715Q – $ 3,000;
– JMGO U2 – $ 3,000.
BenQ did not stand aside, delighting gamers with the great BenQ X3000i, which became an improved version of last year's BenQ X1300i. Excellent value for money has earned it a place among the best gaming projectors. Indeed, $ 1,300 for a 1080p projector with a new 4LED light engine delivering 3,000 ANSI Lm brightness, with unprecedented low input lag, GameMaestro and Bongiovi DPS technologies is very cheap.
The BenQ X3000i claims to be this year's bestseller in the 4K gaming projector segment. Keeping all the bonuses of last year's prototype, the model received an innovative 4K-capable DLP650TE chipset that uses four-phase pixel shifting and has a micromirror pitch of 7.6 µm. Moreover, the projector covers 100% DCI-P3 and costs $ 2,000 only, providing excellent value for money for the 4K segment. Perhaps the BenQ X3000i is inferior for example, to the laser Optoma UHZ50 in HDR performance or contrast, but it's $ 800 cheaper.
This video shows the new gaming BenQ X3000i 4K LED projector.