In recent years, the projector segment has been growing rapidly especially due to 'living room' models. These 4K UST laser projectors are positioned as an alternative to TVs.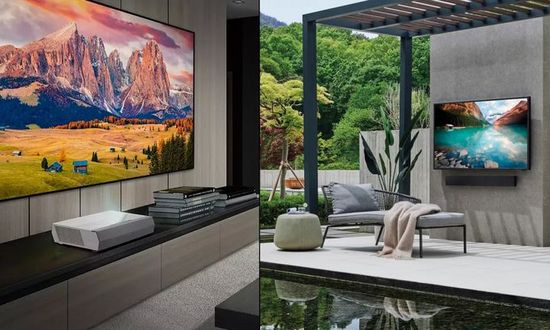 Already this year, their range has expanded with several great models, including:
– Hisense PX1-Pro and L5G Laser TVs – under $ 4,000;
– LG HU715Q – $ 3,000;
– JMGO U2 – $ 3,000.
Introduction
But, of course, other projectors are also actively developed, as Samsung The Freestyle (SP-LSP3BLAXXU) projector perfectly demonstrated. This model once again confirmed the simple truth – brand is important! Probably, if the Boeing company decides tomorrow to make juicers, then they will make very tasty juice.
Despite more than modest experience in the development of projectors, Samsung has created and presented an excellent LED model, which has a high chance of becoming a bestseller.
Briefly, the concept of this model can be formulated as 'multifunctionality, convenience and flexibility'. Probably, the developers had to make some compromises in terms of resolution and brightness, but the main concept is implemented perfectly.
First, The Freestyle can be used as:
– a colorful and programmable ambient light source with an included diffuser cap;
– a full-fledged smart speaker;
– portable monitor;
– in 'top-down' projection mode, Microsoft Office 365 support turns the projector into a handy work tool;
– additional 'TV' with Samsung TV screen mirroring via Wi-Fi direct connection (2017 models and above only).
Secondly, the company has practically solved the main problem of any portable device by providing several convenient power supply options. The projector does not have a built-in battery, but can use:
– of course, the wall outlet;
– optional bulb socket adapter (provides power through a standard lamp socket in top-down projection mode);
– add-on rechargeable battery (it attaches to the device bottom);
– The Freestyle is compatible with external USB-PD batteries (50W/20V output or above);
– USB-C.
The projector comes with the USB-C AC adapter.
Thirdly, the model has a very stylish design that fits harmoniously into any interior.
Design and main specs
– Brightness – 550 LED lumens;
– Full HD (1920 x 1080) resolution;
– 100,000:1 contrast;
– DLP x 1 display type;
– Image Size ranges from 30″ to 100″ (76 cm – 254 cm) at Throw Distance from 2,6 ft to 8,9 ft (0.8 m – 2.7 m) at Throw Ratio of 1.22:1;
– HLG and HDR10;
– Tizen Smart TV;
– 43.2ms (1080p@60Hz) input lag;
– Digital Keystone – Horizontal & Vertical.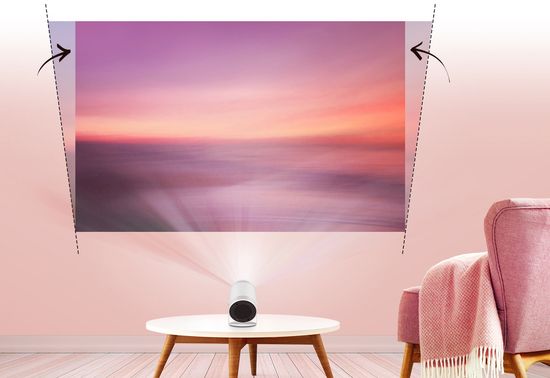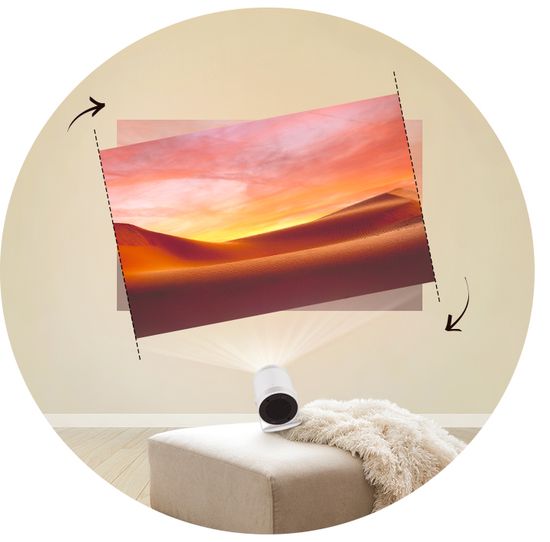 – image processing – Pur Color, Contrast Enhancer, Auto Motion Plus and Film Mode;
– audio – Dolby Digital Plus, Adaptive Sound, Multiroom Link, Bluetooth Audio and eARC (HDMI 1.4).
Its 180 degree design drastically simplifies projector installation almost anywhere.
The projector, a speaker system, a long range microphone array and smart TV platform are housed in a compact cylindrical body that sizes and weighs only (6,6 x 4 x 3,5) inches or (17 x 10 x 9) cm, and 1.8 lbs or 0.8 kg, respectively. Of course, this is not a pocket version, but it's quite consistent with portable models.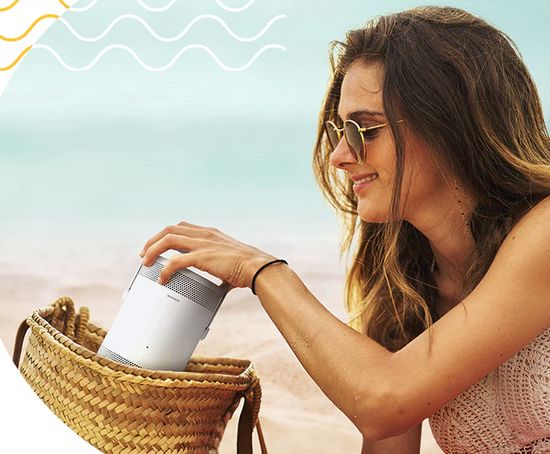 A soft and flexible rubber-like coating perfectly protects the case against minor bumps and scrapes. All touch-sensitive controls are located on the panel next to the lens.
The Freestyle brightness
Of course, the specified brightness is not very impressive and has some nuances. Today, manufacturers use different methods for measuring this one of the most important projector parameters. As a result, different companies list the brightness in ANSI Lm, LED Lm, CLO and Lux. Of course, management prefers to use a methodology that emphasizes the pros of the technology used. Without going into the details of this confusing story, it can be briefly noted:
– ANSI (American National Standards Institute) lumens characterize the brightness of the projected image;
– LED Lm characterize the brightness perceived by the eye;
– Light Source Lumen.
Proportions between them:
– 1,000 LED Lm – 417 ANSI Lm (conversion factor – 2.4);
– 1,000 Light Source Lumen – 60 ANSI Lm (conversion factor – 0.04-0.06).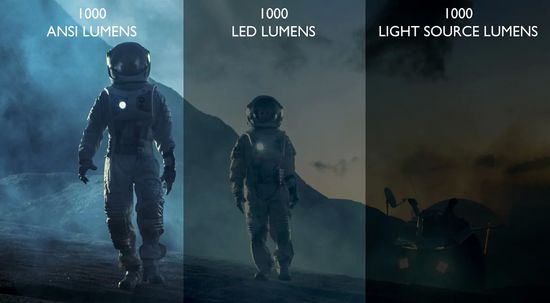 Accordingly, 550 LED lm only corresponds to 230 ANSI Lm.
But according to other experts, the perception of perceived brightness is more important. They justify their opinion with the influence of Helmholtz – Kohlrausch effect. As known, it's an entoptic phenomenon (subjective visual sensations), in which intense saturation of the spectral hue is perceived as part of the color brightness.
But LEDs provide significantly higher colors brightness. Therefore, according to this version, the perceived image brightness from LED projector is significantly higher. Comparison photos from ViewSonic illustrate this effect.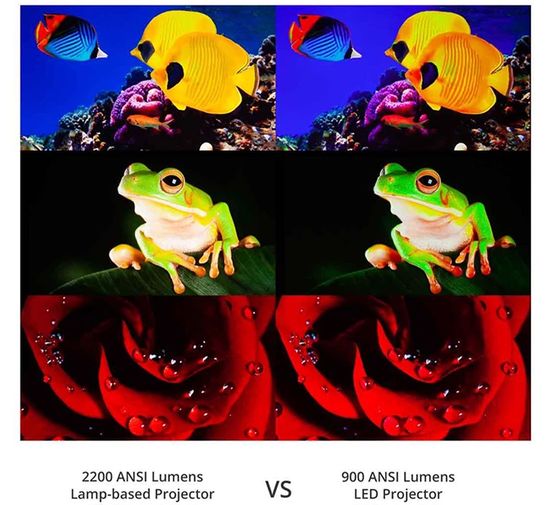 But that's only true when compared to lamp-based projectors, which are rare today. For example, modern triple-laser projectors (TriCroma technology) also produce three colors separately.
On the other hand, limited brightness is the inevitable price for compactness. An increase in brightness is always accompanied by an increase in temperature, the dissipation of which requires an increase in the internal volume and fan power.
Picture modes and scree size
The list of picture modes includes Dynamic, Standard, Movie and Game. Game mode reduces latency from 70 ms to 43 ms for 1080p@60Hz signal that is enough for casual gaming.
As usual, Dynamic mode is a brightest but the difference is negligible.
In principle, the Standard mode brightness is almost the same as Dynamic with 'Brightness control' setting of 50. Given its higher color accuracy, this mode is preferable in most cases. The Movie mode is darker by about 20%.
The Freestyle processes HDR 1080p 10-bit video from streaming platform, but its brightness and contrast are not enough to create a full HDR effect on a big screen. However, brightness is enough to render HDR with smaller image sizes.
For a 22-inch screen, the projector easily delivers over 400 nits of peak luminance, producing a sufficiently vivid and rich image for 1080p HDR. Increasing the size to 75 inches reduces brightness by about an order (less than 50 nits).
In Standard mode, picture quality in SDR mode for 1080p content quite corresponds to the Home Theater level. But this is only true for a dark room on 100-inch screen with 1.1-gain. Even without additional calibration, the projector delivers excellent sharpness with accurate colors, and smooth motion without banding artifacts.
Of course, reducing the screen size improves the image quality. Its optimal size for The Freestyle as a home theater ranges from 70″-75″ with 1.0-1.1 gain screen.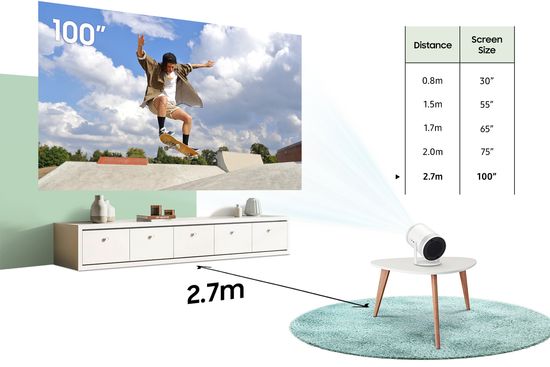 In this case, its calibrated for Movie mode peak brightness is near 50 nits, which corresponds to the DCI-P3 standard in movie theaters.
In addition, lowering the color temperature in the Standard color tone setting provides sufficient brightness for dark room when increasing the screen size to 85″.
Settings and Ambient Mode
Despite its compactness, this model covers more than 80% of the DCI-P3 color space. The projector can also be controlled from the Samsung SmartThings app. Despite the accurate color 'out of the box', model supports accurate manual, and a fast phone-based auto-calibration via app.
Of course, manual calibration is more precisely. It includes 2-point, 10-point, 20-point white balance / grayscale adjustment, and separate CMS controls, but requires classification and equipment.
But the developers also took into account the features of a portable model, for which ease of installation and settings is very important. This list includes auto screen size optimization, auto-focus, auto keystone correction, and auto calibration.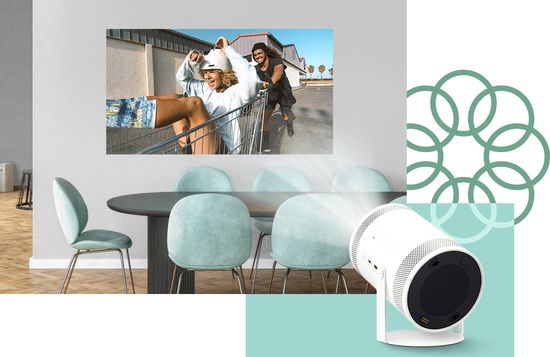 The auto calibration requires a compatible phone only (2019 Galaxy S/ Note/ Z Flip/ Z Fold, iPhone or later). After launching the app, the phone's camera is directed to the screen. As a result, the word 'Calibrated' appears in the mode selection menu. In fact, it optimises brightness and color tone depending on the color of the wall.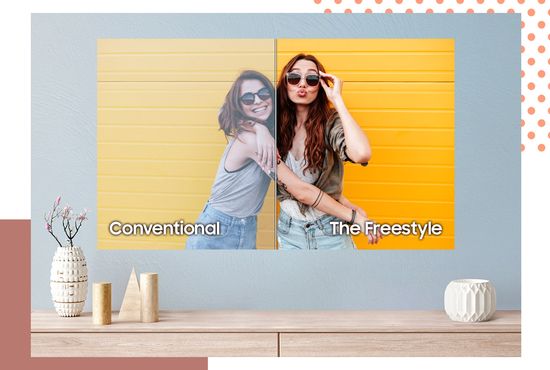 The Ambient Mode and lighting effects also favorably distinguish The Freestyle from the competition. The perforated lens cover transforms the projector into an interactive smart lamp whose light is controlled with Samsung's SmartThings app. Ambient Mode offer various scenes or 'banners'. Their projection on the wall or ceiling will decorate any party.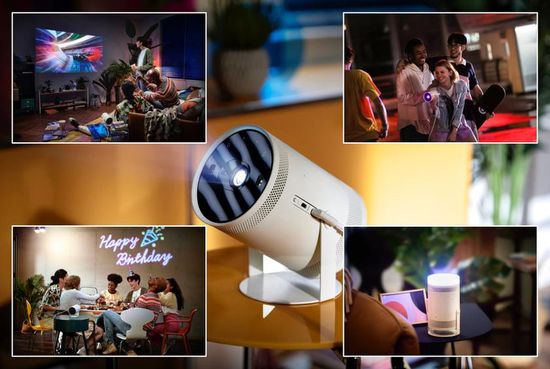 Together with music, this option can be a great relaxation tool. In addition,it's suitable for creating fancy light shows.
Of course, the mode also allows the user to create a slideshow from photos. Moreover, the extensive library provides access to a huge number of images and graphics. In general, the new mode can be a real gift for creative people.
Portable Monitor & Screen Mirroring
Curiously, but this model is also ideal for use as a portable monitor. A piece of matte white posterboard or foam board provide a superbly detailed picture even under moderate ambient light. What's more, auto focus and auto keystone correction make it very convenient to use this mode, making projector placement easier. Additionally, it works without glare and provides great viewing angles. Sharpness and screen uniformity at smaller sizes are excellent, and pixel grid is invisible. At the same time, the user receives a monitor with an adjustable screen size up to 30″-40″. To be fair, as the size increases further, its brightness and contrast starts to lose the flat-panel display.
Despite the listed minimum screen size of 30 inches, the projector supports autofocus for smaller screen sizes. This mode is very convenient, for example, to color-correct photos using a super bright 6-inches projection.
Of course, a creative user can further expand the functionality of this projector. For example, it can be handy in the kitchen to project recipes and videos on the wall instead of using a tablet.
Microsoft Office 365 support and optional bulb socket adapter turn the projector into a Home office in 'top-down' projection mode.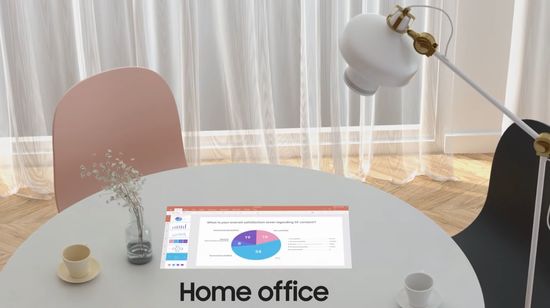 Probably, TV screen mirroring is one of the most convenient modes of this projector. Direct Wi-Fi connection allows you to connect, control and project your TV content on any surface in any room.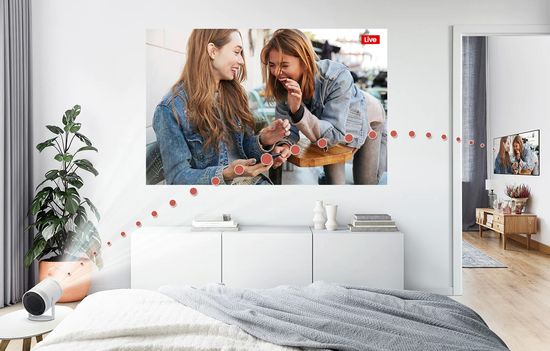 In this mode, Freestyle supports projecting live TV from your cable box, for example onto the gazebo wall. Essentially, you're buying a spare TV.
In addition, The Freestyle supports mobile screen mirroring with the SmartThings app or AirPlay.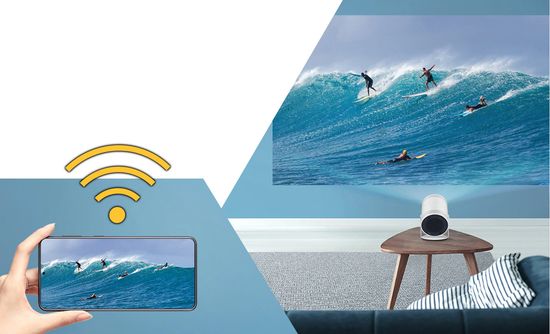 Audio & Gaming
Despite the compact size of the smart speaker, The Freestyle delivers great sound. Sure, projector doesn't provide the quality of a surround sound system or even a mid-budget soundbar, but it clearly outperforms smart speakers from Google or Amazon. A 5-watt, 360-degree dispersion driver, and bass boost by dual force-canceling passive radiators provide high enough sound quality for pleasant relaxation with a cup of coffee.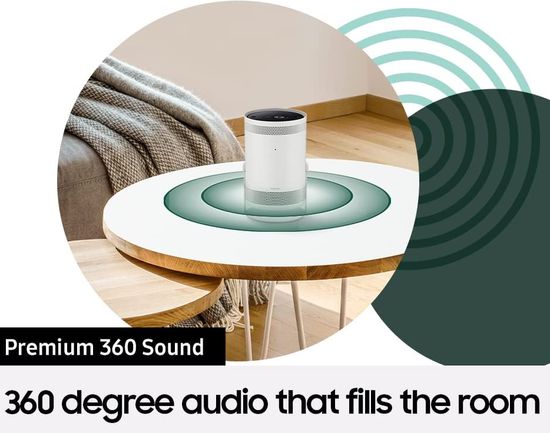 The driver cleanly covers the frequency range from 80Hz to 20kHz. Distortion starts at 80 Hz and below, increasing rapidly after 60 Hz. But it clearly reproduces speech when viewing content.
Furthermore, HDMI ARC for connecting to an AVR or soundbar and compatibility with Bluetooth speakers further expand its audio capabilities.
Of course, 1080p@60Hz with 43.2 ms input lag in Game mode hardly matches a gaming projector. But for 30″- 40″ screen size in SDR mode The Freestyle provides clear image with smooth motion than enough for a portable model.
For connecting a gaming console or laptop, model has a micro-HDMI input with 1080p@60Hz support.
Like Samsung TVs, the projector provides Samsung TV Plus free TV, which contains live TV content and shows from the major networks. This option is activated with a dedicated button on the remote and only requires connect to broadband. Unlike most competitors, the projector has Netflix built-in and a dedicated button on the remote. Of course, the potential value from a simple Netflix subscription is also impressive.
Finally, company offers optional accessories, including case, battery base and bulb socket adapter.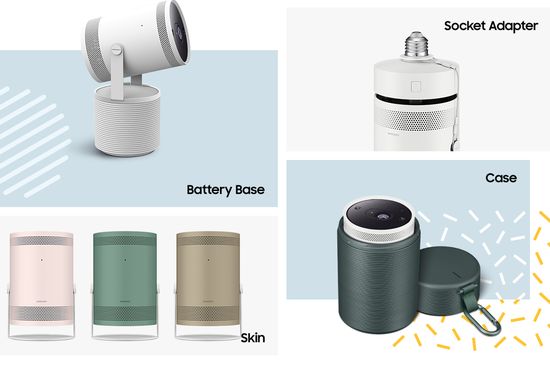 Pros & Cons
Pros
– great color pre-setting 'out of the box';
– wide calibration control;
– modular, swiveling 180° design;
– great image sharpness and uniformity;
– Samsung smart features;
– Tizen OS with user-friendly GUI;
– auto screen size optimization, auto-focuses, and auto keystone correction;
– smartphone-based auto calibration with Samsung SmartThings app;
– Samsung TV screen mirroring;
– support for streaming apps (including HDR support via authorized app for Netflix) and voice assistants (Bixby and Alexa Assistant built-in);
– 5W woofer;
– remote with Bluetooth built-in;
– noise only 30dB;
– additional options of smart speaker and a lamp;
– Ambient Mode.
Cons
– a bit expensive;
– not very bright;
– does not accept a 4K signal;
– no zoom and lens shift;
– only single mini-HDMI jack;
– no 3.5mm audio input.
Conclusion
Given the lack of 4K support and limited HDR performance due to low brightness, the $ 900 price tag may seem high. However, these features are typical for all compact models. In addition, HDR content is currently only available through Disney Plus, Netflix, or on 4K Blu-ray. The most common cable and satellite TV only offer SDR content. Therefore, this aspect is not very important for most people.
At the same time, the compact model offers fantastic functionality with a fairly high image quality. Given this, the price does not seem too high.
Moreover, a huge number of different bonuses more than compensates for listed 'cons'. Maybe, The Freestyle can be positioned as the next generation of smart mini projectors evolution.
Portability, 180° swivel design, and a wide range of auto settings make this projector exceptionally comfortable in the camping, kitchen, or backyard. Multiple power options virtually eliminate the age-old problem of portable devices with battary life.
At the same time, its specs are quite consistent with the level of home theater with screen sizes up to 75″ for 1080p SDR content.
Innovative Ambient Mode and lighting effects could become the new standard for mini LED projectors. Samsung TV access transforms the projector into an additional TV. The automatic calibration function via phone, Netflix built-in, and portable monitor finally turn this model into a multifunctional smart-device under the obsolete name 'projector'.
Overall, the model offers extraordinary functionality in this price class, providing excellent value for money. Therefore, its marketing prospects seem quite cloudless.
This video shows new Samsung Freestyle Portable LED Projector (2022).