Of course, Sony A95K 4K with hybrid QD-OLED panel by Samsung Display became one of the highlights of CES 2022. The announce of Samsung QS95B 4K with a similar panel has increased the intrigue. But today they are mainly of academic interest to experts. Ultimately, testing, consumer feedback, lower launch prices and their stabilization will determine their marketing success. But this is unlikely to happen in the first half of the year.
Perhaps introducing one innovative technology in a season is more than enough for most companies. But for decades, Sony has rightfully taken its place among the industry's innovative leaders. Them TVs use dozens of Sony's innovative technologies that are constantly updated with improved versions. Therefore, the company has not limited itself to the new QD-QLED TV, by introducing some excellent new series.
This list includes:
– A90K (42″, 48″), A80K (55″, 65″, 77″) and A75K (55″, 65″) OLED 4K TVs;
– Z9K (75″, 85″) 8K and X95K (65″, 75″, 85″) 4K miniLED with X-Wide Angle;
– X90K (55″, 65″, 75″, 85″), X85K (43″, 50″, 55″, 65″, 75″, 85″) and X80K (43″, 50″, 55″, 65″, 75″, 85″) 4K LED models.
This group also includes a huge 99.5-inch X92K LED 4K TV.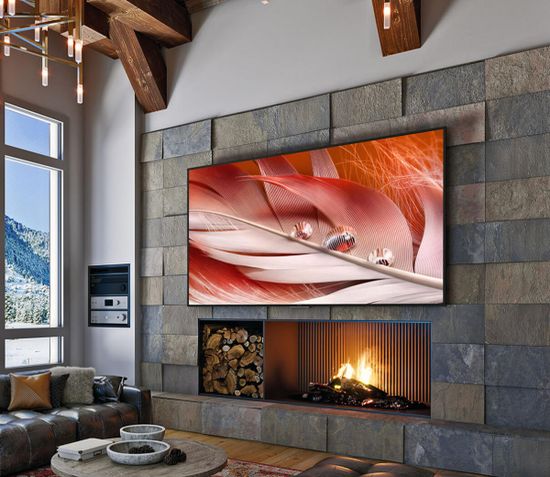 With the exception of X80 series, the refresh rate of all TVs is 120Hz. The Smart Google TV platform is another significant bonus of the new Sony TVs.
Huge TV vs UST projector
Increasing screen sizes has been a stable trend for several years now. Moreover, the Chinese giant TCL even created last year 'XL Collection'.
Perhaps this is quite an adequate reaction of TV manufacturers on the rapid successes of projector manufacturers. Indeed, advances in the semiconductor industry have radically expanded the ability of projector developers to use relatively inexpensive and powerful solid-state light sources based laser LEDs. In combination with the improvement of optical systems for ultra short throw (UST) projectors, mirroring technology, and effective Ambient Light Rejecting (ALR) screens, they became the basis development of this segment. As a result, the market has quickly swelled with a wide range of relatively inexpensive UST laser projectors, which are increasingly positioned as an alternative to traditional TVs. Some sellers call them 'living room' projectors.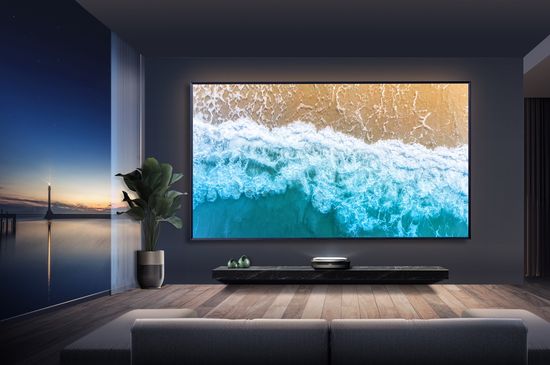 For example, only this year, their list has expanded due to:
– Hisense PX1-Pro and L5G Laser TVs – $ 3,500 – $ 4,000;
– LG HU715Q and JMGO U2 – $ 3,000.
Using triple-laser design (TriChroma technology) today provides color covering 107% or more of the BT.2020 color space.
But, of course, even they provide less vivid and vibrant colors compared to TV. At a light output of 2,000 to 3,000 lumens, projector actually delivers 100 to 150 nits on a 100 inch screen. By comparison, the brightness of even mid-budget TVs typically exceed 400 nits.
On the other hand, this factor is primarily important when playing HDR content. But it's only available on Disney Plus, Netflix, or on 4K Blu-ray. Cable and satellite TV only offer SDR content that does not require high brightness to play. Therefore, given the significant difference in price, UST projectors have excellent marketing prospects.
Current huge TVs
The range of huge TVs is severely limited by the high production costs of large panels. Therefore, they are available, but very expensive. For example, last year's 98-inch Samsung Neo QLED QN90A costs of $ 14,500. The launch price of new 97-inch LG OLED G2 exceeds $ 25,000.
Sony TV is also on this list. Late last year, the company introduced the $ 20,000 99.5-inch Bravia XR X92 4K. Today, its price has already dropped to $ 17,000 and it looks quite competitive compared to the Samsung Neo QLED QN90A.
To be fair, this year TCL announced the 98-inch TCL 98R754 4K costing 'only' $ 8,000.
Model has FullView edge-to-edge glass design.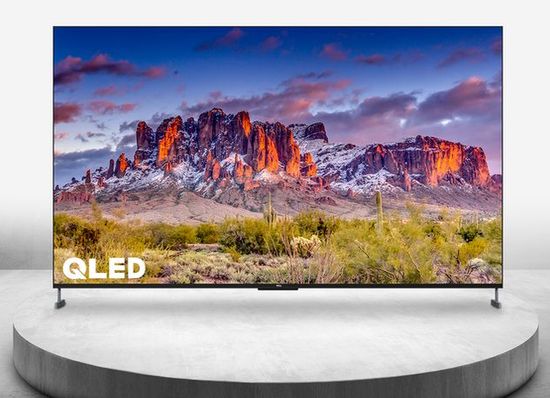 Its available specs are quite consistent with the premium level:
– quantum-dot display;
– 4K (3,840 x 2,160) resolution;
– native contrast ratio of over 5.000:1;
– Contrast Control Zone technology with 192 local dimming zones;
– 4K HDR picture quality with AiPQ Engine technology;
– Dolby Vision, HDR10, HDR10+ and HLG formats;
– HDR Pro Pack (Dolby Vision, HDR10, and HLG);
– Google TV platform;
– 120Hz refresh rate and 4K@120fps support;
– hands-free voice control works with Siri, Alexa, Hey Google;
– integrated Google Assistant;
– 15W x 2 speakers + 20W subwoofer;
– 4 x HDMI inputs (2 – up to 4K@120; 1 eARC);
– Chromecast built-in;
– Game Studio Pro (cinema-quality graphics, powerful audio, smooth play, and near-instant responses);
– Natural Motion 480;
– Variable Refresh Rate (VRR) and Auto Game Mode;
– WiFi 6 & Ethernet port;
If testing and consumer reviews confirm these specs, then the situation in this segment may change radically. But for now, the comparison of Samsung QN90A (98″) vs Sony X92 (99.5″) is relevant.
Backlight
Sony Bravia X92 and TCL98R754 use regular FALD without innovative miniLED backlit which is based on miniature LEDs. Like other Neo QNED models, Samsung QN90A has miniLED backlit for local dimming. In fact, this difference is the main one.
Unfortunately, the company does not indicate the number of zones. But the 55-inch model has 576 dimming zones, and the 65-inch TV uses 792 zones. Perhaps their number in the 100-inch model reaches 1,000 or more. In any case, testing has confirmed the high efficiency of this option. For example, in 65″ TV this mode raises the 3,500:1 native contrast ratio to 26,500:1 (contrast with local dimming).
But this aspect has nuances. To a certain extent, miniLED backlit can be positioned as a hardware way to increase contrast. Indeed, replacing regular-sized LEDs with a huge number of miniature LEDs allows developers to create a many zones with separate control, improving its accuracy. New models with this technology displays even little bright objects without ghosting, effectively dimming dark areas.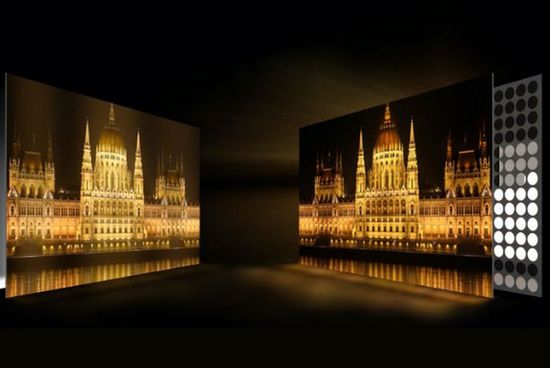 But real-time control of the many dimming zones requires high processor performance. Some companies tried to increase the number of dimming zones in mid-range models with insufficient processor performance. As a result, the image in local dimming mode occasionally 'freezes', especially when playing fast motion.
Prior to miniLED backlit, companies used sophisticated but effective local dimming control algorithms in FALD. For example, Sony has developed and successfully uses Pixel Contrast Booster and XR Contrast Booster, XR OLED Contrast Pro, Dynamic Contrast Enhancer, X-tended Dynamic Range PRO, XR Backlight Master Drive and XR HDR Remaster. Despite different names, all these algorithms improve image quality by optimizing its brightness and contrast in certain frame areas. As a result, Sony TVs even with ordinary FALD without miniLEDs provide high quality image.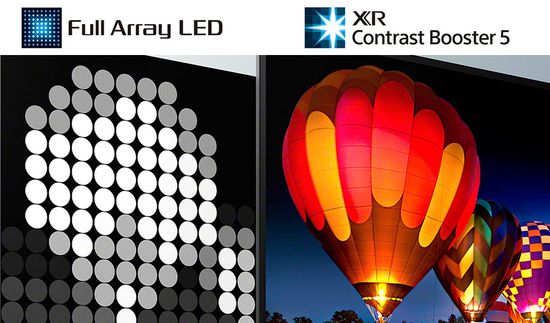 98-inches Samsung QN90A vs 100-inches Sony X92
The smart platform is another significant difference. Like TCL, Sony works with Google TV, Samsung uses Tizen OS. Of course, each of them has fans. But objectively, Google TV is much more promising. The triumphal march of this platform has already reached this year's TCL and Hisense TVs. Otherwise, the models are very similar.
Their functionality and specs are almost identical. Both TVs use 10bit 120Hz VA panels with QFHD (Quad Full High Definition) or 4K resolution (3,840 x 2,160), and quantum dot technology (Sony Triluminos and Samsung QLED). As known, this technology expands the color gamut, increases brightness and improves color accuracy by improving the quality of white backlight.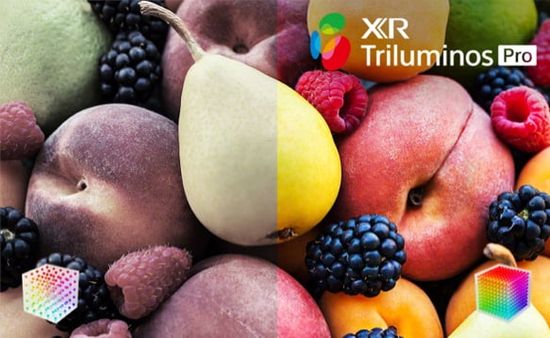 The performance of 4K Sony Cognitive Processor XR and Samsung Neo Quantum Processor is about the same.
List of supported HDR formats includes HDR10, HLG Dolby and Dolby Vision (Sony) / HDR10+ (Samsung).
Sony has 10W bass reflex and 10W x-balanced (non-circular diaphragm) speaker vs 4.2.2 CH, 60W in Samsung.
Of course, both companies use the latest versions of their technologies, including:
Colors
Sony – XR Triluminos Pro + XR Smoothing + Super Bit Mapping 4K HDR (processing an 8 bit source into a 14 bit equivalent, creating smoother color gradations).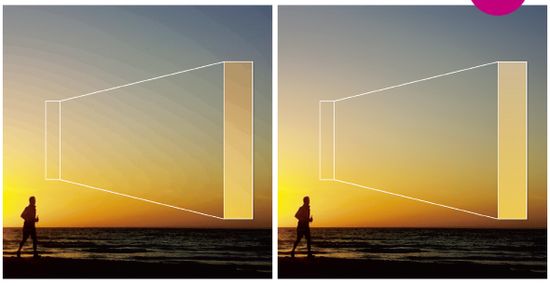 Samsung – Quantum HDR 32x (HDR support + quantum dot display).
Contrast
Sony – Dynamic Contrast Enhancer + XR Contrast Booster 5 + XR HDR Remaster;
Samsung – Ultimate UHD Dimming + Auto Depth Enhancer (auto contrast adjustment for a greater sense of depth) + Contrast Enhancer + Quantum Matrix technology (ultra-precise brightness control to display fine details).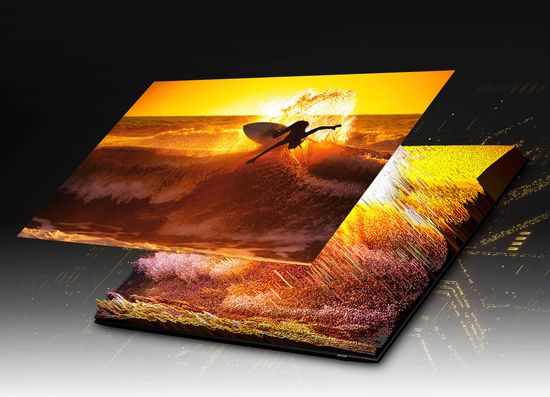 Sony also supports Dual Database Processing (noise reduction + resolution increase).
Conclusion
For completeness, we can recall the announced 98-inch Xiaomi Redmi TV Max 4K (2020). Its announced launch price was only 20,000 yuan ($ 3,095) for the Chinese market or 215,000 INR for India ($ 2,860). Today, some sellers offer orders for this model for $ 6,000 and up, but it's not available in the US, Europe, or even on the company's website.
Some aspects:
– a comfortable viewing distance on a huge screen starts from about 15 ft (5 meters). At a short distance, the viewer will just get tired of turning his head in different directions. But the dimensions of most living rooms hardly meet these requirements;
– modern 4K UST laser 'living room' projectors are significantly cheaper. For example, a launch price of new Hisense PX1-Pro and L5G Laser TVs does not exceed $ 4,000, and LG HU715Q and JMGO U2 cost $ 3,000 only.
Their triple-laser design (TriChroma technology) provides color covering 107% of the BT.2020 color space. They are already a great replacement for TV when watching SDR content via cable or satellite TV, but are inferior when playing HDR content due to lower brightness (100-150 nits for 100-inch projection). For comparison, the brightness of even mid-budget TVs starts at 400 nits. As a result, their HDR picture is paler and dimmer. But HDR content is currently only available through Disney Plus, Netflix, or on 4K Blu-ray;
– excluding the $ 8,000 98-inch TCL 98R754 4K, the 100-inch Samsung QN90A and Sony X92 offer the best value for money in the segment of huge LCD TVs.
This video showcases the huge 98-inch TCL 98R754 4K QLED TV, which is 'only' $ 8,000.