Of course, the high-performance technologies is one of the main pros of TVs from innovation leaders, and Sony is no exception. Today, the company uses several dozen innovations and technologies. But many of them perform identical functions, in fact, being different versions of the same technology. Finally, they differ for OLED and LED panels, Full Array Local Dimming (FALD) with conventional LEDs and FALD with miniLED backlit, etc. As a result, this diversity sometimes causes confusion. This simplistic 'glossary' can be helpful in correctly evaluating their value when choosing a model.
Introduction
Of course, Sony A95K 4K with hybrid QD-OLED panel by Samsung Display was the main innovation of the Japanese giant.
In a nutshell, it uses an additional layer of blue organic LEDs as backlight for a layer of 'quantum dots' which, under its influence, re-emit green and red. But the developers have not yet disclosed the technological features of the innovative panel. For example, additional blue OLED stacks can reduce color uniformity, and partial 'leakage' of blue through a quantum filter can reduce contrast. Probably, the developers have successfully solved these problems, but the final answer is possible only after the appearance of these models on the market. What's more, since even the starting price is still unknown. However, it's easy to predict that it will compete with Samsung QS95B 4K, which also uses a similar panel.
Other technologies have already passed the test of time and proved their efficiency.
Conventionally, all technologies can be classified according to several criteria, including Color, Contrast, Sound, Viewing Angle, Enhanced Entertainment and supported connections.
Versions for current models:
– Color (LED TVs) – Triluminos / Triluminos PRO / XR Triluminos Pro;
– Contrast – Dynamic Contrast Enhancer (LED) / Pixel Contrast Booster, XR OLED Contrast or XR OLED Contrast Pro (OLED) / XR Contrast Booster 5,10 or 15 (FALD) / X-tended Dynamic Range (FALD);
– Resolution;
– Sound – Acoustic Surface-Audio+ (OLED) / Acoustic Multi-Audio;
– Viewing Angle – OLED Viewing Angle (OLED) / X-Wide Angle X-Anti Reflection (LED);
– Enhanced Entertainment – Dolby Vision / Atmos, IMAX Enhanced, Netflix Calibrated Mode;
– HDMI 2.1 features (4K@120) – eARC / ALLM / VRR.
Cognitive Processor XR and Triluminos Display
Of course, the Sony Cognitive Processor XR can be positioned as one of the company's major innovations over the past few years. Almost all of Sony's AI technologies are based on this component. In fact, it became the next-gen of object-based X1 Ultimate, which was presented at CES 2018. This technology already supported the analysis of each element in the frame, increasing the detail of individual objects.
Cognitive processor algorithms copy the cognitive features of the human brain, which analyzes both picture and sound, focusing attention on individual objects. For example, using the image depth, algorithm highlights the people in the frame from the general background.
Technically, the image engine divides the screen into hundreds of zones, recognizes separate objects in each of them and selects the focal points, similar to the brain.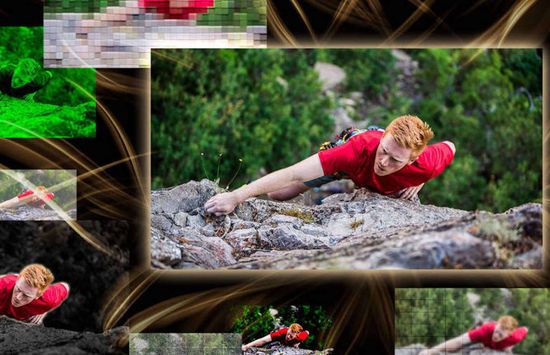 Triluminos Display uses quantum dot technology and is the backbone of Sony LED LCD TVs range. It works in the following way. The light output from the blue LEDs passes through the microparticle layer ('quantum dots') on an additional matrix. Their size corresponds to the wavelengths of green and red. The partially transmitted blue is combined with the overreflected red and green. Their combination forms a high quality white that is used as a backlight for the RGB layer. The improved quality of white backlit expands the color gamut, increases the brightness and color accuracy.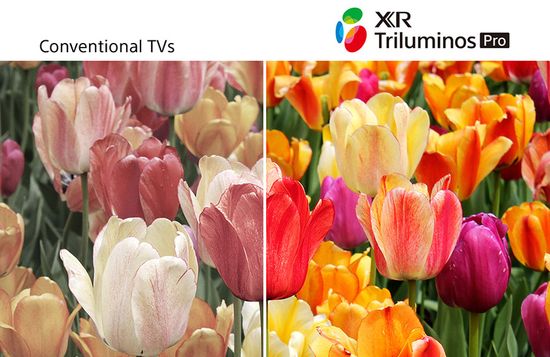 For series with this technology, Samsung, LG and Hisense use QLED, NanoCell and ULED names, respectively.
Contrast & Motion Clarity
With a controller, Pixel Contrast Booster increases the contrast of an OLED panel throughout the color spectrum.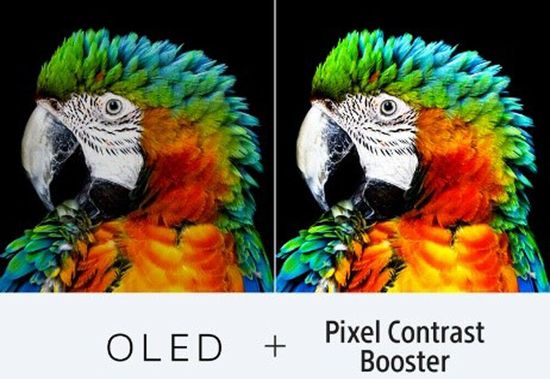 The algorithm analyzes each frame and optimizes signal processing using feedback from the panel. The XR OLED Contrast Pro performs a similar task using a temperature sensor for precisely brightness control.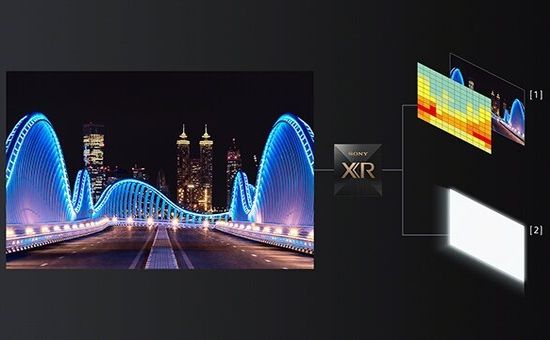 In LED TVs, Sony uses a similar XR Contrast Booster technology. By adjusting the light distribution on the screen with FALD, this technology darkens some areas while brightening others, providing depth and detail with deep blacks and high peak brightness.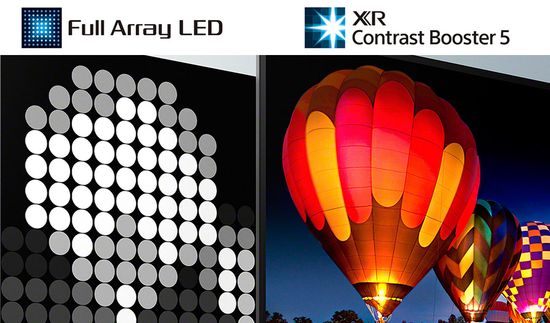 Dynamic Contrast Enhancer optimizes the brightness range depending screen content. In fact, the algorithm makes the bright parts brighter and the dark parts darker, boosting the contrast accordingly.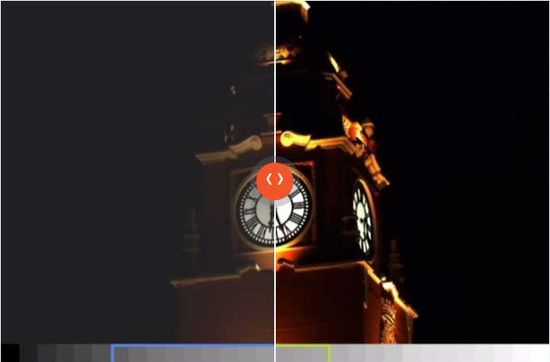 In fact, X-tended Dynamic Range PRO technology is miniLED backlit control algorithm in Sony TVs. Together with the high performance Cognitive Processor XR, it provides real-time very precise control for huge number of local dimming zones, displaying even tiny bright objects without flare or halos.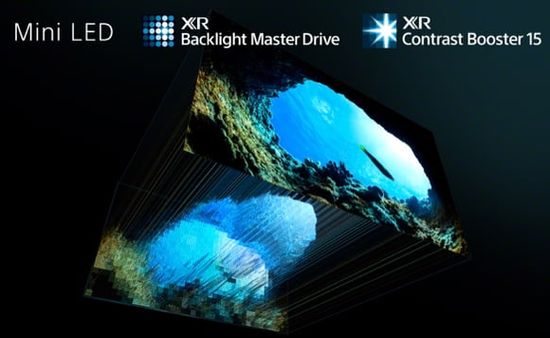 Object-based XR HDR Remaster algorithm detects each object on screen, analyzes its color and optimizes contrast. It enhances the depth and texture of an object image by optimizing contrast based on its color saturation, etc.

XR Motion Clarity provides intelligent motion processing for fast-moving, blur-free sports and action-packed movies. As known, fast moving objects leave a pixel trail on the screen (image retention), reducing image clarity. By adjusting the pixel brightness, the backlight control algorithm darkens these areas while keeping the rest of the image bright and clear.
Resolution, Audio & Viewing Angles
Dual Database Processing simultaneously uses two databases, one of which reduces the noise level, and the second – increases the resolution. In fact, reference sample images are used to both clean and upscale textures through comparison.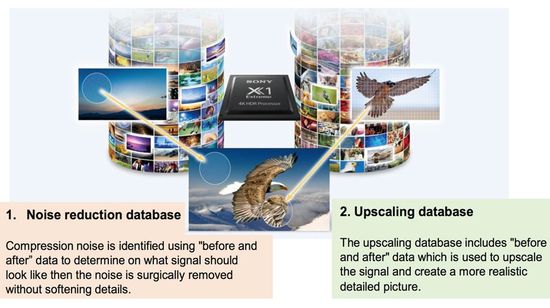 The high performance of the Sony XR 4K Upscaling is due to the huge database that the Cognitive Processor XR uses to recreate lost textures and detail.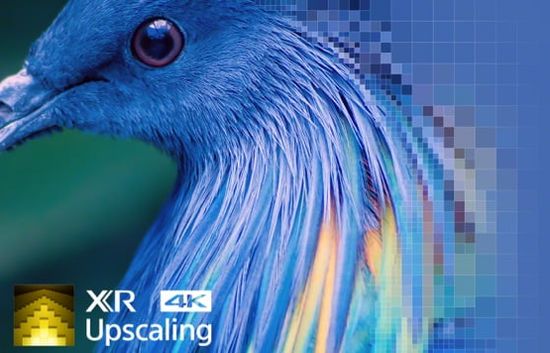 Like other Sony's object-based technologies with Cognitive Processor XR, XR Super Resolution enhances resolution very effectively by intelligently recognizing and analyzing every object in the frame.
Acoustic Surface Audio+ technology uses the display surface as a speaker. Three power drives on the rear panel create sound vibrations that propagate into the viewing area.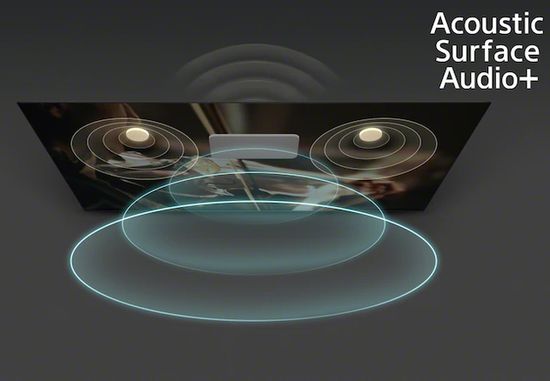 Two subwoofers for low frequencies are directed in different directions. Moreover, when playing a video, the sound moves across the screen following its source.
Acoustic Multi-Audio technology use two additional tweeters on the sides of the TV.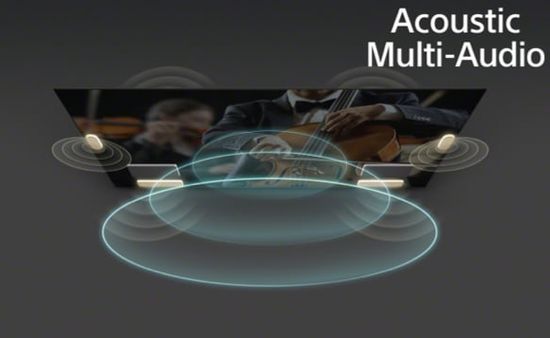 They increase the immersive effect by expand the soundstage.
3D Surround Upscaling technology creates a 3D audio scene.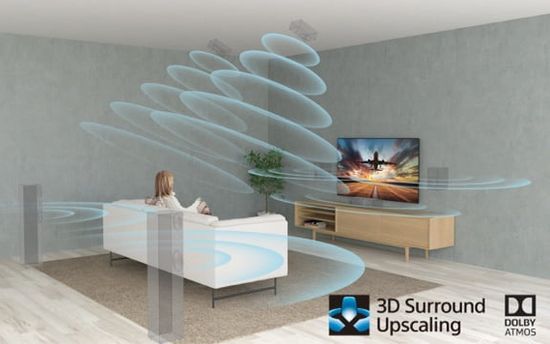 Audio Return Channel (ARC) connects TV and audio system with a single HDMI cable. HDMI ARC was introduced in 2009, and next-gen HDMI eARC (Enhanced ARC) replaced it in 2017 along with the HDMI 2.1 specification. eARC increases the supported bitrate from 1Mbps to 37Mbps and provides audio streaming up to 192kHz, including 24-bit audio, uncompressed 5.1- and 7.1-channel formats, and uncompressed 32-channel audio.
X-Wide Angle technology is based on an optical system design that reduces colors distortion when deviated from the screen's perpendicular axis, providing a wider viewing angle. X-Anti Reflection technology reduces glare by suppressing light from the sun and lamps.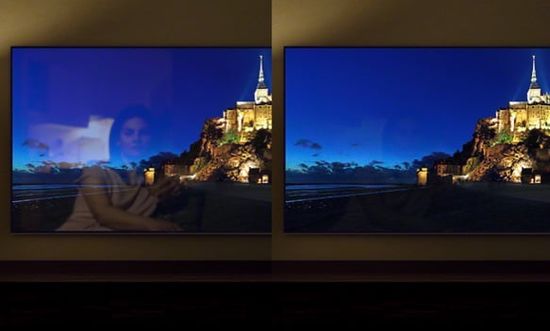 Entertainment and some features
Sony Bravia XR TVs have new Bravia Core app with the latest Sony Pictures Entertainment (SPE) titles and the largest IMAX Enhanced collection. What's more, the Pure Stream technology supports streaming up to 80 Mbps, providing near 4K UHD Blu-ray equivalent quality.
IMAX Enhanced is a certification program developed by IMAX Corporation and DTS. The IMAX Enhanced Ecosystem includes certified devices, content and elevated streaming. Its support in TV guarantees the maximum quality of certified content playback.
Netflix Calibrated Mode was announced in July 2018, and is launched in Sony AF9 and ZF9 TVs. It's analog of popular Filmmaker Mode, which automatically disables post-processing features (motion smoothing, sharpening and noise reduction) to preserve the original director's intent. In addition, Netflix Calibrated Mode switches color temperature to one of the warmer settings. Simplistically, it can be positioned as narrowed Filmmaker Mode for the Netflix service.
Similar to Dolby Vision IQ, Ambient Sensor (light sensor) in Sony LCD TVs is designed to adjust screen brightness depending on ambient light.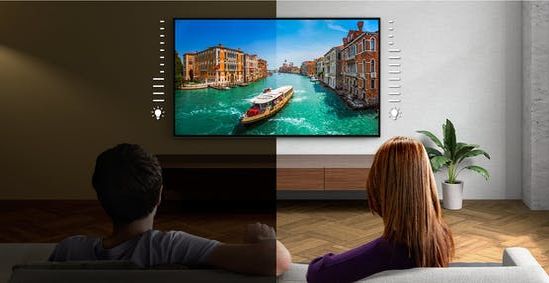 Bravia Sync function for 'Control for HDMI' option when using HDMI CEC (Consumer Electronics Control) mode provides communication with devices that support Bravia sync technology. In fact, Bravia Sync allows the user to control Sony's entire entertainment system with a single TV remote.
Bravia CAM in new Sony TVs visually recognizes the viewer position, and automatically adjusts the image brightness and balance of the left and right channels of the audio system.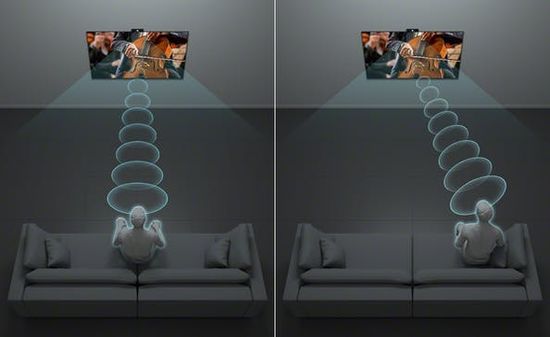 Other
Variable refresh rate (VRR) minimizes or eliminates screen tearing with synchronization of graphical output to the refresh rate of TV that supports HDMI 2.1.
ALLM (Auto Low Latency Mode) switches TV to low latency game mode when it detects gameplay.
Alexa and Google Assistant support voice control. Apple HomeKit is a software Apple's framework for iOS-devices connections. Built-in Chromecast and Apple AirPlay provide wireless media streaming between devices.
Google TV offers over 700,000+ movies and TV episodes and live TV, including content from Netflix, Amazon Prime Video, Disney+, YouTube, the Apple TV app, and many more.
HFR (High Frame Rate) supports content that uses a frame rate faster than the cinema standard of 24 fps.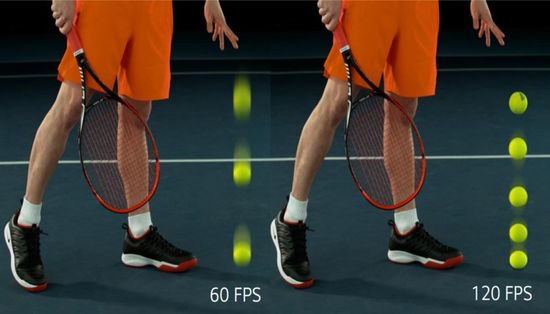 CalMAN auto-calibration software (AutoCal) adjusts settings for color accurate image. This process involves only pressing the "Auto Calibration" button on a few pages (Luminance, Grayscale, and Colorspace), but it requires Calman Compatible Pattern Generator that is connected over DDC (Display Data Channel).
Detailed setup instructions are available online. Given the calibration cost, which today ranges from $ 250 to $ 400, this option is a nice bonus. Unfortunately, prices even for budget generators start at $400, and it's unlikely stored in the nightstand of the average TV owner.
A multi-position stand offers a standard option, narrow option for smaller shelves and option for sound system placement.
Conclusion
Of course, the innovations range directly depends on the model price. As a rule, flagship series support the full set. Further, it narrows as the price decreases.
But their share in the model price is reduced over time. Quantum dot technology illustrates this trend well. Initially, Sony Triluminos, Samsung QLED, LG NanoCell and Hisense ULED lineups started as flagship series with high launch prices. But today, companies often use this technology even for mid-budget LCD series. Probably miniLED backlight will evolve similarly. For example, the price of last year's great Samsung Neo QLED QN900A 8K with this technology has already dropped from $ 4,500 to $ 2,700 ($ 3,000 on the company's website) for the 65-inch model. As a result, today it's included in many top lists.
Marketing prospects of Sony A95K 4K with hybrid QD-OLED panel by Samsung Display are not yet known. In contrast to the vague prospects of this technology, Google TV platform shows a triumphal procession. Today, in addition to Sony models, it's already actively used in the new TCL TVs and Hisense TVs.
This video showcases the Bravia Core app in the new Sony Bravia XR TVs.