Long gone are the days when many were skeptical about the products of Chinese companies, considering their quality and reliability not high enough. In recent years, the products of Chinese giants have successfully competed in almost all segments of consumer electronics, including smartphones, robotic vacuums, TVs, etc, and Hisense is one of the leaders in this list.
Today company designs, manufactures and sells its products under the brands Hisense (TVs, smartphones, washers, refrigerators, freezers, air conditioners), Gorenje (kitchen appliances), Kelon (air conditioners), Toshiba (TVs)and Ronshen (refrigerators). But despite the wide range, the company has achieved the greatest success in the segment of multimedia devices.
Hisense range
Today this list includes:
– Hisense 'Laser TVs'.
Probably, this is a slightly pretentious name with an obvious marketing component may cause a skeptical smile from a physicist. In fact, 'Laser TV' is a fairly powerful laser UST (ultra short throw) projector with a built-in TV tuner. However, any projector with a tuner can be positioned as a TV with a screen outside the case. But, to be fair, Epson, BenQ, Optoma and other leaders in this segment prefer to position their similar models as UST projectors.
– Hisense 75U9DG (2021) with innovative Dual Cell technology. The price of the 75-inch model today is $ 3,500. While the company is silent on the further development of this technology, but in any case, the elegance of this idea is an aesthetic pleasure. Developers use an additional monochromatic matrix, each pixel of which works as a primitive local dimming zone in miniLED backlit;
– great LCD ULED TVs.
For example, Hisense U8G ULED 4K series became one of the bestsellers last year in the mid-budget segment.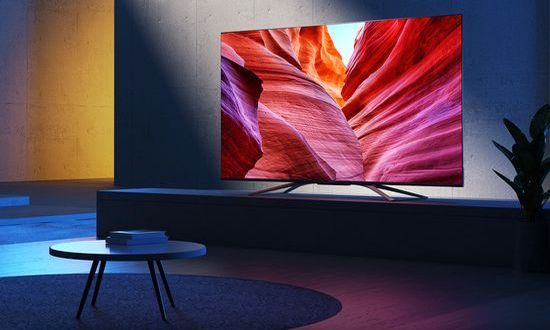 Today it costs $ 1,250 for a 65-inch version;
Like TCL TVs, new Hisense models with miniLED backlit use the Google TV smart platform, which is rapidly growing in popularity. Perhaps the new platform will continue to supplant the Hisense Vidaa U OS.
The lineup of premium Hisense TVs has expanded with 76-inch Hisense U9H 8K TV, and U8H 4K series, which includes 55-, 65- and 75-inch models. In fact, U8H has become an improved version of the popular U8G 4K 2021 series.
Hisense U9H 8K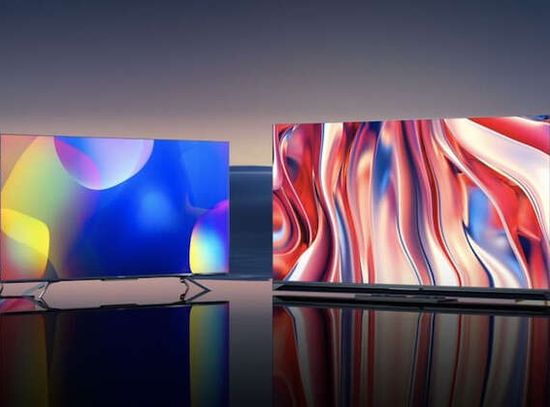 New models use all premium technologies, including Quantum Dot Color (quantum dot technology), miniLED backlit and 120Hz refresh rate.
The U9H with 10-bit VA panel provides up to 2,000 nits of peak brightness, and its miniLED backlit has 1,280 local dimming zones. This corresponds to the screen size and should provide excellent contrast. For comparison, the 65-inch model of Samsung QN90A increases the contrast from 3,510: 1 (native contrast) to 26,534: 1 (contrast with local dimming) using only 792 dimming zones.
But the processor performance should be sufficient to control a large number of local dimming zones. Otherwise, the image may 'freeze' intermittently.
Of course, the claimed peak brightness of up to 2,000 nits is impressive. If true, U9H will be able to deliver great HDR performance. In comparison, last year's brightest Samsung Neo QNED QN90A provides 'only' 1,600-1,800 nits.
The TV supports Dolby Vision, HDR10+, IMAX Enhanced, Filmmaker Mode (no motion processing), WiSA (wireless multi-channel surround sound) and Dolby Vision IQ.
As known, this function provides brightness and contras auto-tuning for Dolby Vision content, taking into account ambient light controlled by photosensor.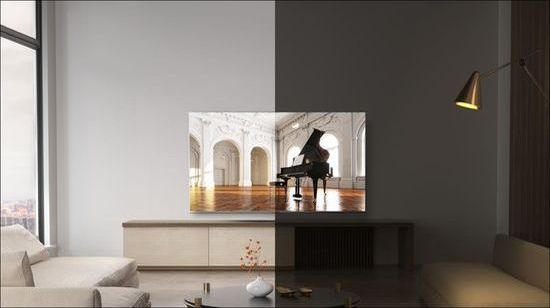 Its audio system has a 2.1.2 configuration. The HDMI 2.1 with eARC provides Dolby Atmos spatial audio. For game mode, the TV has ALLM, VRR and FreeSync functions.
New TVs have NextGen TV / ATSC 3.0 tuner:
– SD, HD and 4K (UHD) at up to 120 fps;
– HDR, Hybrid Log-Gamma (HLG) and Perceptual Quantizer (PQ);
– Dolby Vision IQ;
– MPEG-H 3D Audio and Dolby AC-4 audio profiles.
The preliminary launch price for the US is $ 3,120, which is inexpensive for a 75-inch 8K TV. The company promises its debut in August or September.
U8H and other
Hisense U8H 4K ULED will be available at the same time as U9H with a launch price of $ 1,100 for 55″ model.
Unlike the U9H, it has a peak brightness up to 1,500 nits. With the exception of resolution, other specs and functionality are similar.
Unfortunately, there is no information about the panel. But its famous 'prototype' U8G uses an VA panel with 8bit+FRC(Frame Rate Control) depth, and miniLED backlit with 360 local dimming zones for 65″ model.
The Hisense U7H 'gaming' series is the most affordable among 120Hz models. Except for miniLED backlit and Quantum Dot Color, it's almost identical to U8H, including ATSC 3.0 tuner, VVR support, etc. In addition, this series includes a huge 85-inch model.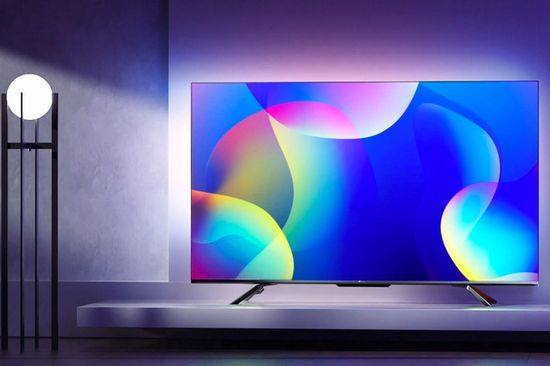 The launch price of 55″ TV is $ 800.
U6H models range in size from 50 to 75 inches, and their price starts at $ 580 for 50-inches TV. It has several premium options, including HDR10+, Dolby Atmos, Game Mode Plus, etc. But its refresh rate is 60Hz only, TV uses FALD without miniLED technology, and does not have Quantum Dot Color (quantum dot technology).
Hisense A7H and A6H series support HDR10+, Dolby Vision and eARC.
At CES 2022 Hisense also presented 65-inch 65A9H OLED TV with an approximate price of € 2,990. But the company clearly does not claim dominance in the OLED TVs segment.
Hisense Laser TVs
In addition, Hisence is predictably expanding its lineup of 'Laser TVs'. At CES 2022, the company introduced the new PX1-Pro and L5G. Together with the September's L9G, they cover almost the entire price segment of UST projectors. Some sellers sometimes call such models 'living room' projectors, positioning them as an alternative to TV.
Of course, increased demand is accompanied by fierce competition. As a result, the market offers a wide range of famous companies, including Epson, Optoma, BenQ, etc. Already this year, the list of tri-laser projectors has expanded with LG HU715Q and JMGO U2. They are priced at $ 3,000 without ALR screen. However, Hisence Laser TVs look great even in such a formidable surroundings.
Hisense models difference list
– Brightness – 2,200 Lm (PX1-Pro) vs 2,700 Lm (L5G) vs 3,000 Lm (L9G).
– Screen
The PX1-Pro comes without a screen and costs $ 3,500. The L5G and L9G have 100″ / 120″ UST ALR screens, and cost $ 3,300 / $ 4,000 and $ 4,500 / $ 5,600, respectively. In addition, PX1-Pro has Digital Lens Focus (DLF) which provides ultra-fine focus tuning on screen from 90 to 130-inches via remote.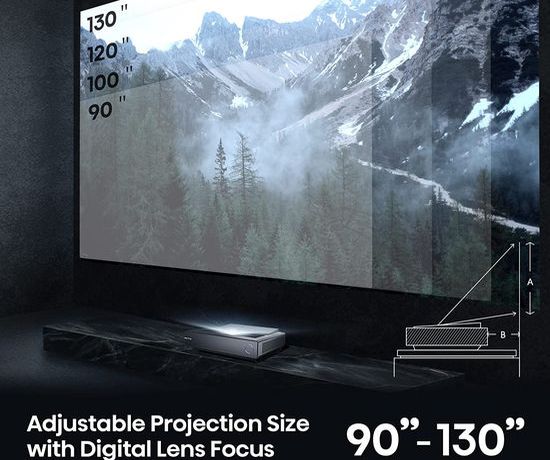 – Light engine
The PX1-Pro and L9G are triple laser DLP with TriChroma technology and provide color covering 107% of the BT.2020 color space.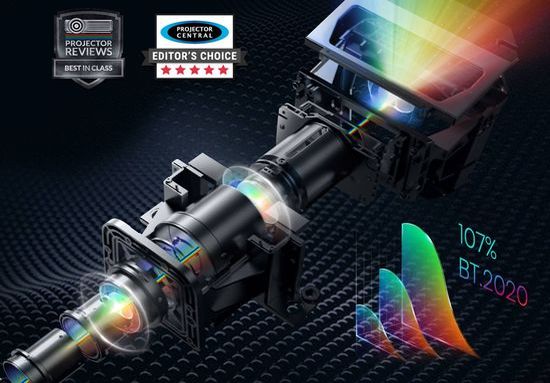 L5G use blue laser and phosphor color filter (X-Fusion laser engine) providing only 83% of the DCI-P3 color space.
Considering the screen price about $ 700, the PX1-PRO and L9G cost about the same. L9G is brighter (3,000 Lm vs 2,200 Lm), but PX1-PRO has screen size adjustment with DLF. L5G is cheaper, but without TriChroma technology provides a less vivid and saturated image (83% DCI-P3 vs 107% BT.2020).
Key features
All projectors provide 4K UHD (3,840 x 2,160) resolution, 1,000,000:1 dynamic contrast ratio, and image size over 100 inches with Throw Distance between 10 and 20 inches. They have built-in Dolby Atmos, Wi-Fi, Bluetooth, Google Assistant, eARC, Filmmaker Mode, Android TV, MEMC, ALLM, support HDR10 / HLG, Chromecast, WiSA standard, Alexa.
Specs (PX1-Pro / L5G / L9G):
– price – $ 3,500 (no screen) / $ 3,300 or $ 4,000 (100″ or 120″ screen) / $ 4,500 or $ 5,600 (100″ or 120″ screen).
The L5G and L9G come with 100 or 120-inches UST ALR (Ambient Light Rejecting) screen.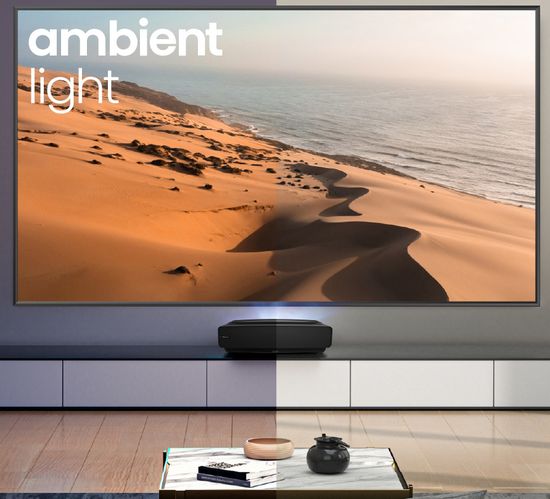 – built-in Dolby Atmos – 30W / 30W / 40W;
– image size (Throw Ratio of 0.25:1, 10.75 – 19.3 inches or 0.5 – 0.7 m Throw Distance) – 90 – 130 inches / 100 or 120 inches / 100 or 120 inches;
The PX1-Pro has Digital Lens Focus (DLF) which provides ultra-fine focus tuning on screen from 90 to 130-inches via remote.
Features:
– eARC – full resolution lossless audio signal transmission via HDMI 2.1 connector;
– Filmmaker Mode (no motion processing);
– Android TV;
– Chromecast (mirroring phone or tablet);
– ALLM (Auto Low Latency Mode);
– Smooth Motion with microsecond-level processor response;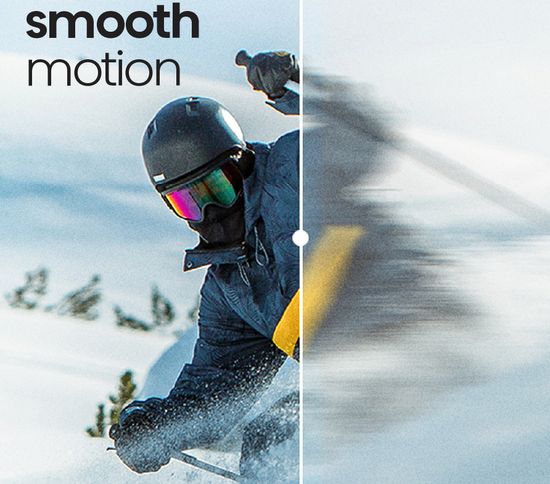 – MEMC (Motion Estimation, Motion Compensation);
– WiSA standard (wireless multi-channel surround sound);
– Alexa support, built-in Wi-Fi, Bluetooth, Google Assistant;
– HDR10 / HLG.
Conclusions
In general, the novelties of the Chinese giant are in perfect harmony with the main trends of this year, including expanding the range of Laser TVs and using the new Google TV platform in the Hisense U9H 8K / U8H 4K.
Indeed, the competition between huge TVs and laser UST projectors is increasing. Until recently, a huge screen was out of reach for TVs due to the high cost of producing large panels.. MicroLED panels based 13-inches modules up to 300″ in size and priced from $150,000 can hardly be positioned as competitors.
The price segment of huge TVs is also much higher. For example, last year's 98-inch Samsung Neo QLED QN90A costs of $ 14,500 today. The announced launch price of new 97-inch LG OLED G2 exceeds $ 25,000.
But this year, TCL made a difference by introducing the 98-inch TCL 98R754 4K costing 'only' $ 8,000. As a result, the price difference has drastically reduced.
However, Hisense responded with dignity by significantly improving image quality through the innovative triple-laser TriCroma technology. Company introduced L9G in September, and then Hisense PX1-Pro at CES 2022.
Of course, even triple-laser projectors provide less vivid and vibrant colors when playing back HDR content. But it's only available on Disney Plus, Netflix, or on 4K Blu-ray. Cable and satellite TV only offers SDR content that does not require high brightness to play.
But modern UST projectors are almost half the price of huge TVs (~$ 4,000 vs $ 8,000). Probably, huge TVs will continue to become cheaper, and projectors will continue to improve image quality to the delight of consumers.
This video showcases next-gen Hisense L9G TriCroms Laser TV.