At Berlin IFA 2015, LG introduced the first UST (ultra short throw) LG PF 1000 LED projector, had a starting price of $1,000. From a distance of only 15 inches (38 cm), it provided a projection with a diagonal of 100″, and from a distance of 4.3 inches (11 cm) – 60″.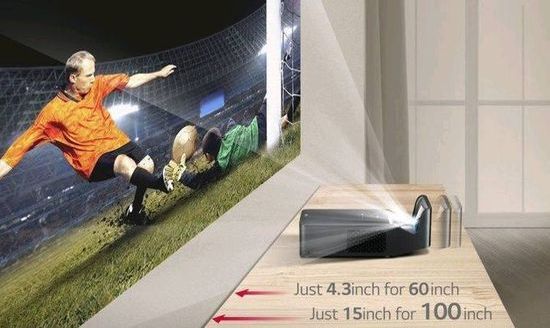 Placing the projector near the screen has eliminated the main disadvantage of Home Theater projectors, due to the complexity of their installation. Indeed, placing such a projector on a coffee table is possible only in a fairly spacious room and requires wiring power wire along the floor, which is hardly convenient. Ceiling mounting eliminates this problem, but it's quite complicated and requires the involvement of specialists.
Successful improvement of Ambient Light Rejecting (ALR) screens, powerful solid light engines based laser LEDs and Screen Mirroring technology have significantly improved image quality and solved the problem of video content.
These factors have become a great incentive for projector manufacturers. Many industry leaders, including Epson, Optoma, BenQ, Hisense, etc, have focused their efforts in a new direction, launching an era of fierce competition between projectors and TVs. As a result, today the market has formed a new segment of 'living-room' laser UST projectors, which are positioned as alternative to traditional TVs.
Chinese giant Hisense calls these models 'Laser TVs'. Of course, the name contains a marketing component. But formally, any projector with a built-in tuner can be positioned as a TV with a screen outside the case. However, Epson, Optoma and BenQ prefer to position such models as a projector.
Today, Hisense offers several laser TVs, including the 3-laser Hisense TriChroma L9G (Sept. 2021), and latest PX1-PRO and L5G (CES 2022).
LG HU715Q
Of course, the South Korean pioneer of this trend also does not waste time. This year, LG introduced the CineBeam HU715Q and 710P 4K HDR projectors.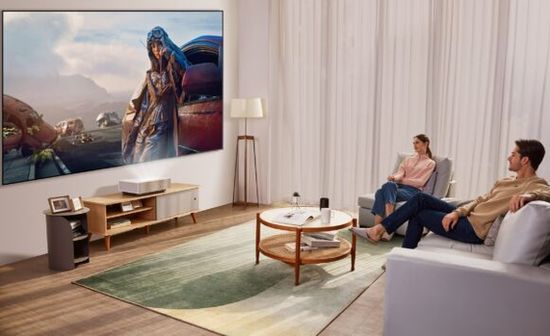 But the 710P is a mid-focal model, delivering 40 – 300 inches (102 – 763 cm) Image Size at 5.9 – 28 ft (1.8 – 8.6 m) Throw Distance with 1.30:1 – 2.08:1 Throw Ratio.
Both models have 4K (3,840 x 2,160) resolution with 2,000,000:1 dinamic contrast ratio and support HDR mode. They use LG's WebOS software, compatible with Apple's AirPlay 2 and HomeKit.
The HU710P (starting price $ 2,500) uses a hybrid laser-LED light source without color wheel at a brightness up to 2,000 lm.
The UST HU715Q provides up to 2,500 lm and costs $ 3,000. But on the company's website, its price reaches £ 3,000 (nearly $ 4,000).
The projectors are great for watching movies thanks to Dynamic Tone Mapping for dynamic metadata and Filmmaker Mode technology.
Models have three HDMI ports, including one with HDMI eARC for audio, and two USB 2.0 ports. The built-in quad woofers in the HU715Q provide 40W 2.2-channel stereo sound vs a set of 10-watt stereo speakers in the cheaper HU710P.
Pros
– high picture quality with laser 4K UHD & 8.3 Mega pixel;
– dynamic HDR tone mapping;
– built-in 20W+20W stereo;
– many picture / sound settings;
– great video processing;
– HDMI 2.1 + 2 x HDMI 2.0 (one with eARC);
– streaming;
– laser light source;
– built-in webOS 6.0;
– Game Optimizer with ALLM;
– no rainbow effect;
– LG Voice Control Services.
Cons
– input lag reaches almost 54 ms;
– no 3D;
– not very wide color gamut;
– black level and contrast are not ideal;
– no lens shift.
Key features
The HU715Q became the second LG's 4K laser UST model. It can probably be posed as a budget version of the premium tri-laser UST HU85LA , with 2,700 lm brightness that the company unveiled at CES 2019.
It provides (80″ – 120″) Image Size at (1.3 – 1.9) ft with 0.22:1 Throw Ratio.
The lifespan of 0.47-inch DMD chip varies from 20,000 to 30,000 hour lifespan.
The light engine uses blue laser + phosphor + color wheel. This design is typical of these projectors, but of course its color gamut is narrower compared to three-laser models. As known, this factor directly affects the playback quality of HDR content. According to the company, the projector covers 86% of the DCI-P3 color space, exceeding the full Rec.709 standard.
The model supports HDR10, HLG, HGiG (HDR Gaming Interest Group) and frame-by-frame tone mapping.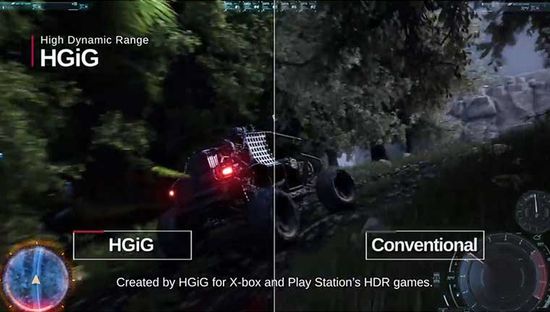 Its motorized focusing with keystone adjustment makes projection adjustment very easy.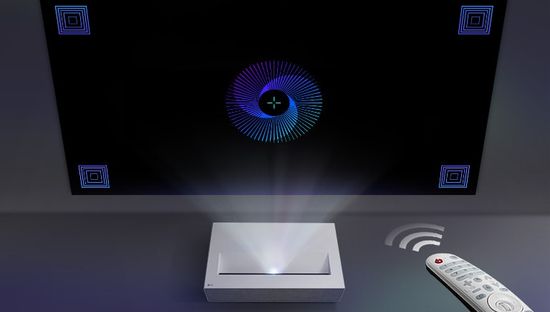 The projector comes without the UST ALR screen, which provides peak HDR performance but increases the price by about $ 1,000. However, a conventional ALR screen costing up to $ 100 is quite sufficient for a room without bright sunlight.
Model uses LG's Brightness Optimizer Ⅱ, which includes Auto Brightness and Adaptive Contrast. Depending on the image brightness and ambient lighting conditions, it adjusts the brightness mode. But in fact, the projector selects one of the preset Bright Room and Dark Room modes.
The Dark Room mode increases the contrast ratio. In fact, it dims the laser, working like iris in a bulb-based models. As a result, bright scenes look brighter while maintaining detail in dark scenes due to deep blacks. As a consequence, the function increases the image depth.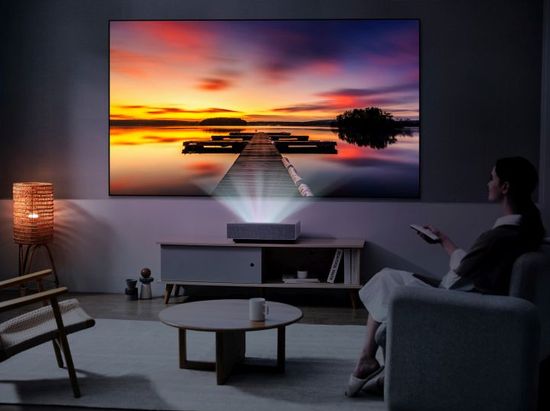 Audio, remote control and modes
Audio system uses pair of 20W 2-way stereo speakers, each including a tweeter and a woofer.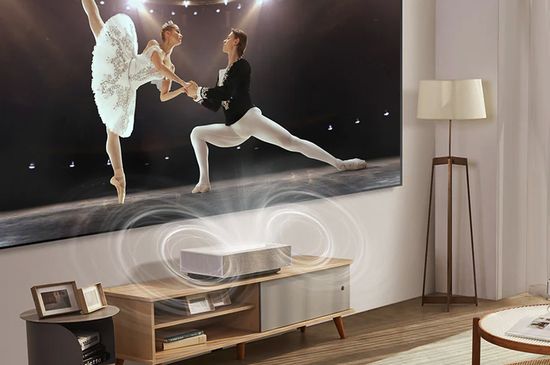 AI sound suppotrs Standard, Cinema, Clear Voice, Sports, Music and Game Optimizer modes. Moreover, the model has six discrete sound output modes, providing connection to soundbar, AVR via eARC, etc. With test tones, an auto-setup mode provides speaker setup. Wherein, the projector has a mode for sharing the built-in speakers and soundbar.
What's more, the LG 715Q is the first projector to support Bluetooth speakers for surround sound.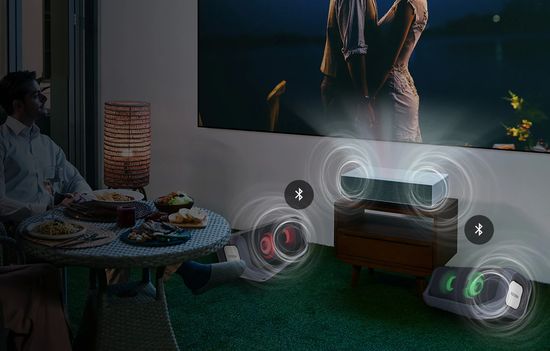 This option works great, including connection and calibration via test signal. At the same time, the projector automatically detects the audio configuration and sets the appropriate settings.
Via Bluetooth LG Magic Remote controls the webOS, including settings, streaming and apps. It has backlit and supports gesture control. Its functionality is familiar to owners of LG TVs. The remote has buttons for settings, numeric entry, source selection, voice search, gamepad with a scrolling, and direct access to Netflix, Disney+ and Amazon Prime.
For casting and screen mirroring HU715Q is equipped with MiraCast (Android / Win) and AirPlay 2 (iOS / Mac).
The projector supports true cinematic 4K resolution (4096 x 2160). But TruMotion processing in Cinematic Movement mode is only available for UHD content (3840 x 2160) and lower. As known, this mode supports 24 fps without judder.
Smooth Movement mode (motion interpolation) is intended for sports and other action-oriented video. However, manual tuning is also available. Unfortunately, it may be accompanied by artifacts.
The list of video processing functions also offers Super Resolution, Smooth Gradation and Noise Reduction, including MPEG.
Picture modes
SDR
LG's software supports a huge amount of customization, offering 2-point, 10-point, and even 22-point calibration. Of course they improve the projector's performance, but they are too complex for most users.
The Brightest mode provides almost 140 nits on the screen, but its color temperature exceeds 9,000K, producing a distinct green tint. Other picture modes offer significantly better color balance with a slight decrease in brightness.
Unfortunately, the input lag reaches almost 54 ms even in Game Optimizer picture mode. This is only enough for casual gaming.
HDR
As known, HDR mode is very difficult for most projectors. Unlike TVs or RGB triple-laser models, they do not provide ultra-bright highlights or full DCI-P3 color gamut.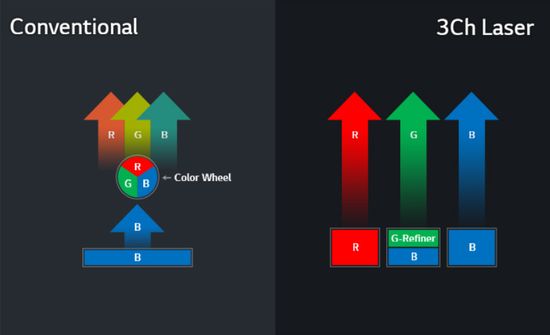 Nevertheless, the developers of LG HU715Q coped with this problem perfectly due to the high efficiency of Dynamic Tone mapping in HDR mode. In the demos, the projector even handles levels of 4,000 and 10,000 nits without clipping.
HDR Brightest mode provides almost 140 nits for highlights, but playback is accompanied by a greenish tint due to color balance shift.
Other HDR modes have less brightness but no green casts. Auto Filmmaker Mode or HDR Filmmaker Mode are optimal for any content except games. Game Optimizer reduces latency and is almost identical to the HDR Cinema mode.
Great lens and lack of rainbow effect are the pros of this projector. The company rates uniformity at 85% with a 9-point measurement and testing confirms this claim. By comparison, the optics of the premium Hisense L9G and BenQ V7050i projectors only deliver 75% / 77% uniformity, respectively.
In addition, even the most complex test patterns, such as text over a black background, show a complete lack of a rainbow effect.
Conclusion
LG CineBeam HU715Q can be positioned as mid-range 4K UST model. In a room with no daylight, picture quality for SDR content is roughly on par with a mid-budget TV.
This projector is ideal for streaming and CATV with live sports. As known, upscaling, noise reduction, sharpening, motion interpolation and dynamic contrast processing are most effective for low-bandwidth broadcast, especially with high dynamic video. With vast experience in video processing in TVs, LG makes full use of these technologies in their projectors. As a result, they often outperform similar class models from Epson, Optoma or BenQ, and the LG HU715Q is no exception.
But of course its HDR performance is inferior to TVs. Today, even mid-budget LCD TVs deliver around 1,000 nits of brightness, while OLED panels provide near-perfect contrast. It also loses RGB 3-laser projectors with Rec.2020 color gamut.
But in general, in HDR mode, the projector provides a bright and natural image without visible laser speckle and rainbow effect. In addition, the most common cable and satellite broadcasting only provide SDR content. Today, HDR content is available on select services, including Disney Plus or Netflix, and on 4K Blu-ray.
Considering its projection size, the HU715Q is quite competitive as a TV alternative and is perfect for big screen fans. But for games, it's hardly optimal due to the large input lag.
Probably, the HU715Q can be positioned as the closest competitor of the last year BenQ V7050i. It has a wider color gamut (98% versus 86% DCI-P3) but costs $ 500 more. However, JMGO U2, new Hisense L9G, PX1-Pro and L5g will also compete with this model.
This video showcases the new LG CineBeam 4K projectors HU715Q and HU710P.