Most coffee lovers are well aware of the Jura brand. This Swiss company has been in the group of industry leaders for over 30 years, successfully competing with Philips / Saeco, DeLonghi, Siemens / Bosch, etc.
Expansion of the model range has long been a necessary requirement for successful competition, and the coffee machine segment is no exception. Therefore, the companies annually expand its range of products. As a result, the market is constantly replenished with innovative models. The list of recent years, for example, includes:
– Delonghi PrimaDonna Soul with innovative Bean Adapt technology;
– Philips EP 1200 / 2200 / 3200 / 4300 / 5400 with excellent value for money;
– Saeco GranAroma with support for almost all modern technologies;
– Siemens EQ 500 and Siemens EQ 300 with legendary German reliability at an affordable price.
Of course, the Swiss don't waste time either. The company has expanded almost all of its lineups by introducing:
– Jura Z10, which is one of the most innovative models on the market today;
– Jura E6 EB and Jura E8 EB, which continued the popular E6 and E8 series.
The range of compact ENA coffee machines has not been forgotten either. Last year, the company expanded it with the Jura ENA 4 EA series. Thus, the list of the most in-demand ENA coffee makers today includes ENA 4, ENA 8, ENA Micro 5, and ENA Micro 90.
Jura ENA series
Except ENA Micro 5, all ENA coffee makers use Jura's Pulse Extract Process (P.E.P.) technology. In fact, it increases the extraction efficiency to produce the espresso.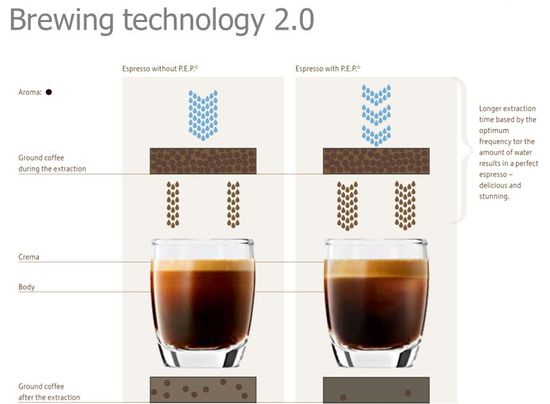 ENA 4 does not have a steam wand (for example, Panarello) or milk jug. Therefore, the list of drinks is significantly different:
– ENA 4 – 4 customizable specialty drinks;
– Micro 5 and Micro 90 – 6 programs;
– ENA 8 – 10 programs.
All ENA series require separate purchase of Jura Wi-Fi Smart Connect adapter.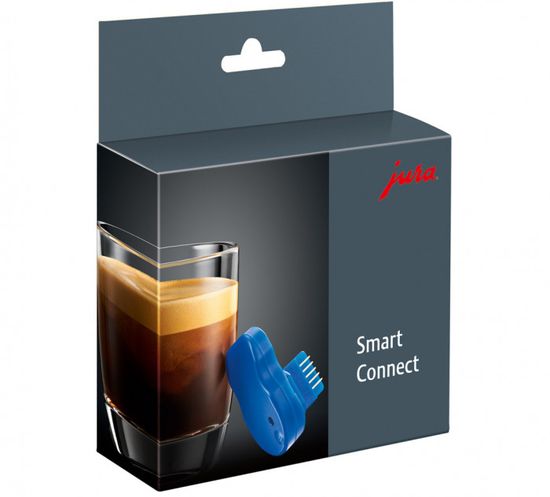 The feature works through Jura's J.O.E. app.
All ENAs use the smart CLARIS filter cartridge in water tanks.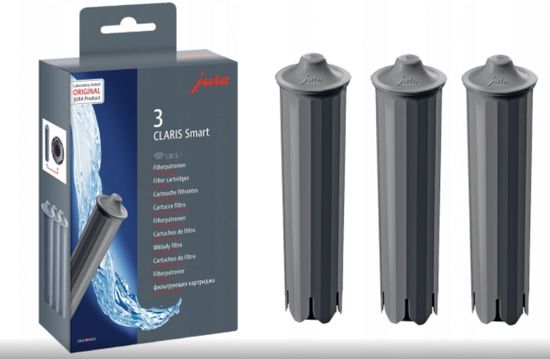 Using RFID (Radio Frequency IDentification) chips, they notify when a replacement is needed.
The ENA 8 with the built-in bypass chute can use ground coffee.
Jura's ENA Micro models are more compact. For example, ENA Micro 5 size is 9 x 18 x 13 inches only. As a result, these models have a minimalist design without full-color displays or rotary dials. Unfortunately, their functionality is also limited. In particular, their text display does not have a drink strength adjustment or programmable recipes, and the built-in Aroma Grinder+ has a single fineness setting.
The non-adjustable 30-minute auto-shutdown timer saves power but isn't always convenient.
The functionality and settings of the ENA Micro 90 are much wider. Its built-in milk system makes cappuccino and latte macchiato, and a rotary dial provides a choice of 10 coffee strength levels and two brewing temperature levels.
Jura ENA 4 EA
The dimensions (WxDxH) of the compact Jura Ena 4 are 10.6 (8.2 without a protruding water tank) x 17.3 x 12.6 inches or 27 / 21 x 44 x 32 cm. It's available in black (15344 – Full Metropolitan Black) or white (15345 – Full Nordic White).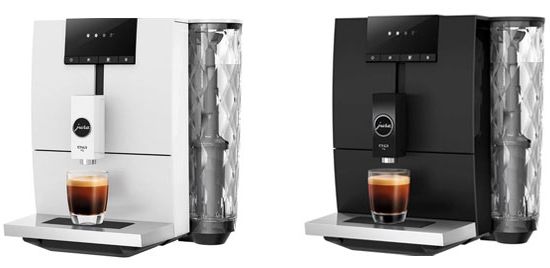 As a rule, companies avoid white in kitchen appliances because it's easily soiled. Also, the scratches on the white finish are more visible. But it's popular with many consumers. Jura is one of the few companies that offer white models.
The absence of a cappuccino maker (Panarello or a built-in milk system or milk jug) excludes even semi-automatic preparation of coffee-milk drinks. But, of course, the user can separately prepare the milk foam and add it to the espresso. Moreover, the coffee machine doesn't even have a tap for hot water supply, for example, for making Americano (espresso + water). However, hot water can be added from a kettle or cooler. Perhaps their absence can be considered a disadvantage. On the other hand, this is a compromise with compactness and price. In addition, the probability of breakage is directly proportional to the number of components.
In fact, ENA 4 EA makes Espresso and Lungo.
Espresso – factory preset is 40 ml with P.E.P. In this mode, the water pump operates in impulse mode, which, according to the company, increases the extraction efficiency. But the technology is effective only with minimal volumes of coffee (from 20 to 80 ml).
Lungo – factory preset is 100 ml without P.E.P.
Buttons for direct launch of programs with the image of a large and small cups are located under the screen.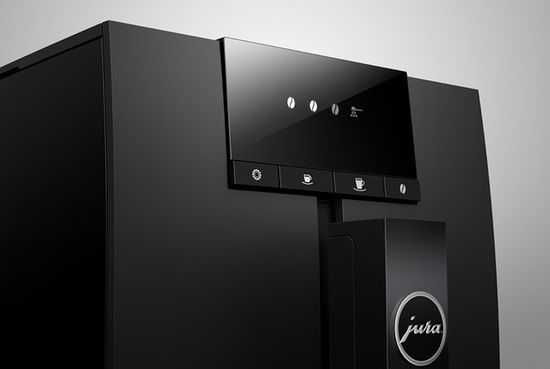 Settings
The volume is programmed within 15-240 ml using the pressing duration. This process includes pressing the corresponding button, starting to dispense coffee into the cup and stop pressing. A short press after dispensing the required amount of coffee activates saving the setting.
But in the future, the coffee machine will use P.E.P. technology only at a setting of less than 80 ml. For example, reprogramming Lungo to 60 ml will activate its preparation in intermittent mode of pump.
By default, the coffee machine uses the second coffee strength of the three available. It's adjusted using the key below the screen with the coffee bean icon. The current coffee strength is displayed on the screen using the number of glowing grains (1 / 2 / 3).
Glowing spoon on the screen means the ground coffee mode is activated. To pour ground coffee, the built-in bypass chute opens with an elegant lever.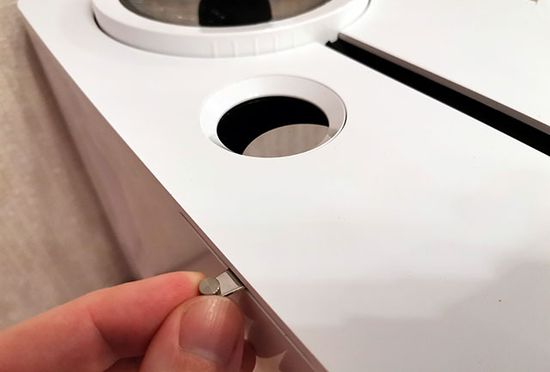 ENA 4 EA supports doppio mode (double portions). It's activated by a quick double tap on the corresponding button. In this case, the coffee machine sequentially performs two grindings the beans and two separate identical straits of water, taking into account the setting of the serving volume. But one coffee dispenser can pour both portions into only one cup.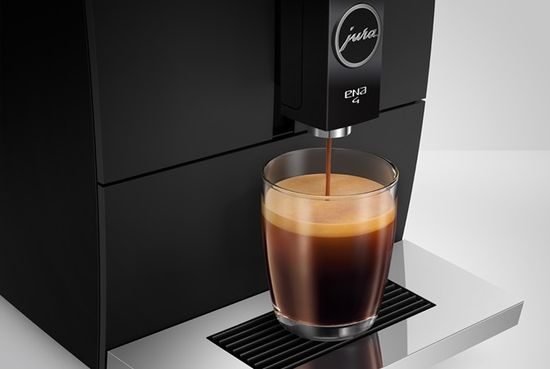 The coffee temperature setting has three levels, but it can only be adjusted via the J.O.E. app. In fact, the smartphone provides your personal user profile. Unfortunately, ENA 4 limits the list of recipes to a few variations of espresso and lungo.
The app also provides remote start a coffee program or cleaning cycle, viewing statistics and maintenance tips.
The adapter is inserted into the branded service socket on the rear wall behind the cover with the Jura logo.
Platform
As known, all Jura coffee machines use a built-in screw-type brewing unit.
This design eliminates the need for regular rinsing, but periodically requires preventive maintenance at a service center.
The ENA 4 uses a compact brewing unit that only holds 10 grams of coffee unlike full-size models, whose brewing unit holds 16 grams. Of course, the limited capacity directly affects the coffee strength. For example, an espresso with a full-size model will be about 1.5 times stronger than an ENA 4, because it uses 16 grams of ground coffee instead of 10 grams.
In principle, double portions of doppio solve this problem for lovers of strong coffee. Doppio mode with a volume of 20 ml at maximum coffee strength (3 beans on the screen) corresponds to 40 ml, made from about 20 grams of ground coffee. This roughly corresponds to a double espresso in coffee shops.
In terms of coffee flavor, ENA 4 is identical to other Jura models and close to professional carob coffee makers. It's neutral, with a full disclosure of the entire spectrum of aromas and is quite loyal to the grain variety.
The model has a stylish Jura's water tank with a capacity of 1.1 liters with diamond-shaped walls.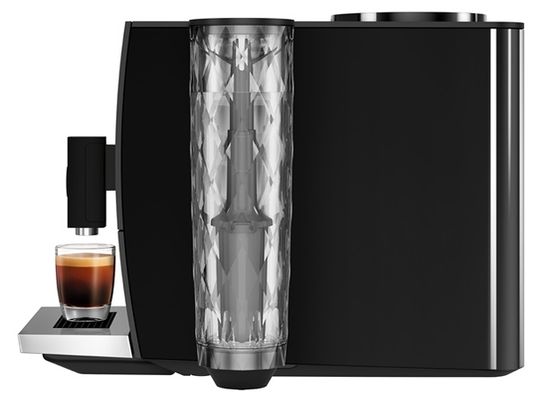 The light refraction on its walls creates a sparkling effect, but at the same time the water level is perfectly visible. The coffee pomace container is designed for 10 servings.
The model does not have a milk system and a dispenser for hot water, so the tray does not use a filling sensor. It fills up in about 10 cycles.
Grinder and control
Like the ENA 8, the ENA 4 uses the Aroma G3 high speed grinder with steel conical burrs.
The grinding selection is simple, convenient and is done by turning the protruding part of the hopper clockwise / counterclockwise. 7 stamped marks on its protruding part correspond to the grinding degree.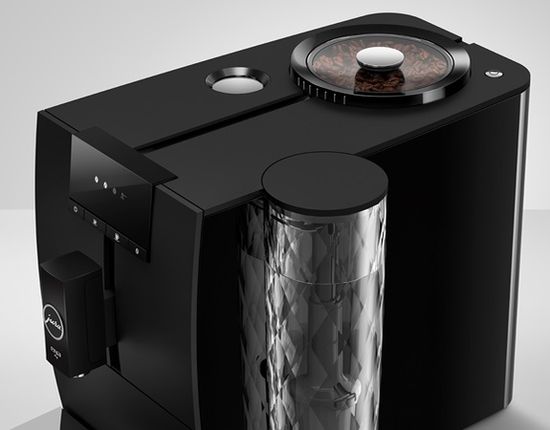 For adjustment, the desired mark is aligned with the black arrow in the central recess. But the decrease in the grinding degree (clockwise rotation) is carried out only during the grinding. The hopper holds 125 grams of coffee beans and has a transparent lid with a rubber seal for tightness.
ENA 4 is a budget Jura's model and uses a text display. But it's quite convenient and sufficient for two programs with a minimum set of settings.
The button with the gear icon opens the settings menu, which includes:
– cleaning of coffee oils using a special tablet (model comes with two tablets, frequency – 200 cycles);
– descaling (frequency depends on water hardness);
– setting one of four levels of water hardness, which is determined by the number of stained squares on the attached test strip;
– setting the automatic shutdown time – 0.5 / 1 / 2 / 4 hours;
– replacement of the water filter (one filter included).
Menu switching is cyclical, using the small / large cup keys as left' / 'right, the coffee strength icon works as a selection confirmation.
Conclusions
Pros:
– the cheapest Jura model;
– one of the most compact espresso coffee machines;
– great stylish design;
– impeccable quality;
– works with ground coffee;
– Aroma G3 high speed grinder;
– J.O.E. app with Wi-Fi Smart Connect adapter;
– available in white.
Cons:
– no cappuccino maker (Panarello or a built-in milk system or milk jug);
– only four programs (Espresso and Lungo, doppio mode);
– compact brewing unit (10 grams only);
– water tank capacity is only 1.1 liters;
– ENA 4 comes without Wi-Fi Smart Connect adapter;
– text display;
– no filling sensor.
Of course, the functionality of ENA 4 is significantly inferior to Jura ENA 8, but it's half the price ($ 900 vs $ 1,850). Almost all of its cons are typical for budget compact models. Of course, the market offers cheaper compact versions in abundance, but the Jura brand guarantees impeccable quality and service. This model is ideal for the single person who appreciates high quality, loves coffee with a rich taste, but is indifferent to trendy coffee-milk drinks.
This video shows the compact Jura ENA 4 EA coffee machine.