In recent years, projectors have shown a rapid growth in popularity in the segment of multimedia devices. This is due to objective factors, including:
– the semiconductor industry has provided developers with powerful and relatively inexpensive laser LEDs to create projectors with solid state light engine;
– successful development of screen mirroring technology fixed a content issue for projectors;
– the improvement of optics for projectors has served as a powerful impetus for the development of ultra-short throw (UST) models, which are placed almost close to the screen, eliminating the hassle of wires on the living room floor or the ceiling mounting. As a result, they even formed a segment 'living room' projectors, which are positioned as an alternative to TVs.
What's more, Chinese giant Hisense even calls its laser UST projectors with built-in TV tuner 'Laser TVs'. Perhaps it contains a marketing component. But formally, any projector with a TV tuner can be positioned as a TV with a screen outside the case. However, other industry leaders including Epson, Optoma, BenQ, etc prefer to traditionally refer to similar models as 'projectors'. Already in 2022, this market segment has expanded due to:
– Hisense PX1-Pro and L5G Laser TVs – under $ 4,000;
– LG HU715Q – $ 3,000;
– JMGO U2 – $ 3,000.
Of course, manufacturers of other types of projectors are not wasting their time either. The $ 900 new portable Samsung The Freestyle miniLED is amazing with great smart functionality.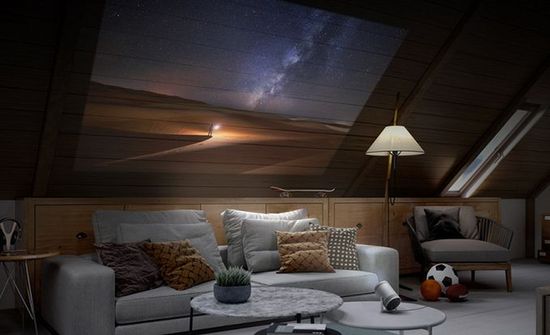 Epson also introduced a virtually new generation of mid-focus Home Cinema projectors, including LS11000 and LS12000 with impressive innovations.
Introduction
But modern 'living room' and Home Theater projectors have a twist. Of course, at a fairly high cost, their competitiveness directly depends on the image quality. In turn, it directly depends on the projector brightness and the ambient lighting. Strictly speaking, even a not very bright projector provides vivid and rich colors in a dark room. But diffused daylight can make the image faded and dull even from a bright and expensive projector. In principle, increasing the brightness solves this problem. The photo shows approximately the same image quality in daylight (3,000 lumens) and in dimming (2,000 lumens).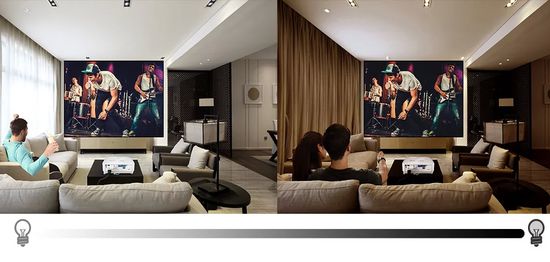 But the projector price directly depends on its brightness. At the same time, carefully darkening the living room every time the projector is turned on is a little troublesome.
Modern screens partially solve this problem by compensating for ambient light and redirecting the light flux into the viewing area. Not wanting to risk reputation in terms of promised image quality, some companies sell their projectors with a screen only. But it significantly increases the price. For example, Hisense L9G UST Laser TV with an effective 100″ / 120″ UST ALR screen costs $ 4,500 / $ 5,000. At the same time, the new Hisense PX1-PRO with almost the same specs, but without screen costs only $ 3,500.
Of course, such a decision seems controversial and significantly limits the buyer choice. For example, a customer might have a screen from a previous projector, receive it as a gift or inheritance, or win the lottery. Finally, in the case of a limited budget, he can buy the screen later, after receiving additional income. However, most companies still leave the decision to the buyer, and knowing the basic selection criteria can be helpful.
Design
A list of manufacturers is wide and includes Da-Lite, Draper, Elite Screens, Grandview, Screen Innovations, Severtson, Stewart Filmscreen, Vutec, etc. They offer traditional or ALR (ambient-light reflecting) screens. Depending on the surface structure, this screen can be ALR UST type, which are much more expensive. Despite the sharp angle of incidence, they effectively re-reflect light into the viewing area due to the slenticular ridges on its surface.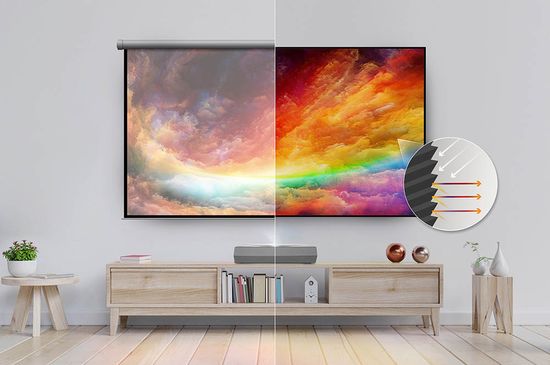 The fixed-frame screen is usually designed for walls, but can be placed on supplied stand, leaving it free to move. The first option is convenient in the living room when the projector is used as a home theater.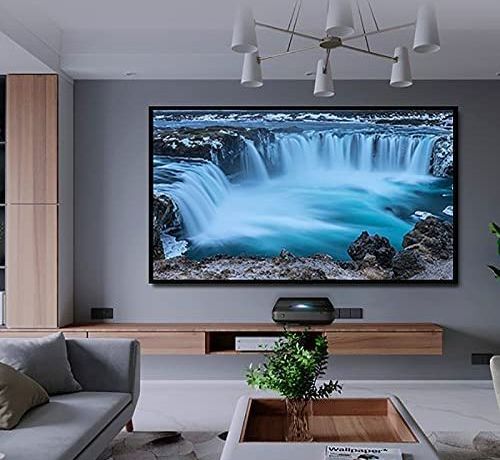 Many companies offer screens with design in the bezel-less TV style.
The stand-option is ideal for viewing outside the home, such as in the backyard.
In addition, companies offer retractable "roll up" screen mounts. They can be bolted to a wall or embedded in the ceiling. Of course, the foldability between watching is their main plus. They are either motorized or spring-tension driven. The motorized screens come with remote control or with trigger terminal for auto deployment, which is activated when the projector is turned on/off. More expensive versions have tab-tension edges to keep the screen surface flat.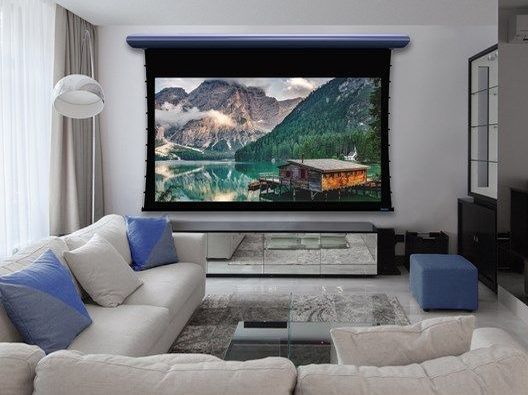 Of course, manual retractable screen is much cheaper.
The companies also offer the very popular retractable portable versions, which are ideal for the backyard or on camping trips. Typically, such a screen is placed in a spring loaded case. Sometimes it comes with a tripod stand. Ease of storage and transportation is their main plus.
Probably, the list would be incomplete without mentioning the funny inflatable projector screens. Priced at just over $100, they will at least cheer up any kid.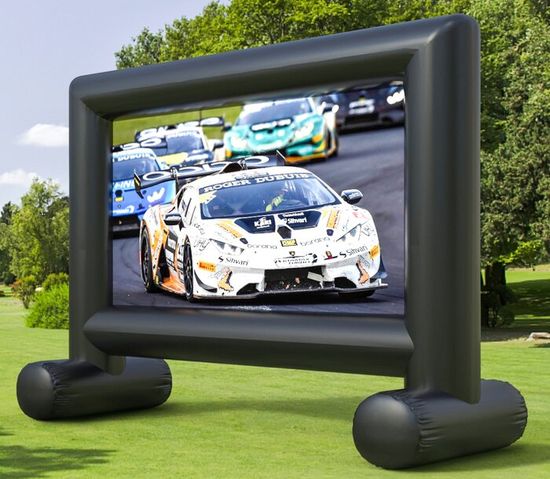 Aspect ratio
As known, today the film industry mainly uses a normal 1.85:1 widescreen and an anamorphic 2.39:1 widescreen formats. TV uses 4:3 with standard definition and 16:9 (or 1.78:1) with high definition, which is a close to 1.85:1 widescreen cinema.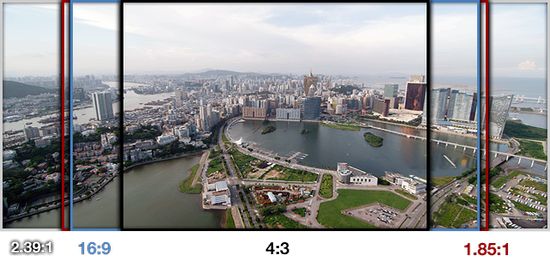 Playback when screen and content formats do not match is accompanied by black bars at the top and bottom or on the sides. For example, 16:9 content on a 4:3 screen is displayed with bars on the top and bottom, while 4:3 content on a 16:9 screen has bars on the sides.

Ideally, the screen format should match the projector's supported format. Most modern projectors have a 16:9 aspect ratio. Therefore, selecting a 16:9 screen simplifies projector installation and is optimal for most of the content.
Of course, screen with 2.4:1 or 2.35:1 aspect ratio matches widescreen theatrical movies better, but then 16:9 HDTV content will be displayed with bars on the sides.
In principle, expensive projectors with a motorized lens and a lens settings memory function support image scaling, transforming it, for example, from 16:9 to the required height. Compatibility with expensive anamorphic lens and motorized lens slide also eliminates this issue.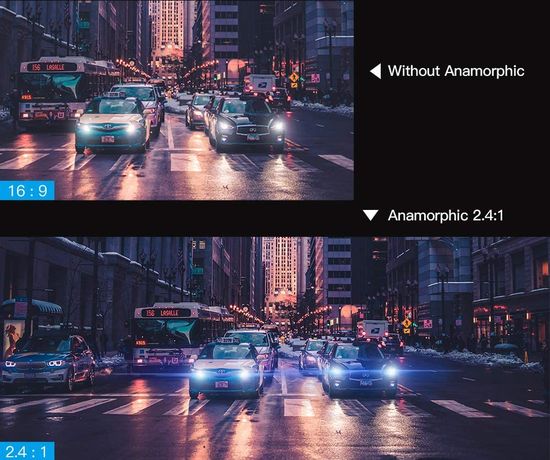 Thus, the problem is completely solvable with a sufficient budget. On the other hand, this aspect is probably only important for perfectionists or moviegoers. The vast majority stop paying attention to the bars after a few minutes.
Screen material
The color and surface structure of the material affect the image contrast, and their choice choice depends on the viewing conditions.
A traditional matte white screen is ideal for viewing in a dark room. It provides max color accuracy and preserves brightness, which is important for moderately bright projectors.
A brighter projector combined with Ambient Light Rejecting (ALR) screen are more effective for moderate ambient light levels, for example, diffused daylight in a living room or office. In this case, ALR screen with a gray contrast-enhancing surface increases the black level by reducing the white brightness.
In turn, ALR screens are subdivided into angular (specular reflective) and retro reflective. Angular screen is based on 'the angle of reflection equals the angle of incidence' optical law. The retro reflective screen directs light from the projector back to the viewers. Such screen typically uses a layer of material with microscopic triangular ridges (serriform or lenticular microstructure).
In general, modern ALR screens provide high contrast even in conditions of fairly bright ambient light, including diffused daylight.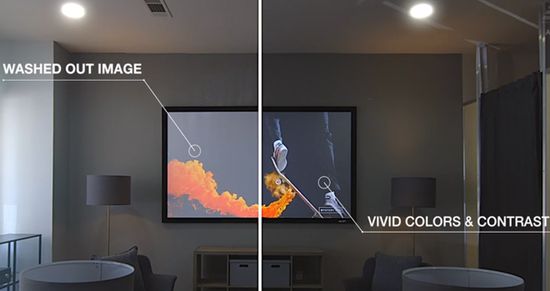 Screen gain and acoustic transparency
Screen gain is one of its main features. It characterizes the uniformity of re-reflected light in all directions and directly affects the viewing angles. For example, '1' corresponds to a uniform distribution. In this case, the brightness level of the image does not depend on the angle between the screen axis and the viewer.
Screens with high gain reflect more light back toward the viewing center.

Accordingly, viewers in front of the screen will see a max bright image, but it will be dim for viewers on the sides.
The gain of modern screens varies from 1.0 ('unity gain') to 2.5 and even higher. The choice of the optimal screen depends on the viewing conditions. For a lone videophile, a high-gain screen reduces the projector's brightness requirements by narrowing the viewing angles. But with a bright projector or in dark, they often prefer low gain screens in the 1.0 to 1.3 range, which provides a more uniform picture. Moreover, high-gain screens with narrow viewing angles are not suitable for viewing in a large cheerful company at a barbecue.
Screen acoustic transparency allows the user to place the audio system behind the screen without compromising sound quality. This property is achieved through micro-perforations or a special material weave. Unfortunately, sometimes they cause artifacts or reduce detail in the sound. Usually, these factors depend on the quality, which, in turn, depends on the price. As a rule, expensive high-quality screens from well-known brands work with little or no reduction in video / audio quality.
Screen size
Choosing the optimal screen size depends on the room size, as well as resolution and brightness of the projector. Many manufacturers indicate monstrous sizes in the specs, but companies are sometimes cunning. In fact, those indicators characterize only the capabilities of the projector's optics without regard to image quality. An increase in the projection area is always accompanied by a decrease in the illumination of each pixel and in the image detail.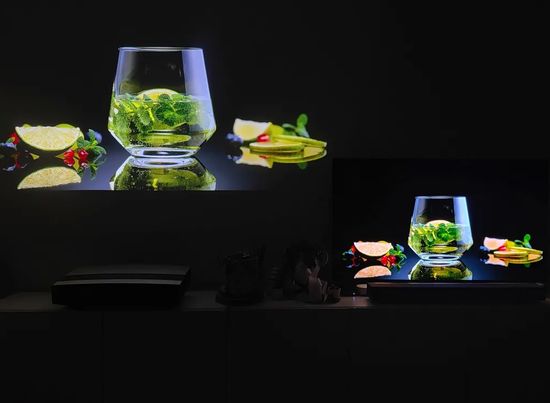 Actually, the viewer always must choose the best compromise between image quality and image size. Of course, a huge, but faded and dim image loses out compared to the bright and rich colors of a contrast smaller image.
For example, projector smartphones actually disappeared from the market due to the low brightness and resolution, which only maintained acceptable quality on a screen up to 30″. The new Hisense PX1-Pro, L5G, LG HU715Q and JMGO U2 4K UST laser projectors costing between $ 3,000 and $ 4,000 come with 100″ or 120″ screens. Perhaps their optics allow the projector to generate a large projection. But manufacturers don't want to risk their reputation on poor image quality on a huge screen.
Indeed, very expensive 4K (8K pixel-shifted) projectors, whose brightness usually exceeds 3000 lumens support high image quality on screens of 150″ and more. But they require an impressive movie theater. In an ordinary living room, at a distance of several meters, the neck will quickly get tired of turning the viewer's head in different directions, following the actions on a 200″ screen.
Thus, the large screen is ideal for an expensive bright high-resolution projector in a spacious room. A screen up to 150″ is more suitable for a typical living room and mid-budget projector.
Conclusion
To a certain extent, the projector screen is somewhat similar to the remote control for TV. Of course, you can do without these accessories, but their absence will significantly reduces usability. But, of course, the screen choice significantly depends on the projector type.
For example, paying $ 3,000-$ 5,000 for a Home Theater or UST 'living room' projector, a consumer can expect a vivid and rich picture. In this case, even a significant surcharge for an efficient ALR (or UST ALR for UST projectors) screen is quite adequate.
Not very expensive high-gain screen will perfectly complement a cheap mini LED outdoor projector with relatively low brightness. In this segment, the market today offers the popular Vankyo и Apeman, mid-budget TopVision projectors, budget AuKing, Jinhoo and QKK models.
An inexpensive portable motorized screen would be appropriate for a compact projector on a camping trip.
This video demonstrates the ALR screen performance vs white wall.