Up until 10 years ago, projectors were mainly used as the main component of a home media center. These expensive, powerful models provided good contrast, high brightness and resolution. They used powerful mercury lamps as a light source. Unfortunately, they require intensive cooling due to the high temperature. As a result, the operation of lamp projectors is accompanied by the noise of a powerful fan. In addition, they are large in size for efficient heat dissipation. Finally, lamp life rarely exceeds 5,000-7,000 hours. Of course, modern technology has allowed developers to successfully solve many problems. For example, modern lamp projectors use efficient cooling systems with relatively low noise levels, and lamp prices have dropped to several tens of dollars. Therefore, the Home Theater projectors continues to develop successfully.
Today many modern Home Theater projectors use powerful LED or lasers instead of traditional lamps. Modern market offers many excellent but expensive 4K HDR 3LCD Epson, DLP BenQ, Optoma, ViewSonic, etc.
But in parallel with expensive Home Theater projectors, many companies developed the direction of budget mini, pocket and pico projectors. At the first stage, low price and miniature size ensured their high popularity. Unfortunately, modest brightness, low resolution and poor contrast have become an insurmountable obstacle to their use in Home Theater.
The rise in the quality of component parts for projectors and the decline in their prices have radically changed the situation. In a short time, companies have filled the market with a huge number of budget LED mini projectors with high specs, including the super popular Vivimage C480, Vankyo Leisure 3, AZEUS RD-822, Apeman LC550, etc.
Moreover, besides a sharp increase in their quality, the rapid growth in the popularity of budget single-matrix LED projectors is due to the rapid development of in screen mirroring technologies, including Miracast (Windows friendly), Chromecast (Google friendly) and AnyCast (Wi-Fi). They effectively solved the problem of easy projector access to video content.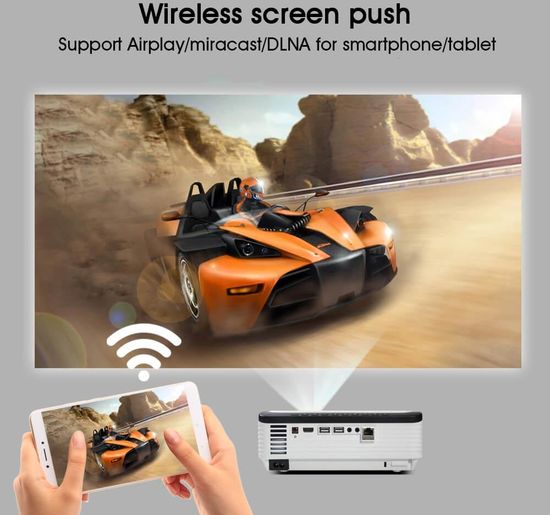 As a result, today a combination of smartphone and budget LED projector allow the user to create a very inexpensive media center with relatively acceptable quality.
But advertising is often disingenuous, showing colorful 200-inch pictures in high resolution. Of course, modern optics allows a projector to create a huge image. But its quality will be very low due to dull colors. The brightness, resolution and contrast of modern budget LED projectors are sufficient for high-quality projection on a screen from 60 to 100 inches diagonally with good dimming. But given the simplified access to content, even these capabilities are sufficient to compete successfully with traditional TVs.
This year, the bestseller list has expanded with the excellent AuKing, Jinhoo, TopVision, etc LED projectors. Of course, Artlii and QKK projectors are also among the leaders of this long list.
Artlii-Mini 2020 version
As known, Artlii is a trademark of China's Beijing CKSP Science and Technology Co, LTD. Under this brand, the company sells data cables, headphones, headsets, and USB cables, etc. But projectors are its main product.
The company designs, manufactures and markets virtually all types of projectors, including movie projectors, video gaming projectors, home projectors and home theater projectors. In addition, the company produces very popular portable mini and pico projectors.
Its lineup includes the premium Venus-Artlii pico DLP projector (4K supported) for $ 370 and budget Artlii – mini for about $ 50. In a few years, its sales have exceeded 350,000 projectors.
Today, many experts include Artlii projectors in their top lists, and some models take their rightful place among the bestsellers.
This year the company presented a new version of the very popular Artlii-Mini projector, which was first introduced in 2016.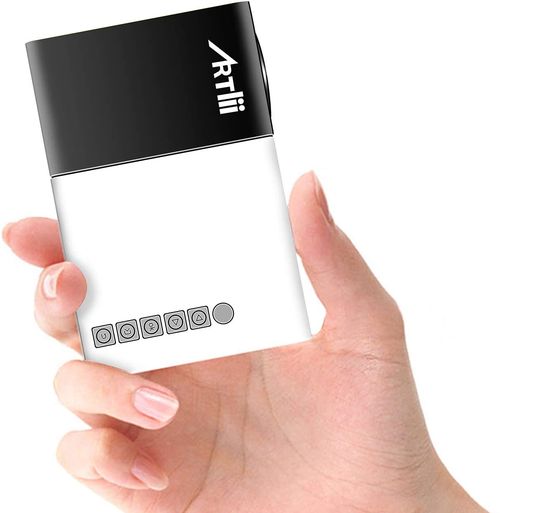 This pocket model weighs less than 9 oz (250g) and is only 5 x 3.4 x 1.9 inches. At the same time, the projector provides brightness of 600 Lm and projector screen size up to 60 inches with projection distance from 3.3 to 12.5 ft (1-3.8 m).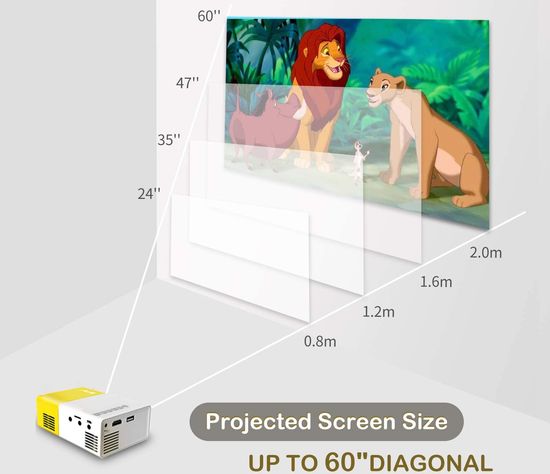 In addition, its contrast ratio reaches 800: 1. At a native resolution of 320 x 240p, the model can receive 1080p content.
The ability to charge from a power bank significantly expands the capabilities of the model, especially during traveling.
HDMI, USB, Micro SD Card, Audio and AV interface provide connection to Chromecast, Tablet, Ipad, Laptop, Macbook, Blu-ray Player, DVD, etc.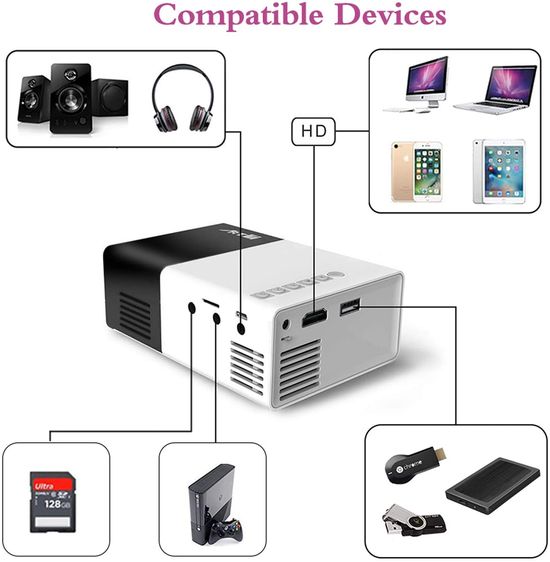 But connection for iPhone / Ipad requires Lightning to HDMI adapter cable or a HDMI WiFi display adapter. Android devices require a MHL cable. In addition, the model supports Chromecast.
QKK Outdoor Movies mini projectors
China's QKK LCD mini projectors have been successfully competing in the market for over 5 years. In 2017, the company introduced a very successful QK01. In 2019, the lineup was replenished with QK02 and QK03. Almost all of the models are on the bestseller list. This year the company presented modernized versions under the previous names. Sellers call them, for example, "QK03, 2020 Latest Upgrade". Like other companies, QKK is improving its projectors mainly by increasing brightness and native resolution, and expanding Connectivity Technology. The latest model is sold under the name QKK AK-81. However, it has no fundamental differences from its predecessors.
In fact, all models have the same design and similar main specs.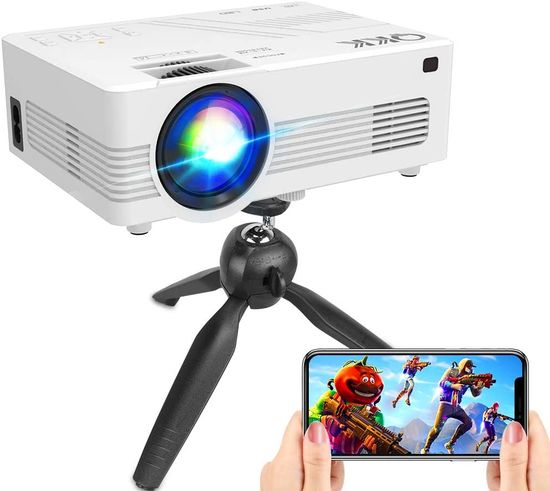 In particular, they have 720p native resolution (Full HD 1080p supported), manual focus and keystone correction, built-in speaker, 50,000 hour LED lamp life, use a 5-layer LCD display with minimal eye fatigue and a German WTS 2.0 cooling system with a fan noise of only 45.3 dB. Their max projection size is up to 170 inches with projection distances up to 16.4 ft or 5 m, but 100 inches at 10 ft provides optimal image quality.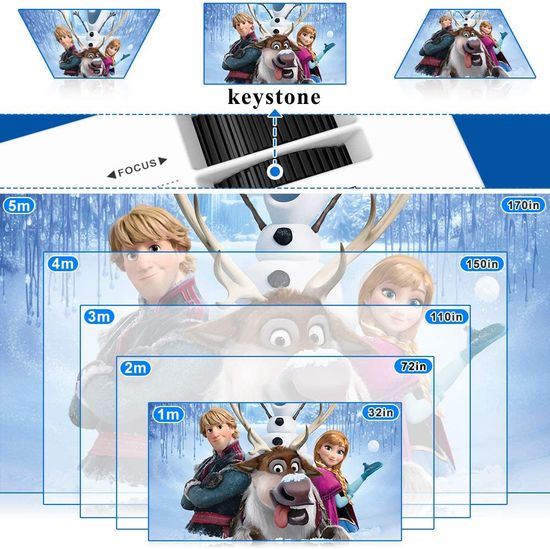 Unfortunately, specs from different sellers contain different brightness, including 2200 lumens, 2800 ANSI lumens, 4500 lux, 3600 lumens and even 4500 lumens. This confusion is due to the lack of a unified method for calculating brightness. As a result, companies today use ANSI lm, LED lm, Lm, CLO (Epson) and Lux (many Chinese companies). But the lumens characterizes the projector luminous flux, and Lux refers to the screen illumination. Simplified, 1 ANSI lumen provides 1 lux on a 1 m² screen. Accordingly, 1 ANSI lm = 1 lux for 57″ or 3.2 lux for 100″.
In addition, the perceived brightness of an image depends on the native resolution, projection technology, and screen size. In reality, QKK projectors provide around 2,500 lm, which is a lot for a mini LED projector. This brightness provides reasonably good image quality on screens up to 100 inches, but viewing requires dimming.
The list of the main differences includes:
– QK03 has a contrast ratio of 3,800: 1 vs 2,000: 1 for QK01 and QK02;
– QK02 comes with 100 "screen, but QK01 and QK03 have a tripod;
– QK01 has double USB port;
– QK03 supports WiFi connection.
The price difference for models varies widely depending on the seller. But on average, QK01 costs about $ 90, QK02 – $ 150 (maybe because of the screen), QK03 – $ 130 (higher contrast and great set of connections).
Its connectivity really matches many of the premium models. Android Connection Plate provides phone connection by WiFi and USB Cable. The connection is done in a few simple steps.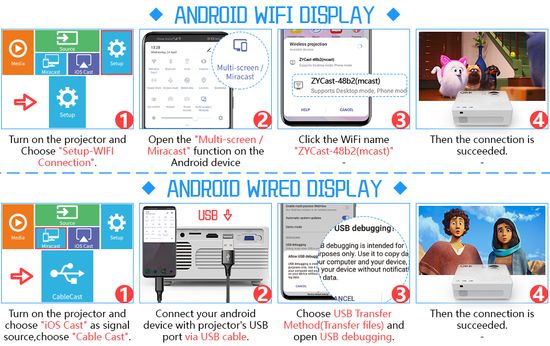 This projector uses AV / USB / SD / HDMI / VGA / Headphone plug for connection of media players, including PCs, Macs, video games like PS3 / Xbox, blue-ray DVD player, TV stick, Roku stick and etc.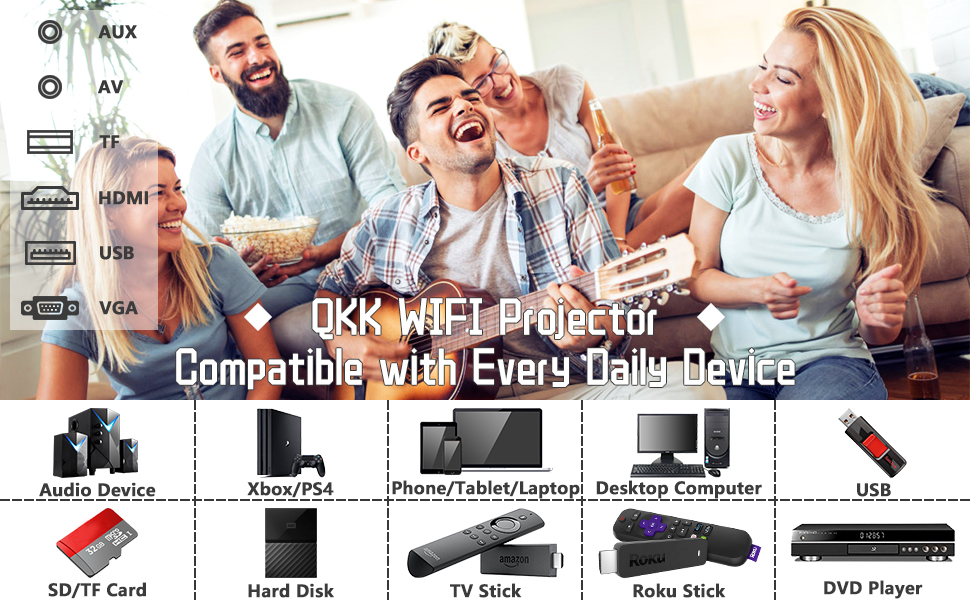 The latest $ 100 QKK AK-81 mini projector is a worthy addition to the lineup.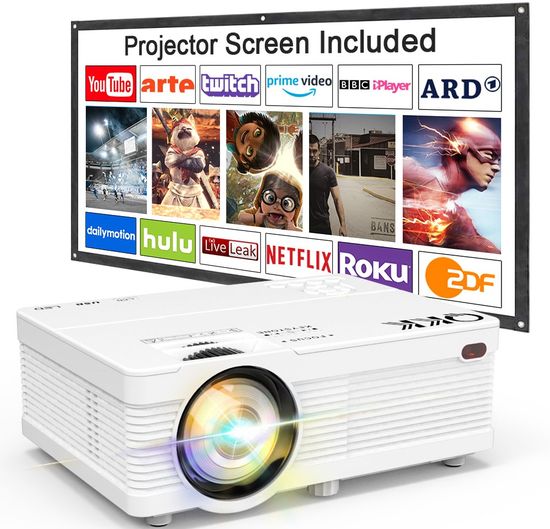 It comes with screen, uses the new LED light source and newest LCD 5.0 technology, which prevents the dark areas on the screen edges. According to the company, it enhances 80% Color Brightness and White Brightness. Of course, the 6,000 Lm (maybe, 6,000 Lux is correct) in the specs of some sellers are questionable, but the QKK AK-81 is indeed brighter than its predecessors.
It also has 720p native resolution (Full HD 1080p supported), a 50,000 hours LED lamp life, contrast ratio of 2,000:1, quiet cooling system, built-in dual speakers and ±15° Keystone Correction. Its optics provide a projection screen of over 200″, but high image quality is available on screens up to 100″.
The built-in HDMI, VGA, AV, USB x2, Headphone port & SD card slot, and included AV & HDMI cable provide connection to TV Stick / Box, PS3 / PS4, X-Box One or Wii, PCs, Smartphones, Tablets, Laptops, DVD player, SD card and USB Sticks. Unfortunately, it doesn't support WiFi connection. But anyway, today its specs are among the best in the under $ 100 projector segment.
Conclusion
The Artlii-Mini 2020 version and QKK AK-81 have successfully joined this year's excellent budget LED mini projectors. The super compact $ 50 Artlii is ideal for travel, while the QKK AK-81 with 720p native resolution, 6,000 Lux brightness, 2,000: 1 contrast ratio and great set of connections for $ 100 is fine for budget Home Cinema.
This video presents the latest version of the 2020 of Artlii-mini projector.