Until a few years ago, the prospects for budget single-matrix LED projectors seemed dim and uncertain. Indeed, their modest specs, including low brightness, low contrast and low resolution, did not deliver acceptable image quality even when completely dimmed on a relatively small screen.
What's more, several years ago, several companies introduced innovative smartphones with a built-in projector. Many experts predicted the complete displacement of budget projectors from the market by projector phones. But reality has made adjustments. The high price with the average quality became an insurmountable obstacle for this direction. As a result, today projector phones segment is practically not developing.
At the same time, the rapid growth in the quality of projector components and the decline in their prices have changed the situation. The growth of projectors quality provoked demand and the companies responded adequately to this trend. As a result, the market quickly filled with budget projectors with great specs, including Vivimage C480, Vankyo Leisure 3, AZEUS RD-822, Apeman LC550, etc.
What's more, rapid advances in screen mirroring technologies, including Miracast (Windows friendly), Chromecast (Google friendly) and AnyCast (Wi-Fi), have further enhanced the capabilities of projectors by solving the problem of easy access to content.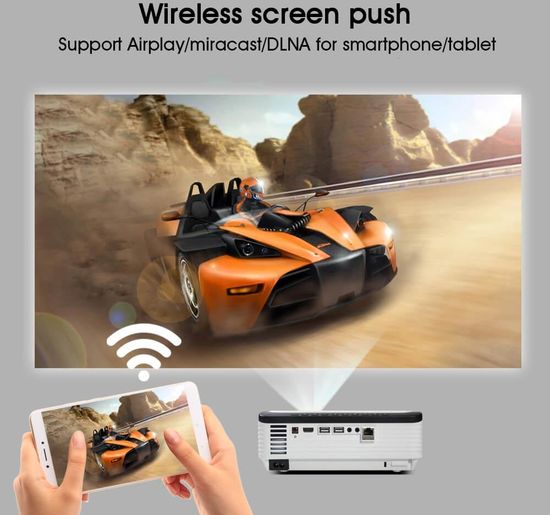 As a result, today a budget LED projector and a smartphone allow the consumer to create an inexpensive media center of a sufficiently high quality. Of course, a single matrix LED projector is unlikely to deliver high quality on a 100 "screen, but it's quite competitive compared to a 55" TV. At the same time, its price varies around $ 100.
Today the market offers a wide variety of LED models, including Artlii-Mini, QKK, Vankyo, AuKing, Jinhoo, etc projectors. TopVision brand is one of the leaders on this list.
TopVision mini LED projectors
The popular TopVision projectors are designed and manufactured by the TopVision LLC, Alhambra, CA, US. This company was founded in 2016. Over the years, it was able to create a series of excellent projectors, many of which have become bestsellers. In fact, today TopVision LLC is one of the few American companies that successfully competes with Chinese manufacturers in the segment of budget mini LED projectors. In addition to projectors, the company successfully develops, manufactures and markets other consumer electronics, including laminators and soundbars for TVs. But projectors are its main product.
Today the TopVision projectors range includes:
– TopVision Mini Outdoor Movie Projector with Screen Mirroring (T21) – $ 90, September 3, 2018;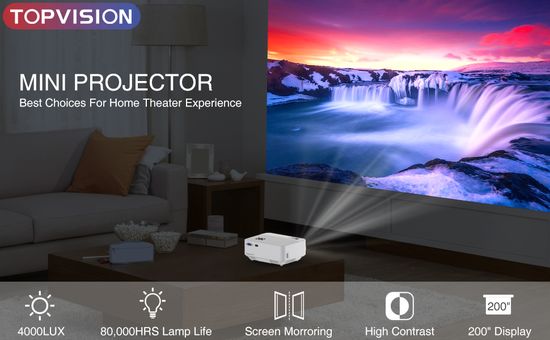 – TopVision mini Home Projector for Indoor/Outdoor (T23)- $ 80, January 24, 2019.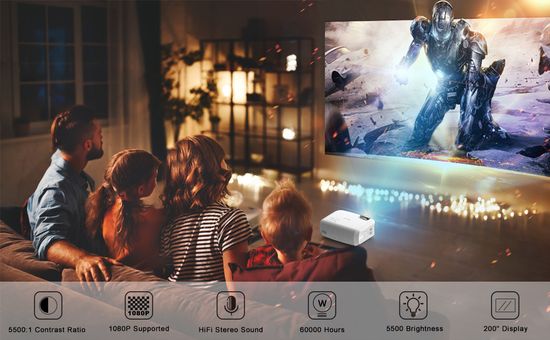 – TopVision Projector Native 1080p (T26 ) – $ 180, July 17, 2019.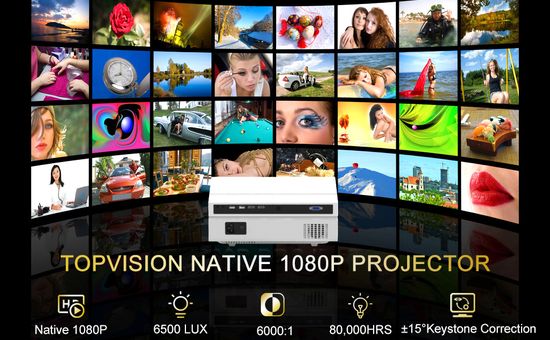 – TopVision Video Projector with Screen (T6) – $ 100, 100 inch projector screen included, January 10, 2020.
– TopVision Wi-Fi Projector (T25) – $ 120, August 13, 2020.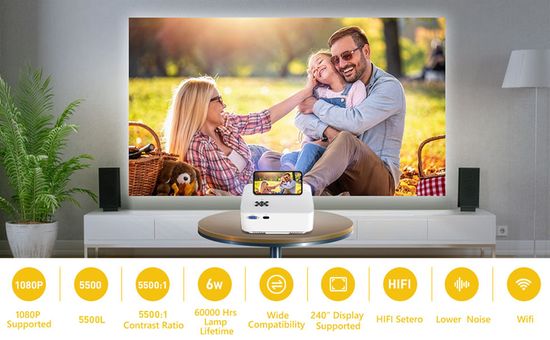 – TopVision Movie Video Projector 4500L with Synchronize Smart Phone Screen (TYY0010) – $ 90, (August 20, 2020).
Unfortunately, the Item Model Number of the latest model is only known in this form. It's used by some sellers in Europe.
In fact, the company managed to create a series of projectors in the same price segment with different key features, providing consumers with the choice of the optimal model, taking into account individual preferences.
Main specs
Except for the most expensive $ 180 T 26 projector, the basic specs of all models are very close. In fact, the TopVision T 26 matches the mid-budget segment, delivering native resolution of Full HD 1080p (1920 x 1080), greet 6000: 1 contrast ratio and Brightness of 6500 Lux. As known, image quality mainly depends on these specs.
Specs of other models vary in a relatively narrow range, including:
– native resolution – WVGA, 800 x 480 (T21 and TYY0010) or HD ready 1280 x 720 (others);
– contrast ratio – 3000: 1 (T21 and TYY0010) or 3500: 1 (others);
– LED brightness – 4000 and 4500 Lux (T21 and TYY0010) or 5500 (others).
In fact, the TYY0010 2020 with Synchronize Smart Phone Screen can be positioned as an improved version of the 2018 TopVision T21 with increased brightness.
The connectivity of the models is also significantly different. According to this criterion, they can be conditionally divided into several groups:
– T 25 WiFi projector;
– T21 and TYY0010 with Synchronize Smart Phone Screen;
– traditional wired connection only.
Other specs of all models are almost identical:
– almost identical design.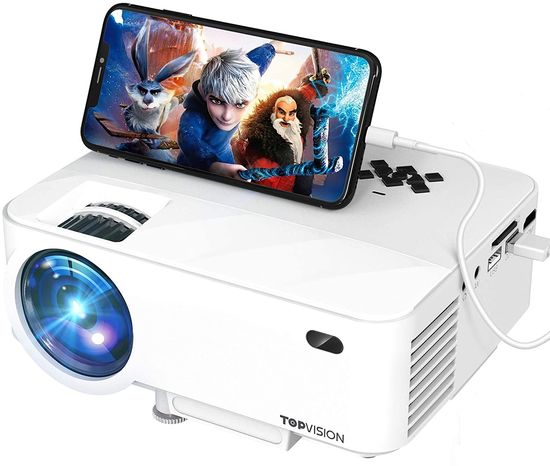 – manual focus and Keystone Correction ± 15° vertical.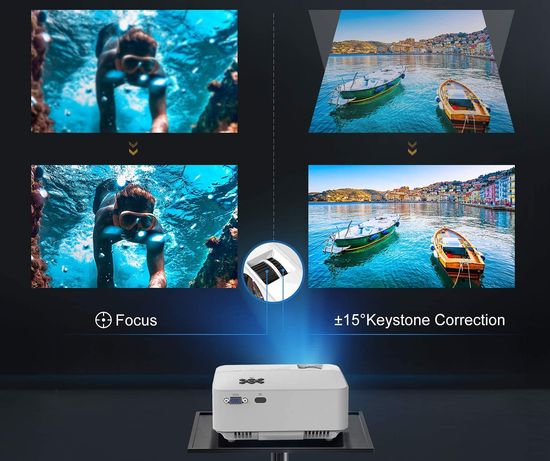 – 1080p support;
– great built-in 3W dual stereo Hi-Fi.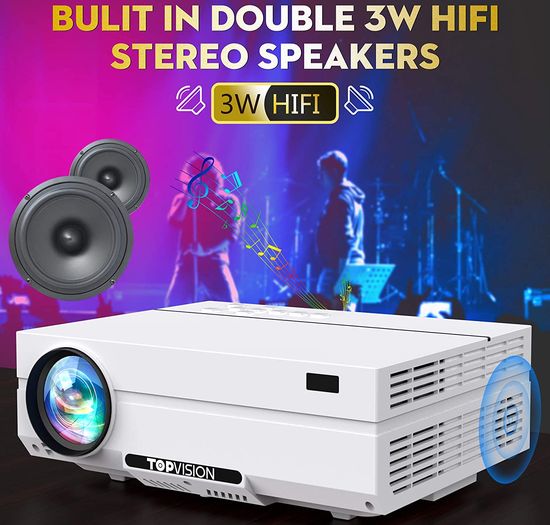 – quiet dual fan with noise to 40.2dB;
– dual HDMI port (T23 and T25 have one HDMI port only);
– Connectivity Technology USB, HDMI and VGA;
– except TopVision T25 projector with WiFi, do not support Bluetooth, WiFi and Dolby Digital.
Projection Display and LED Lamp Life
The Projection Display ranges from 72″-170″ and more for some models with the projection distance from 6.8 ft.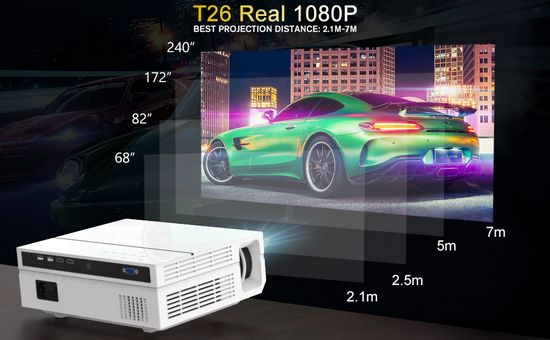 Sure, this size is impressive, but it's partly marketing. The capabilities of modern optics allow developers to increase screen sizes to enormous sizes. But increasing the screen diagonal drastically reduces the image quality, increasing the requirements for brightness, contrast and resolution. Therefore, company recommends projection size no more than 100″. Of course, full dimming will increase it, but only slightly. High clarity, contrast and color saturation on a large screen requires the use of expensive projectors, including 3LCD Epson, DLP BenQ, Optoma, ViewSonic, etc. Budget single-matrix LED projectors can provide acceptable screen quality up to 100″ with good dimming.
LED Lamp Life reaches of 60,000-80,000 hour. Of course, this lifespan is also impressive, especially considering the 5,000-6,000 hours for traditional lamp projectors. But its consumer value is questionable. The service life extension became meaningless after 35,000 hours. Indeed, all modern digital smart electronics becomes obsolete after a few years. But even LED lifespan of 35,000 hour corresponds to about 35 years of daily use (about 3 hours a day).
Of course, the use of high quality optics and reliable LEDs characterizes the company positively, testifying to its commitment to excellence. But maybe it's slightly redundant in this case. However, other companies use similar marketing tactics.
Connectivity features
In fact, a modern projector is designed to relay media on a large screen, and access to the content is a prerequisite for its effective use. Therefore, in recent years, all companies have paid great attention to this aspect. TopVision projectors are no exception. Conventionally, all models can be divided into three groups.
The T6, T23 and T26 models use a full range of traditional connectors including HDMI, USB, AV, VGA, SD card slot, audio out 3.5mm mini jack.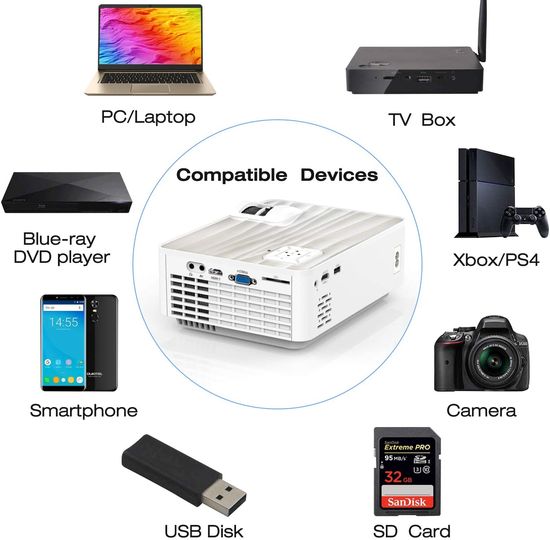 All of them support Chromecast, Fire TV Stick and Roku. But connecting to external devices requires Mini Display Port to HDMI adapter (for Mac Book Air), Micro USB / Type C to HDMI adapter (for Android) and Lightning to HDMI adapter (for iPhone). Unfortunately their are not included.
Latest upgraded TopVision TYY0010 with Synchronize Smart Phone Screen is compatible with iOS and Android devices via USB Data Connection without HDMI Cable.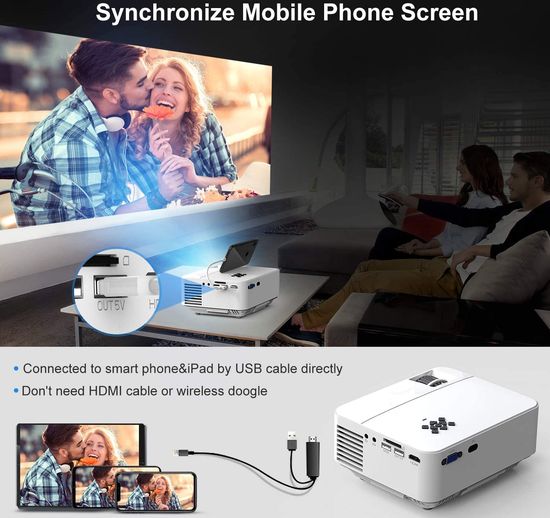 It connects to iPhone via USB Lighting cable directly, and to Andriod phones with EZCast app from Google market.
But of course the T25 with WiFi wins in terms of connectivity. Simple step-by-step instructions radically simplify this process.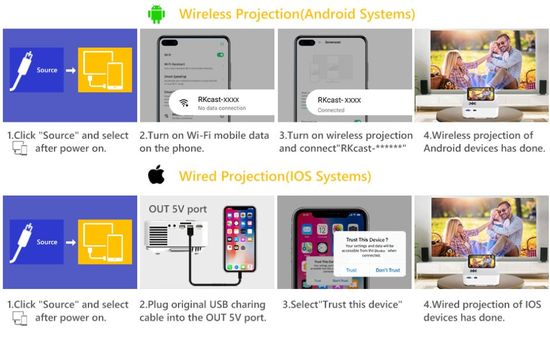 In addition, it provides a variety of traditional connection methods with TV stick, Roku stick, tablets, laptop, USB sticks, TF cards, Chromecast, DVD players, X-Box ONE, etc.
Conclusion
A very successful distribution of key features between models radically simplifies the choice of the optimal projector, taking into account individual preferences. The high image quality of the more expensive T26, the extensive connectivity of the T25 with WiFi support, T21 or latest TYY0010 with Synchronize Smart Phone Screen, and the T6 or T23 with well-balanced specs will satisfy of any consumer.
This video offers review of TopVision T6.