Without a doubt, drones are one of the fastest growing segments of consumer electronics. In a short time, the companies have dramatically improved all the components of these devices. As a result, powerful and reliable BLDC (brushless direct current) motors, new flight modes and shooting modes, innovative 4K cameras for drones with large sensors, high-performance gimbals with 2- and even 3-axis stabilization, etc have fantastically expanded the drone's capabilities. The fall in prices due to fierce competition has become an additional factor in the growth of their popularity.
As a result, the modern market offers a huge range of models, including the premium DJI Mavic Mini, Mavic Zoom, DJI Mavic Air 2, DJI Mavic 2 Pro, and mid-tier mini and budget drones, including Snaptain copters, Holy Stone drones, DeeRC models, SJRC and Ruko drones, etc.
Certainly, FPV (first-person view) technology has become one of the main reasons for the unprecedented growth of their popularity. It was able to provide the illusion of real flight, turning childhood dreams of sky conquering into reality. But immersion depth directly depends on the live video transmission technology and the quality of its display. In just a few years, the companies developed a huge amount of FPV drone goggles with a form factor of compact goggles or Box Goggles. However, industry leader DJI has solved this problem in a comprehensive manner, presenting last year an innovative digital immersive FPV system with futuristic Box Goggles.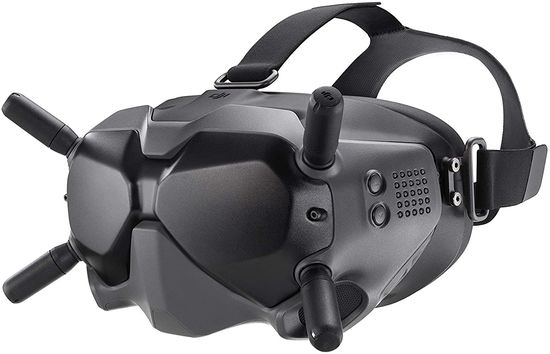 Initially, this system was designed for the drone racing. But of course the range of its use is limited only by the budget.
Key features
The DJI Goggles Racing Edition was first introduced on November 22, 2019 in an official DJI Innovations press release. In fact, this system has become the first digital FPV, which successfully competes with the premium analog FPV. As known, the static noise and cutout has little effect on rendering and latency in the analog system, but does cause pixelation and latency for digital FPV. Of course, these factors complicate control, especially in a tight situation or flying fast. On the other hand, the digital system is much easier to set up and provides a clearer image. The new DJI digital FPV system has reduced traditional cons to a minimum while retaining all the pros.
Its camera provides of 1080p @ 60fps. For many this quality is good enough and it successfully replaces GoPro or action cameras, additionally reducing the drone weight. But, of course, its color grading and stabilization are losing, for example, GoPro, Osmo Action, Insta 360 ONE R or ONE X.
Today the company offers two versions:
– DJI FPV Fly More Combo (Mode 1/2) – FPV Goggles, Air Unit (FPV camera and FPV VTX with built-in receiver), remote control and antennas. Mode 1/2 affects remote control operating mode – $ 820.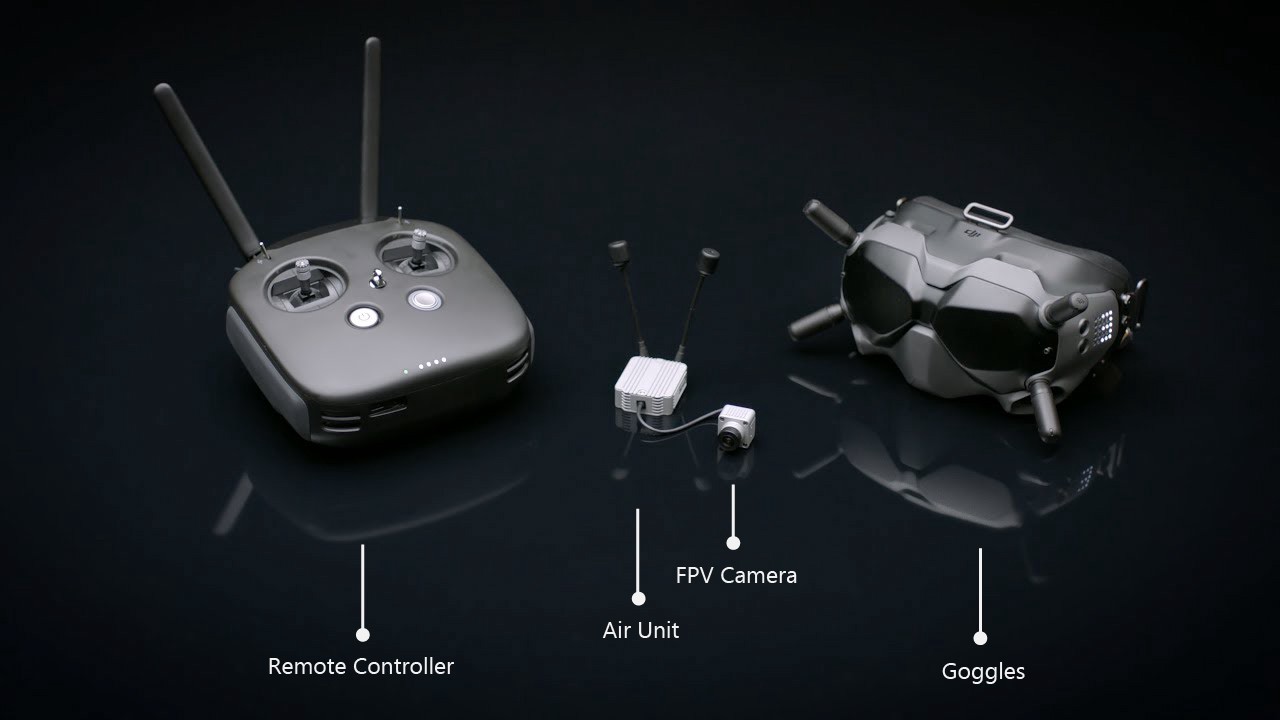 The DJI FPV air unit provides 1080p video recording and uses a strong transmission system, embedded remote controller receiver and multi-antenna technology. In addition to the original module, a new lighter and more compact CADDX VISTA VTX is available from January 2020.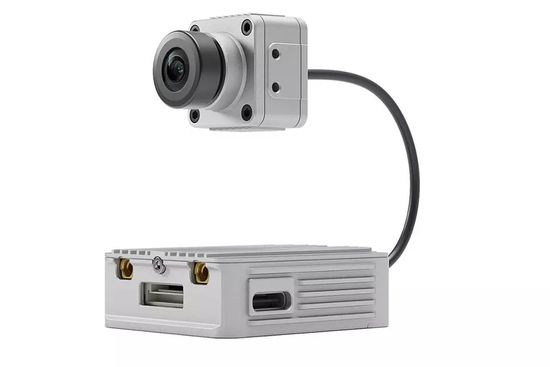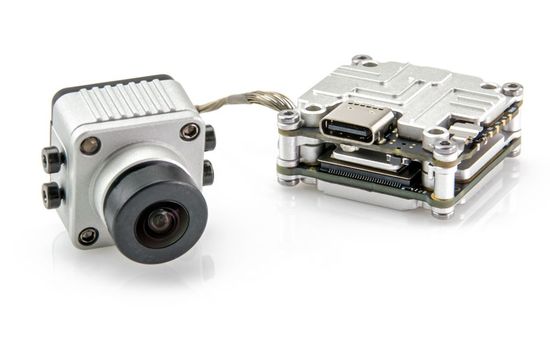 Both versions fit easily on the drone.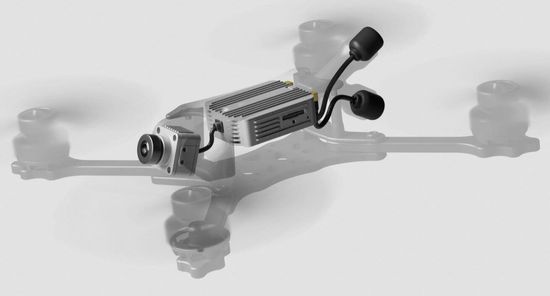 – DJI FPV Experience Combo – FPV Goggles, 2 x FPV Cameras, 2 x FPV VTX- $ 930.
DJI FPV Goggles
The goggles have the following features:
– built-in DVR for 720p@120 fps video recording.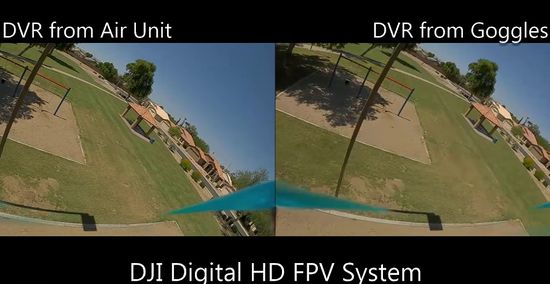 – 1080 x 720p screen resolution for aspect ratio of 4:3, and 1440 x 810p – for 16:9;
– adjustable IPD (interpupillary distance);
– USB-C port for firmware updates;
– sound (not in real time);
– built-in fan to prevent fogging;
– MicroSD support up to 128 Gb;
– changing the glasses channel automatically switches the frequency of the air unit;
– adjustable FOV (field of view) – 30° -54° and adjustable image size 50% -100%;
– power supply from an external battery via a cable (no built-in battery).
The power consumption is quite high. For example, a 2S 3000mAh battery provides about an hour of use for the glasses.
The goggles use 4 stock LHCP (Left Hand Circular Polarized) omnidirectional antennas with left circular polarization. The top two antennas are used for signal transmission / reception, the bottom antennas are for signal reception only (quad-versity system). Today the market already offers higher gain third party antennas that are compatible with DJI goggles. But unlike analog systems, the receiver and goggles operation without antennas may cause transmitter overheating.
Other
The DJI FPV camera with a 150° ultra-wide-angle lens can shoot in three modes.
Camera modes:
– Standard Mode – max quality with minimal color loss.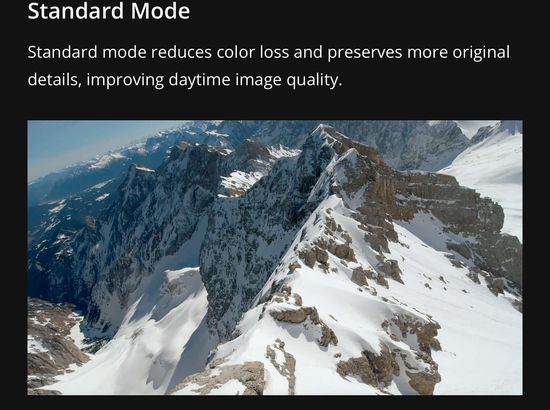 – Racing Mode – max contrast.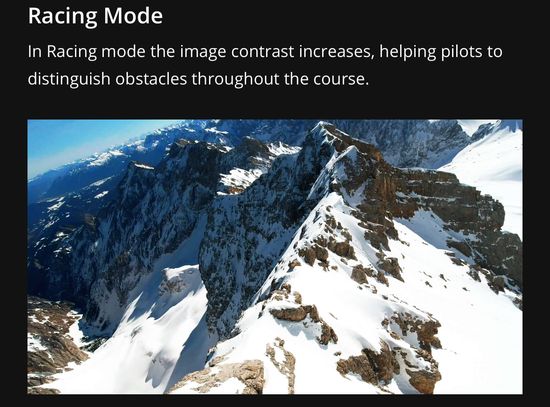 – LED Mode – max colors saturation for flying in low light.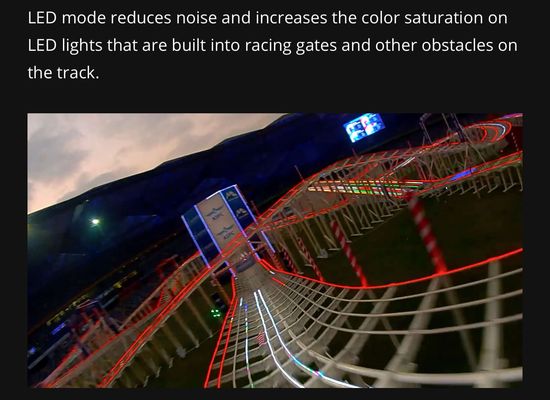 Most analog transmissions provide a latency between 22-35 ms. DJI digital FPV system latency is 7ms (remote-drone) and 23ms (drone-goggles). But it depends on the video transmission mode and is up to 40 ms for High-Quality mode (720p@60 fps) and up to 28 ms for Low Latency mode (720p@120 fps). This mode uses the technology DJI HDL (FPV DJI HD Low Latency FPV Transmission) based on two-way communication to further stabilize the video signal.
Focus Mode also reduces lag by reducing image quality in the corners, keeping it centered.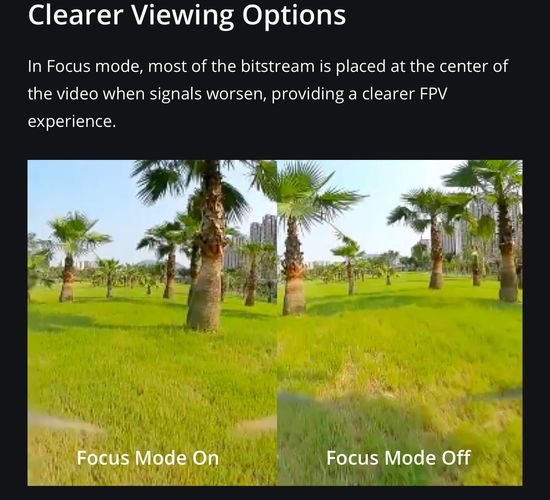 The DJI HDL FPV Transmission system and the DJI FPV Air Unit support eight frequency channels. This option drastically reduces cross-interference, which is important, for example, for racing.
Moreover, system can use analog image transmission via a third-party receiver, providing switching between AV and digital video transmissions (AV IN in DJI FPV function).
The optional remote controller uses 4 toggle switches to activate different modes and Betaflight functions, including video recording without glasses. It provides a control distance up to 2.5 mi or 4 km in USA, but only 0.43 mi (700 m) in Europe due to the VTX power limitation up to 25 mW. Its high-capacity 4920mAh battery provides 7,5 hours and is charged via the USB-C port. Unfortunately, its price goes up to $ 300.
Switching to Low Power Mode due to overheating is accompanied by a decrease in the control distance and frame rate up to 30 fps, an increase in latency up to 60 ms, and the video recording stops.
Conclusion
Pros
– 720p@120fps video transmission;
– anti-interference digital transmission;
– 28ms Low Latency;
– control distance of 2.5 mi or 4 km in USA;
– Focus Mode;
– auto Low Power Mode;
– audience mode provides video streaming to other DJI Goggles;
– three video recording modes of FPV camera with a 150° ultra-wide-angle lens;
– built-in DVR.
Cons
– very high price;
– control distance is only 0.43 mi or 700 m in Europe;
– goggles have no built-in battery;
– no photo mode.
Today the DJI FPV system price has dropped from $ 1,000 to $ 800. Moreover, the variability of the components set opens up an additional opportunity to reduce the price, for example, at the expense of a controller. Of course, even this solution remains expensive, but, probably, for many, the indescribable pleasure of sky conquering will be more than sufficient compensation for the costs.
This video demonstrates Audience Mode in the DJI FPV system.