For more than a decade, the drone popularity growth rate outstrip all other consumer electronics segments. Of course, manufacturers are responding adequately to the huge demand by rapidly improving them specs. In addition, fierce competition is driving prices down rapidly. As a result, today even professional models, including, for example, DJI Mavic Mini, DJI Mavic Zoom, DJI Mavic Air 2, and DJI Mavic 2 Pro are offered at $ 400 and up. Of course, the market also offers a huge number of budget drones under $ 100, including Snaptain drones, Holy Stone drones, DeeRC drones, etc. In addition, many companies make excellent mid-tier mini drones, whose price ranges from $ 100 to $ 400. Many of their specs, including shooting quality, flight performance, range of flight and shooting modes, etc often match the premium models of yesteryear.
Of course, the booming market is constantly being replenished with a huge number of new companies. Unfortunately, coupled with progressive ODM and OEM business technologies, this process sometimes creates confusion. In particular, this situation has developed with the very popular F11 drone. Today this model is considered to be one of the best among mid-tier GPS drones. Various sellers offer it under the names Ruko F11 Pro or SJRC F11 Pro. But their design, weight, main specs and even the logos on the case are almost identical.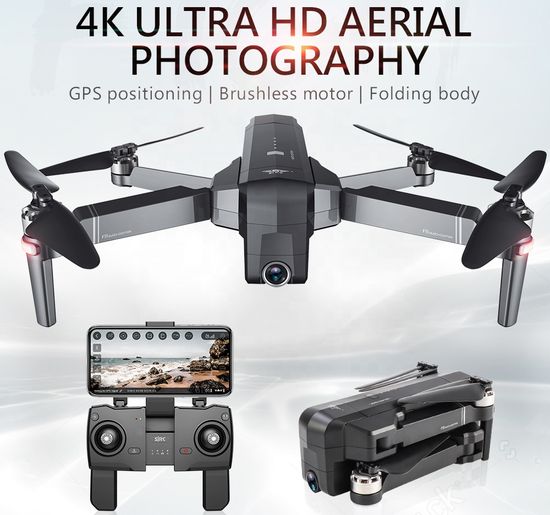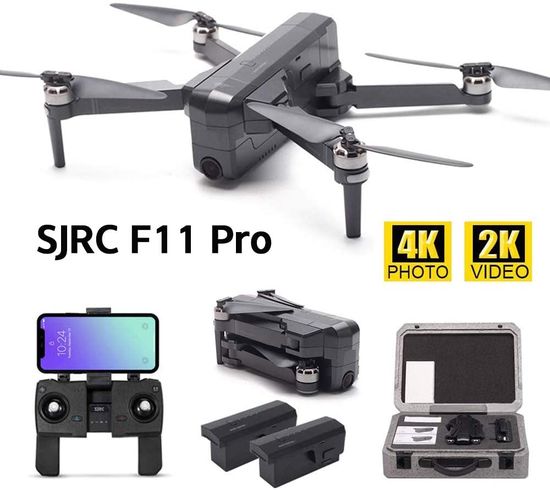 But on the other hand, these models have different cameras, flight characteristics and differences in some flight and shooting modes.
F11 Pro drone
According to Alibaba.com, the Ruko F11 Pro drone is manufactured by the Chinese Fp-drone Technology Co Ltd. Founded in 2013, it designs, manufactures and sells drones.

The company positions itself as an OEM (Original Equipment Manufacturer) and ODM (Original Design Manufacturer) manufacturer. As known, ODM- contract includes development and production, and OEM-contract only production.
According to the same source, the SJRC F11 Pro is manufactured by Xiecheng Toys Co., Ltd. This company was founded in 2015. Using almost all kinds of OEM customization, it makes RC toys, including drones, robots, cars, etc. Many have seen this recognizable logo on SJRC drones.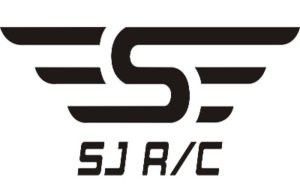 Today trading platforms offer SJRC F11, SJRC F11 Pro, Ruko F11 Pro and newest SJRC F11 4K Pro or Ruko F11S Pro.
All models weigh just over 500 grams, and their size is 6.9 x 4.1 x 3.15 in or 17.6 x10,5 x 8 cm (folding), and 17.51 x 15.94 x 3.15 in or 45 x 40.5 x 8 cm (unfolding). They also support TF-card (not included) and use 2.4 GHz controllers, 90° adjustable 120° FOV camera, powerful and efficient 1806 BLDC (Brushless Direct Current) motors, and upgraded high-capacity 11.1V 2500mAh intelligent battery, which provides flight time from 25 to 30 minutes.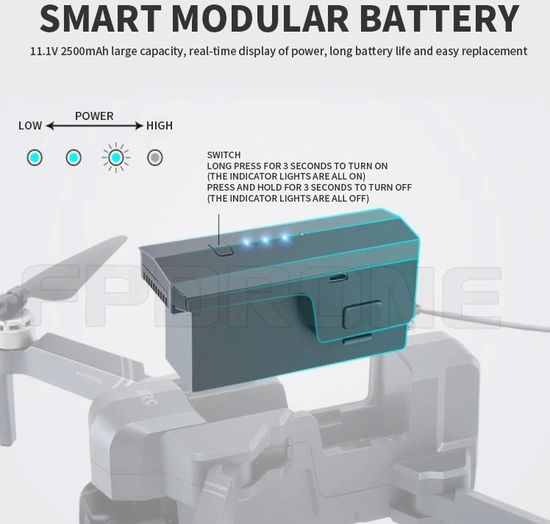 Except for F11 4K Pro (F11S Pro), all drones provide up to 3937 ft or 1200 m control range and up to 1640 ft or 500 m video transmission. But their cameras and flight modes are different.
Ruko and SJRC F11 Pro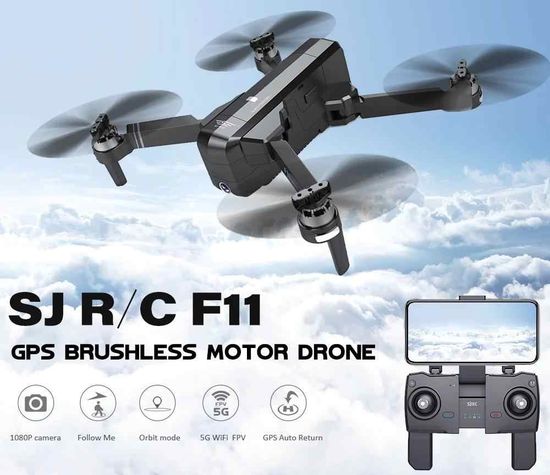 The SJRC F11 Pro differs from the F11 only in its camera resolution and frame frequency, which have increased from Full HD (2048 x1152p) to 2K HD (2592 x 1520p) for video and photo, and from 20 fps to 25 fps (frame per second).
SJRC F11 Pro uses a multifunctional remote with intuitive controls and dual antennas.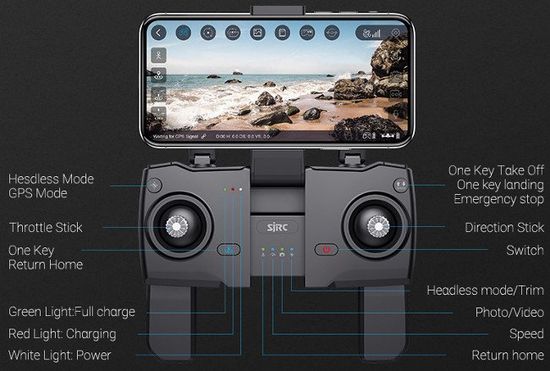 Remote control and image transmission ranges are up to 3937 ft or 1200 m and 1640 ft or 500 m respectively (no interference and no occlusion). But FPV mode requires SJ-GPS Pro app.
The model supports almost all modern intelligent modes, including Waypoint, Active Track, Follow Me (30m), Headless Mode, gesture control, altitude mode, user-defined flight plan, orbit mode (flight in a circle around a set waypoint), app control flight, hand gesture shooting (1-3 m), photo/video share, one key take off / landing, and GPS Return-to-Home (RTH), which radically increases flight safety.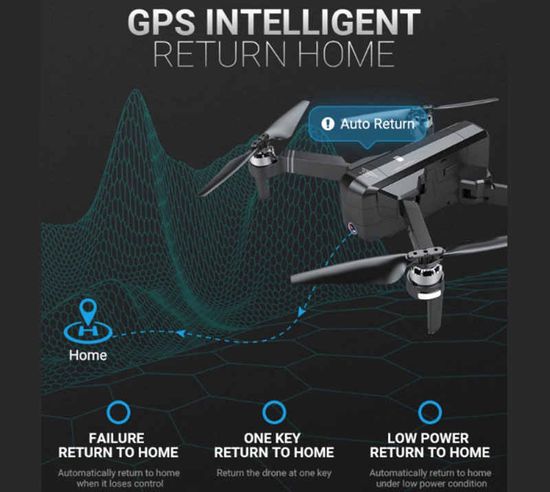 Electric motors accelerate the drone up to 34 mph (55 kph).
In addition, GPS Assisted Flight provides a powerful GPS signal anywhere.
Unfortunately, its camera does not use EIS (Electronic Image Stabilization).
Ruko F11 Pro comes with 1 extra battery, allowing the company to specify a flight time of 60 minutes.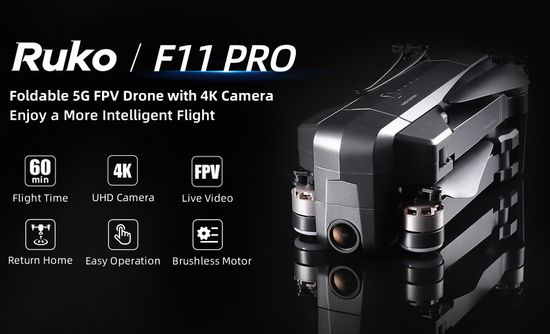 Its camera provides Ultra HD (3840 × 2160) picture quality and 2.7K video (2560×1440) with 30 fps. But high definition video recording requires a TF card. Video recording into phone is limited to 1280 x 720 resolution.
The model comes with other remote control.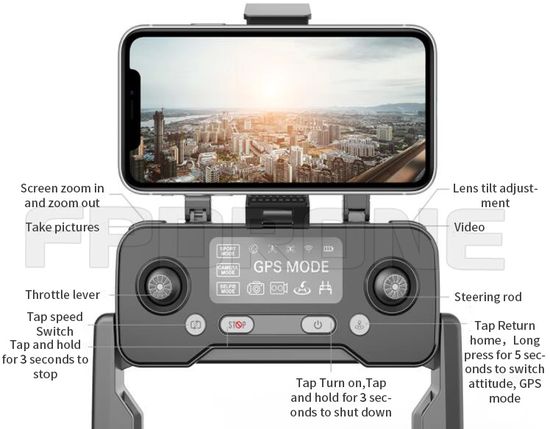 Drone supports Auto Return, Tap Fly, Headless Mode, Follow Me and one key take off / landing. Its max speed reaches only 26.8mph or 43.2 kmh.
SJRC F11 4K Pro (Ruko F11S Pro)
This drone differs from Ruko and SJRC F11 Pro in a significantly improved 4K HD camera with 2-axis self-stabilized gimbal.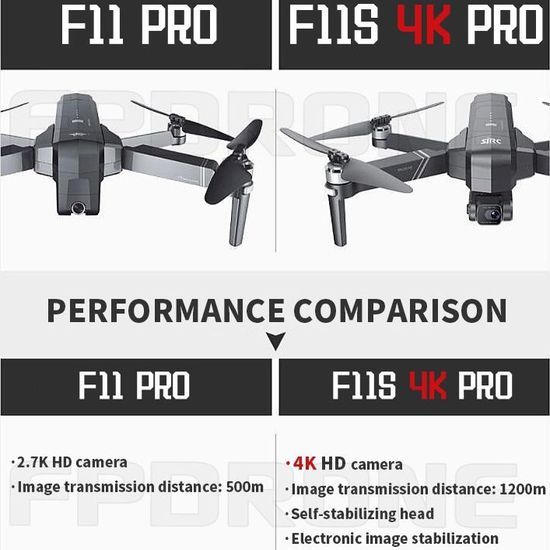 For a memory card, its video and picture resolution has been increased to 3840 x 2160p. Unfortunately, video resolution for mobile is only limited to 1280 x 720p.
Its weight has increased from 520 to 585 grams.
Of course, EIS and the self-stabilized gimbal greatly increase the video recording quality.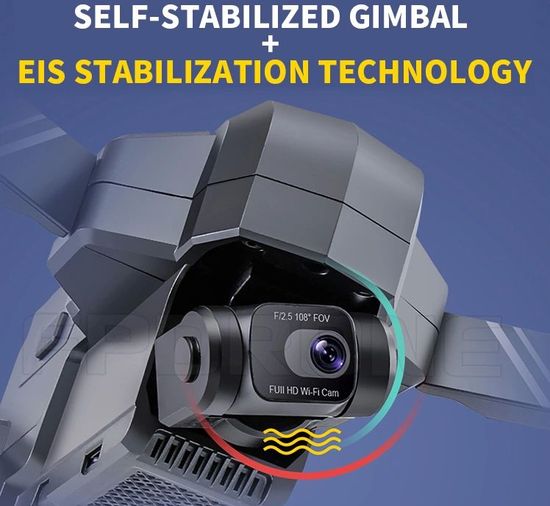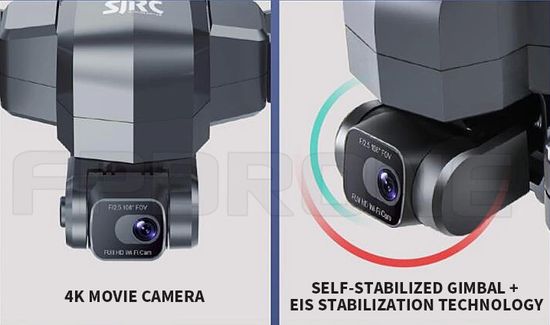 In fact, the system completely eliminates the traditional blur of the PTZ (pan-tilt-zoom) camera.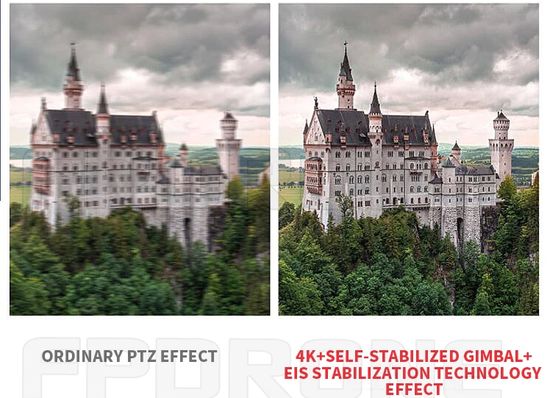 This innovative algorithm monitors pixel changes and shifts the viewfinder to the center of their oscillation. After calculating the distance and size of the object, the camera adjusts the position of the optical lens to stabilize pixel vibrations relative to the total image area.
In addition, its image transmission distance reaches almost 4000 ft or 1200 m. Moreover, its remote distance has also increased to almost 5000 ft or 1500 m.
Conclusion
Thus, SJRC F11 Pro outperforms Ruko F11 Pro in flight speed, number of intelligent modes and support for GPS Assisted Flight. In turn, their gimbal and camera without EIS are significantly inferior to the upgraded SJRC F11 4K Pro (Ruko F11S Pro) with 2-axis gimbal. Unfortunately, the new models do not have an obstacle avoidance mode.
This video demonstrates the flight of the newest SJRC F11 4K Pro GPS drone with 2-axis gimbal.