As known, DJI announced the portable foldable Mavic Mini at CES 2019 and first unveiled it in October 2019. In fact, it replaced the super popular Spark selfie drone.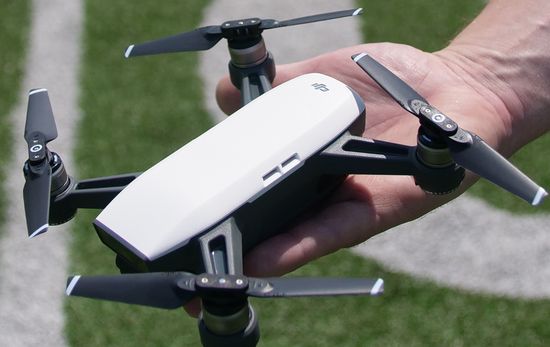 Of course, the miniature size and the flight weight of only 249 grams have become the key features of this model. When folded, it measures 1.57 inches and is comparable to the iPhone X.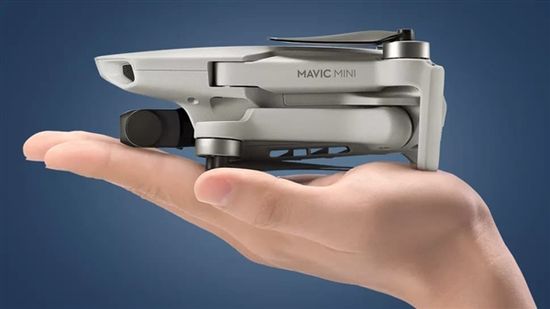 Of course, the developers did not accidentally achieve a weight of less than 250 grams. In accordance with the legislation of many countries, drones up to 250 grams do not require registration and have no administrative flight restrictions. Unfortunately, the developers have abandoned the APAS (Advanced Pilot Assistance System) for the sake of miniaturization.
At the same time, the drone provides excellent specs, providing up to 30 minutes of flight at a maximum speed of 46.8 kph (29 mph) and FPV distance of up to 4 km (FCC or Federal Communications Commission, 5.8GHz).
In addition, the model supports 3 flight modes (Position / CineSmooth / Sport), 4 auto shooting modes, max video bitrate 40 Mbps, uses a 3-axis motorized gimbal and 12MP 2.7K camera with 1 / 2.3-inch CMOS sensor. Today the company offers the basic Mavic Mini-The Everyday FlyCam model for $ 400 and the Mavic Mini-Fly More Combo for $ 500. The list of additional accessories includes a Two Way Charging Hub charging station that can be used as a power bank, DIY Creative Kit (customizable with stickers), Propeller Holder Beige, etc.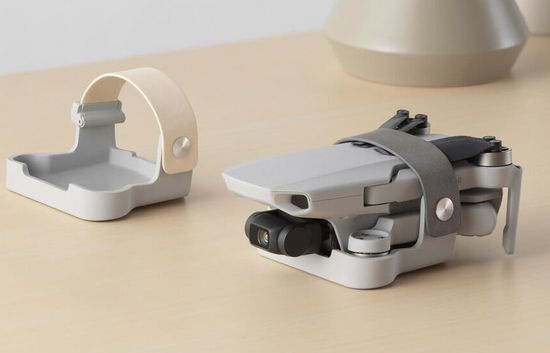 Of course, these factors ensured the model a huge popularity and a place among the bestsellers. More than a year the Mavic Mini remains the smallest drone with the specs of a full-size model. Its detailed specs are available at https://www.dji.com/mavic-mini/specs.
Key features
2400 mAh batteries (2 x 1100mAh with 7.6 V voltage) provide 30 minutes of flight at 14 kph in windless conditions. The maximum flight speed in sport mode reaches 47 kmh. But in strong winds, the power consumption of the drone rises sharply due to its low weight. Quick Charge 2.0 partially solves this problem, providing a battery charge in 90 minutes. In addition, this model supports charging from a power bank for the first time.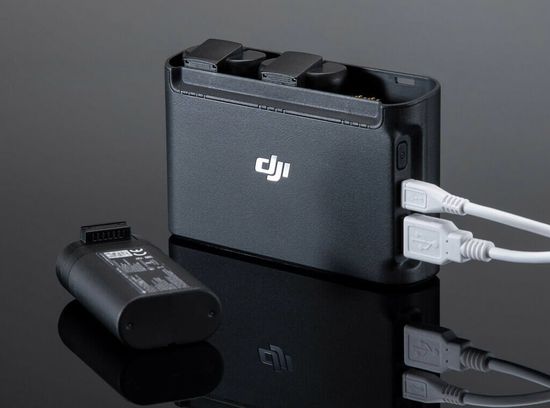 Infrared sensors and a stereoscopic camera from below recognize the landing area at a distance of 0.5 to 10 meters.
The model uses highly efficient 3-axis (tilt, roll, pan) stabilization with an operating range of -90 ° to + 20 °. The camera tilt speed and the response of the gimbal when stopping and moving are set in the app.
Compared to Mavic 2, replacing propellers in the Mavic Mini is more time consuming because each of them attached to the motor separately with a screw. The video shows the process of replacing them.
The remote control without display has smartphone guide.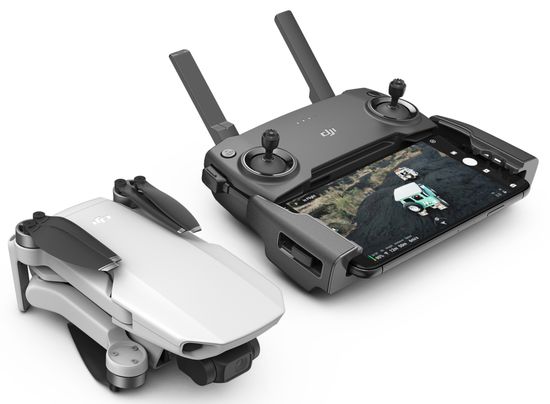 The DJI Mavic Mini uses a new Fly app with an intuitive interface, with a built-in Creator Templates editor for video editing, and a Flight Tutorial feature for beginners. Required OS is iOS v10.0 and Android v6.0 or later.
Shooting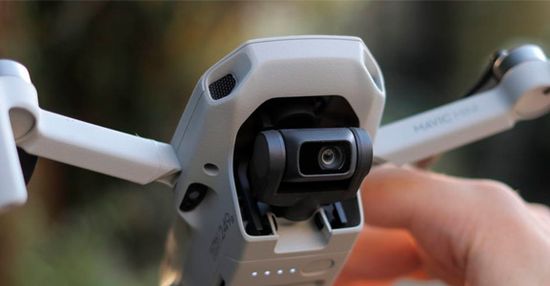 Basic camera specs:
– CMOS sensor 1 / 2.3 inches;
– focal length 24 mm;
– viewing angle 83°;
– aperture f / 2.8 (provides shooting at dusk);
– shutter speed up to 1/8000 s;
– ISO from 100 to 3200.
The camera supports foto in JPEG format with 4,000 x 3,000 resolution, 2.7K@30 fps Quad HD video or 2K@60 fps FullHD video. MicroSD capacity reaches 256GB.
QuickShot mode offers 4 shooting modes, including Dronie (diagonal movement from an object), Rocket (vertical lift), Circle (fly around the object) and Helix (fly around the object in a spiral).
CineSmooth mode is designed for flights in tight spaces and for recording ultra-smooth clips.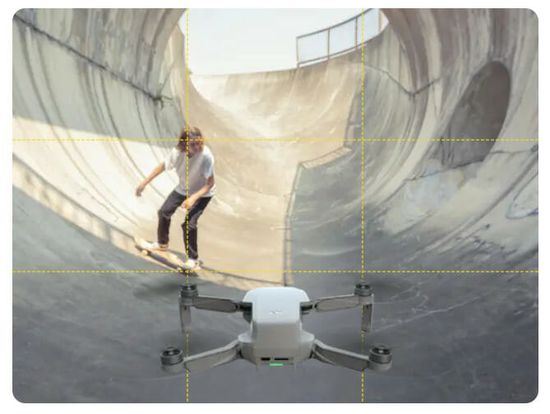 DJI Mavic Mini vs DJI Mavic Air 2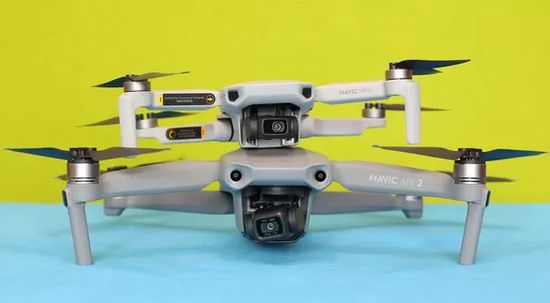 The DJI Mavic Air 2 was introduced in April 2020. Today the specs of this model are closest to the Mavic Mini among the new DJI models. Of course, they are significantly different. First, the Air 2 is about twice as expensive ($ 800 vs $ 400 for the Everyday FlyCam version and $ 1,000 vs $ 500 for the Combo versions). Secondly, its weight of 570 grams does not exempt the model from registration and flight restrictions. The last aspect can be decisive for many consumers.
Differences:
– 4K@60fps or 1080p@240 fps vs 2.7K@30 fps or 1080p@60 fps;
– max video bitrate 120 Mbit / s vs 40 Mbit / s;
– HDR support (combining multiple images with different exposure);
– innovative 8K Hyperlapse (Free, Circle, CourseLock and WayPoint sub-modes);
– automatic scene recognition (automatic detection of sunset, sky, etc);
– SmartPhoto (HDR + Hyperlight + Scene Recognition).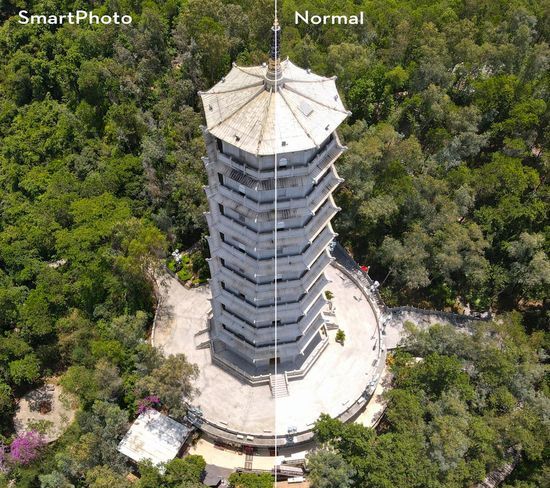 – 1/2″ CMOS vs 1 / 2.3″ CMOS.
The new sensor uses Quad Bayer, delivering 48MP photos with a fixed f / 2.8 lens.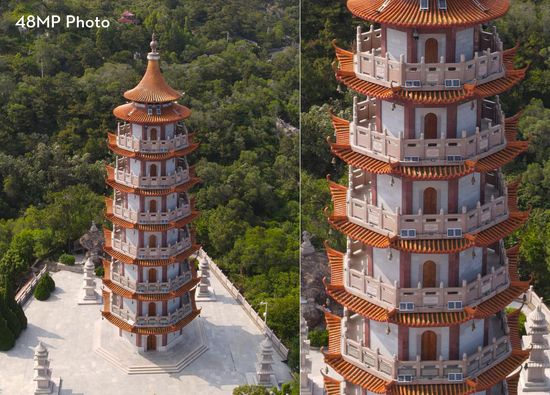 – ultra-wide panorama in HDR Panorama mode.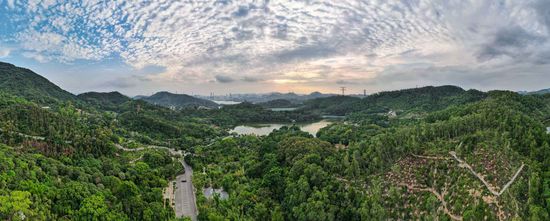 – FocusTrack (professional tracking functions);
– ActiveTrack 3.0;
– POI 3.0 (flying around the object in a circle);
– APAS 3.0 (Advanced Pilot Assistance System);
– OcuSync 2.0 (improved signal transmission technology) vs WiFi;
– 8 GB of internal memory;
– extended mechanical range of the gimbal;
– FPV 1080p vs 720p;
– range 10 km (FCC) / 6 km (CE) vs 4 km (FCC) / 2 km (CE);
– Boomerang (sequence of flights around the object with auto height and distance adjustment) and Asteroid (3D globe effect) modes.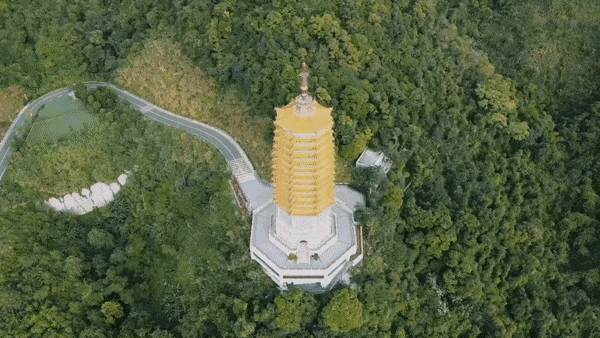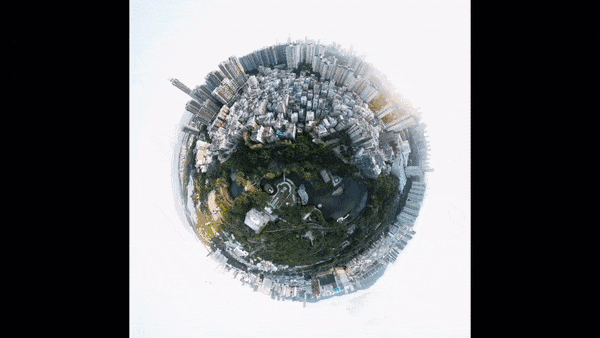 – battery 3S / 3500 mAh vs 2S / 2600 mAh (flight time 34 min vs 30 min).
DJI Mavic Mini Pros & Cons
Pros
– 249 g;
– no registration and flight restrictions;
– foldable design;
– powerful BLDC (Brushless Direct Current Motor) motors with long lifespan;
– high positioning accuracy;
– high quality shooting;
– 30 minutes max flight time;
– long range of video transmission.
The model uses an upgraded WiFi module that provides 720p@30 fps at latency (depending on environmental conditions) 170-240 ms. The maximum range in FPV (first-person view) mode reaches 4 km for the American version (FCC standard, MT1SS5, 5.8GHz) and 2 km for the European (CE standard, MT1SD25, 2.4GHz);
– new DJI Fly app;
– support for auto modes of flight and shooting;
– relatively low price.
Cons
– no 4K;
– limitation of flights in strong winds due to low weight and dimensions.
As known, wind speed increases with increasing altitude. In fact, the flight of the Mavic Mini is stable up to 120 meters. With a further increase in altitude, its power consumption increases sharply even in calm weather due to the need to maintain the given position;
– no APAS, only 360° propeller guard in Combo version;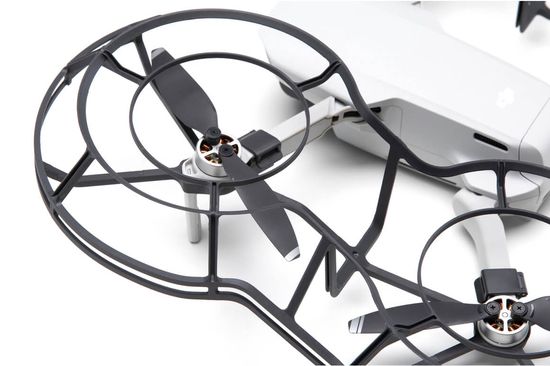 – inaccuracies when returning to the starting point;
– no HDR;
– no built-in memory;
– insufficient structural rigidity.
Of course, its comparison with the DJI Mavic Air 2 is not entirely correct due to their different class. To a greater extent, it demonstrates the price-performance ratio between the mid-budget and professional segments of DJI drones.
Conclusion
The Mavic Mini is not intended for commercial shooting, but it's ideal for travel, entertainment and beginners. Of course, the lack of registration and flight restrictions is a significant additional plus.
The list of basic cons includes lack of APAS and dependence on wind.
Long flight times, superb 3-axis stabilization, multiple shooting modes, and fast charging are in line with the mid-budget full-size models. As a result, the excellent price-performance ratio justifiably places this model among the bestsellers.
This video demonstrates the features of the DJI Mavic Mini.