The Chinese company SZ DJI Technology Co., Ltd. (Dajiang Innovation Technology Co), Hong Kong completely dominated the drone market for over 10 years. But in recent years, this situation has persisted only in the price segment of $ 400 and above. For example, according to many experts, the new DJI Mavic Mini ($ 400), Mavic Zoom ( $1,350), DJI Mavic Air 2 ($ 800), or DJI Mavic 2 Pro ($ 1,500) are reasonably positioned as the best modern professional models. But in the budget segment, DJI leaves room for the competition by offering only the budget Tello series.
As a result, several companies already offer excellent models for children and beginners, including Holy Stone drones, Snaptain drones from Shenzhen VanTop Technology & Innovation Co, DeeRC drones, SJRC and Ruko drones.
Shenzhen VanTop Technology & InnovationCo., Ltd. was founded by Chinese giants Lenovo and Huawei in 2016 and has demonstrated excellent results in only a few years. Today the company successfully sells Vankyo projectors, including the legendary Vankyo Leisure 3 bestseller, Vantop for action camera, HeimVision for smart home, and Snaptain drones, many of which are confident are leading among budget models. In particular, the Snaptain S5C, SP650 and A10 drones are on this year's bestseller list.
Snaptain S5C
Today, many experts are positioning the Snaptain S5C as one of the best beginner drones up to $ 100.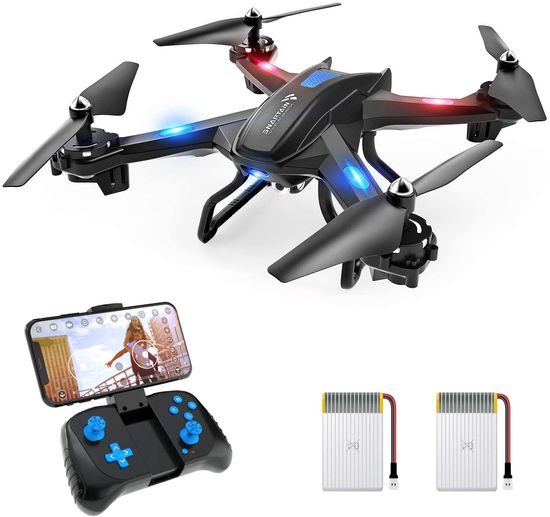 At a price of only $ 60 on the company's website, this RTF (ready-to-fly) WiFi FPV drone has 720p HD camera, LED lights, supports Voice Control, wide-angle Live Video, Altitude Hold, Gravity Sensor function, and is compatible w / VR Headset.
Weight 150g exempts owner from FAA (Federal Aviation Administration) registration. As known, models up to 250g do not require registration and have no flight restrictions. But traditionally for ultralight drones, its flight is highly dependent on the wind. Therefore, the company does not recommend using the quadcopter in strong winds due to the risk of losing it.
Of course, the propeller guards are ideal for beginners.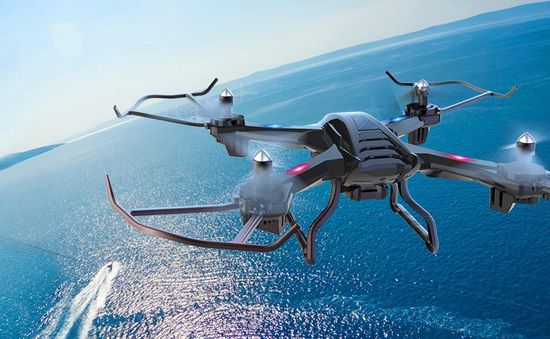 The intelligent flight modes, FPV, Gesture and Voice Control work via Snaptain Nova app on the Android or iOS devices.
The automatic altitude ensures a steady flight at a consistent altitude. In addition, the good hover stability with 6-axis gyroscope provides high quality shooting.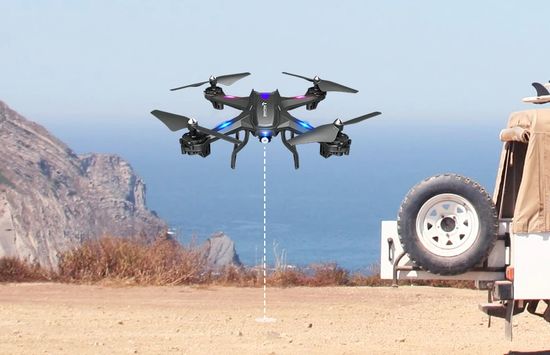 The gravity sensor mode radically simplifies drone control.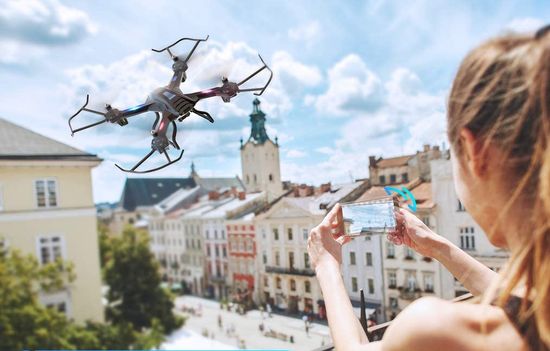 Headless mode is great for beginners, eliminating the dependence of the flight direction on the placement of the drone tail / head.
Wi-Fi warning system generates an alert when the signal is too weak.
The S5C supports the Trajectory Flight Mode via smartphone.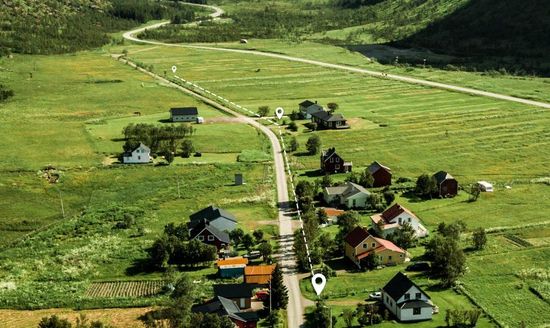 In addition, the drone provides Control Range up to 80m, FPV Range up to 40m, max flight height up to 80m and Flight Time about 10 mins.
Snaptain SP650
The significantly more powerful SP650 has dropped on the https://snaptain.com/collections/drone/products/snaptain-sp650-1080p-drone website to an unprecedented $ 65.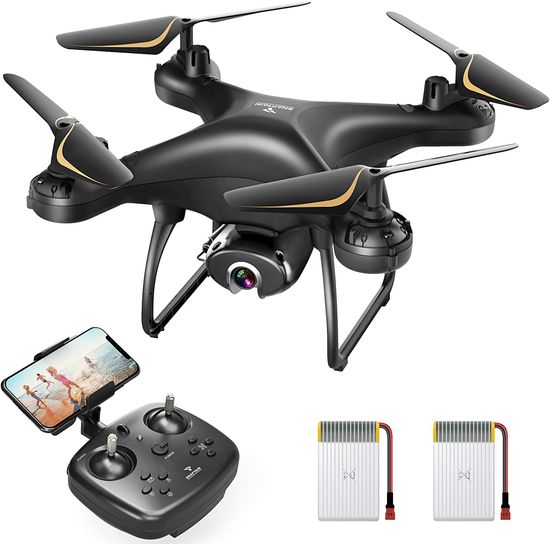 The SP650 weighs only 125g, provides Flying Time of about 12 mins per battery or 24 minutes with two modular batteries, Video Transmission Range up to 60m / 180ft and Transmitter Operation Range up to 80m / 240ft.
But unlike the S5C, this model uses an enhanced adjustable 1080p FHD Live Video camera with 120 ° wide-angle lens, providing 1920 x 1080 @ 25fps video. The SD card slot supports 64GB Max micro SD cards, but SD card not included.
Besides Voice and Gesture control, Trajectory Flight, Altitude Hold and Headless modes, this drone supports entertaining High-Speed Rotation (auto rotation at a certain height), Circle Fly function (anticlockwise flight in a circle with a diameter of about 1m) and flip mode.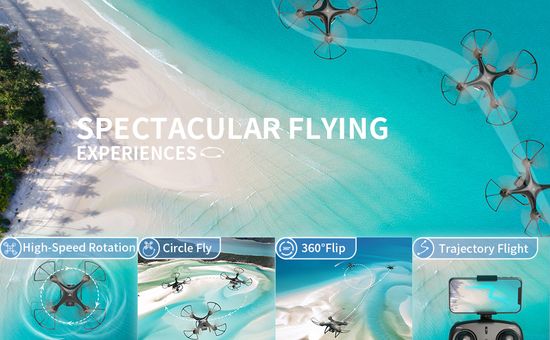 In fact, the Circle Fly function is analogous to the popular POI mode in DJI drones.
The right control stick and 3D Flip button provide a 360° drone flip.
These modes are great workouts for kids and beginners, allowing them to create an exciting aerial show.
The drone supports smartphones running IOS 7.0 or later, and Android 4.4 or later.
Surprisingly, mini foldable Snaptain A10 FPV WiFi RC minidron w / Voice Control, Gesture Control, Trajectory Flight, Circle Fly, High-Speed Rotation, 3D Flips, G-Sensor, Headless Mode with 720p HD camera only costs $ 33.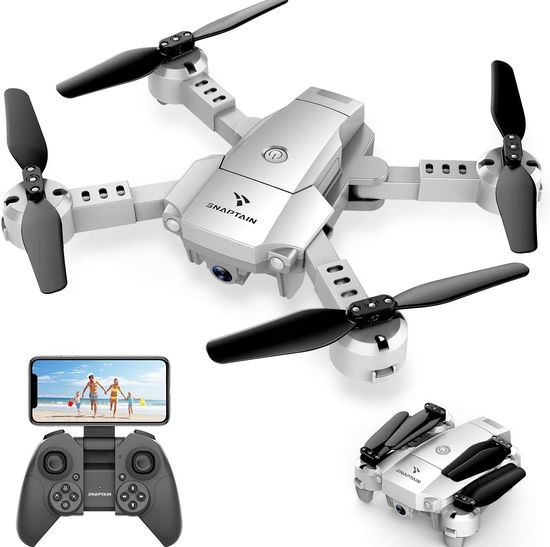 Unfortunately, its flight specs match the price. Weighing 61g / 2.15oz, it delivers just 7 minutes of Flight Time, 15 meters of max Flight Height, Control Range of 80 meters and FPV Range up to 25 meters. But considering the price and functionality, it can rightfully be positioned as one of the best kid's drones.
Conclusion
Today, the Snaptain drone range fully covers the budget segment from $ 30 to $ 150. But of course, the price drop from $ 145 to $ 65 makes the SP650 the best buy. Indeed, the absence of the FAA (Federal Aviation Administration) registration, Flying Time of 24 minutes with two modular batteries, enhanced 1080p FHD Live Video camera with 120° wide-angle lens, Voice and Gesture control, and several additional flight modes provide a place among the bestsellers for SP650.
The value for money of the rest of other Snaptain drones is also very good. Snaptain A10 and S5C are ideal as a gift for a child and are quite suitable for beginners.
This video introduces the Snaptain SP650.