5-10 years ago, the Chinese company SZ DJI Technology Co., Ltd. (Dajiang Innovation Technology Co), Hong Kong completely dominated the drone market. But then the situation changed. Today DJI continues to confidently dominate the $ 400 and higher price segment. In particular, the $ 400 DJI Mavic Mini, DJI Mavic Air 2 starting at $ 800, Mavic Zoom ( $1,350), DJI Mavic 2 Pro with a price tag of over $ 1,500, etc fully cover the mid-budget and premium segments. As a result, the models of this company actually compete with each other in terms of functionality and price. But in the budget segment, DJI offers only the budget Tello series, leaving room for competitors.
Of course, many companies took advantage of this opportunity. As a result, today the market offers, for example, budget DeeRC drones, Snaptain drones from VanTop Technology & Innovation, SJRC and Ruko drones, etc. The Holy Stone company is one of the most successful. It was founded in 2014 for the design and production of drones. Holy Stone products are manufactured in two modern factories located in Lungtan and Yilan, Taiwan. In addition, the company uses a research laboratory in Japan. Today Holy Stone drones are successfully sold in the Americas, Japan, India, Europe and Asia. Moreover, many of its models are bestsellers in the budget segment. This list includes, for example, Holy Stone HS720E, HS120D and HS110D drones.
Holy Stone HS720E
The company positions this model as premium. But objectively, it's more in line with the mid-budget segment. At less than $ 350, it has the following features:
– weight of 17.46 oz (482g).
As known, models weighing up to 250g do not require registration and have no flight restrictions. Unfortunately, the requirements of the FAA (Federal Aviation Administration) apply to the HS720E;
– Flight Time of 46 min with 2 batteries in Fly More Kit is one of the main pros. Two intelligent Lithium Polymer batteries and brushless motors with a low power consumption rate extend flight time up to 46 minutes. For comparison, the flight time of the DJI Mavic Mini and DJI Mavic 2 Pro is about 30 min;
– Photo Resolution: 4K (3840 x 2160) stored in TF Card / 1080p (1920 x 1080p) stored on smartphone;
– video: 4K@30fps/1080p@60fps (with TF Card Stored). But TF Card not included;
– 5GHz FPV transmission;
– altitude control system;
– GPS location and Auto Return to Home;
– intelligent flight modes, including Follow Me, TapFly and Point of Interest (POI);
– live Video Transmission Range: 1300ft (400 m);
– max FPV Transmission Range: 1640ft (500 m). But using the FPV feature requires a smartphone with 5G WiFi support.
– max control range: 3280ft (1 km);
– max height: 394ft (120 m);
– brushless motor: 2204 1500KV.
Key features
4K EIS (Electric Image Stabilization) anti-shake camera with Sony sensor is also an advantage of the model.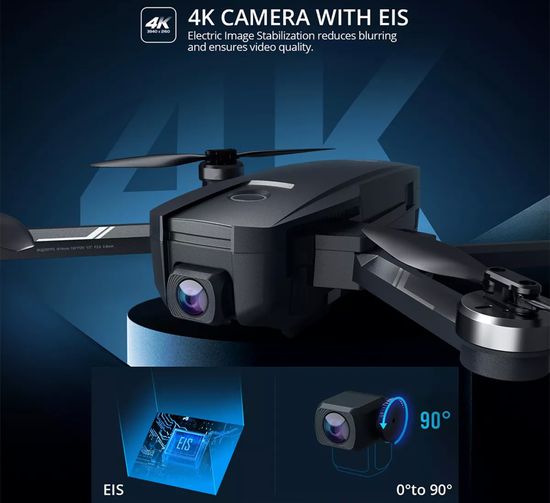 The EIS (Electric Image Stabilization) system significantly increases the recording stability. In fact, it instantly compensate the image shift when it detects the camera shake, eliminating ripple distortion.
The double altitude hold technology provides very stable recording.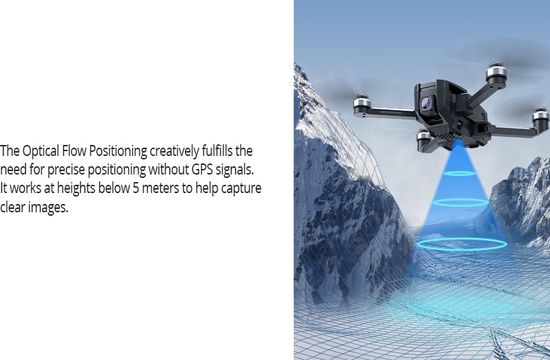 Follow Me mode is ideal for running or cycling.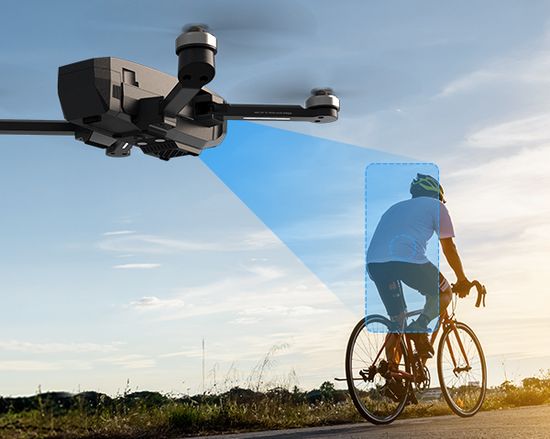 Auto Return ensures the drone return when commanded by the remote control, or automatically in case of lost remote controller signal or a critical battery discharge.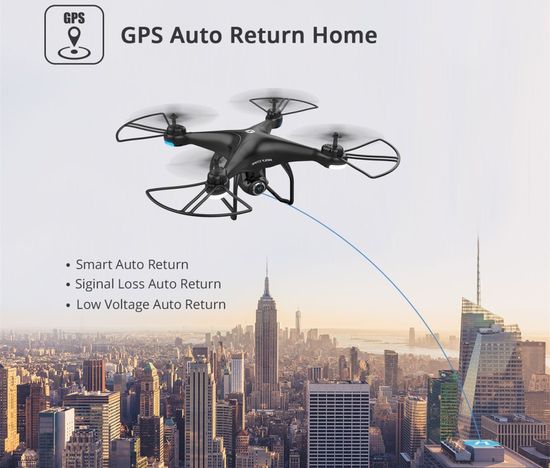 The drone supports switching between low-medium-high speeds and Headless Mode (the direction of flight during takeoff does not depend on the drone nose orientation). Like most Holy Stone models, the 720E uses some LED lights for night flying.
Pros
– Flight Time up to 46 min;
– 4K FHD EIS anti-shake camera with Sony sensor and tilt lens 90° ;
– intelligent flight modes;
– double altitude hold technology;
– brushless motor;
– TF Card support.
Cons
– battery charging time of 5-7 hours;
– FPV requires smartphone with 5G WiFi support;
– requires registration.
Holy Stone HS120D and HS110D
Holy Stone HS120D with 2K 1080p HD camera, GPS Return Home and Follow Me Selfie Functions and under $ 150 is ideal for kids and beginners.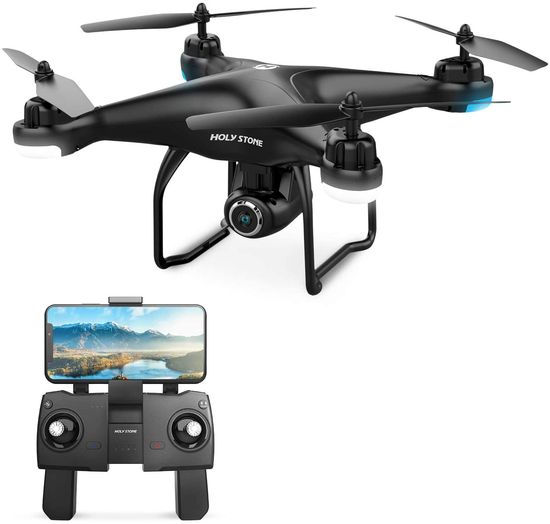 Despite the very affordable price, the model has enhanced 1080p Full HD camera with 120° wide-angle lens, 120° FOV FPV WiFi camera, supports GPS location, TapFly, Auto Return and Follow Me functions, and FPV live video feed.
Probably the HS120D at just 7.8 oz (221g) is the lightest modern GPS drone. As known, models up to 250g do not require FAA registration and have no flight restrictions.
Unfortunately, its 1200 mAh battery provides only 16 min of flight time, control range does not exceed 300 m, and the motor heats up, taking time to cool down between flights. In addition, the shake of the drone during flight and the weather negatively affects the shooting quality. But these problems are typical for the budget segment.
Of course, the unprecedented low price of $ 60 is one of the main advantages of the HS110D.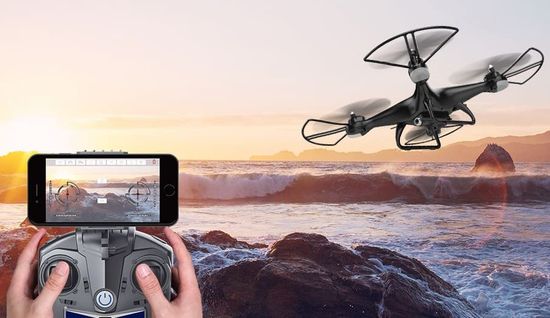 However, the model supports FPV real time transmission, Headless Mode, Voice Control, Gesture Control and Altitude Hold function, uses 120° wide-angle 1080p HD camera, modular battery and modular camera, has Gravity Sensor and LED light.
With Altitude Hold drone suspend in mid-air with locked altitude even without hands on the joystick. Voice Control, Gestures Control, Trajectory Flight and Gravity Sensor Control use the app. Two modular battries provide up to 20 min flight time.
Gravity Sensor Mode provides the drone control by moving the smartphone. Trajectory Flight only requires drawing a route in app.
Of course, weight of 145g does not require registration. Video Transmission and Transmitter Operation Range about 196ft (60m) and 328ft (100m), respectively.
Conclusion
In general, the Holy Stone lineup covers budget and mid-budget segments. Moreover, HS720E is quite competitive even in comparison with the legendary DJI Mavic Mini. Of course, it's significantly inferior in terms of intelligent shooting and flight modes, video quality, video transmission and transmitter operation range, the need for registration, etc. But Flight Time of 46 min, excellent 4K EIS (Electric Image Stabilization) anti-shake camera with Sony sensor, great brand reputation and lower price offset these factors.
Lightest HS120D GPS drone does not require registration and is ideal for kids and beginners.
The HS110D will be the perfect gift for any child. Its excellent price tag of $ 60, Flight Time up to 20 min, and support for a large number of features make it a bestseller today.
The video offers Holy Stone HS720E vs Mavic Mini.