The explosive growth in popularity of drones rightfully claims to be the leader in the consumer electronics segment. The huge demand that arose about 10 years ago stimulated the efforts of companies in this direction. As a result, the developers have radically improved almost all components in a short time. As a consequence, powerful and reliable BLDC (Brushless Direct Current) motors, new intelligent flight and shooting modes, modern drone cameras with large sensors and high resolution, and high performance antennas have expanded the drone's capabilities fantastically.
In addition, the unprecedented rise in popularity was caused by the FPV (first-person view) technology, which provides the illusion of a real flight, embodying the childhood dreams of flying in the sky.
As a result, a performance spurt and radical decline in prices due to fierce competition turned the expensive hobby into affordable super popular entertainment.
Today companies offer a huge number of excellent models in all price segments. But mid-tier mini drones are most in demand among many flying enthusiasts. Of course, comparison of all models in this segment is impossible due to their huge number. The article contains only the general selection criteria and an overview of the most interesting models, including the RyzeTech Tello and the Holy Stone HS 165. RyzeTech Tello is interesting as the best budget DJI drone. This brand has confidently dominated for over 10 years. The Holy Stone HS 165 is one of the first GPS enabled mid-tier mini drone.
Main specs
– Weight
All drones weighing under 250 grams do not require registration or a pilot's license, but of course, its flights also fall under the FAA Regulation in the US (flying within the visual line of sight, height restrictions, etc).
– Camera resolution
Modern drone cameras provide video recording in a range from 480p to 2.7K. Sensor resolutions ranges from 2 megapixels to 12 megapixels.
– Battery life and maximum flight time
The average full charge battery life of the mini drones ranges from 8 to 15 minutes. But, of course, it essentially depends on wind conditions, speed, flight and shooting modes, etc. Today, the premium DJI Mavic Mini ($ 400, 249g), is the absolute leader, providing up to 30 minutes of flight time.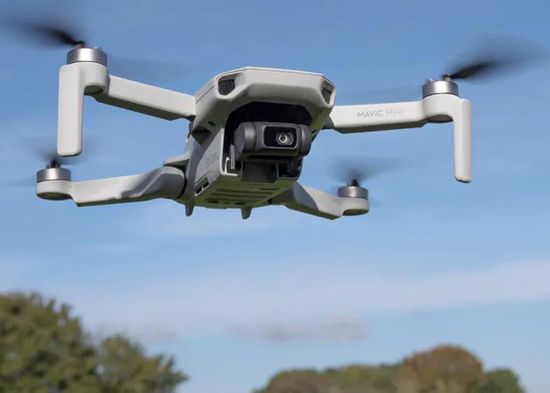 But many models come with multiple batteries, allowing you to quickly resume flight after replacing it. Unfortunately, some companies list the total flight time with multiple batteries, without mentioning the need to interrupt the flight when replacing the battery.
– Range of the Drone
This is very important for professional models in search mode, while tracking, shooting, etc, but not very important for entertaining flying in backyard. In addition, the drone must remain in line of sight in accordance with flying regulations.
– FPV Range
It depends on the on-board drone transmitter power, antennas, etc. Today the DJI Mavic Mini is unrivaled, providing an FPV mode of up to 2.5 mile or 4 km (FCC or Federal Communications Commission standard, 5.8GHz). The FPV range of budget and mid-tier mini drones varies within a few hundred meters.
Functionality
GPS enabled mini drone
The GPS function significantly improves the safety, providing, for example, auto return of the drone in the event of a losing connection, lost line of sight, or battery discharge.
Most popular GPS features:
– Return to Home (return to the take-off point).
– Automatic Return;
– Follow Me Mode (tracking GPS signal in your smartphone).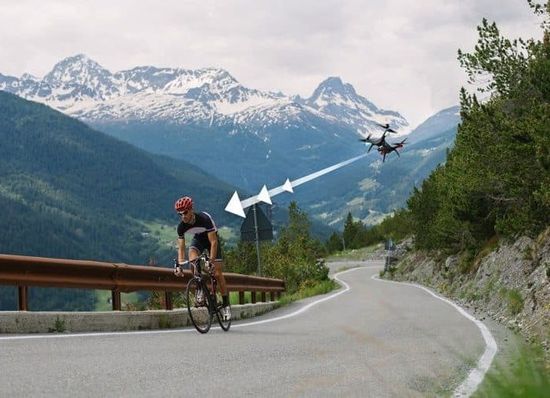 Electronic Image Stabilization (EIS)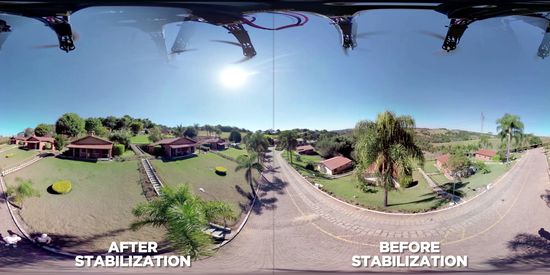 Image stabilization provides the smoothest video footage possible. Otherwise, the footage will be more choppy.
With the exception of the DJI Mavic Mini and the RyzeTech Tello, most modern mini drones do not have built-in EIS.
Of course, the functionality of full-size models is much wider due to the large number of different flight modes and shooting modes. But most of them are designed to solve professional tasks and are redundant for a mini model.
DJI RyzeTech Tello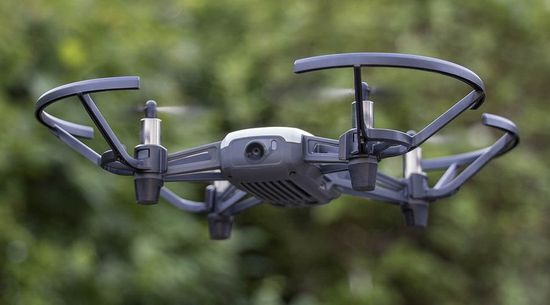 The RyzeTech Tello costs about $ 90 and belongs to the only budget DJI series. For over 10 years, DJI has confidently dominated the premium segment. For example, today the company offers the gorgeous premium DJI Mavic Zoom ($ 1,350), DJI Mavic Air 2 ($ 800), Mavic Mini and DJI Mavic 2 Pro ($ 1,500). But in the other segments, it competes with Snaptain drones, Holy Stone drones, DeeRC drones, etc. However, RyzeTech Tello successfully copes with this task. Today, many experts quite justifiably include it in their top lists.
It does not support GPS, but a downward position sensor partially provides this function. For example, Tello can sense its location and can adjust itself when hovering. The EIS provides smoother footage. Camera records video at 720p resolution and take pictures with 5MP resolution. Its max speed reaches 17.9 mph, max range is about 328 ft or 100 m, and max flight time is 13 min.
Flight modes:
– Throw and Go (flight start by throwing up);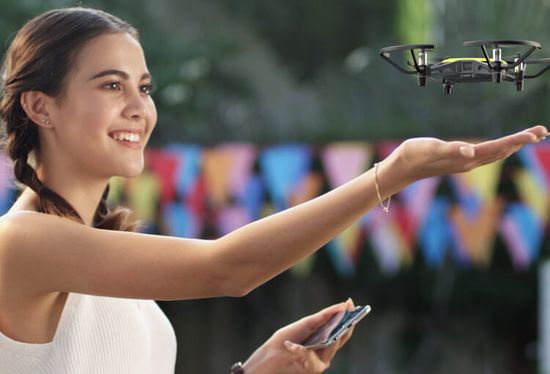 – 8D Flips (flips the drone in any direction);
– 360 Circle (drone flight around you in a 360 circle).
Pros
– despite the very low weight (2.82 oz or 80 g), very stable design;
– Throw and Go, 8D Flips, and 360 Circle modes;
– two antennas increase the video transmission stability;
– FPV mode, one-touch take-off and landing, and low battery protection;
– model is compatible with MIT's Scratch programming language;
– EIS (Electronic Image Stabilization).
Cons
– video recording only 720p resolution;
– does not have built-in storage or slot for micro SD cards;
– no Return to Home mode due to lack of GPS;
– no controller.
Connecting through Bluetooth increases the cost.
Holy Stone HS 165
Holy Stone drones have been consistently popular for years. Today compact foldable Holy Stone HS 165 costs only $ 115 and is one of the few GPS enabled mini drones.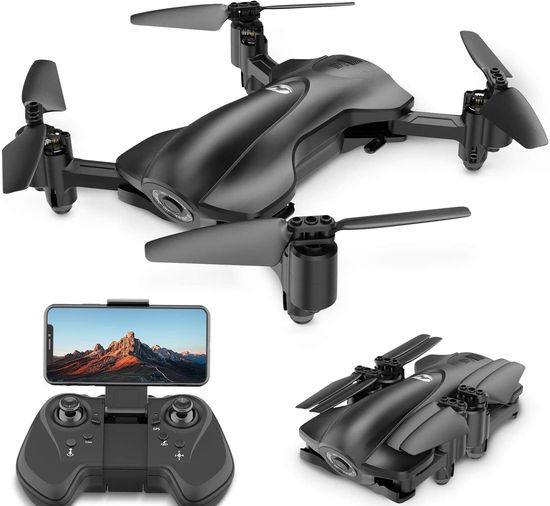 Of course, this feature greatly expands its capabilities. In particular, its maximum flight range varies from 984 ft to 1312 ft (300-400 meters). In addition, the drone supports RTH (Return to Home) mode, dramatically increasing safety.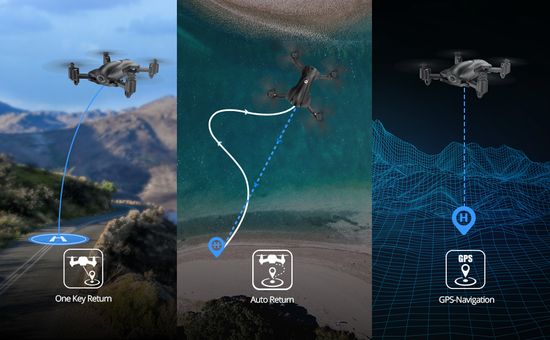 What's more, Holy Stone HS 165 uses a 1080p resolution camera.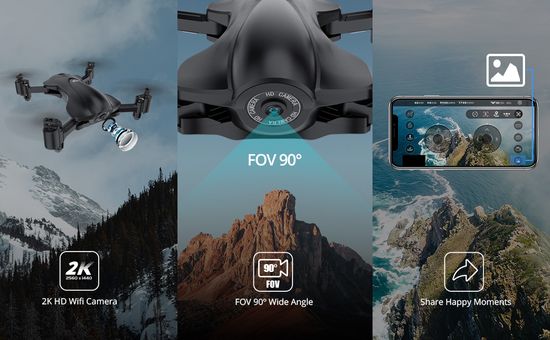 The model supports Gesture control and Recording voice.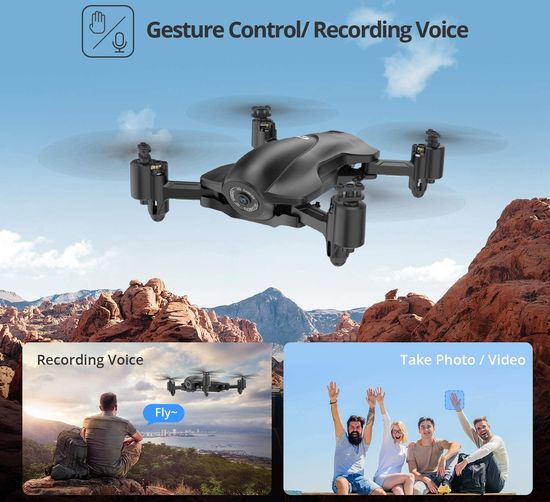 This drone uses Follow Me, Circle Fly and Tap to Fly modes.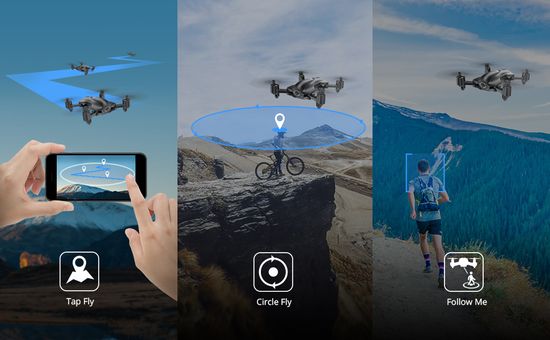 Pros
– GPS enabled drone;
– RTH mode;
– max flight time reaches 15 minutes.
– headless mode and one-touch take-off and landing;
– max flight range of about 984 – 1,312 ft;
– very good customer service.
Cons
– no built-in image stabilization;
– no propeller guards.
Conclusion
Of course, the specs, camera and functionality of the GPS enabled Holy Stone HS 165 significantly exceed the specs of the DJI RyzeTech Tello. This list includes max range of 1,312 ft vs 328 ft, video recording of 1080p vs 720p resolution, GPS, and a nearly complete suite of flight and shooting modes. Throw and Go and 8D Flips modes, propeller guards and EIS (Electronic Image Stabilization) of DJI Tello partially compensate for these factors. In addition, Tello is significantly cheaper. The $ 25 savings probably aren't amazing, but that amount equates to roughly 25% of the price.
But both models are great for non-professional use and will be the perfect gift for any child and adult.
This video shows flying and shooting foldable 1080p 5G Wifi FPV GPS Holy Stone HS 165 drone.