The Chinese DJI Technology Co (Dajiang Innovation Technology Co), Hong Kong has dominated the drone market segment for over 10 years. But in recent years, this situation began to change in the price segment to $ 400 and less. For example, the new DJI Mavic Mini ($ 400), Mavic Zoom ($ 1,350), DJI Mavic Air 2 ($ 800), and DJI Mavic 2 Pro ($ 1,500) continue to lead among professional drones. But in the budget segment, DJI offers only the Tello series.
Of course, companies are actively filling this super promising niche with their proposals. As a result, today this segment is filled with a huge number of tempting offers. The list of the most successful brands includes Snaptain drones from Shenzhen VanTop Technology & Innovation, Holy Stone drones, DeeRC drones, SJRC and Ruko drones, etc.
DeeRC drones
Unfortunately, there is no information about the owner of the DeeRC brand. What's more, Holy Stone is listed as an authorized DeeRC drone dealer by some sellers.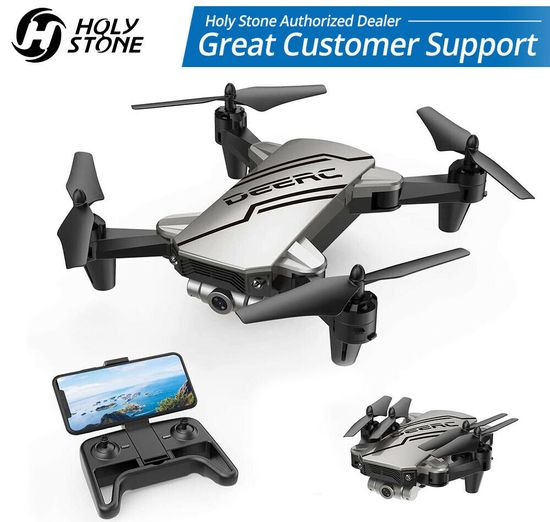 However, it can be due to a simple reason. For over 10 years, Chinese giants creat associations of independent companies as part of a more powerful business structure. Moreover, many sub-brands operate in the same segment, competing with each other. For example, Xiaomi Roidmi and Xiaomi Jimmy produce cordless vacuums. This strategy provides a flexible balance between the resources of a powerful parent company, including its reputation and technologies, and the initiative of new sub-brands.
For example, Nubia Technology was created by Chinese ZTE in 2012, Huawei created Honor in 2013. Then, Lenovo replenished this list due to Zuk, Motorola, Medion, and BBK Electronics created Vivo, Oppo and OnePlus in the smartphone segment. Since 2010 Xiaomi has been using this business technology most successfully, creating the Xiaomi ecosystem based on crowdfunding (crowd+funding) platforms for start-up development. Today, it unites more than 200 successful independent companies in almost all segments of consumer electronics.
It can be assumed that the owner of the DeeRC brand is also affiliated with the Holy Stone company through a similar structure.
Today, the list of the most popular DeeRC drones includes the D20 ($ 42) and D50 ($ 80). Moreover, some experts today position the D20 as the best modern mini drone with camera under $ 100. But the full list is much wider, including D10 ($ 50), D15 (GPS model with 4K UHD EIS Camera, Anti-Shake, 5G FPV Live Video and 130° Wide Angle, $ 260), DE22 (2K FPV camera, 5G FPV transimission, $ 180), DE24 (1080p WiFi HD camera, $ 112), DE25 (1080p HD camera, $ 130), etc.
DeeRC D20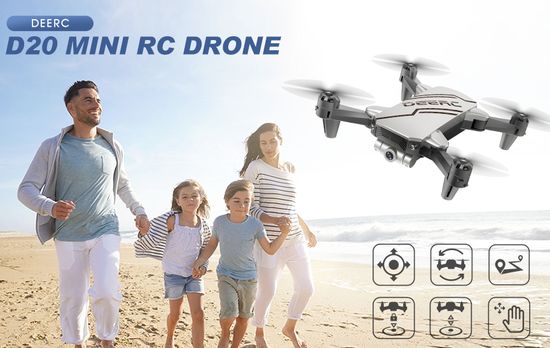 The D20 is a foldable design mini drone with camera for beginner. Probably, this is one of the smallest drone, which only weighs 60g / 2.04oz.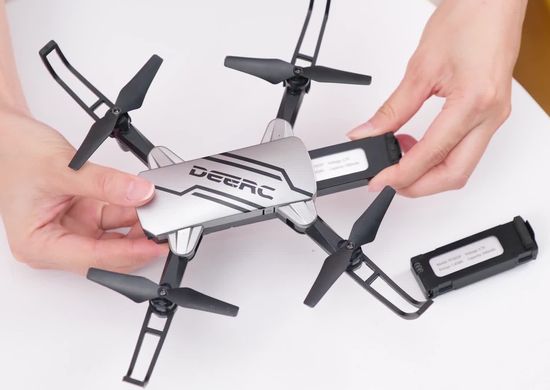 Of course, this size and weight exempts the owner from FAA (Federal Aviation Administration) registration and flight restrictions. But traditionally for ultralight drones, D20 cannot fly even in light winds. In addition, the max range up to 131 ft (40m) also limits flight. On the other hand, it's perfect for flying inside even a small room.
Pros
– very good value for the money due to a large number of functions;
– unprecedentedly small size;
– 720p HD FPV camera with 60° wide angle;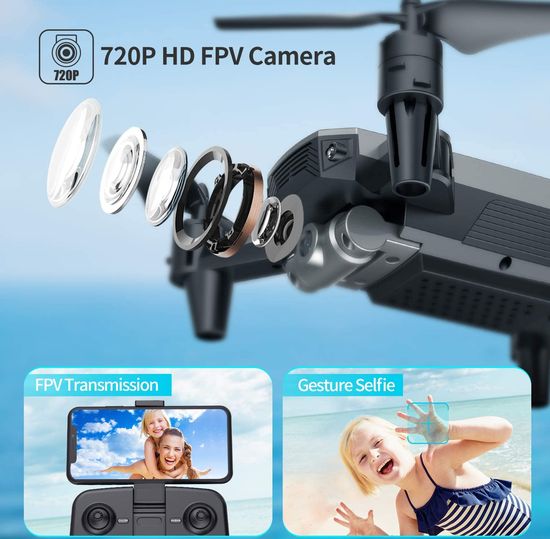 – one-touch 360 flips (3D Flips), one-touch take-off and landing, Headless mode, Altitude Hold, Waypoints, Voice Control and Gesture Selfie;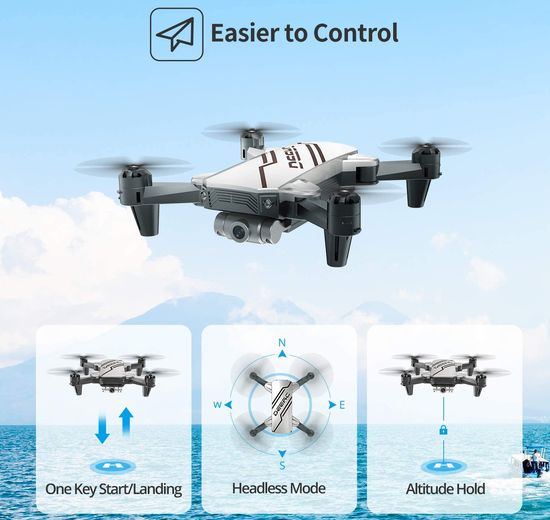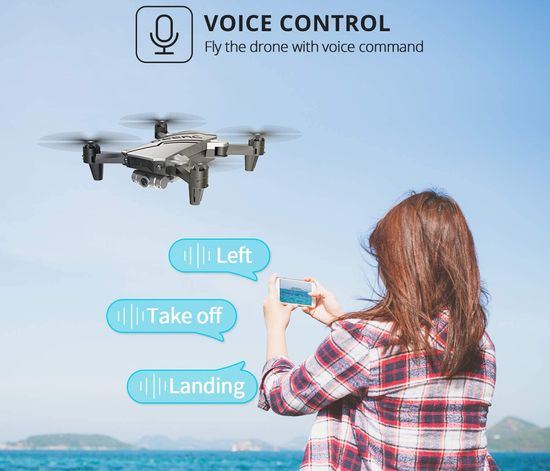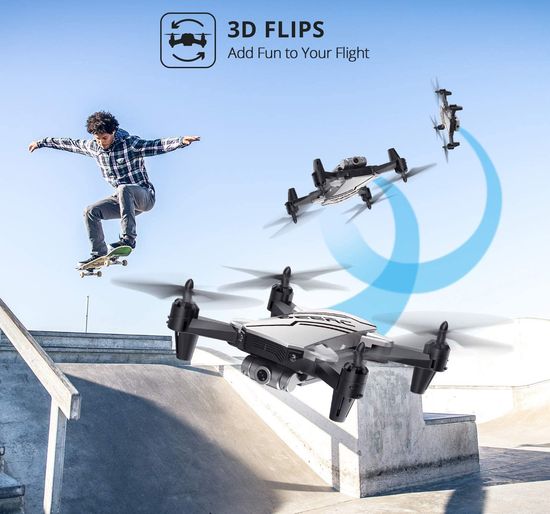 – Emergency stop function protects drone from a sudden shock or flying away;
– Flight Time of 10 mins/per battery or 20 mins with 2 optimized modular batteries.
Cons
– dependence of flights on the wind;
– no "return to home" mode due to lack of GPS;
– no camera stabilization.
These drones will be a great gift for schoolchildren, providing them with an exciting time outdoors and at home. But it will also be useful for beginners for indoor training, especially considering its size. But, of course, the D20's capabilities will be severely limited in areas with frequent winds.
DeeRC D50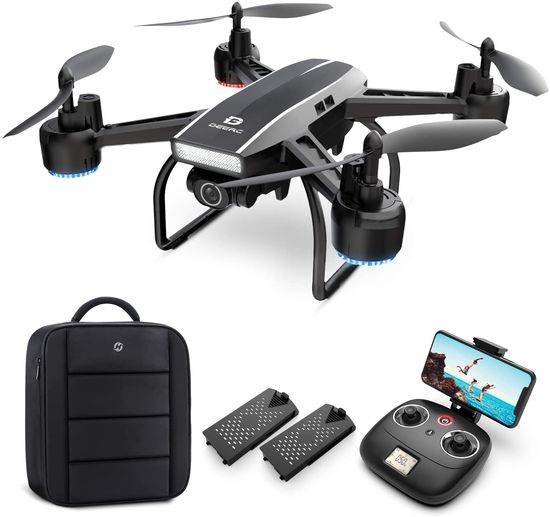 The significantly more powerful D50 costs $ 80 and weighs 6.28oz (178g). The 2K Ultra HD FPV camera with 120° FOV (field of view) and adjustable angle provides 2K HD video recording and 1920 x 1080 photos.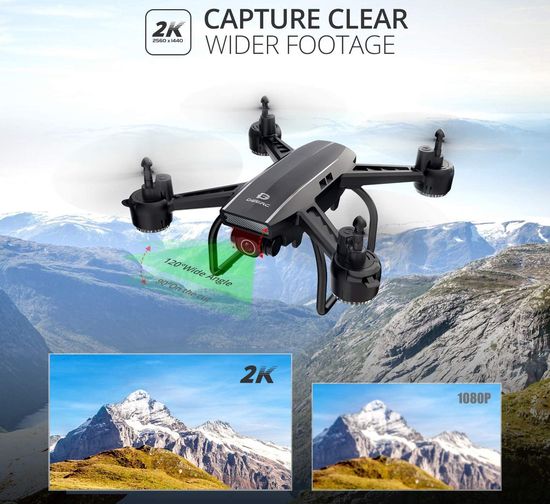 Transmitter Range of drone reaches 327 ft (100m) and max FPV Transmission Range – 640 ft (almost 200m). Flight Time reaches 12 mins / per battery or almost 25 mins with 2 optimized modular batteries.
Like the D20, the D50 supports auto-hovering, one-touch 360 flips (3D Flips), one-touch take-off and landing, Headless mode, Altitude Hold, Waypoints, Gravity Control, Voice Control and Gesture Selfie.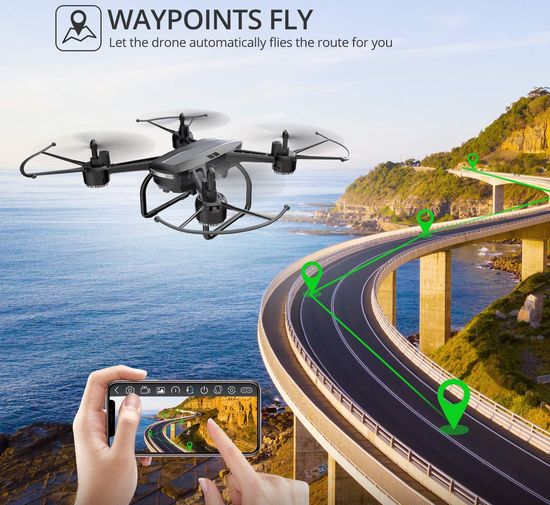 In addition, the drone uses 4 speed modes and POI mode.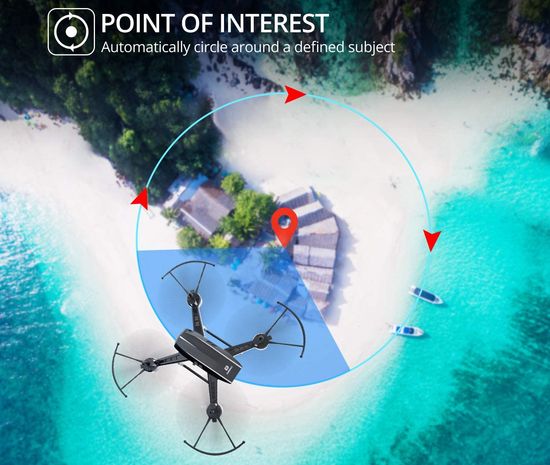 Of course, this model is better suited for outdoor flying. In addition, it may already provide sufficient quality recording.
Conclusion
Today DeeRC drones mainly compete with Holy Stone HS110D ($ 60), and Snaptain S5C ($ 60) or SP650 ($ 65). Of course, the list of competitors is much wider, but the price, specs, functionality and flight modes of these models are the closest. It can be stated that DeeRC is not inferior to eminent rivals, offering quite competitive products.
This video contains unboxing, flight test and camera test of the DeeRC D20 Mini Drone.