This review is updated regularly with new models
Last updated: August 30, 2019
As known, traditional projectors use powerful lamps as a light source. Unfortunately, they have a limited resource and high cost. In addition, their high heat dissipation requires a large internal volume and a powerful cooling system with a high noise level. But the rapid development of semiconductors has greatly expanded the capabilities of engineers, allowing them to develop LED projectors using LEDs as light sources.
Introduction
As known, LEDs and laser LEDs practically do not heat up and do not require a large internal volume for heat dissipation. As a result, compactness has become one of their main advantages.
In addition, their service life varies from 20,000 to 30,000 hours, which corresponds to approximately 10 years of active use.
Of course, these factors led to the rapid development of the portable LED projector segment. As a rule, companies produce modern models in the form of a compact thin parallelepiped, which easily fits even in your pocket. However, the modern market also offers other form factors, for example, Nebula Capsule or Rif6 cube projectors, and even smartphones with the function of an integrated projector.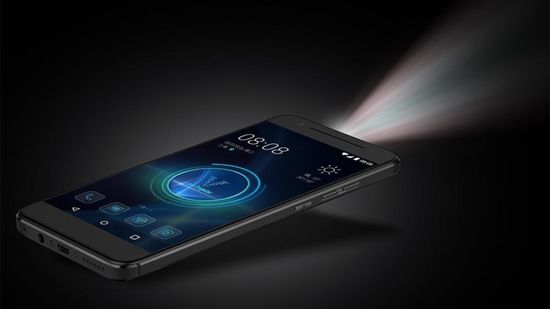 Usually, companies use the terms mini, pico, pocket, etc to denote them. Therefore, their classification by name is rather arbitrary. However, we can use the classification in terms of their portability. Of course, in this case, size and weight are some of the main criteria. Usually, projectors weighing up to 1 lb are classified as piko or porket models. The upper bounds for mini models vary in the range from 1 lb to 5 lb. But each consumer individually defines this criterion for himself.
Of course, a portable projector should provide the ability to conveniently download content and sufficiently long battery life. Therefore, connectivity and battery capacity are important criteria when choosing such a model. As a rule, modern portable models support various connections, including, for example, HDMI, USB, TF Card, WiFi, AV for iPhone, iPad, Mobile Phone, Laptop, MacBook, PC and provide work from 2 hours or more on battery power. But, of course, these features significantly affect the model price.
TOPs
Of course, the selection criteria for any consumer electronics are always individual. Some consumers attach great importance to new products, preferring the latest models. Other buyers are guided by the opinions of experts, who usually focus on objective specs of devices. But many users prefer to form their opinions on the basis of consumer reviews, which, most often, depend on the price / quality ratio of the model. As a result, the contents of these TOPs are usually different. This review offers all of these options.
As a rule, most market leaders regularly present their new models on the market. 2019 was no exception. This year, the range of pico projectors has also expanded significantly. The list of most promising mini projectors 2019 contains the following models:
– Canon Rayo S1 WVGA Pocket Projector;
– AAXA P7 Projector;
– Miroir Ultra Pro Projector M631;
– WOWOTO Portable Projectors;
– ELEPHAS GC333 (YG600) Full HD 1080p Portable Home Theater Projector.
Of course, any TOP from experts is always subjective. Nevertheless, most successful models are present in many lists, which, of course, testifies to the objectivity of their assessment. Such TOP list of mini projectors 2019 includes:
– Anker Nebula Mars II;
– Optoma ML750ST;
– Asus ZenBeam E1;
– ViewSonic M1;
– Vivitek Qumi Q3 Plus;
– AAXA P2-A.
Usually, consumers pay more attention to price, advertising, warranty, technical support, etc.
Today their list contains:
– VANKYO LEISURE 3 Mini Projector;
– DR. J Professional HI-04;
– DBPOWER Mini Projector;
– QKK (2019 Upgrade) Mini Projector;
– TOPVISION Mini Projector.
Canon Rayo S1 WVGA Pocket Projector
Of course, this Japanese brand does not require the introduction. In January 2019, the company introduced its new Canon Rayo S1 WVGA pocket projector.
This model provides Lumen Output of 100 ANSI lm at 854 x 480 resolution with a contrast ratio of 800: 1 (full on / off). A lens with Throw Ratio of 1.60: 1 (D: W) provides the maximum projection at up to 84 inches diagonally at 10 ft. Unfortunately, such an image will be very dim even in a well-darkened room due to the insufficient brightness of the projector. Actually, its Estimated Image Brightness reaches of 72 nits and more only for projections with sizes up to 40″ diagonally for rooms with low ambient light (https://www.projectorcentral.com/Canon-Rayo_S1-projection-calculator- pro.htm).
The weight and size of this ultra compact square model model do not exceed 4 x 4 in and 0.5 pounds (0.22 kg), respectively.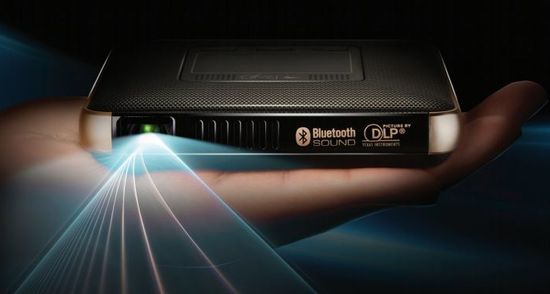 Moreover, the list of its pros includes:
-WiFi connectivity;
-Android OS, built-in web browser and Canon Camera Connect app;
-4 GB Internal Memory;
– 3 W Bluetooth speaker;
– a smart touchpad;
– compatibility with select wireless gadgets, including mouse and keyboard;
– support to connect and mirror a smartphone or tablet;
– on-screen QWERTY keyboard to type;
– built-in power bank for charging.
Audible Noise does not exceed 18.0 dB. Unfortunately, the projector does not provide Digital Keystone and does not have autofocus. But projector warranty reaches 3 years.
Given the relatively low price of nearly $ 260 and the brand's excellent reputation, these key features provide it with good market prospects.
Anker Nebula Mars II
As known, Anker is the global leader in charging technology, including wireless charging, car charging, etc. In addition, in past few years, this company produces smart projectors under the Nebula brand. Today, the line of their portable models includes the Nebula Mars and Nebula Capsule series.
In the spring of 2018, the company introduced Nebula Mars Lite and Nebula Mars II. They have the same design, size and weight (14 cm x 12 cm x 18 cm and 3.3 lbs).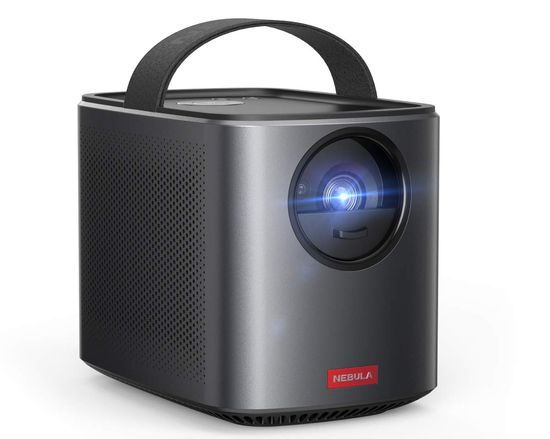 Both projectors provide brightness of 300 ANSI Lm at 1280 x 720 (16:9, HD) resolution with contrast of 1,000:1 (full on/off). In addition, they have powerful 10.0 W × 2 speakers.
According to the company, their Throw Ratio of1.20:1(D:W) provides from 40″ @1.15 m up to 100″ @3.08 m. On the other hand, the company indicates a range Projection Size 30 -150 in, but warns that 150″ is the maximum picture size and will only be clear and saturated in very low-lighting.
Additionally, both models provide single-second autofocus and vertical Auto Keystone Correction ±40°.
Moreover, Nebula Mars II is a smart model (Android 7.1) and supports Miracast, Streaming Apps, etc. Of course, Android 7.1 OS which comes with popular streaming apps, including Amazon Video, Netflix, and Youtube, is its significant pros.
The list of its connectivity contains HDMI, USB, Bluetooth, WiFi-enabled with Android 7.1 and a 3.5 mm audio jack.
12,500mAh battery provides roughly four hours of video playtime.
Unfortunately, Mars II will not be able to provide high quality in a well-lit room, but in a dark room its brightness provides an excellent result.
Today Nebula Mars II costs nearly $ 500.
Vankyo Leisure 3 Projector
Today, this model is the undisputed leader among buyers.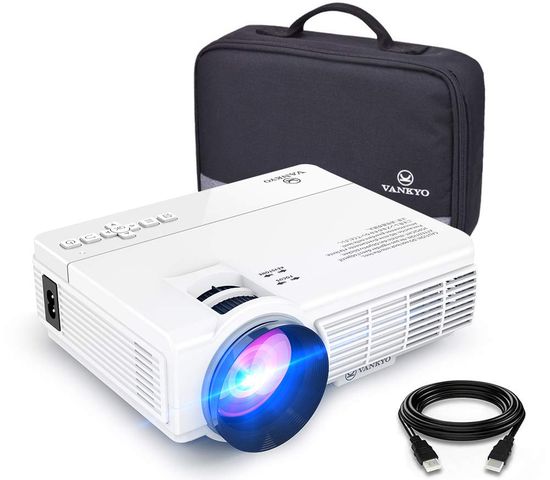 As known, the projectors under this brand first appeared on the market in December 2017. Today the company offers several series, including LEISURE, PERFORMANCE, PASSPORT, and BURGER SERIES. Leisure series contains Vankyo Leisure 3 and Vankyo Leisure 510 models. Vankyo Leisure 3 became Best Seller in Amazon in 2018 and continues to lead in popularity in the budget segment.
At an unprecedentedly low price less than $ 90, this projector supports 1080p, projects an image width up to 170 inches, has Dual Speakers and provides ± 15 ° Keystone Correction. But its native resolution is only 800 x 480. The projector's contrast reaches 2,000: 1 (full on / off).
Of course, these specs may seem exaggerated given the very low price. But, given the huge number of positive reviews, this model can be unprecedented dumping, which will please many potential buyers.
Its projection distance varies between 4.9 ft to 16.4 ft.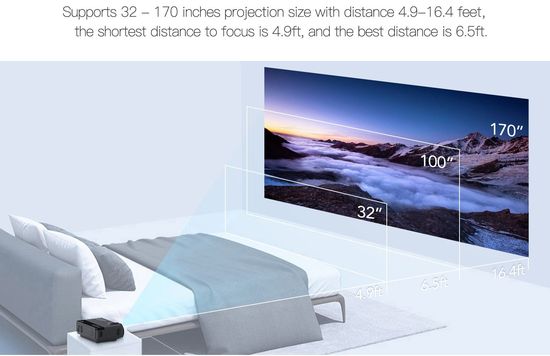 But a company recommends 6.5 ft for maximum image quality.
In addition, the model provides 2400 Lux, which corresponds to approximately 75 Lm (LED Beam Angle: 120 °). This model uses the efficient MStar Advanced Color Engine. According to the company, it increases brightness by 60%.
Connection Panel contains MemoryCard, USB and HDMI (MHL). But connecting to iPhone requires an extra Lightning to HDMI adapter (not included). When connect with android phone, you need an extra Micro USB/Type C to HDMI adapter (not included).
Unfortunately, the model does not have a built-in battery and runs on an AC power cord. Of course, this greatly limits its use, for example, in the yard.
Conclusion
– Canon Rayo S1 WVGA Pocket Projector will be interesting for fans of the latest innovations;
– Anker Nebula Mars II provides excellent performance with an excellent brand reputation;
– Vankyo Leisure 3 is simply an unprecedented bargain.
We sincerely wish you the Right Solution!
This video offers unboxing and setup of Vankyo Leisure 3 mini projector.