Rapid Improvement of lasers and LEDs has allowed engineers to use them as solid-state light sources for projectors. As a result, the market filled with various ultra-portable pocket projectors. Consumers were enthusiastic about the new product, stimulating the further development of this trend. Today the list of leaders includes AAXA, Miroir, Optoma, Anker, APEMAN.
But, of course, this list is far from complete. For example, RIF6 introduced only one, but unprecedentedly popular RIF6 CUBE mini projector, with a size and weight of only 2 inches and 0.36 lbs (136 g).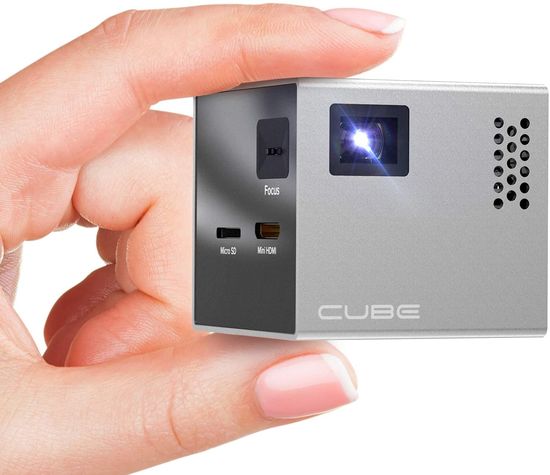 The success of mini projectors in the consumer market has provoked several companies to develop projector smartphones. From 2008 to 2017, Samsung and Sony introduced several of these models. But their very low brightness and resolution could not provide acceptable quality. The development of micro-electrical mechanical system (MEMS) technology by the American MicroVision company gave a powerful new impetus to the development of this direction. In 2018, Blackview and Wireless Mobi Solution, Inc. (WMS) presented Blackview Max 1 and Moviphone (Voga-V) smartphones with an integrated laser projector and MEMS technology.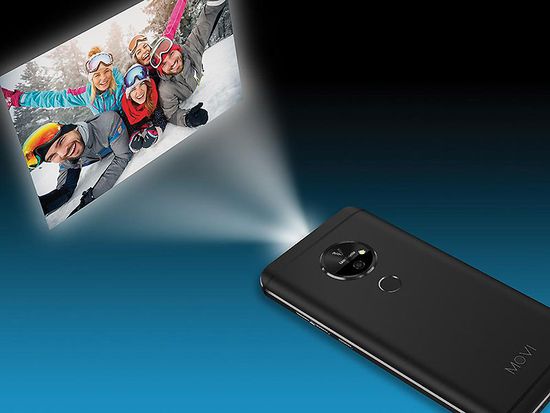 Many experts predicted the success of this direction. But today comparison of buying phone + mini projector vs projector phone provides the radical advantage to purchasing two separate devices in terms of value for money. As a result, in 2020 the list of smartphones with projector was not replenished, demonstrating the skeptical assessment of the company's management to the prospects for this area.
Of course, low brightness significantly limited the growth of popularity of mini projectors. But in the last few years, the market began to offer pocket models with a brightness of several hundred Lm and higher with a tendency lowering their prices.
LG PH30JG
LG projectors long and successfully compete in the market. For example, LG PF 1000 has long been considered one of the best UST (ultra short throw) projectors.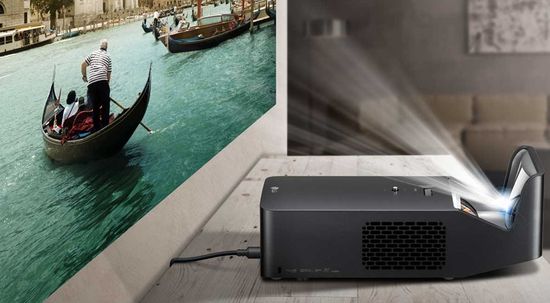 In recent years, the company has developed several ultra-portable models.
In October 2017, the company introduced the ultra-portable PH30JG DLP LED projector with great specs for its size.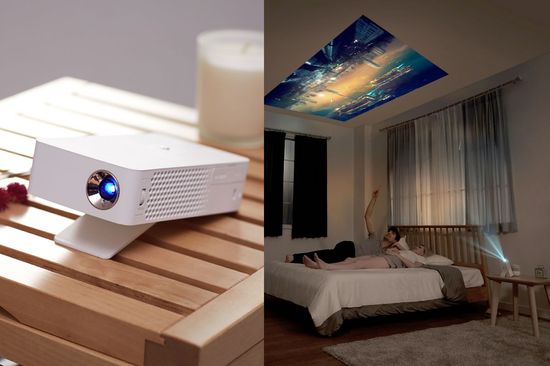 The model provides a brightness of 250 ANSI Lm at HD (1280 x 720) resolution, 100,000: 1 dynamic contrast, and Image Size up to 100″. But the latter has a nuance.
An increase in the proection size is accompanied by a decrease in Image Brightness, which significantly affects its perception. Physically, it depends on the projector's light output and Screen Gain (reflectivity of the screen), and is measured in fL (foot-Lamberts).
For dark home theater, SMPTE (Society of Motion Picture and Television Engineers) recommends 16 fL. But most people prefer a brighter image due to the influence of ambient light. Experts estimate the optimal Image Brightness in the range of 20 to 50 fL, depending on the ambient light. Today the Internet offers several on-line calculators for projectors. For example, the Projection Calculator on the projectorcentral.com is very simple and easy to use.
But companies often choose to indicate the maximum capabilities of an optic without considering these factors. Therefore, the maximum size of an acceptable quality image is usually less than specified in the specs.
For 100-inch Image Size, the PH30JGB only provides 8 fL. Of course, such an image will be very dim even in a dark room. In fact, the projector provides a comfortable Image Brightness only for projections up to 65" diagonal in rooms with low ambient light. However, this size is also an excellent result for a mini projector.
LG PH30N vs PH30JG
This year, the company introduced an ultra-portable PH30N DLP projector.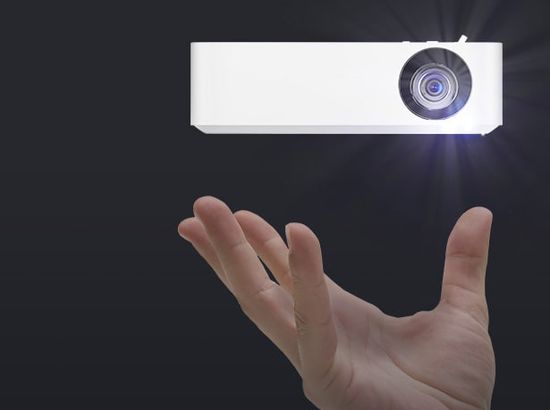 All major specs have not changed. The new model provides the same image size, 250 ANSI Lm brightness, HD resolution and 100,000: 1 dynamic contrast. Like PH30JG, it supports Miracast for screen mirroring of mobile devices, uses 0.23-inch 960×540 DLP chip with TI's XPR fast-switch pixel-shifting, has 1.0 W mono internal speaker, and provides auto and manual +/- 40 degree vertical keystone correction. The list of minor differences includes:
– Throw Ratio – 1.50: 1 vs 1.34: 1 in PH30JG;
– Size – 1.50″ x 5.10″ x 5.10″ vs 1.40″ x 3.40″ x 5.80″ (HxWxD);
– Audible Noise – 25 dB vs 22 dB (Eco);
– Battery Life – 2 vs 4 Hours.
Of course, the price has become the main pleasant feature of the new model. The LG PH30N costs only $ 400 vs $ 500 for the PH30JG. In fact, the company managed to reduce the price by 25% while keeping all the basic specs at the same level. Of course, reducing battery life to 2 hours is significant, but not critical in most cases.
At the same time, a significant price reduction sharply increases the model competitiveness, opening up good prospects for it. On the other hand, some sellers are lowering the price of the PH30JG.
Testing and key features
Traditionally for mini models, the projector does not have a zoom. Therefore, adjusting the image size requires moving the projector. Its Throw Distance ranges from 2.7′ to 10.9′ (0.8 – 3.3 m).
Brightness testing with default settings for the brightest color mode showed less than 160 ANSI Lm. Aadditional calibration increased it to almost 230 ANSI Lm, but it is accompanied by green bias. Therefore, a projector requires a compromise between color accuracy and image size.
Of course, 1 W mono speaker has too little volume. But 3.5mm audio output and wireless support for Bluetooth speakers with AV Sync adjustment solves this problem.
Four color modes (Vivid, Standard, Cinema, and Game) have only a Color Temperature setting, which changes colors in a very narrow range. Unfortunately Game mode is too dim. Settings in Expert mode include Contrast, Brightness, Color, Sharpness, and Tint.
With the exception of green bias in some scenes, color accuracy is very high for this class.
Unfortunately, using the battery lowers the brightness level by about 40% compared to AC power. In addition, the power block to recharge the internal battery measures 1.5 x 4.25 x 1.8 inches and weighs 0.6 lbs.
LG PH30N vs AAXA P7
Of course, an objective assessment requires a correct comparison with analogs. Today AAXA P7 is considered one of the best models in the ultra-portable projector segment.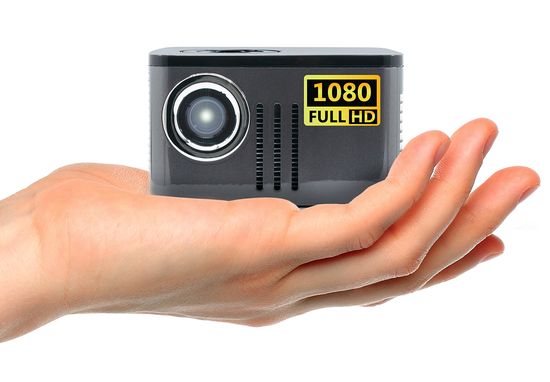 The company introduced this model in February 2019. Priced at $ 400, the AAXA P7 delivers 600 LED Lm at Full HD (1920×1080) resolution and 2,000: 1 (full on / off) contrast. Rechargeable 38W Li-Ion battery provides up to 90 minutes of runtime. In low-light conditions, model projects up to a 120″ image.
The company specifies a brightness of 600 LED Lm and this is not a typo. Recently, some companies have frequently indicated the brightness in LED Lm instead of traditional ANSI Lm due to the discussion about the influence of Helmholtz – Kohlrausch effect on perceived brightness. According to some experts, LED projectors are perceived brighter than lamp models even at the same brightness.
Size and weight of the ultra-portable AAXA P7 is only 2.70″ x 4.70″ x 4.40″ (HxWxD) and 1.4 lbs.
Overall, the specs of the P7 are clearly superior to the competition. But the LG PH30N also has several pros, including:
– Miracast;
– 100,000: 1 dynamic contrast;
– comes with battery (AAXA P7 – Amazon customers only);
– excellent service support from LG;
– 1.50″ x 5.10″ x 5.10″ and 1.1 lbs vs 2.70″ x 4.70″ x 4.40″ and 1.4 lbs of AAXA P7.
Besides, having approximately the same dimensions, LG PH30N is more consistent with positioning as a pocket model. Its flatter shape allows the user to easily carry the device into a medium sized pocket.
Conclusion
LG has successfully advanced in the super-portable LED projector segment. Considering a very good combination of resolution, portability, brightness, and price, the LG PH30N is clearly preferable to the previous PH30JG. Of course, its basic specs are clearly inferior to the most popular AAXA P7. But the LG PH30N has substantial pros, including Miracast, 100,000: 1 dynamic contrast, bundled battery and pocket form factor. Taking into account the excellent service support from LG, many of the brand's supporters have a good reason to make a choice in its favor.
This video introduces the ultra portable LG CineBeam PH30N LED projector with built in battery and wireless connection.