The rapid improvement of semiconductors has opened up the possibility of using them in projectors as a light source. The almost complete absence of heating allowed engineers to drastically reduce the size and weight of these devices due to the lack of the need for heat removal using a powerful fan. In addition, a huge service life (up to 30,000 hours vs 6,000 for lamps) became their added advantage.
Of course, a fairly low brightness significantly limits their use in high-power projectors. But many LED models already provide hundreds of ANSI lm, which is enough for pico projectors. In addition, the market offers models with a brightness of more than 1,000 ANSI lm. For example, Lumen Out of Optoma LH150 reaches 1,300 lm. On the other hand, its size and weight (2.4 x 11 x 7.5 in and 4.7 lbs) more consistent with micro than pico projector.
As a result, many companies, including Sony, Rif6, LLC (www.rif6.com), AAXA Technologies Inc., Optoma, Miroir USA, LLC, etc began to actively develop direction of the Pico or Porket projectors. In addition, the modern market offers smartphones with projector functions.
As known, Rif6, LLC is located in New York. In May 2017, Amazon first proposed RIF6 Cube LED Mini Projector. To date, it continues to be unprecedentedly compact. This ultra-portable projector weighs only 0.30 lbs (136 g) with a size of 2 x 2 x 1.9 in (5.1 x 5.1 x 4.8 cm)!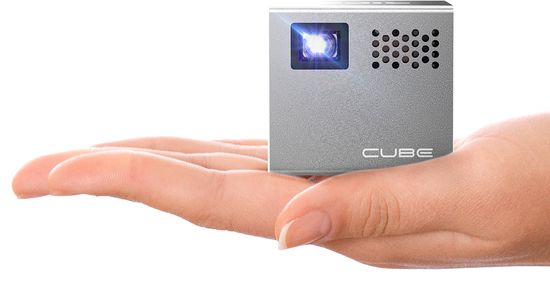 Of course, this 2 inch cube fits easily into any pocket or bag.
The excellent price-performance ratio ensured this model a place in many lists of the best budget pico projectors of 2017. Today, its price has dropped from $ 250 to $ 190, ensuring its popularity among consumers.
RIF6 CUBE
RIF6 CUBE Pico uses a non-separable plastic silver case. The front panel contains a lens and built-in speaker. The left side includes a slot for microSD and HDMI / MHL (Mobile High-Definition Link) port. It provides projector compatibility with smart phone, computer, laptop, gaming console, or TV screens. Panel also contains manual focus, which is the only control.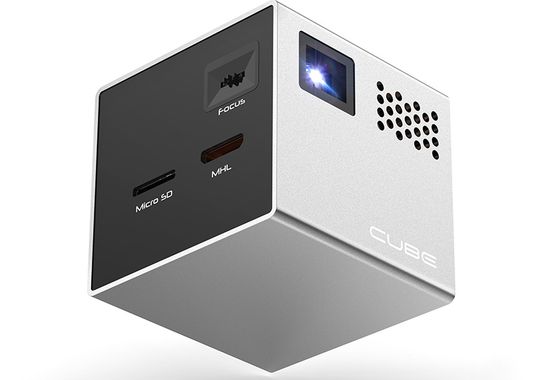 Additionally, the model has a tripod with three legs on hinges. In general, the projector looks very stylish and futuristic.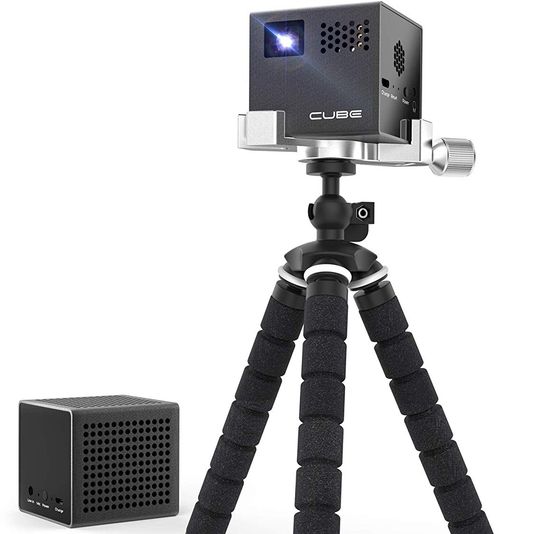 Moreover, the flexibility of the legs allows you to give them any shape, which is often very convenient.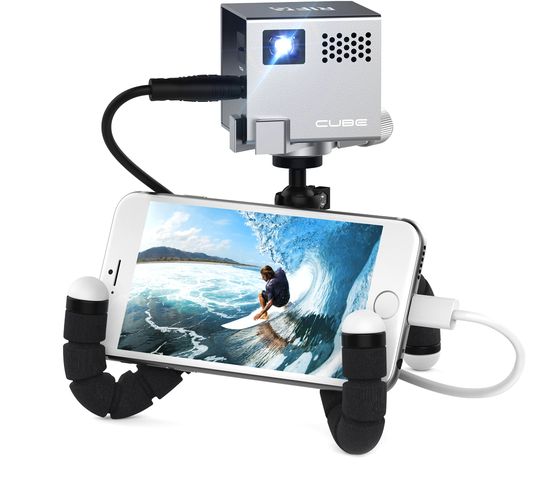 In addition, it has a built-in rechargeable internal battery that lasts up to 90 minutes and a 12-hour playtime handheld wireless speaker. Besides, its Lamp Life reaches 20,000 hours.
Typically, compactness always limits specs and the RIF6 CUBE is no exception. Its brightness reaches only 50 ANSI lm. The projector has 854 x 480 (WVGA) native resolution, but supports up to 1080p. As known, expanding to 1080p (Full HD) traditionally uses upscaling. But, of course, increasing the screen size will reduce image quality.
According to the company, the projector is able to project an image with a size of up to 120" diagonally at 854 x 480 resolution with contrast of 1,000:1. But this statement seems exaggerated. With a relatively low brightness, the RIF6 CUBE provides a fairly clear and rich image on the screen with a diagonal of up to 50″. Further increase reduces the image clarity. In addition, it becomes too dim. However, even such features for a miniature model are gorgeous.
Conclusion
The list of its pros includes a miniature, a rechargeable internal battery, a flexible tripod, low cost and sufficiently high image quality for a small screen. The lack of Wi-Fi and Bluetooth connectivity is its main drawback.
This video introduces the RIF6 Cube Projector.