Of course, competitiveness requires companies to constantly expand their product range. This axiom holds for all segments of consumer electronics and the Home Cinema projectors was no exception. This year, the range of projectors has also expanded significantly. Of course, the format of the review does not allow us to consider their complete list, but it contains the most promising models.
It includes the following projectors from major market leaders:
– Epson 4K PRO-UHD Home Cinema 5050UB/5050UBe and 6050UB;
– BenQ HT3550 and Premium CinePro Series (HT8060/HT9060);
– Optoma EH412/EH412ST;
– ViewSonic LS900WU;
– NEC P605UL Projector.
Epson Home Cinema 5050UB/5050UBe and 6050UB
Actually, Epson Pro Cinema 6050UB in a black is an improved version of 5050UB. This model costs nearly $ 4,000, but provides an unprecedented rated contrast ratio to 1,200,000:1, supports professional calibration for ISF Day and Night modes and an additional setting of aspect ratio for a standalone anamorphic lens. Moreover, 6050UB comes with an extra lamp, a ceiling mount and cable cover. But it is available through CEDIA and other specialty dealers only.
In fact, 5050UB replaces the very popular 5040UB projector of 2016. Its design has not changed.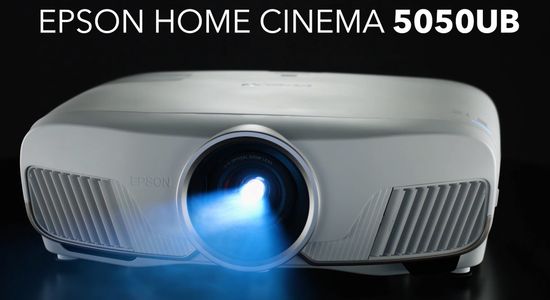 Epson 5050UB was the next step in improving the projectors of this company.
5050UB costs nearly $ 2,700 and provides brightness of 2600 lm for color and white with 1920×1080 resolution.
But, of course, the improved 4K-Enhancement pixel shift technology is its main pros.
Model uses the individual pixel plate with tighter tolerances. It increases the angle of the leading and trailing edges of the electronic shift pulse, redusing the delay between the trough and crest of the pixel shift changes. As a result, new projector has less downtime, providing more light output and a faster signal. In fact, 5050UB provides better accuracy, more output, and higher speed. According to the company, maximum supported resolutions of 5050UB reaches DCI 4K (4096 x 2160) vs 3840 x 2160 for 5040UB.
Moreover, 5050UB provides Improved HDR Support by automatically defining an HDR standard and supporting customization from the menu.
Of course, projector supports many other innovative technologies from EPSON.
With high probability, the excellent color accuracy and contrast, wide lens shift and integrated wireless HDMI will make this model a bestseller in the segment of inexpensive 4K PRO-UHD projectors.
BenQ HT3550
Another market leader introduced a great 4K HDR projector, which claims to lead the list of the best budget Home Theater models. BenQ HT3550 continued the very popular series, which includes BenQ HT3050, HT2050, and HT2050a.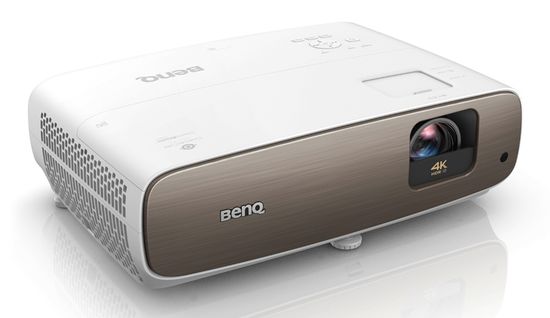 As known, it appeared in April 2019 at a price of only $ 1,500. At the same time, this projector provides brightness of 2,000 Lumens, 30,000: 1 (full on / off with dynamic iris on) contrast, uses Dynamic Iris and supports Ultra HD 4K (3840 x 2160) resolution! Today, this model successfully competes with the popular Epson 5050UB, which is more than $ 1,000 more expensive.
Main pros:
– TI 0.47-inch chip with four-phase pixel shifting provides 4K UHD (3840 x 2160) resolution;
– projector supports HDR10 and HLG HDR-standards;
– the new 0.47-inch next-generation DLP XPR chip minimizes the dark frame around the image. Today, the company also uses it in the HT5550;
– color accuracy from box reaches less than 3 Delta E for Rec.709, 100% Rec.709 coverage and 95% DCI-P3 coverage.
In addition, a 10-element, 8-group, all glass 1.3x zoom lens projects 100-inch diagonal image from throw distance of nearly 8.25 to 10.75 ft (Throw Ratio of 1.13:1 – 1.47:1(D:W)).
Unfortunately, BenQ's default settings provide smaller gamut compared to max possible (95% DCI-P3 vs 105% DCI-P3), and input lag is too high for some modern games.
Other BenQ HT3550 key features:
– six-segment RGBRGB color wheel;
– 100% Rec.709 color gamut in D, 97% Rec.709 in Cinema mode at a higher brightness, and 95% DCI-P3 in the preset version;
– dynamic iris modes – Low, Middle, High, or Off;
– +10% vertical lens shift and ± 30 ° Vertical Keystone Correction;
– two 18 Gbps HDMI 2.0b, HDCP 2.2 ports;
– 4 color preset modes, one user mode for SDR, and modes for 3D, HDR10, and HLG;
– lockable ISF Night and Day mode support;
– silence mode blocks the pixel shift option, reducing the resolution to 1080p;
– color control system provides settings for RGBCMY hue, saturation, gain, and adjusts white balance for RGB gain and offset;
– 5-position HDR Brightness control;
– CineMaster video processing includes color enhancement, flesh tones, detail enhancement, and frame interpolation;
– two built-in 5-watt speakers;
– Full HD 3D playback support;
– backlit remote;
– Lamp Life is 4,000/ 10,000 /15,000 hours (Normal/Eco/SmartEco modes); replacement lamp costs $150, 3-year warranty, and 1 year on lamp.
Video at the end demonstrates unboxing and main specs of BenQ HT3550 4K HDR Home Theater projector.
BenQ Premium CinePro Series 4K UHD HDR Home Cinema Projectors
Company also introduced the BenQ 4K UHD HDR HT8060 and HT9060 in 2019 for $ 8,000 and $ 9,000.
They have almost the same design, but, of course, different specs and functionality.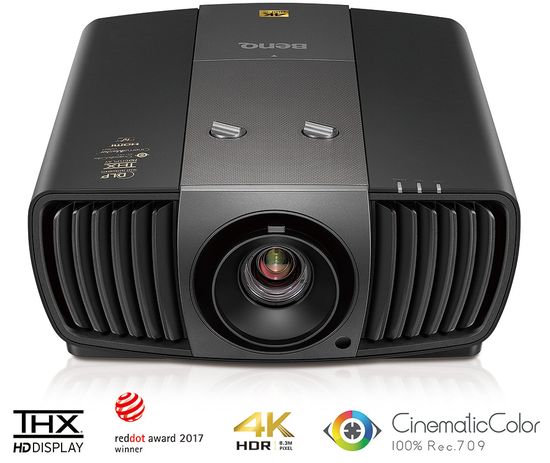 The CinePro Series use latest DLP chipset that's used in IMAX theater. It virtually eliminates pixel shifting and blending, providing 8.3 million distinct pixels for 4K UHD performance. HT8060 with BenQ's CinematicColor provides 100% coverage color gamut Rec.709.
The HT9060 combines CinematicColor with the Philips ColorSpark HLD LED system, expanding color space to super-wide DCI-P3. In addition, this technology eliminates the decrease in lamp brightness over time.
Both projectors are compatible with the optional Panamorph Paladin anamorphic lens which 2.4:1 aspect ratio, delivering 2 million more pixels for increased brightness and detail.
In addition, the projectors in this series use the patented 14-element, six-group and 4K-optimized lens that keeps the original brightness while minimizing chromatic aberration.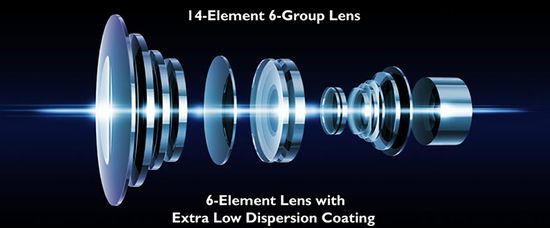 Both models provide a brightness of 2,200 lm at 50,000: 1 (full on / off) contrast ratio with 3840 x 2160 Ultra HD native resolution.
In addition, the projectors support Full HD 3D, and Horizontal ± 27.0% & Vertical ± 65.0% Lens Shift.
Optics with Throw Ratio of 1.36: 1 – 2.03: 1 (D: W) projects a 150-inch image diagonally from a Throw Distance of 18 ft at 1.25x Zoom Range.
The Lamp Life of Metal Halide for the HT8060 is traditionally 3,000 / 6,000 hours in norm / eco modes, but reaches 20,000 hours for the LEDs in HT9060.
But probably, the price will significantly limit the popularity of this series despite its high class.
Optoma EH412/EH412ST
Of course, Optoma also did not stand aside this year. It presented the very interesting Optoma EH412 and EH412ST with great specs, but with priced at only $ 750 and $ 900, respectively. The company positions these models as professional projectors for business presentations, classrooms, and meeting rooms. But of course, they are great as a movie projectors. As the name suggests, the EH412ST is a Short Throw projector. Both models have an almost identical design.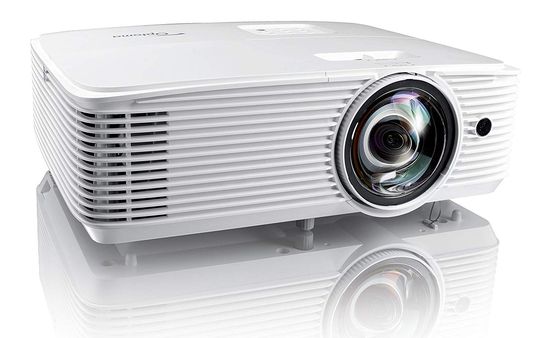 Both models have 1080p (1920 x 1080) resolution, 50,000:1 (full on/off) contrast ratio, support Full HD 3D mode и ± 40° Vertical Keystone Correction.
Lamp Life of Metal Halide traditionally is 4,000 hours, but reaches an impressive 15,000 hours for eco mode.
The brightness of the EH412 reaches 4,500 lm vs 4,000 lm in EH412ST.
Of course, models use different optics. Throw Ratio of 1.12: 1 – 1.47: 1 (D: W) in EH412 provides such a projection from a Throw Distance of 18 ft at 1.19x. (Optical Zoom of model is 1.3x).
Powerful 10-watt built-in speaker provides a fairly loud sound without the need for external speakers.
Projectors support array of connectivity options including 2 x HDMI, VGA in and out, audio-in and out, RS232, and USB-A.
Input Lag 32ms (min) is quite acceptable for games. Together with 4K HDR input, it allows you to use the projector for modern 1080p HDR gaming contents.
Of course, such specs and functionality at a price of up to $ 1,000 offer excellent prospects for the models in this series.
ViewSonic LS900WU HDMI Networkable Laser Projector
As known, the company introduced model this spring. Today its Street Price is nearly $ 3,500.
Its Laser Phosphor provides brightness of 6,000 lm, which is enough to form the WUXGA laser projection (1920 x 1200 resolution) up to 300 inches with 100, 000: 1 contrast ratio. But the optimal projection distance for Home Theater varies from 6.5 to 10 ft.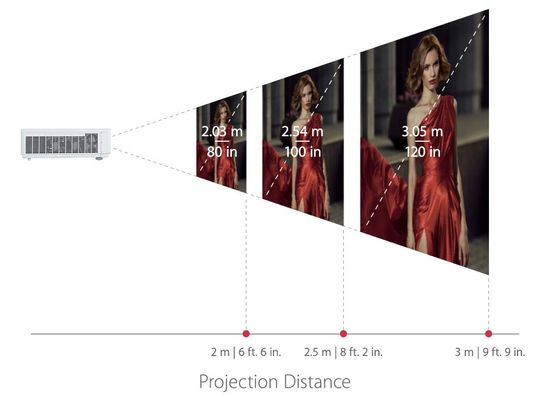 In addition, 1.6x optical zoom, vertical/horizontal keystone correction, 4-corner adjustment, and a lens shift (+9.2% / -2.4% vertically & 2.5% horizontally) radically simplify the installation and setup of the projector.
Moreover, 360-degree orientation function provides projector installation in just about any position or any angle from floor to ceiling, including upside down at a 45-degree angle.
Projector supports Full HD 3D mode.
Light source life varies from 20,000 to 30,000 hours, which depends on additional factors.
Built-in HDBT receiver receives uncompressed HD video and audio from over 200 ft away via network cable.
In fact, a powerful laser LS900WU with great specs, Geometric Correction, and a built-in HDBT receiver is a professional projector that is great for top-level Home Theater. But, probably, a sufficiently high price will limit its popularity.
NEC P605UL WUXGA Laser Projector
NEC P605UL is a continuation of the P series from this company.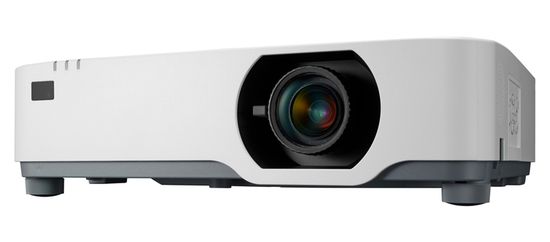 Today this 6,000 lm WUXGA laser projector becomes the brightest in series. Thus seven NEC P models offer brightness range from 4,700 to 5,500 lm at WXGA or WUXGA resolutions with lamp or laser light sources.
20,000-hour laser engine and virtually silent operation provide the main pros of this model. For this purpose, the company uses Whisper Quiet technology with patented sealed cooling engine.
Indeed, the Audible Noise of modern projectors with such brightness reaches an average of 37 dB. For comparison, the noise of the P605UL in Eco mode does not exceed 19 dB.
Of course, the model has all the traditional pros of a 3LCD technology, including equality of white and color brightness, lack of the rainbow artifacts, etc. In addition to high brightness of 6,000 / 3,000 lm (bright / eco modes), projector supports a 600,000:1 dynamic contrast ratio.
The projector's optics with a Throw Ratio of 1.23: 1 – 2.00: 1 (D: W) provides almost 200 inch diagonal projection from Throw Distance of 21 ft at 1.3x optical zoom.
Other key features:
– scaling up to 4K (3840 x 2160)/30Hz;
– a 1.6x manual zoom lens with manual focus;
– lens shift provides from "0" to +60% vertically & ± 29% horizontally;
– horizontal/vertical Keystone Correction ± 30 degrees;
– supporting the 360 degree orientation;
– portrait mode;
– 2 x HDMI v1.4 with HDCP 1.4;
– an integrated HDBaseT receiver;
– USB port for charging.
The street price for the projector is slightly higher compared to the ViewSonic LS900WU, and reaches $ 3,600.
Conclusion
In fact, all models are great for the Home Theater. BenQ offers the 4K UHD HDR HT3550 Home Theater with great specs for only $ 1,500, and projectors with true cinematic image quality costing up to $ 10,000. Laser networkable ViewSonic LS900WU and NEC P605UL combine the capabilities of a professional projector and top-level Home Theater for nearly $ 3,500. The Epson 5050UB 4K PRO-UHD uses Epson's innovative technologies, including improved 4K-Enhancement pixel shift, delivering superb quality at a price of only $ 2,700. Optoma offers the EH412 / EH412ST with excellent features for less than $ 1,000.
These projectors are unlikely to enter this year in TOPs from experts due to the high competition from successful models of past years, for which companies have already reduced prices. Most likely, many consumers will also prefer Best sellers with good reviews and compelling advertising. But the projectors proposed in this review may be of interest to fans of innovative solutions who do not like to wait for a price reduction when choosing the optimal model.
We sincerely wish you the Right Solution!