This review is updated regularly with new models
Last updated: 6 September, 2019
As known, almost all segments of modern consumer electronics offer a huge number of models and are characterized by intense competition. The segment of projectors, whose popularity is growing rapidly in recent years, also follows this trend. Of course, the abundance of offers pleases consumers, but sometimes it complicates the choice of the optimal model. Various TOPs help solve this problem. Of course, any TOP from experts is always subjective. Nevertheless, most successful models are present in many lists, which, of course, testifies to the objectivity of their assessment. Today, the following models are most often present in the TOP lists of various experts:
– BenQ HT3550 (2019) (W2700 in Europe), BenQ HT2550 (2018) and BenQ TK800 (2018) DLP projectors;
– Optoma UHD51A (2018) and Optoma UHD65 (2017);
– Epson Home Cinema 4010 (2018) (EH-TW7400 in Europe).
This list does not include the new 2019 models, with the exception of BenQ HT3550, and does not match the list of the best projectors according to consumers. But this situation is natural, as experts analyze first of all objective characteristics. Usually, new models have a maximum price in the absence of customer reviews. In turn, the opinion of consumers largely depends on the price, advertising credibility and positive feedback from other consumers. This review may be useful for those buyers who сhoose the most profitable home theater projector based on the actual specs of models.
BenQ HT3550 Ultra HD 4K HDR projector
BenQ introduced a new great 4K HDR projector, which claims to lead the list of the best budget Home Theater models. HT3550 continued the very popular series, which includes BenQ HT 3050, HT 2050, and HT 2050a.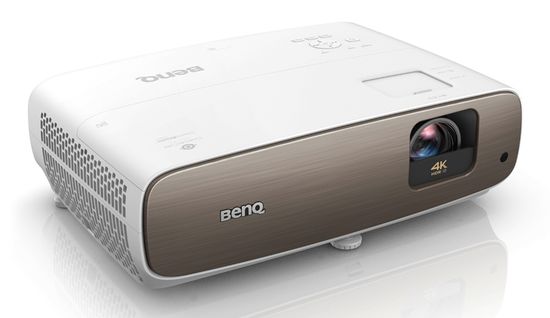 It appeared in April 2019 at a price of only $ 1,500. At the same time, this projector provides brightness of 2,000 Lumens, 30,000: 1 (full on / off with dynamic iris on) contrast, uses Dynamic Iris and supports Ultra HD 4K (3840 x 2160) resolution!
Main pros:
– TI 0.47-inch chip with four-phase pixel shifting provides 4K UHD (3840 x 2160) resolution;
– projector supports HDR10 and HLG HDR-standards;
– the new 0.47-inch next-generation DLP XPR chip minimizes the dark frame around the image (company also uses it in the HT5550);
– color accuracy from box reaches less than 3 Delta E for Rec.709, 100% Rec.709 coverage and 95% DCI-P3 coverage.
In addition, a 10-element, 8-group, all glass, 1.3x zoom lens projects 100-inch diagonal image from throw distance of nearly 8.25 to 10.75 ft (Throw Ratio of 1.13:1 – 1.47:1(D:W)).
Unfortunately, BenQ's default settings provide smaller gamut compared to max possible (95% DCI-P3 vs 105% DCI-P3), and input lag is too high for some modern games.
Other BenQ HT3550 key features:
– six-segment RGBRGB color wheel;
– 100% Rec.709 color gamut in D, 97% Rec.709 in Cinema mode at a higher brightness, and 95% DCI-P3 in the preset version;
– dynamic iris modes – Low, Middle, High, or Off;
– +10% vertical lens shift and ± 30 ° Vertical Keystone Correction;
– two 18 Gbps HDMI 2.0b, HDCP 2.2 ports;
– 4 color preset modes, one user mode for SDR, and modes for 3D, HDR10, and HLG;
– lockable ISF Night and Day mode support;
– silence mode blocks the pixel shift option, reducing the resolution to 1080p;
– color control system provides settings for RGBCMY hue, saturation, gain, and adjusts white balance for RGB gain and offset;
– 5-position HDR Brightness control;
– CineMaster video processing includes color enhancement, flesh tones, detail enhancement, and frame interpolation;
– two built-in 5-watt speakers;
– Full HD 3D playback support;
– backlit remote;
– Lamp Life is 4,000/ 10,000 /15,000 hours (Normal/Eco/SmartEco modes); replacement lamp costs $150, 3-year warranty, and 1 year on lamp.
Today, this model successfully competes with the popular Epson 5050UB, which is more than $ 1,000 more expensive.
BenQ HT2550 (2018)
Of course, this model does not require the introduction due to its enormous popularity in 2018. A significant reduction in the price, which today does not exceed $ 1,000, has provided it with a place in many TOP lists.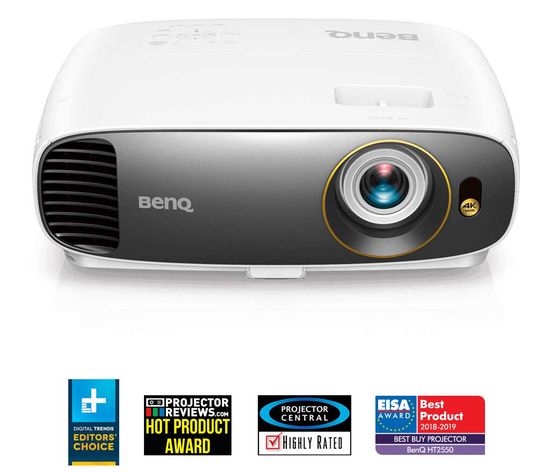 Model uses the 0.47″ UHD DLP chipset and supports 3D. Additionally, the projector is quite compact and weighs under 10 lbs. In addition, the model has a built-in speaker with a very wide dynamic range for this size and provides keystone adjustment.
Basic specs also correspond to a fairly high level. The projector brightness reaches 2,200 Lumens with Ultra HD 4K (3840 x 2160) resolution and 10,000: 1 dynamic contrast. Its optics with Throw Ratio of 1.47: 1 – 1.76: 1 (Zoom Lens 1.20: 1) provides a 150-inch diagonal projection with Throw Distance nearly 17 ft (zooming 1.1x).
As usual for BenQ models, projector has a very bright factory calibration with a little green bias. It's convenient for compensating ambient light through windows.
HT2550 supports Brilliant Color mode, but without customization, for example, from 1 to 10. The projector provides only On or Off of this option. Brilliant Color provides about 80% of white in all color modes. Off mode reduces lumen output by about 20%, increasing color brightness to almost 100% of white. But, of course, the optimal perception of the image depends on the individual preferences of the person. Many viewers use Brilliant Color very rarely.
CinemaMaster Flesh Tone provides very simple adjustment for HDR Picture Quality.
Of course, high 3D performance is one of the main pros of the model, providing it a place among elite 4K projectors.
Unfortunately, input lag of 50 ms is quite suitable for most casual gaming only.
BenQ TK800 (2018) 4K UHD Home Theater projector
This no less popular model of 2018 today costs a little more than $ 1,000.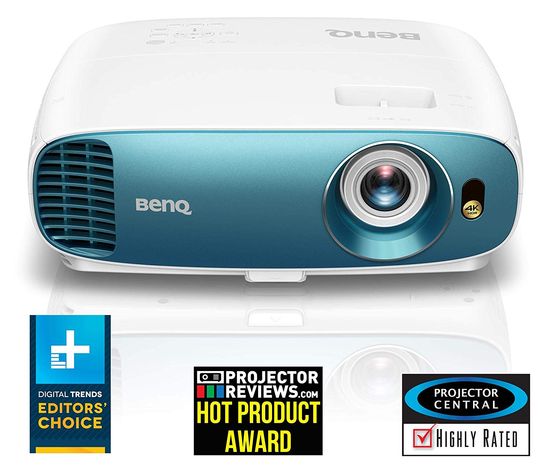 In fact, the BenQ TK800 is a brighter version of the BenQ HT2550. Of course, the increased brightness to 3,000 Lumens vs 2,200 Lumens in the BenQ HT2550 became their main difference. Other differences are less significant. For example, TK800 uses four-segment color wheel instead of six-segment in HT2550. Other specs of these models are almost identical.
Both models form a traditional dark frame around image, the dimensions of which do not exceed of 4.5% of the picture width or 5″ for 120″ diagonal image. As known, all models with 0.47″ UHD DLP chip have this artifact. But most viewers do not notice it because of the high brightness and contrast of the image.
The BenQ TK800 supports 3D for 1080p content only, not including 4K. In addition, the projector does not recognize the 3D signal in automatic mode and requires the activation of 3D mode in menu.
In general, these models are very close in their specs, and a situational difference of about $ 100 from different sellers simplifies the choice between them.
Optoma UHD51A (2018)
This model was first introduced in spring 2018 at a price of $ 1,700 and became the first 4K UHD HDR projector with voice-activation through Amazon Alexa.
This model is almost identical to the Optoma UHD50, which is cheaper by about $ 300. Both projectors use the RGBRGB color wheel and 0.47″ DLP chip. But Optoma Smart Home Skill set for Amazon Alexa provides on / off and adjusting volume. In addition, the UHD51A additionally provides frame interpolation (FI), Full 3D support, a built-in USB media player for 4K video playback, and support for wireless display from mobile devices with an optional Wi-Fi dongle.
Main features:
– 3840 x 2160 resolution (4K UHD);
– Alexa support;
– four HDR modes;
– wide color gamut DCI-P3 , REC.2020, and REC.709;
– three levels of Frame Interpolation;
– two HDMI 2.0 ports;
– 1.3x zoom lens;
– vertical lens shift +15.0%;
– full 3D with DLP Link glasses;
– Lamp Life of 4000/10,000/15,000 hours in full power/ Eco / Dynamic modes at replacement cost $ 200;
– two 5-watt stereo speakers.
Its optics with Throw Ratio of 1.21:1 – 1.59:1 (Zoom Lens 1.30: 1) provides a 150-inch diagonal projection with Throw Distance nearly 14 ft (zooming 1.16x).
The list of model flaws includes:
– no keystone correction;
– relatively low brightness uniformity for this class;
– no Hybrid Log Gamma (HLG) support (HDR standard for broadcast TV);
– input lag reaches 68 ms.
Optoma UHD65 (2017)
This model has been consistently present in many TOP lists for 3 years.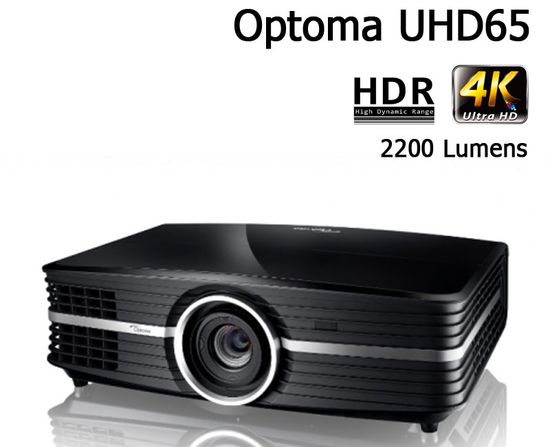 Today, it remains popular at a price of about $ 2,300.
This projector provides brightness of 2,200 lumens with 4K UHD (3840 x 2160) resolution at an unprecedented 1,200,000: 1 dynamic contrast. Its optics with Throw Ratio of 1.39:1 – 2.22:1 (Zoom Lens 1.60:1 ) provides a 150-inch diagonal projection with Throw Distance nearly 19 ft (zooming 1.3x).
In addition, it provides Vertical Lens Shift ± 15.0% and has Frame Interpolation mode to smooth the movements of highly dynamic content.
Unfortunately, it does not provide Digital Keystone, its weight reaches 16.0 lbs, and the input lag exceeds 74ms, which is a lot for modern games.
Epson Home Cinema 4010 (2018)
This super popular Epson 4K PRO-UHD Home Cinema projector is also well known in the market since autumn 2018.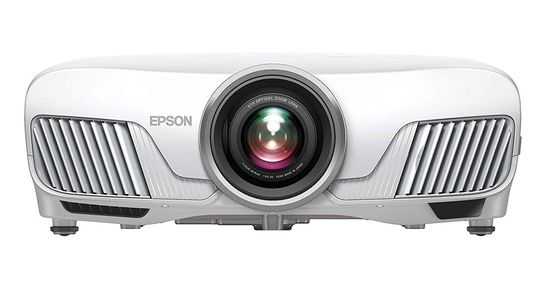 At that time, it cost $ 1,900. Epson 4010T is the latest in a line of 4K-compatible projectors, which provide "4K Enhanced" resolution at native 1080p LCD imagers. According to the company, this pixel-shifted projector uses an advanced algorithm that provides even better image quality compared to traditional 4K projectors.
This projector provides brightness and CLO (Color Light Output) of 2,200 lumens with 1920 x 1080 resolution (4K w/pixel shifting) at 200,000:1 (full on/off) contrast ratio. Its optics with Throw Ratio of 1.35:1 – 2.84:1 provides a 120-inch diagonal projection with Throw Distance nearly 12 ft (zooming 2.1x).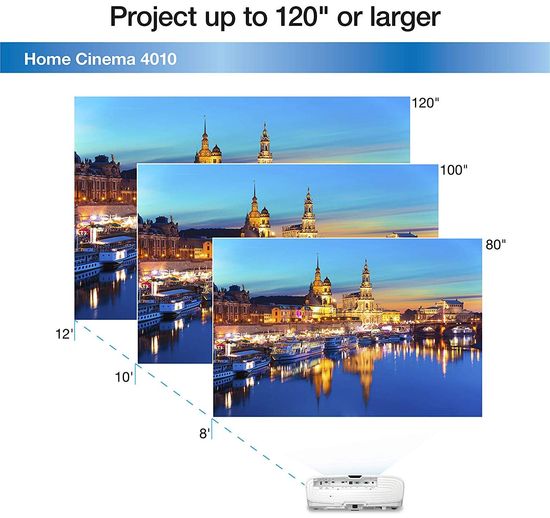 PROS
– 3LCD design without rainbow artifacts;
– improved 4K PRO-UHD pixel shifting for input signals up to 4096 x 2160;
– exelent 15-element glass lens provides even light throughput and eliminates chromatic aberrations;
– lens memory saves up to 10 positions for CIH (Constant Height Image) installations on a CinemaScope 2.4:1 screen without an anamorphic lens;
– Full HD 3D support;
– brightness of 2,400 lumens for colors and white;
– auto-iris to optimize dark scenes provides 200,000:1 rated contrast ratio;
– 100% of DCI-P3 color space;
– color depth up to 12-bit for standard dynamic range content and 10-bit for HDR;
– 2.1x motorized zoom with ± 96% vertical and ± 47% horizontal lens shift;
– 1080p 3D support;
– optional WiFi dongle.
CONS
– no support for 4K/60 Hz HDR;
– Frame Interpolation for 1080p/24 signals only.
Conclusion
Naturally, that 4K HDR projectors from segment leaders, including BenQ, Optoma, and Epson among the TOP lists of many experts.
All these models have excellent specs and are great for Home Theater with a screen size of 120″ or more. Moreover, today their price mainly varies from $ 1,000 to $ 2,000, which is comparable with the cost of modern TVs with a diagonal of 65″.
Unlike other projectors, the BenQ HT3550 is the 2019 model. As a result, it uses the most innovative solutions, including the new 0.47-inch next-generation DLP XPR chip. Therefore, this relatively cheap model with excellent specs may well take pride of place among Best Sellers. But, of course, the final choice depends on the user's preferences.
We sincerely wish you the Right Solution!
This video shows the BenQ HT3550 playing 4K H.264 (120Mbps).