As known, fierce competition in the consumer electronics segment stimulates companies to constantly increase the competitiveness of their models. Of course, it traditionally depends on the price, quality and functionality. As a result, all companies conduct a flexible pricing policy through distribution, warranty, price reduction, etc.
But the resource of increasing competitiveness due to the quality of bundling and assembly is almost exhausted today. In fact, even the budget modern models from popular brands demonstrate a very high level in this aspect. Therefore, further improvement of this indicator requires significant costs, which, of course, reduce competitiveness due to price increases.
As a result, the expansion of functionality has become the main instrument of competition. Of course, the rapid development of digital technology has radically expanded the possibilities of engineers. This trend is clearly evident in almost all segments of household appliances, including TVs, coffee machines, robot vacuum cleaners, etc. Of course, high-tech projectors are no exception.
Leaders of this segment almost annually replenish their model lines with new projectors. But this, of course, a positive trend, has formed a small problem. Of course, the leaders of the segment are actively promoting their products around the world. Unfortunately, companies often use different names for one model for different markets. As a result, the market annually offers several dozen new models and a huge number of models of previous years from several companies under different names. As a consequence, a potential buyer is forced to choose between a huge number of models, many of which simply have a different name.
Epson projectors well illustrate this problem. For example, today Amazon offers 5040UB/EH-TW9300, 5050UB/EH-TW9400 (USA/Europe), etc projectors. Therefore, even a simplified classification can simplify this task.
Epson UHD Pro Cinema 4030 and Home Cinema 5020UB/5030UB projectors
In the autumn of 2012, EPSON announced its next generation of Full HD 1080p 3D home theater projectors, including PowerLite Pro Cinema 6020UB, Home Cinema 5020UB/5020UBe (EH-TW9100W) and 3020/3020e.
As known, the "UB" in the projector's name stands for Ultra Black. Today Epson Ultra Black technology uses a proprietary compensation filter to control the light polarization. It suppresses any stray light within the signal, producing in new models an unprecedented dynamic contrast ratio of 1,000,000:1 and more.
Besides, UBe models, unlike UB models, have step-up package that integrates wireless HDMI technology based on the well-regarded WirelessHD standard. Of course, they are more expensive about $ 300. Otherwise, the models have identical specs.
New line of Full HD 1080p projectors was presented оn the CEDIA Expo 2013. It included 6030UB, 4030 (EH-TW7200) and 5030UB/5030UBe (EH-TW9200). All these used an advanced Fujinon Opti Cinema lens with 2.1 zoom ratio, 480Hz Drive Technology for 3D mode, and a built-in cinema filter to improve color accuracy. In addition, all projectors supported a new Black and White Cinema mode (classic films), THX 2D and 3D Cinema modes, and a PiP (Picture-in-Picture) optionn for simultaneous use two content sources.
Epson 4K projectors
After few years, June 21, 2016, Epson introduced first 3LCD 5040UB/5040UBe (EH-TW9300) and Pro Cinema 4040 projectors with 4K UHD Signal Input and HDR for under $3,000.
But already in 2017, the company offered Home Cinema 4000. It was cheaper ($2,200/$2,700), but had lower brightness (2200 vs 2500 ANSI lm) and contrast (140,000:1 vs 1,000,000:1). In fact, these models have different filters for color compensation. Moreover, 5040UB uses LCD panels with UB (Ultra Black) technology LCD imaging panels, which provide a radical increase of dinamic contrast. But overall, the 5040UB vs HC 4000 does not have a definite advantage due to the very attractive price-quality ratio of the HC 4000. The video at the end demonstrates the capabilities of this model.
In the autumn of 2018, Epson introduced the Pro Cinema 4050 and 4010 (EH-TW7400), which became the first projectors of the new 4K PRO-UHD lineup with improved 4K-Enhancement.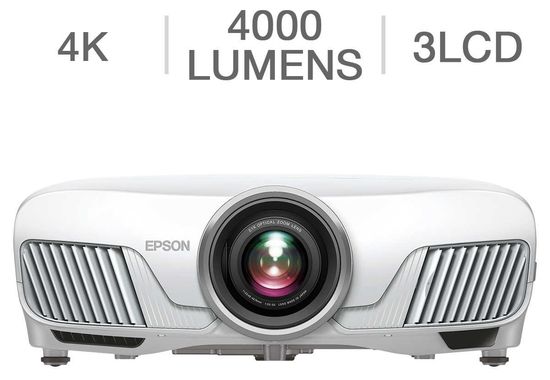 In fact, Epson Home Cinema 4010 can be positioned as a consumer version of Home Cinema 4050.
Epson HC 4010 is slightly superior to HC 4000 and has a very attractive price, which provided a fairly successful competition for HC 4010 vs 5040UB.
Finally, in the spring of 2019, the company introduced Epson 4K PRO-UHD 3-Chip HDR Home Cinema 5050UB/5050UBe ($2,700 / $3,000 ) projectors that come to replace 5040UB/5040UBe. Respectively, 5050UBe has a 4K wireless HDMI transmitter.
Evolution to 5040UB
As know, Epson Home Cinema 5020UB for several years was considered one of the most successful projectors in its class. Relatively low price, excellent specs, including Full HD, dinamic contrast ratio 320,000: 1 (full on / off), 2,400 ANSI lm, 30 – 300 inches Image Size, 22 dB in Eco mode, Full HD 3D, etc provided excellent competitiveness of this projector.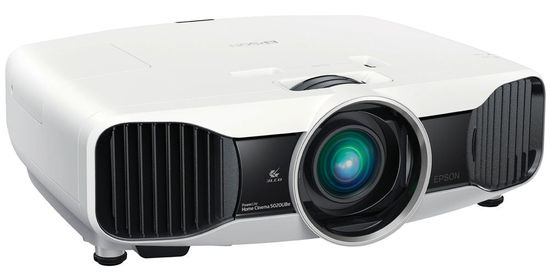 Home Cinema 5030UB has become the next model in this line. By retaining the same chassis, engineers improved image quality by increasing the contrast from 320,000: 1 to 600,000: 1 and expanded the functionality. In particular, the model supports the Frame Interpolation option to smooth high-dynamic scenes.
But the Epson 5040UB 2016 made a powerful leap in comparison with its prototypes. Its design fully coincides with Epson HC 4010.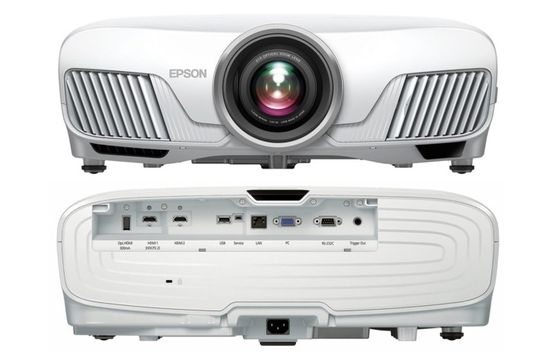 But in this model, the company first used 4K-Enhancement (pixel-shifting technology or wobulation) technology, increasing the resolution to 3840 x 2160. Of course, experts often argue about the validity of using the 4K name for this technology. Indeed, pixel-shifting does not increase the physical number of pixels. But these disputes are linguistic in nature, because wobulation really enhances the clarity of the image in its visual perception.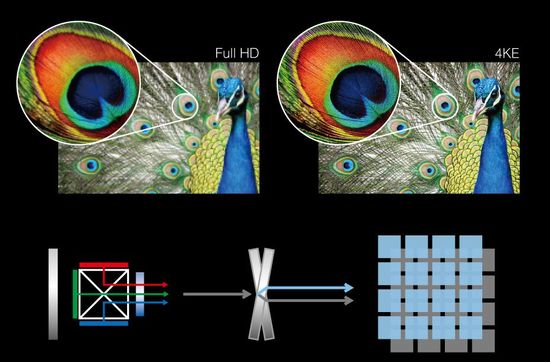 Of course, 5040UB vs 5030UB showed many other improvements, including all-glass, 16-piece 2.1x zoom lens with 4K performance, motorized zoom, Lens Memory feature, etc.
Epson 5050UB
The latest Epson 5050UB vs 5040UB becam one more jerk. Epson Home Cinema 5050UB costs $ 700 more ($ 2,700 / $ 2,000) and provides 100 ANSI lm more (brightness of 2600/2500 lm for color and white). But, of course, the improved pixel shift technology is their main difference.
Model uses the individual pixel plate with tighter tolerances. It increases the angle of the leading and trailing edges of the electronic shift pulse, redusing the delay between the trough and crest of the pixel shift changes. As a result, new projector has less downtime, providing more light output and a faster signal. In fact, 5050UB provides better accuracy, more output, and higher speed. According to the company, maximum supported resolutions of 5050UB reaches DCI 4K (4096 x 2160) vs 3840 x 2160 for 5040UB.
Moreover, 5050UB provides Improved HDR Support. The projector automatically detects the HDR standard (SDR, HDR10 or HLG) and supports its adjustment from the menu.
But, the final assessment of the price / quality ratio depends on the individual preferences of the buyer and his budget.
Of course, projectors support a different set of technologies from EPSON, providing different functionality.
Conclusion
Of course, Epson was offered in this period a much wider range of projectors, including excellent Full HD Epson 3100, 3700 and 3900, etc. But the article format considers the line Home Cinema 5020UB/5020UBe – 5030UB/5030UBe – 5040UB/5040UBe – 5050UB/5050UBe and Epson Pro Cinema 4030 – 4000 – 4010. The parallel line of Pro Cinema 6020UB – 6030UB – 6040UB – 6050UB, differs only in the way of sale. They usually are available for sale within the custom integrator channel. But these models have identical specs with the 50xx series. It may be noted that some models have a different color.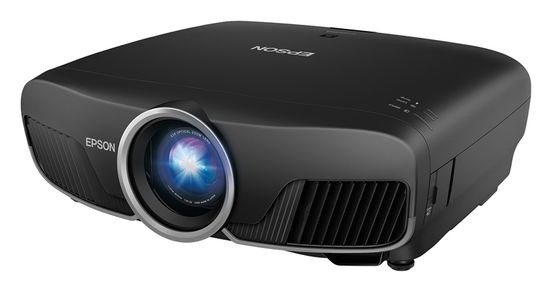 4K PRO-UHD series use eponymous technology, which, according to the company, increased the efficiency of wobulation (4K Enhancement or pixel-shifting) and signal processing. As known, this technology divides the 4K signal into several lower-resolution pictures (Four-Phase and Two-Phase Pixel Shifting), shifts them relative to each other and displays them on the screen sequentially. As a result, the high frame rate creates an illusion of the perception of one high-resolution frame by summing up the pixels of each frame.
Moreover, these models support Full HD for 3D Mode.
Thus, today EPSON offers models, covering almost all price segments in this class. The simplified list includes:
1 – Full HD, including Home Cinema 5020UB / 5030UB and Pro Cinema 4030;
2 – 4K, including 5040UB (or 5040UBe, +$300) and HC 4000 ($1,850 / $1,465);
3 – 4K PRO-UHD (improved 4K-Enhancement), including 5050UB (or 5050UBe, +$300) and HC 4010 ($2,700 / $1,800).
Of course, all these factors affect the choice of the optimal projector.