Initially, models with 4K resolution began to actively displace Full HD format in the TVs segment.
However, this process was slow enough due to several reasons.
First, the small amount of 4K content significantly limited the development of this segment.
Secondly, the difference is visually perceived only on large enough screens (50″ and above). But the screens with a diagonal of 90″ and above already perfectly demonstrate the difference. Of course, such model worth a lot. Therefore, projectors offer a very good alternative. But a few years ago, 4K projectors have also been very expensive.
For example, the most affordable 1 chip DLP-projectors with a 4K resolution are only slightly cheaper compared to LCoS-models of entry level. But they have much less contrast, a strong rainbow effect, do not support HDR and 3D and usually do not provide real 4K resolution. Of course, the development of Pixel Shifting technology radically changed the situation.
But the development of Pixel Shifting technology radically changed the situation. As known, it uses wobulation to increase the resolution. The device divides the original 4K signal into several arrays, shifts them relative to each other and sequentially displays several images with offset pixels (2 or 4 for Two-Phase or Four-Phase Pixel Shifting, respectively). Increasing pixel density on the screen and high speed create the illusion of increasing resolution.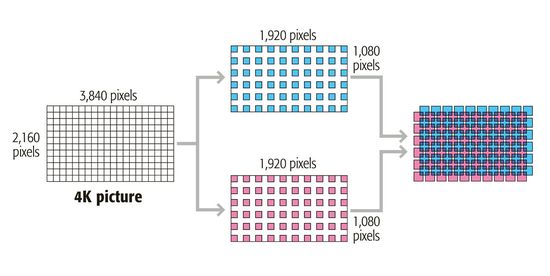 Today, several companies use this technology in their projectors under various names, including e-Shift or eShift (JVC), 4K Enhancement or 4KE (Epson), and TI UHD (Texas Instruments, informally).
Of course, their real resolution is inferior to Native 4K. But a significant increase in visualization at a relatively low price ensured the immense popularity of these projectors.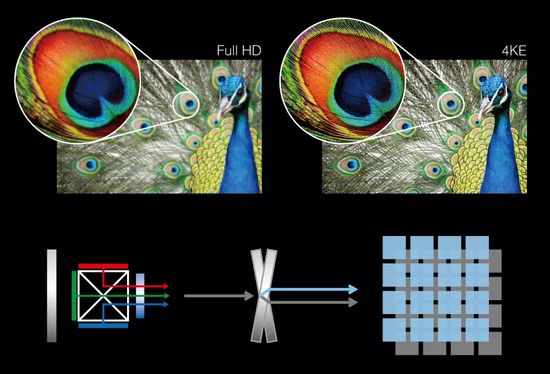 Epson 5040UB (EH-TW9300)
Epson 5040UB (EH-TW9300) became the first model with 4K-Enhancement technology in the evolution of Epson Full HD/4K projectors.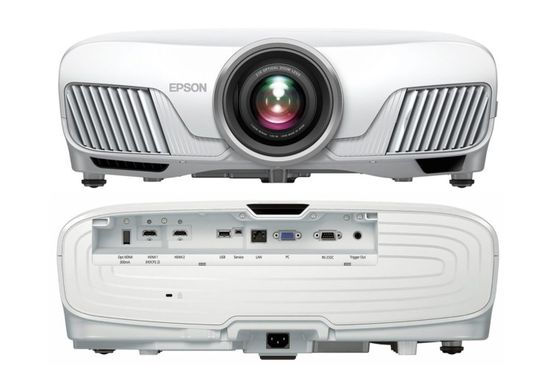 As the name implies (UB abbreviation), the projector supports, Epson UltraBlack technology, which uses a compensation filter to increase the efficiency of controlling the light polarization. In fact, it suppresses excess light in the signal, increasing the dynamic contrast ratio to an unprecedented value of 1,000,000: 1.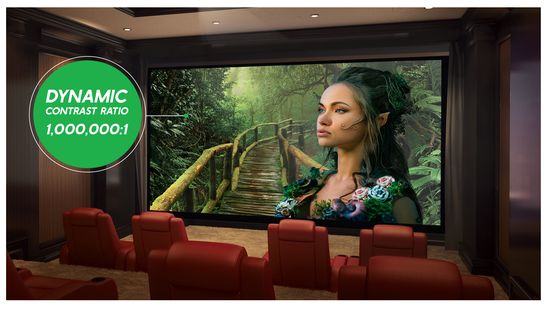 Epson 5040UB has 2.1x zoom lens and amazing setting range, including Lens Shift of ±96% vertically and ±47% horizontally.
Throw ratio of 1.35:1 – 2.84:1 (D:W) provides Image Size of 127 cm – 762 cm at Throw Distance of 3.1 m – 9.0 m.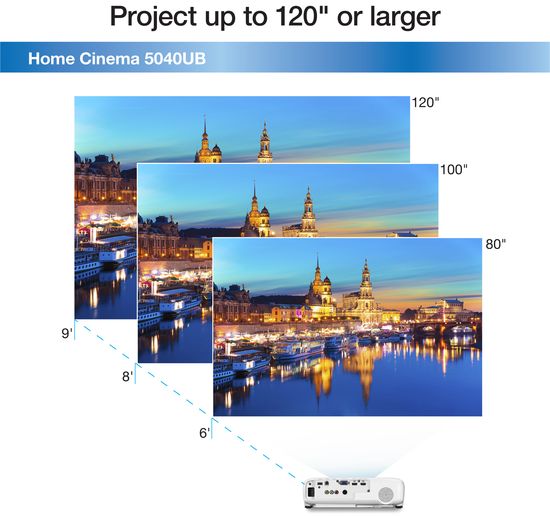 In fact, the projector provides 150″ diagonal (for a 16: 9 format) from a distance 14.75 – 31 ft. But, of course, the zoom lens reduces the lumen output while increasing the distance. The loss of brightness at the maximum distance reaches 33%.
The projector supports Vertical Digital Keystone.
Input lag varies from 28 ms without FI (frame interpolation) up to 104 ms.
Model also has Picture-in-Picture, Frame Interpolation and Lens Memory functions.
Traditionally for 3LCD projectors, Epson 5040UB has low noise level, which does not exceed 20 dB in Eco mode on a 106-inch screen.
The model also supports UHD Blu-ray format and modern Internet services, including Netflix, Amazon, Okko, etc.
Testing
Measurements of real brightness in different modes demonstrated the following values:
– Dynamic – 3527 / 2719 / 2645 ANSI lm (High/Medium/Eco)
– Bright Cinema – 2401 / 1851 / 1801 ANSI lm (High/Medium/Eco)
– Natural – 1864 / 1437 / 1398 ANSI lm (High/Medium/Eco)
– Cinema – 1100 / 848 / 825 ANSI lm (High/Medium/Eco)
– B&W Cinema – 2194 / 1691 / 1645 ANSI lm (High/Medium/Eco)
– Digital Cinema – 1165 / 898 / 874 ANSI lm (High/Medium/Eco)
Thus, the real brightness in Dynamic mode was significantly higher compared to spec (3527 vs 2500 lm). But, more importantly, the brightness with a more accurate color in Bright Cinema almost corresponds to the stated, reaching 2401 lm.
Bright Cinema provides достаточно яркое изображение для 225″ diagonal (16:9 image) at 2400 lm in a dark room. Of course, viewing HDR content requires a reduction in image size. Eco mode reduces lamp power by about 25%.
PROS & CONS
Pros:
– very high image quality;
– Full HD 1920 x 1080p native resolution with support for 4K content (4K Enhancer);
– impressive performance for gaming and 4K Blu-Rays;
– HDR and 3D modes;
– Netflix, Amazon, Okko, etc;
– low fan noise level;
– 2.1x zoom lens;
– very wide range of lens shift;
– very high image clarity;
– low price.
Cons:
– 4K Enhancement, Frame Interpolation and Noise Reduction do not work simultaneously;
– low efficiency Fast Mode (practically does not reduce input lag);
– limited HDR signals compatibility (support for not all frame rate, bit depth, and chroma sub-sampling combinations);
– execution delay of Auto Iris option at High Speed;
– low saturation of colors in the green range;
– only one HDMI Port for 4K HDR;
– no built-in speakers;
– too high heat during operation.
Of course, all these factors affect the choice of the optimal projector.
Today, Epson 5040UB continues to compete successfully with Epson 4010 (EH-TW7400) and even with 5050UB of 2019.
This video demonstrates the capabilities of the Epson 5040UB projector.